If you have been reading my blog for any length of time, you know I am a dessert junkie. That's why I put together this 26 Easy Dessert Recipes post. I could literally survive on dessert only. And don't forget I need some Iced Tea to wash it down.
No need for milk here. So as I was preparing my meal plan this week, I wanted to add a dessert to surprise the kids. I don't actually make dessert very often unless it is for a post and I need to photograph it.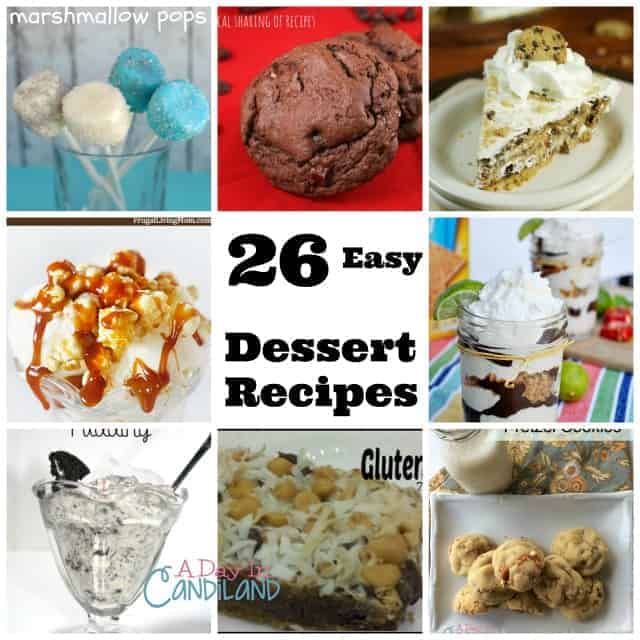 Of course, the reason I don't make dessert all that often is who has time? Most of us whether we work outside of the home or blog, we don't have time to make the perfect dinner and dessert and spend hours in the kitchen.
We have to pick up the kids from school, help them with homework, take them to activities and we are lucky to sneak in a hot meal and add a veggie on the side.
This summer my budget went out the window since we were home more from school and eating out more, I decided to get back on track and plan my grocery list and meals, – ONCE AGAIN.
With all this being said, I realized other people may have a time issue also. Maybe they want to serve a nice dessert without breaking the bank and slaving over the stove for 2 hours.
So I checked in my some of my blogging buddies and decided to share this list with you. Now you can serve dessert maybe once or twice a week and make your family smile. You don't have to tell them it was a quick fix either. hehe. So I checked around with some other bloggers and came up with these recipes.
Most of these 26 Easy Dessert Recipes are quick and easy and don't take a lot of prep time. If you have the ingredients you should be able to get most of them on the table within an hour.
Have fun this week preparing your meal plan and include one of these desserts in it as well. Leave me a comment on which one you will try first.
Do you serve dessert after dinner?