Today I am sharing 5 Blogging Tips using Social Media that I use daily.There are so many options for social media these days. You can choose from the tried and true like, Pinterest, Twitter, Facebook, Google Plus, Linked In, Stumble Upon or there are countless others, the list goes on and on.
As a blogger, you have to choose where you want to spend your time. Blogging can be very time consuming. Between writing and promoting, it takes a lot of time and effort. Then you have to decide when your readers are going to be on social media to know when and where to share.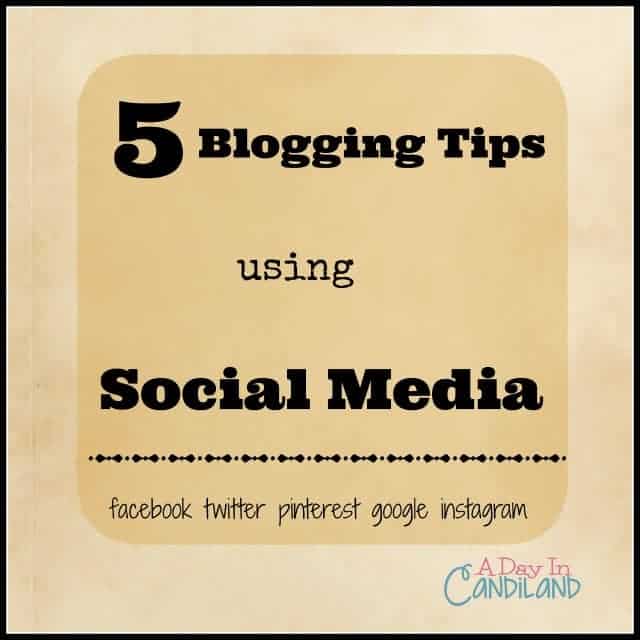 5 Blogging Tips using Social Media
Find a group on Facebook that you enjoy spending time on and get involved in a tribe and create an interest list there. I have joined several including Bloggers Get Social and have gained lots of new blogger friends that help support each other. At the bottom find a chance to win a spot in the next session.
Join Twitterfeed and add your favorite bloggers feed to this and when they post it will automatically get tweeted by you. Ask your tribe to do the same. If I can find a twitter party that is in my niche, I try to join in to get to know people and network. Here is a tutorial on how to set up your twitterfeed.
Find a Stumbleupon group on Facebook where you can share a post daily and also stumble others during the day. (Stumble at least 10 other peoples posts for each of your own posts that you stumble) This has been one of my best traffic tools I implemented. 
Get on Pinterest and pin a minimum of 25 pins per day during the times of 8 pm – 10:00 pm which seem to be the best for me. Pin to boards that focus on your keywords. I use Viral Tag and schedule 25 pins at 10 minutes apart. Then I share my personal pin on boards every 24 hours. (Join Viral Tag and get a $15.00 credit) The next best time is Saturdays to pin.
Google Plus: I don't get a lot of traffic from Google, but since I am told it is the best place to rank for traffic, I am in a Google group three days a week where we share each others posts and help promote each other. Like Facebook. Google plus has a lot of groups you can join.
[Tweet "Try these 5 blogging tips using social media"]
Now this is not the only social media I use, but it's my top 5. I believe it depends on what your goals are. If you are trying to get sponsored posts, you have to find out where they want your audience to be. My number one traffic comes from Stumble Upon. My second comes from Pinterest and the third comes from Facebook. I hope to get more active on instagram but for me, it is more difficult, since I can't post from my blog and the images on my blog are not on my phone. There are ways to get around it, but brands love Instagram, so I will be using it more. You Tube is also another big avenue, but I just haven't gotten there yet.
There are lots of scheduling tools to help you with your social media. There are free and paid versions. You have to choose what works for you and if you can pay for it or want free ones. Right now I use Buffer, Coschedule , Viral Tag and Ahalogy.
I hope these 5 blogging tips using social media will help you create a schedule to build your blog. Leave me some comments on some of your social media tips you use.