This slow cooker whole chicken is not only easy with just 5 simple ingredients, but it will also quickly become a family favorite too! It is a juicy moist chicken that is just bursting with flavor!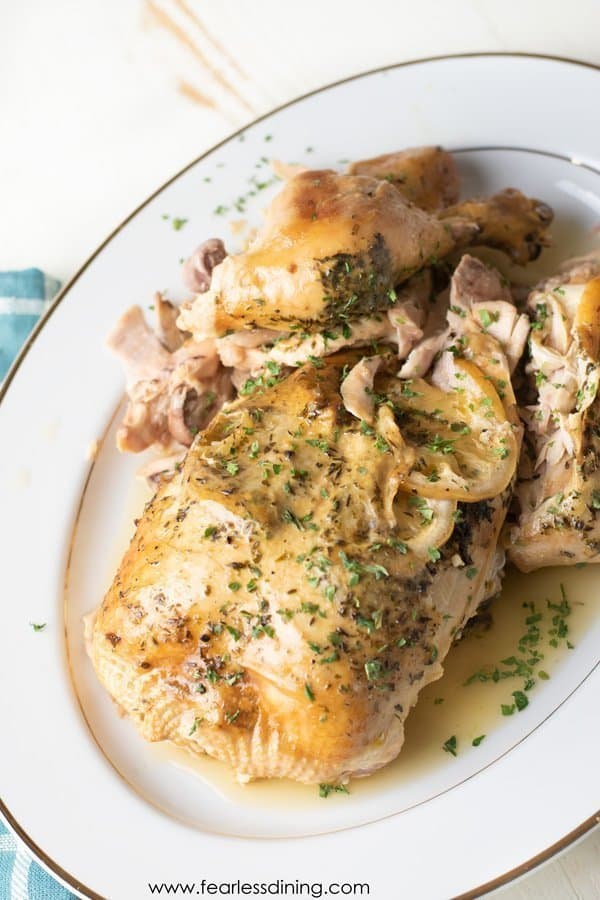 My name is Sandi and I am a blogger over at Fearless Dining. I am a gluten free blogger and I have tons of easy family meal recipes that are naturally gluten free, and completely kid-approved!! When Candi asked me to write a guest post for her readers about an easy slow cooker recipe, I was excited. I love to make slow cooker recipes, especially easy gluten free chicken recipes! Candi is a busy mom, like me, and we are always making delicious slow cooker recipes!!
Sitting down for a family dinner isn't always easy, especially during the busy work week when my kids are rushing about from school to sports to homework. Who has time to cook a healthy dinner? This is why the Crock-Pot is king in our house. It allows me to dump ingredients in before I head out the door, and when we all get home, we have a delicious hot dinner waiting.
This slow cooker chicken recipe is easy peasy to make, and it is completely foolproof! Are you ready to make this recipe?
Shopping List:
Whole chicken (don't forget to check the inside and remove the paper pouch of giblets from the middle!)
Lemon
Spices (thyme, parsley, salt, & pepper)
Garlic
Olive Oil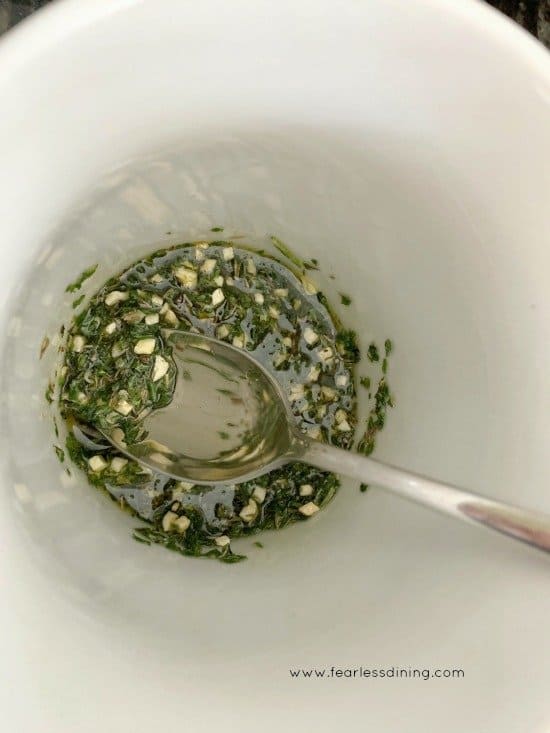 The first step to making this slow cooker chicken recipe is to make the seasoning. Add the garlic, herbs, and oil into a small bowl and mix well. Next, thinly slice a lemon. I love to use this herb chopper to thinly chop up fresh herbs!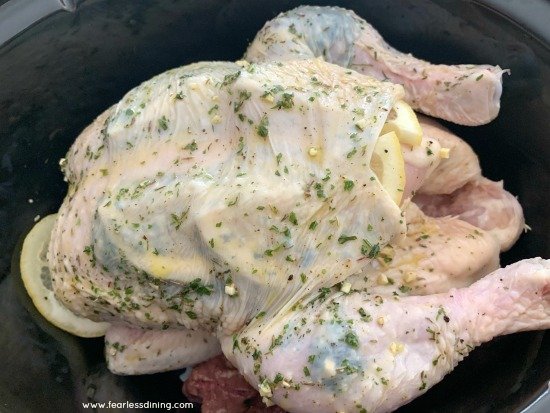 Loosen the skin and rub the seasoning under the skin onto the chicken meat. Insert slices of fresh lemon. Rub the extra seasoning on top of the chicken skin.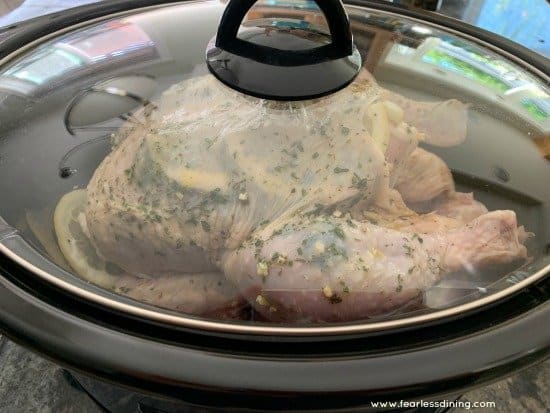 Place in the slow cooker and set to cook on high for 5 hours, then set to low for another hour, then set to warm so it is ready when you get home. We have a programmable Crock-Pot that allows program cooking at different temperatures like this. You can alternately cook for 8-9 hours on low.
How do you know when the chicken is done?
You will want to make sure the chicken is cooked before taking it out of the slow cooker. Use a meat thermometer and insert it into the thickest part of the chicken. If the internal temperature is 165F degrees, your chicken is finished cooking!
If you love chicken as much as we do, you will also love my Grandmother's Homemade Chicken soup recipe. It is the ultimate in cold and flu busting!
How to Make a Slow Cooker Whole Chicken:
Yield: 8
5 Ingredient Slow Cooker Chicken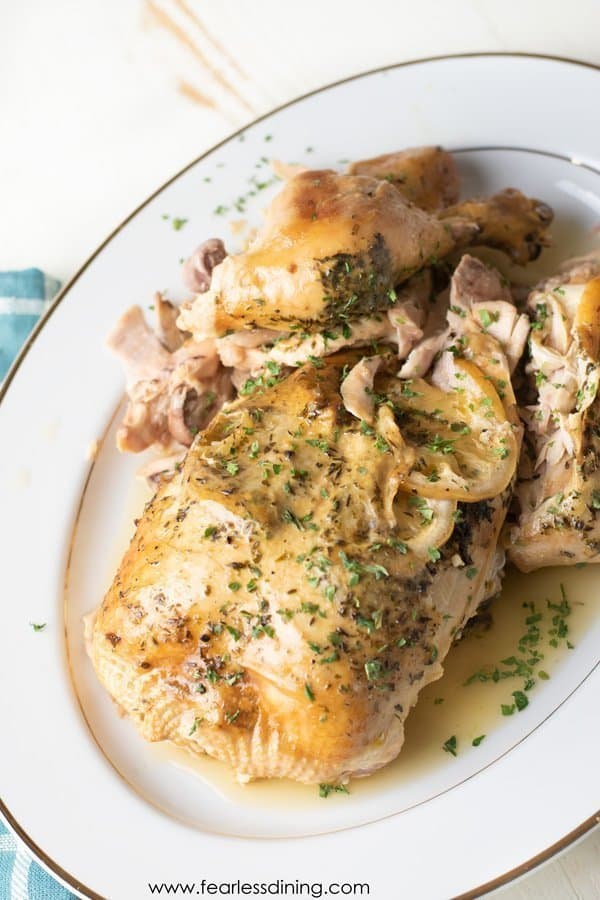 A 5 ingredient whole chicken slow cooker recipe that is kid-approved.
Total Time
6 hours
10 minutes
Ingredients
1 whole chicken
1 lemon
1 teaspoon thyme
2 teaspoons parsley
2 garlic cloves, minced
1 tablespoon olive oil
1 teaspoon salt
1/2 teaspoon pepper
Instructions
Remove the chicken from its package. Remove the giblet bag from the middle. (Feel free to add the giblets to the slow cooker!)
In a bowl, add the seasonings and olive oil.
Slice the lemon into thin round slices
Loosen the skin around the chicken and rub the seasoning under the skin.
Insert lemon slices under the skin.
Rub the remaining seasoning on top of the chicken skin.
Place the chicken into the slow cooker and close the lid.
Cook on high for 5-6 hours, then move to low for 1-2 hours as needed until the chicken measures 165F degrees internal temperature.
Nutrition Information:
Yield:
8
Serving Size:
1
Amount Per Serving:
Calories:

198
Total Fat:

12g
Saturated Fat:

3g
Trans Fat:

0g
Unsaturated Fat:

8g
Cholesterol:

66mg
Sodium:

326mg
Carbohydrates:

1g
Fiber:

0g
Sugar:

0g
Protein:

21g
If you loved this recipe and made it please give it a 5-star review! That will help it be seen more. You can also pin it to Pinterest or share it on Facebook.
*This post may contain affiliate links. If you make a purchase, I get a small commission. Please see my disclosure policy for details
Tips for Using the Crockpot
Slow Cooker Liners Make Clean up a Breeze
Crockpot Travel Carrier Take your favorite crockpot with you and keep it safe from spills.
Digital Thermometer Perfect for checking the temperature of your meats in the crockpot.
Shredding Claws Makes pulled pork and pulled chicken easier to shred without burning your hands.
Bowls for Storage Make leftovers and clean-up easier.
Baggy Rack Bag openers to hold bags open as you pour in ingredients.
Crockpot Trio 3 1.5 crocks for side dishes and dips.
Pioneer Woman 7 Quart Programmable Crockpot
For more Crockpot Recipes try these and make sure you save this recipe on Pinterest and Facebook: