This last two months has brought many changes. I will get into that in my next post but for now some happy news. Jacqui from Wacky Jacqui, has given A Day in Candiland a facelift and a new framework.
I didn't realize how limited I was with the old theme, but after a little research, I am glad to say I am on Genesis and looking forward to the new features. I am also on Windows 8 now so getting use to that helps me in writing my posts and all the new plugins that I am finding.
I am excited to ring in the new year with my new goals (in a later post) but for now I want to thank Jacqui and promise to bring you more regular updates on why you came to Candiland in the first place.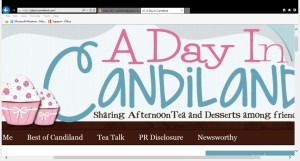 I hope you will sign up for my updates with the subscribe button, where you will get recipes and everything you wanted to know about tea parties and friendship. You can also follow on twitter, facebook, and pinterest.