Today I received a copy of Dinner411 to review and a copy to giveaway from Christina Hitchcock of It's a Keeper. I love to cook, mostly bake, but getting dinner on the table has always been a struggle for me. I use to dream about getting married, having children, and having dinner on the table at 5:00 pm just like my family did growing up.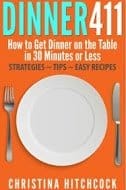 Needless to say, with a busy husband and 3 active children, no one is home at 5:00 pm in our home and if they are it's for 5 minutes on their way out for a sports activity. Here comes the organization part of meal planning. This is where I struggle. There are so many nights that we stop for pizza and pay a fortune because I didn't have a plan.
When I go to the grocery store there are times I make a list and it goes smoothly and times I don't and I spend twice as much and don't have the right ingredients.
I was so excited to receive this book because Christine addresses all these problems and gives you step by step instructions and tips to get your dinner ready in 30 minutes or less. There is some preparation in advance but she also gives you a great printable with your book to make meal planning simpler. I love the printable it will keep you from being unprepared.
Christina shows you how to
Organize your kitchen
Meal Plan
Stock your pantry
Shop like a ninja (my personal favorite)
Keep the kids happy (another goldmine)
Quick cooking strategies
19 Recipes to get you started
Dinner411 is all about getting organized, getting your kids to help you in the kitchen, eating together, and saving money. Purchase Dinner411 and get a copy downloaded right now for only $4.99. It is that easy and you are on your way to a better meal planning experience.
One tip that Christina suggests that I can't wait to implement is separating my baking spices from my cooking spices. I am forever going through my spices up above my oven trying to find the right one because I can't see them.
This is a review post, I was given a copy of the book to review. All opinions are my own. If you purchase a copy of this book from my site, I get a small commission to help pay my blogging expenses.