This post has affiliate links. I may receive a discount should you sign up using my affiliate link. I truly believe in this plug in,  therefore all opinions are my own.
I recently found out about a new scheduling tool and I wanted to make sure you don't get left behind – try Coschedule? I took the leap this last few months and decided I needed some help with my blogging and needed a few paid apps. So I looked around and asked a lot of people and one of the apps I decided to try was Coschedule Social Media Editorial Calendar for WordPress. You get a free 14 day trial when you sign up * (affiliate link) or activate the plug in.

I was using another Calendar, but it didn't have any benefits.  When you  first activate the plug in, you get a short demo showing you how it works. Of course the best feature of this plug in is the fact you can schedule your social media messages. Once you have your post written and ready to schedule you can go in and schedule your pins, twitter, Google + pages, facebook, linked in, and it's also integrated with buffer.
Some of the great features of Coschedule is the drag and drop feature. Lets say you what to schedule a blog post on Monday and you also schedule all your social media on the same day. Now you need to move that post to Friday, all you have to do is drag the post to Friday and all the social media messages goes with it. It is so easy. Here are a few more features.
KEY FEATURES
Drag-And-Drop Editorial Calendar
Schedule Social Media While You Blog
Save Time, Grow Traffic
Lightweight WordPress Plugin
Automated Social Publishing
Simple Team Communication
All-In-One Publishing Solution
No More WordPress Hacking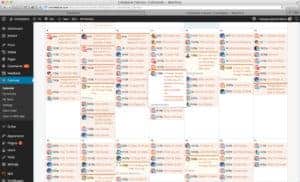 CoSchedule is only $10/month and integrates with WordPress, Twitter, Facebook, LinkedIn, Buffer, and even Google+ Pages and you can get a 14 day free trial right now.
 Let's say your sign up, you can do a Coschedule review and receive a discount on your monthly fees. That is amazing and so worth it. This plug in will save you time and money.
[Tweet "Don't get left behind try Coschedule and make your blogging life a little simpler"]
You can also look at your calendar and see what days you need to add more social media messages. Remember you can schedule your social media, today, tomorrow and next year. The exciting thing about that is if you are going on vacation, and you wont be near your computer, you can schedule out all your messages and blog posts to go out live for you. Also, if you have buffer app, you can integrate it to use the time schedule you prefer and have set up in advance. Don't take my word for it, sign up now for the free 14 day trial and see for yourself. 
If you have any questions, regarding this plug in, leave me a message in the comments and I will be happy to help you.