I love Spring and Easter Time. Everything about it is so refreshing. From the birds singing to the later nights, all the fruits that come in season, it just makes me happy, plus the wonderful desserts you can make and eat.
So to celebrate this happy time, I am sharing some Easter cupcakes  and dessert ideas for the season.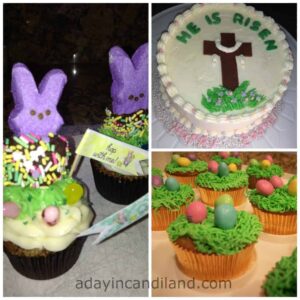 The larger picture is a Chocolate Cupcake with a chocolate dipped peep covered in sprinkles and jelly beans. The next is a boxed vanilla cake mix  with a Wilton tip #233 used to make grass frosting and Easter peanut M & M's. The top is an Easter cake made for my daughters class a few years ago.
I have made several others but after my computer crashed, trying to find where my pictures are, is a challenge. I love to find printables on the internet for different cupcake picks. Just google them,  or get some here at Hoosier Homemade. You can find more ideas on my facebook page.
You can see some of my cupcake videos here.
To find more Easter cupcakes and dessert ideas for Spring try my pinterest board.