Create these beautiful 15 DIY Fall Door Wreaths on a budget and enjoy the cooler weather and autumn colors welcoming you home.
No matter where you live, you are probably starting to feel the fall chill in the air. It's time to start your DIY fall decorating now to have them ready in time.
While there are so many great DIY options for decorating the inside of your home, a beautiful fall wreath can add a special touch to the front of your home.
For More Fall Decorating Ideas Read Here:
While you could use these wreaths inside for additional decor, they are designed to be hung on your front door. Instead of spending hundreds of dollars on a wreath that's already done, why not make your own! These are less expensive than the store-bought version but just as beautiful!
These door wreaths are great to get your kids or grandkids involved. All wreaths can be made in under 30 minutes and you will use these for years to come. You can make a Thanksgiving Wreath with the grandkids and every year when they come over they can admire it.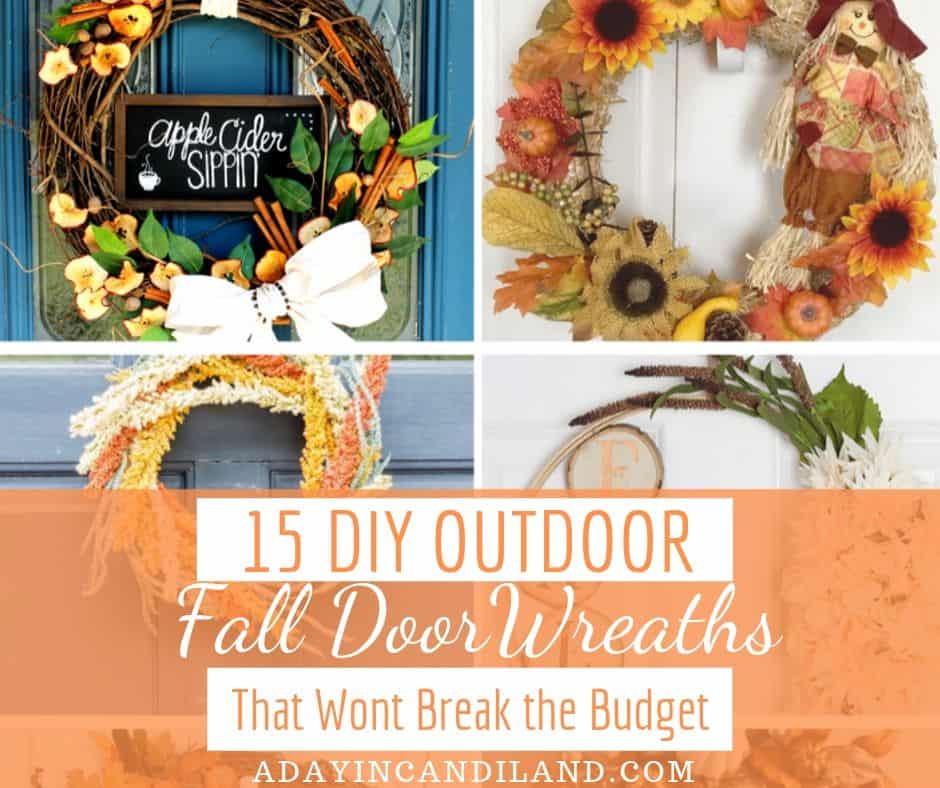 15 Fall Door Wreaths
How To Store Your Outdoor Fall Wreath
Some easy ways to store wreaths when not in use is to make sure they don't get crushed. You used to be able to put them into a plastic bag to keep them dust-free but eventually, things got piled on top and then you couldn't find them.

If you have a free wall in a closet you can hang them up with one of the pull-down tools below.

Another great idea is a hatbox because its sturdy to hold the wreath without damaging it. These hat boxes are easy to find in many stores.

You can also get the plastic wreath boxes they have at Christmas and use those. I create door wreaths year-round for many holidays so I keep them all under our staircase so it's inside and safe from the harsh elements.
Items to Use to Make Your DIY Fall Door Wreaths
Do you struggle with the overwhelm of planning a large get-together with Thanksgiving around the corner? Do you worry you will forget an important detail or a guest or even the cranberry sauce or stuffing?

Did you go overboard on the budget because you didn't plan ahead? Do you want to throw up your hands and say I GIVE UP? If so, then head over and get your 10 Page Thanksgiving Holiday Planner today and take all the stress out of your day.
More Fall Ideas for Your Home
If you enjoyed this article, please Pin and share on Facebook. I would love to hear your comments on how you decorate for Fall.