24 Kid-Friendly Palm Springs Vacation Activities
If you are planning a visit to Palm Springs for your Vacation, try some of these 24 fun kid-friendly Palm Springs Vacation Activities. From swimming, hiking, biking, skateboarding, and more.
There is really more fun things for kids to do in the desert than you would think. When we moved here 30 years ago, we didn't know the area and we had no children. A few years later the kids came along and we had to find things for the kids to do in Palm Springs for entertainment.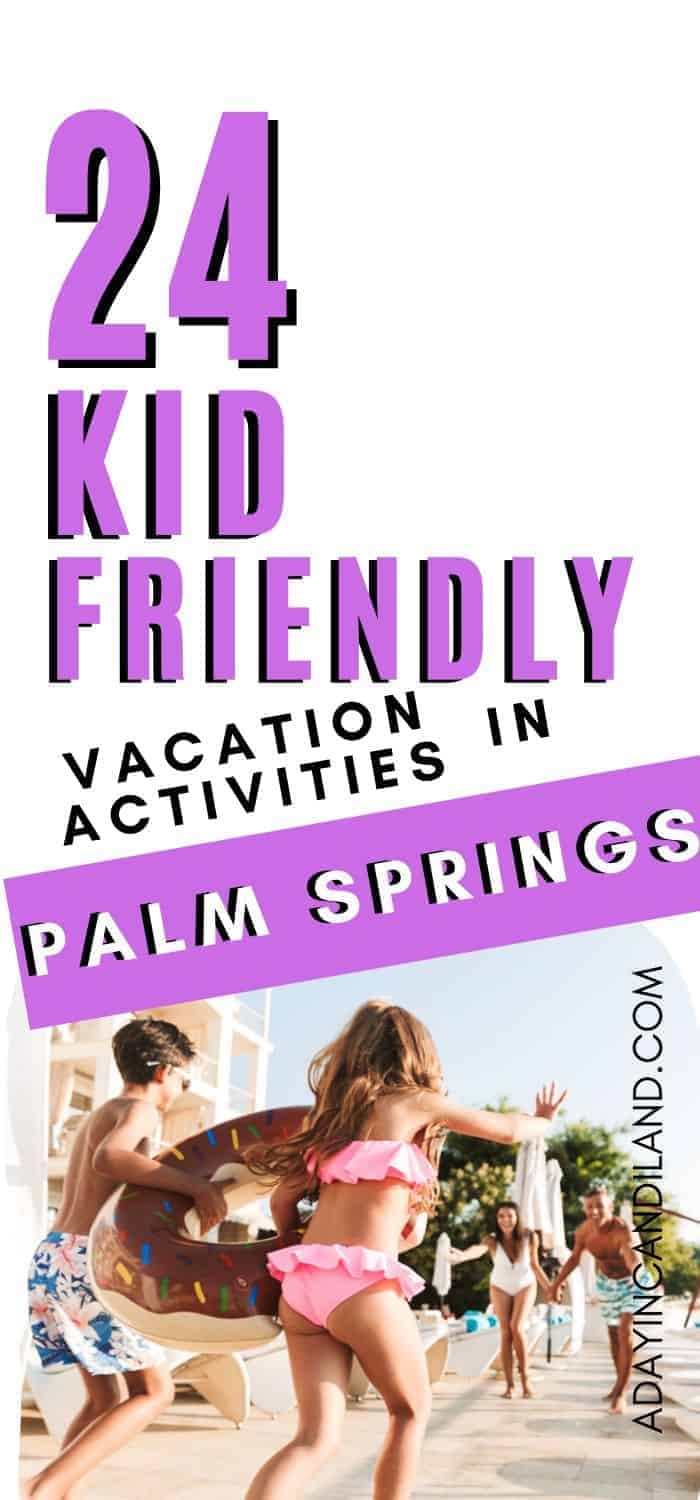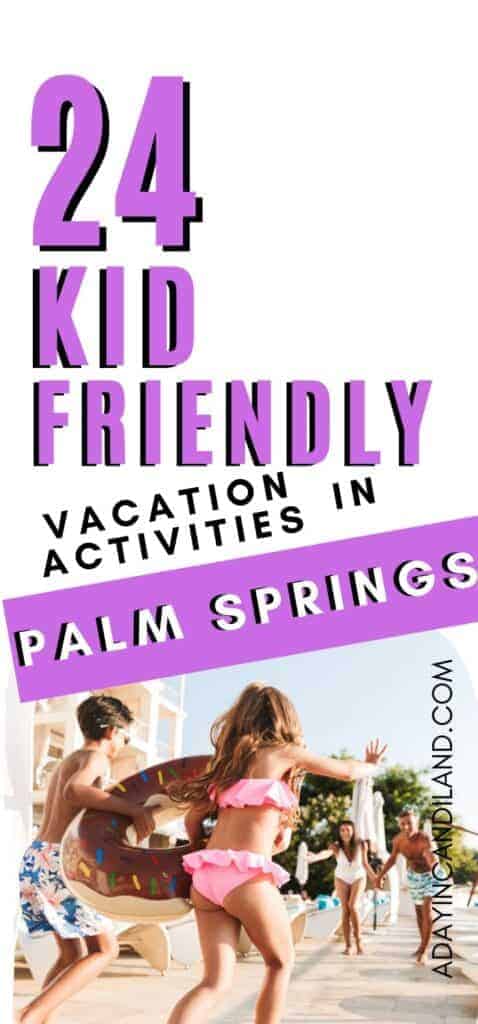 In the last 15 years or so, this area has been transitioning from a resort town to many full-time residents. Many of these venues have special programs for kids and adults during summer and holidays such as Coachella Fest, Desert Classic and Stage Coach. Make sure you call ahead or look online to find them.
Fun Kid-Friendly Activities in Palm Springs
Children's Discover Museum This is a fun place for children 2 – 11. They have many activities to explore, learn archaeology, art, and even a grocery store for them to shop and use the cash register. There is also the VW Bug automobile, that you can actually paint. During the summer or spring break, they have classes you can register for.
Living Desert Reserve The Living Desert is where you can see all kinds of wildlife, in its natural habitat. The Living Desert is for all ages. There are also special sleep-overs. Check the website for these special events.
Fountain of Life This is a free event. Yeah. It's for younger children. There is a sitting area for adults. You can visit the Mary Pickford Movie Theater before or after they are done playing.
Civic Center Park and Skate Park for bike paths, a lake, ducks, skateboarding, and grassy areas for picnicking. Located in Palm Desert.
Palm Desert Aquatic Center located in the Civic Center Park, great for toddlers and small children with lots of pools and small water slides.
Living Desert is a part zoo and part botanical gardens with shuttles or walking tours. They even have an animal hospital on the premises.
Palm Springs Aerial Tram, one of Palm Springs's best-known attractions. You will soar high above the mountains in cable cars where it is 20 – 30 degrees cooler and find lots of trails and a restaurant to dine at.
Boomers Palm Springs, play miniature golf, race bumper cars, rock climb and play video games.
Desert Rocks, the newest addition to the desert. It is an indoor rock climbing facility. Pay by the day or month. Also children's parties available.
Get Air, in Palm Desert, One of the largest Trampoline parks. Book your next Birthday Party here.
Cabazon Dinosaurs Just 20 minutes outside of Palm Springs you can visit the world's biggest dinosaur exhibit.
The Air Museum The Palm Springs Air Museum is a living history museum dedicated to educating the public about the role Air Power played in preserving American liberties and way of life.
The Windmill Farm Tour The only Two Hour tour that goes inside the wind farm's fences. Closed Sundays
Joshua Tree National Park Two distinct desert ecosystems, the Mojave and Colorado, come together in Joshua Tree National Park. A fascinating variety of plants and animals make their homes in a land sculpted by strong winds and occasional torrents of rain.
Desert X 2019 Art Exhibitions Visit the schedule Happens every two years in February – April.
Kid-Friendly Hotels Splashtopia is located at the Omni Rancho Las Palmas Resort & Spa, the only area resort to have its own water park with water slides and a lazy river. There are two 100-foot water slides, a small beach for young children, a Jacuzzi, and a water-play area with fountains and sprinklers. There is also a big splash pool nearby.
Jeep Tours Individuals and families can enjoy open-air Jeep Tours to the San Andreas Fault, Palm Springs Indian Canyons, or the majestic Painted Canyon in the Mecca Hills Wilderness Area. We also offer climate-controlled tours to Joshua Tree National Park.
Smoke Tree Stables Experience a few quiet hours of "getting away from it all" on over 150 miles of convenient riding trails that provide both solitude and breathtaking beauty.
Sunnylands Gardens Walk 1.25 miles of paths through beautifully landscaped gardens, home to more than 70 drought-tolerant plant species. Rancho Mirage's crown jewel, Sunnylands Center & Gardens, hosts special events and other activities for all ages throughout the year, including free guided tours.
Tahquitz Canyons and Waterfalls include hiking and 60 ft waterfalls.
Book a guided stargazing tour with Sky-Watcher and use a real telescope to spot astral phenomena, planets, and nearby galaxies.
Skater kids will be stoked to work on their flips and grinds at the 30,000-square-foot concrete Palm Springs Skate Park. There's even a bowl that simulates an old-school empty swimming pool. If you are in Palm Desert, try the Palm Desert Skate Park at the Civic Center.
Fantasy Lanes Bowling There's fun for all ages at Fantasy Lanes. Bring your friends and family and bowl on one of 24 state-of-the-art lanes. Fantasy Lanes has the latest scoring technology, late-night laser bowling, and a space to celebrate birthday parties and other special events. Fantasy Lanes also features an arcade with all the latest video games, plus your favorite classics. Don't forget the snack bar to fuel you up
Kid-Friendly Food Venues
If this isn't enough family-friendly activities in Palm Springs for kids while you are on Vacation, many hotels and concierge services have activities on the property. The public libraries also have fun activities during the summer and holidays.
Enjoy All That Palm Springs Has to Offer on your next Vacation.