How To Start A Blog On WordPress in under an hour
Start Your Blog today on WordPress in under an hour. Get step by step directions here and be up and running in no time.
Have you been wondering how to start a blog on WordPress? I started blogging in 2010 on the Blogger platform. You can start a free blog on Blogspot but it has a lot of disadvantages to WordPress.
If you are on a free blogging platform, you don't own your work. Just like social media sites can be shut down at any time. If you are going to work hard on your topic or niche you want it to be safe and secure.
My blog has evolved since I started and WordPress is very user-friendly. You can be up and running your blog in under an hour. With this step by step tutorial, you will find the answers and resources to enhance your blogging or business journey.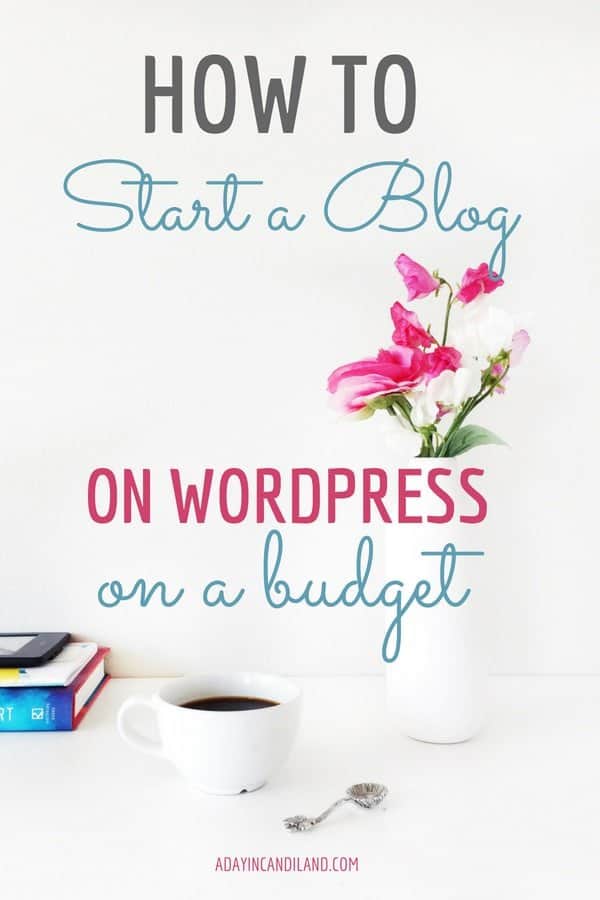 How to Start a Blog on WordPress
Why Should You Start A Blog
A Hobby
Write a Book or Become an Author
Create a Business or online storefront
Leave a Legacy to your Family
Each of these above ideas is a great reason to start your blog. Now let us get started on how to start a blog on a budget on WordPress.
4 Things You Need to Start Your Blog on a Budget
Choose a Domain
Install WordPress.org
Start Using WordPress
Step 1. Start by Website Hosting
One of the great things about Bluehost is the price. For less than $4 a month you can be up and building your business in less than an hour following these guidelines. Bluehost is one of the top hosts for start-up bloggers.
There are many reasons why you may want to choose Bluehost for your WordPress blog. These reasons include:
It's easy to use. Yes, ANYONE can create a WordPress blog easily with this tutorial
Bluehost makes it very easy to create a WordPress blog.
Bluehost web hosting offers technical support.
Bluehost is extremely affordable and they offer cheap web hosting. You can have a blog of your own and the only real expense you need to pay is the cheap blog hosting which starts at just $2.95 per month. (based on upfront years purchased)
You get a FREE blog domain.
WordPress through Bluehost is FREE.
Bluehost offers a guarantee in case you determine that it is not for you. If you sign up for Bluehost, but you are confused for any reason (such as how to set it up, picking a plan, pricing, etc.), you can always send me an email or contact customer service.
You will be self-hosted. If you want to monetize your blog, then you will want to be self-hosted.
You will appear much more professional to readers, companies, and so on if you are self-hosted on Bluehost than being on Blogspot.
Ready? Once the page opens, click the green Get Started Now button.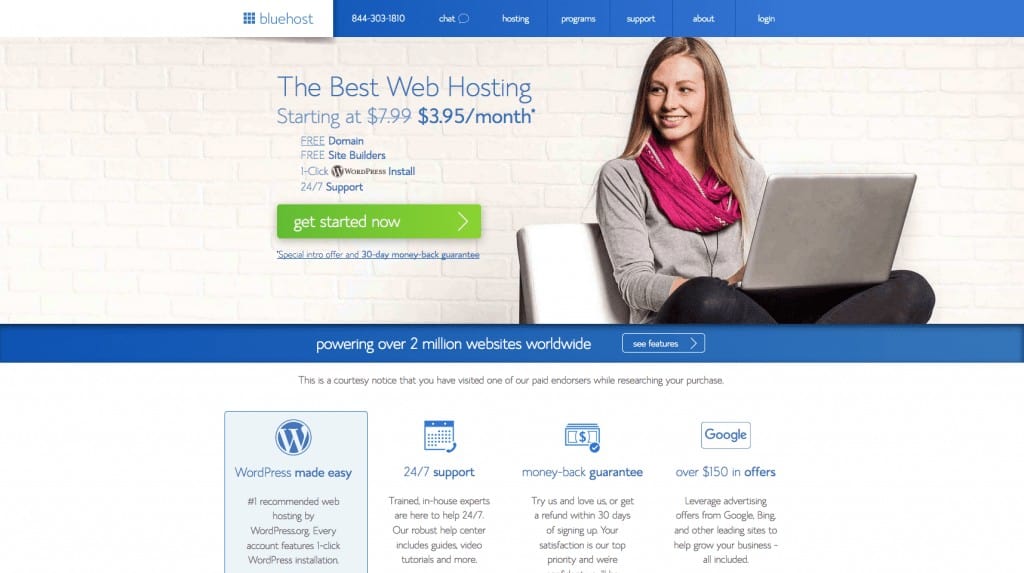 Step 2: Select your plan
These images may be different as they can change at any time.
Choose the plan you'd like to start with. I would start with the Plus plan. All plans come with one free domain.
If you feel more comfortable you can choose the Starter plan. You can upgrade at any time.
Just click one of the green "select" buttons to move to the next step. I would also choose the yearly plan as you will get a free domain with it, and if you forget to renew on the monthly plan, your site will go down. You will also save by choosing the monthly plan and we are trying to do this on a budget so saving money is good.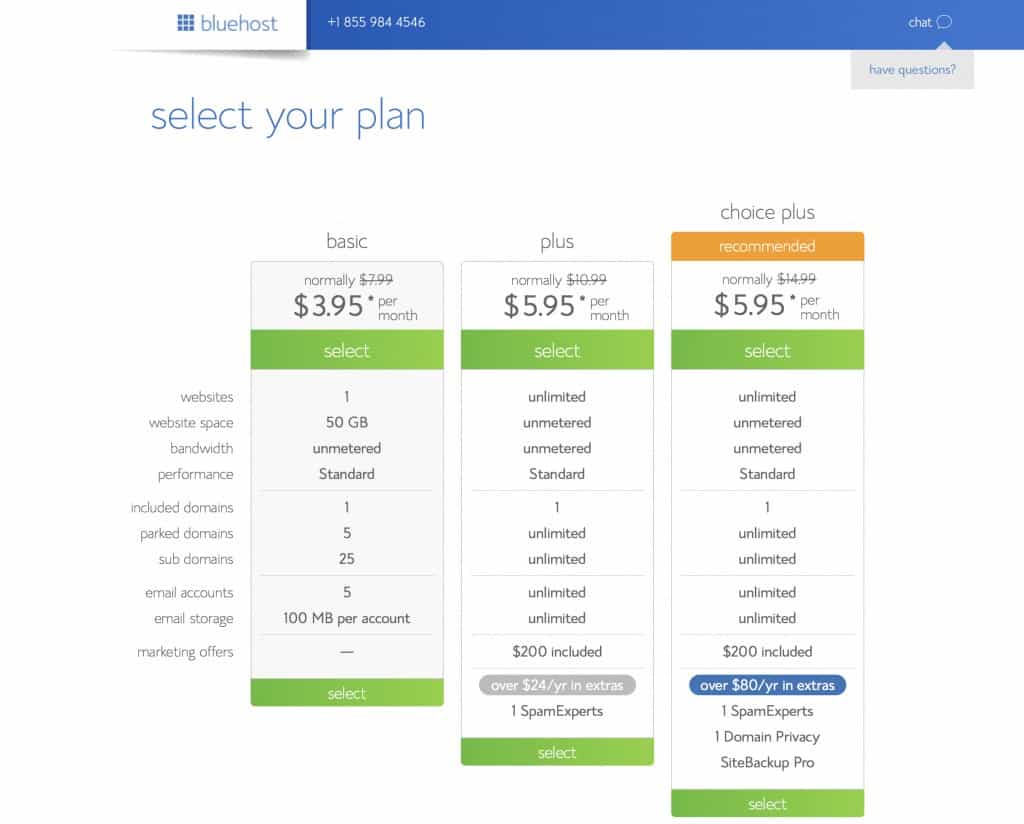 Step 3: Choose a domain
Your domain is a web address. Adayincandiland.com is my domain. You may or may not already have a domain. On this screen, you'll either choose a brand new domain or enter your existing domain.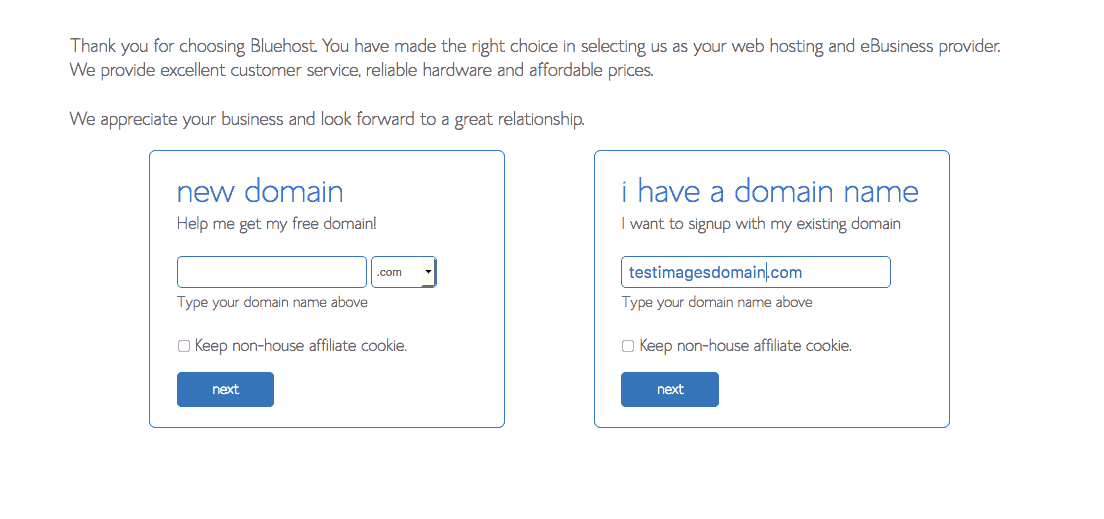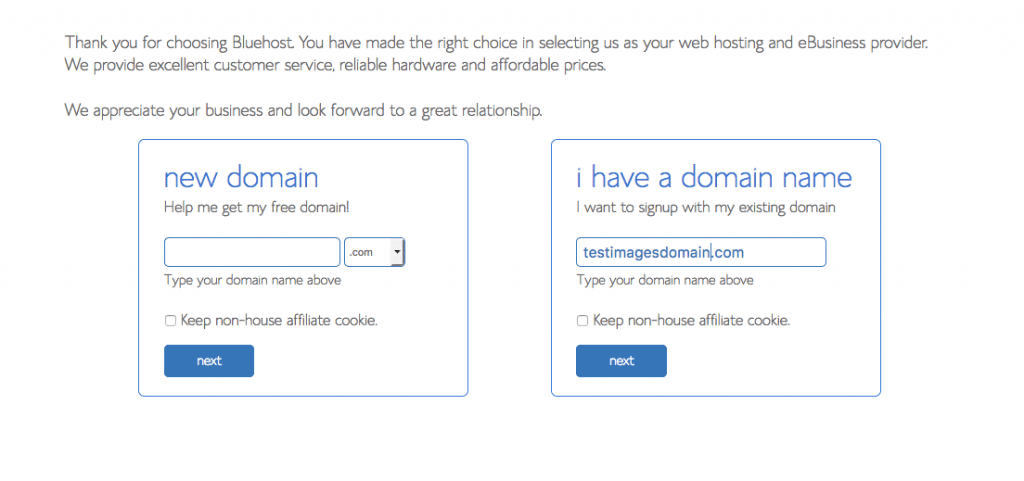 If you don't have a domain, enter a new domain name on the left. (See tips for choosing a domain below). Make sure to choose a .com or the correct extension of your choice is selected from the drop-down menu beside it.
If you've already registered a domain name, enter it on the right (don't worry, it won't mess things up if you're using the domain elsewhere, this only identifies your account).
Click the blue Next button.
Tips for choosing a domain name:
Go with a .com whenever possible.
Make it easy to say and spell.
Don't include hyphens, numbers, obscure terms or confusing strings of words.
If you're not sure what to use, your name is a safe bet to start.
Be creative and try a phrase if you're having trouble finding an available name.
When deciding on a name, you should also choose all social media platform names now to make them alike, even if you are not going to use that platform.
Step 4: Enter your account info
On the next page, enter your account info. Make sure you use a working email address because this is where your login information will be sent.
Step 5: Choose a hosting package
Under Package Information, choose your Account Plan from the drop-down menu. Choose a package based on how far in advance you want to pay. Please note, Bluehost bills a year at a time, but as you can see, it works out to a very reasonable monthly amount. Not bad for your own blog or website, right?
I always skip the other add-ons except for Domain Privacy Protection which keeps any personal information private. The only time I would skip domain privacy is if you are using a business address and don't mind if it's visible to anyone who looks up your domain. If you're using your personal contact info (home address, phone, etc.) to register your domain, I highly recommend domain privacy. Note: the Domain Privacy option only shows up if you registered a new domain in Step 3 above. It will not show up if you used a transfer domain.
Step 6: Enter your billing info
Fill in your billing information, confirm that you've read the fine print and then click Next.
Step 7: Skip the upgrades & check your email for login info
Continue on to complete your purchase. You'll be asked if you want to add any upgrades. I just skip them.
After completing your purchase, check your email. You'll find a welcome email from Bluehost with your control panel (cpanel) login info. Keep this information for future reference.
This completes the process of purchasing hosting. Now we have to install WordPress on your new site…
Step 8: Login to your Bluehost cpanel
Go to website builders and click Install WordPress.

On the next screen, click install or start.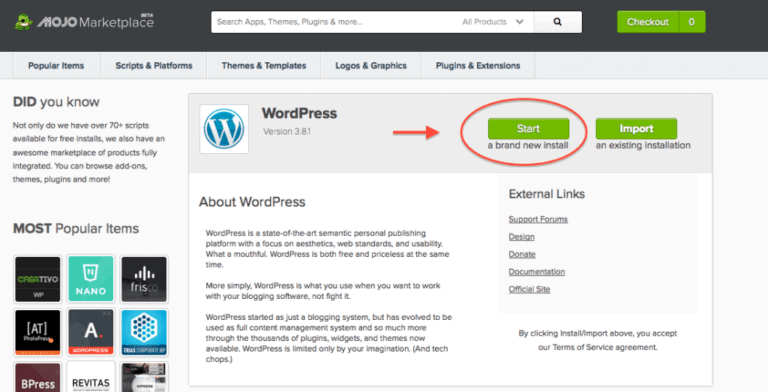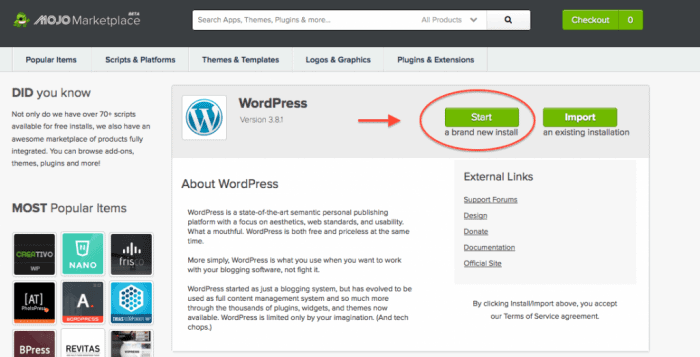 Choose Where to Install WordPress
Choose your domain from the drop-down menu if it's not already chosen for you. Leave the directory field blank unless you have a good reason to create a subfolder, which is unlikely if you are just starting. Click Check Domain.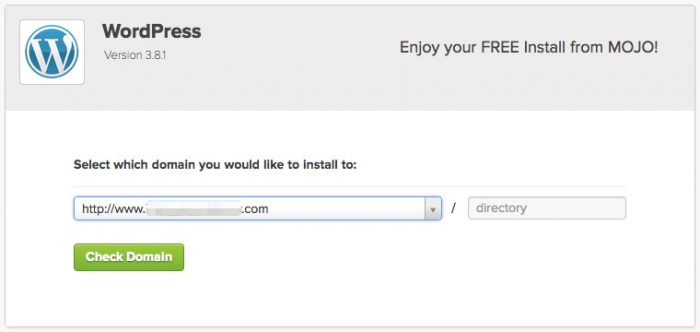 Enter your WordPress user info
Check the box next to show advanced options. Enter your Site Name or Title (e.g. A Day in Candiland, Candi's Blog, A Blog Life, etc.). This is different than your domain which ends in .com or something similar.
Choose an Admin Username (do not use "admin" as your username, this is a permanent name). Choose a password. These will be what you use to login to WordPress once it's installed. Write it Down.
Enter your email address (again, all site information will be sent here). Read and agree to the terms. Click the Install Now button.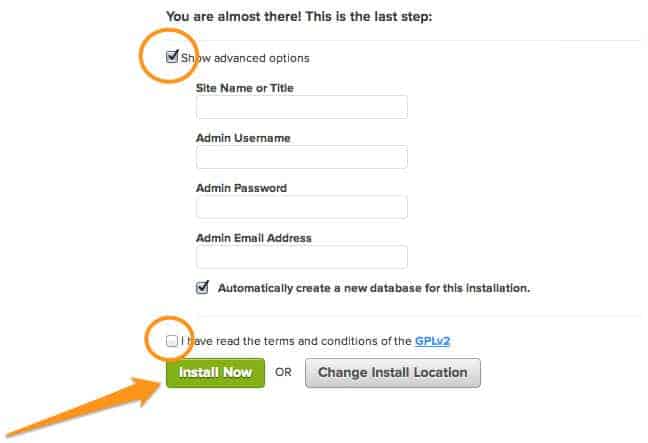 Note your WordPress login credentials
After WordPress has been installed, you should see the "Status: success" indication. Take note of the information to access your new WordPress site. This information will also be sent to you via email.
Recap
At this point, you will have received two welcome emails. The first is the login info for your Bluehost hosting account. The second is the login info for your WordPress account. Keep both, although, from this point forward, you'll be using your WordPress login information much more frequently.
Now that you have set up WordPress and hosting with Bluehost you can upgrade from a free WordPress theme to a paid one by Using the Genesis Platform and a Restored 316 Theme like mine if you choose to upgrade.
Once your blog is set up, you may want to add some plugins that most bloggers recommend along with resources & tips and learning about how you can make an income from your blog.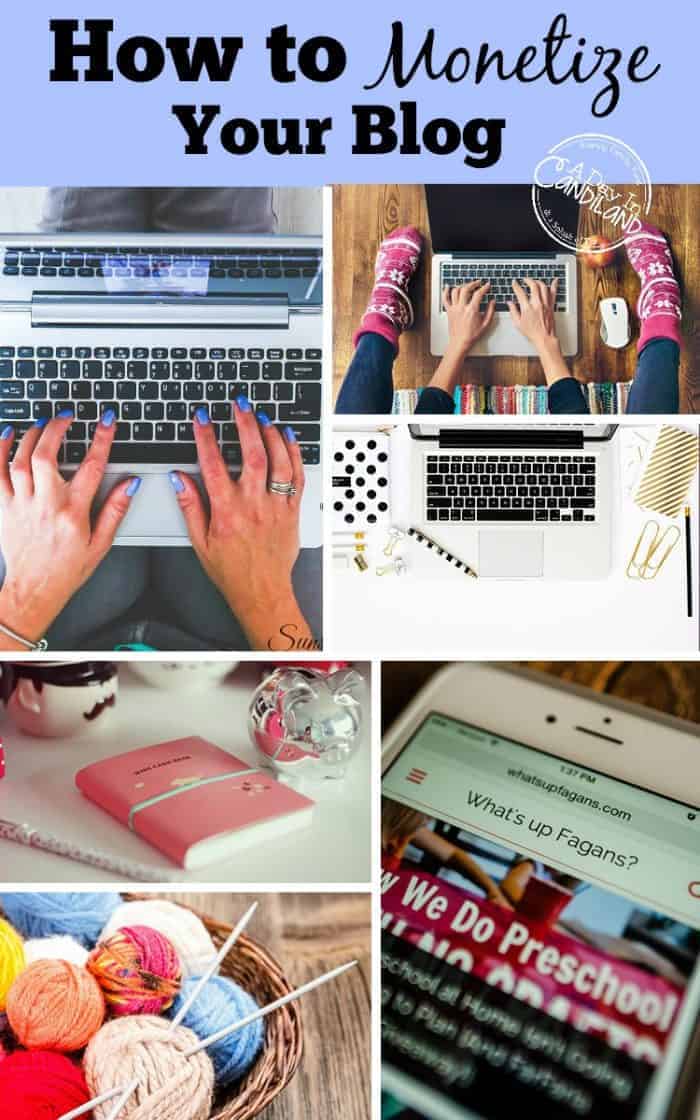 Now that you have set up your site you will want to choose your niche. You probably already chose this based on the name you chose for your site.
Choose Your Blog Niche
You might want to choose your name based on a keyword you want to rank for. Depending on what you are creating your blog for you will want your niche to be something that people are searching for.
What should I do now?
Choose how often you plan to post on your blog either one or two times a week or every day. Get 10 to 15 posts written in advance before you go live with your blog. Make sure you have nice images created for Pinterest and Social Media.
Set up all your Social Media Accounts
Twitter
Facebook
Instagram
Pinterest
YouTube
Set up Webmaster Tools and Google Analytics.
Set Up Webmaster Tools in Search Console
You can find almost anything you are looking for on YouTube, Pinterest or Google to get your answers to start your blog on WordPress.
Now that you are up and running, leave a comment with any question. Next, I will share tips that I wish I would have known from the beginning. Make sure you are signed up to receive our newsletter and the Free Checklist on how to Monetize your blog.
Set up your sitemap with Yoast.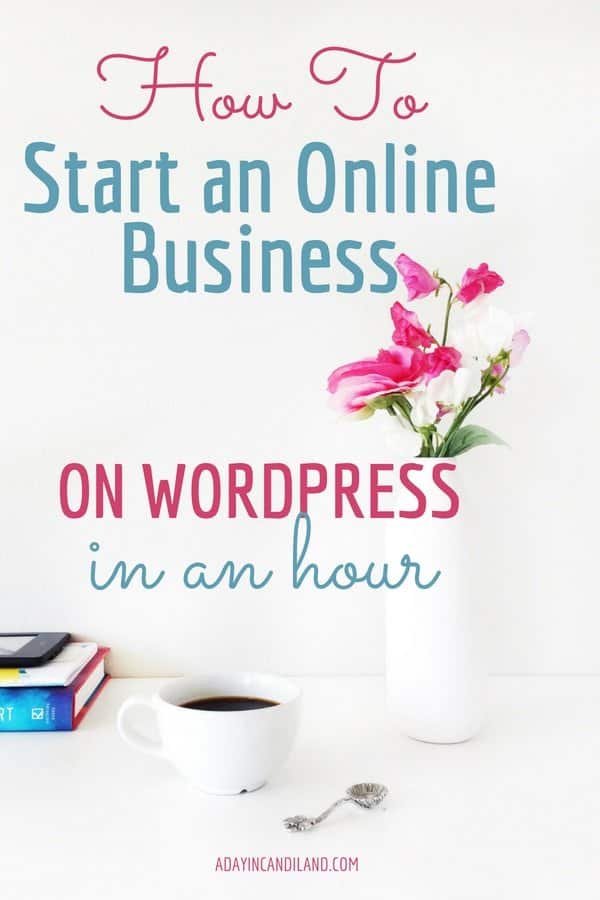 If you have any questions about Starting your blog on WordPress, leave a comment.