I am happy to announce A Day in Candiland is participating in Menu Plan Monday. It's funny that I struggle with getting dinner on the table since I am a baker. I probably wouldn't have trouble getting a cupcake on the table at night, but I think that would be considered abuse. I am so busy that going grocery shopping is not one of the things I enjoy doing.  So since the new year is here and I am working on some goals for this year, by family goal is to be better at getting dinner on the table in a timely manner.
This started last week when I brought my husband with me to the store (first mistake) and $165.00 later  not one meal could be made from what we bought. I couldn't figure out where it we went wrong.  Not even junk food could be found. Then I started googling (one of my addictions), and found Menu Plan Monday at OrgJunkie.com and also on my friend Jens blog.
This was an answer to prayer. I sat down and came up with not only this weeks meals, but also our lunch meals. I spent less at the store and have meals that include fruits and vegetables as a side dish with each meal. I feel better about serving them and hopefully the kids will be happier about eating. Now I won't be looking through the pantry at 6:00pm thinking what can I make?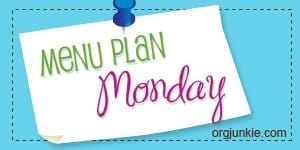 Monday: Crock Pot Macaroni and Cheese and a Vegetable Side
Tuesday: Baked Chicken with Italian Parmesan Cheese, Vegetable Side and Fruit
Wednesday: Spaghetti and Garlic Bread, Fruit
Thursday: Chicken Enchiladas, Rice, Corn and Fruit
Friday: Grilled Cheese Sandwiches, French Fries and Dessert
This was really easy to come up with by shopping from my freezer, fridge and pantry. I have lots of things that have been sitting there because I didn't have the right things to go with them.  I usually shop on Saturday after I make my menu so it works into my schedule.  We might eat left-overs or go out on the weekends, and sometimes to a friends.  I am really excited about this and hope you will share some of your menus with me. You can also come stop by facebook and share your links.
Thanks for visiting and I hope you will make A Day in Candiland one of your blogging stops.