Time got by me and I missed a few weeks of Menu Plan Monday – I did do my menu planning, but I didn't get it online. I bet you have had days like this where you just ran out of minutes or hours of your day. I have found that planning your menus saves you time in the long run. After you have done 2 months worth, you can just switch a few days around and already have them planned for you.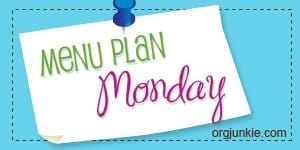 I suggest you start in your pantry and your refrigerator. You can find several items to start your meals with. My goal is to have some pictures soon of my meals to link to the recipes.  I like to sit down on Sundays and plan my week. Sometimes I do my shopping on Saturday so I plan my meals before I go to the store. Today as I am sitting here, both of my kids are playing at the park with my husband, the oldest son is 18, so he comes and goes, but for the most part, it is very quiet except for Fiddler on the Roof, which is playing on TV right now. My mother took me to see this as a child and then I bought the record so I love all the songs even 30 something years later.
Oh so back to Meal Plan Monday
I am going to start out with
Monday – Pulled Pork Sandwiches/ This is a recipe I have tried in the slow cooker that you can use. You can use cole slaw or potato salad as your side.
Tuesday – Parmesan Herb Chicken. I bake the chicken after rolling it in herbs and Parmesan cheese and salt and pepper. Then bake for 40 minutes. I use boneless breasts. For a side       dish I make green beans and serve with some fruit.
Wednesday – Hamburgers – Hubby is the barbecue r, so when he gets home he fires up the grill and makes the patties and adds some good cheese and onions and tomatoes. I like tater tots with these delicious burgers.
Thursday – Tacos,  We love tacos around here and we can use the leftovers from last night for the tacos. Hamburger, tomatoes, cheese, onions, black olives and avocado. I did go to Bed Bath and Beyond and get the tostada shells container that you bake the tortillas in for 7 minutes and they are healthier that fried shells.
Friday is almost always Pizza night, I like the pizzas from Fresh and Easy and I add some more cheese, black olives and anything else I have left over, and I make garlic bread.
Saturday and Sundays just happen, we are a busy family and we eat what we find in the cupboard or make grilled cheese sandwiches. I would love for you to share your menus or easy meals in the comment section. To find my past menus click on Menu Plan Monday . I have also linked up to OrgJunkies menus.
Have a terrific week,
Get Your 9 Page Menu Planning Kit
Subscribe to get our latest recipes, budgeting and encouraging tips and receive our 9 page menu plan kit for Free. Yay!