Yes, I admit it, I am addicted. I can't stop. I can't give them up. Please don't make me. I'm just kidding, mostly. I like to have fun, and these are my top 10 addictions or should I say my favorite things. This post was recently updated with more pictures.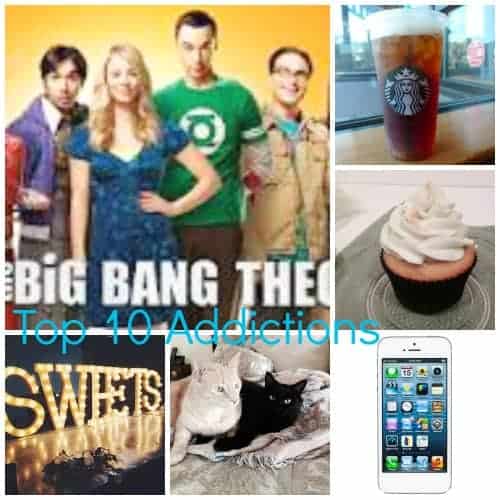 Starbucks Iced Tea – Yes, I drink from 1 to 3 Venti's a day. I am not ashamed.
Milk duds and whoppers – I love milk duds, but they get stuck in my teeth, so I limit my indulging.
The Bible – I read from the One Year Bible each morning at 5:45 am. It starts the day off right along with my affirmations.
The  Iphone – Why did they invent this. It doesn't leave my side (like men and their remotes), it's like a money sucking machine. There must be some subliminal messages coming out of it.  – Buy me, play with me, spend time with me,  etc. etc.-
Starbucks Iced Tea – Again with the Starbucks. My kids think they would have more STUFF, if I would stop drinking them. They think it's all about them.
Big Bang Theory – Bazinga. Need I say more?
My two cats – .  Aren't they the cutest babies?  My husband says, "who are you talking to, me or the cat?"  Sometimes I lie and say, "You of course!"
 Cupcakes – Obviously, hence Candiland Dessert Company  I make cupcakes and hope one day to  have a little tearoom with pastries.
  Dell Taco – 1/2 pound  Green Burrito with tomatoes and onions – its my go-to food when I am on the road.
 The Internet – I am a surfer. I admit it. I also have adhd and go from page to page. I never know where I will end up. I should leave bread crumbs or Cookies to get back home.
Obviously, I am not in therapy for these addictions, but I am not willing to give even one of them up. So tell me in the comment section something you just can't give up.