Who doesn't like Oreos? They are crazy cookies, not healthy, but definitely addicting.  Add a chocolate coating on them and put a stick in it and you have yourself a new obsession. Oreo Cookie Pops. This last week, I made some using Wilton Candy Melts and Wilton Lollipop Sticks. It was super easy. This post is part of the Ultimate Blog Challenge. Here is my last post on Easter Cupcakes.
Just get your favorite OREOS and some parchment paper and  candy melts. You can use any kind of coating even chocolate chips.  Heat up the candy melts at 30 second intervals in the microwave.
Take your cookies and carefully open them trying not to break them. Add a little of the melted chocolate to the tip of the stick and push it into the middle of the cookie and place the top cookie back together. This glues the stick inside the cookie. Then you can dip the cookie either fully or half way. I did both so you can see the difference. Make sure you let the excess drip off the cookie. Then add sprinkles or any topping you want. When you are done place them on a tray lined with parchment paper and pop them into the refrigerator for 10 minutes. Easy Peasy.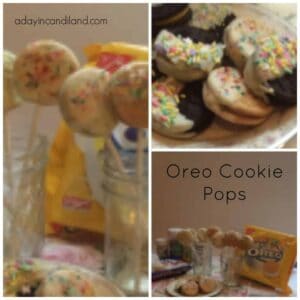 I hope you enjoy making these easy cookie pops and pin them for later viewing. These would be great for your Easter Holiday.
Leave a comment and tell me what variations you may have done recently.