Find some of the best outdoor grilling gadgets for the Grill Master in your home. When the weather warms up it's time to take the meal outside and enjoy the cool breezes and fresh air. Enjoy these great summer grilling recipes with the family.
Advantages of Outdoor Grilling
Being outdoors and getting fresh air and family activities
Grilling preserves nutrients like Riboflavin and Thiamine
Flavors and tastes of Veggies are different and have a better nutritional value.
You eat less fat when meats are cooked on the grill since the fat drips off the grill.
Marinating Meat before grilling brings out the delicious flavor.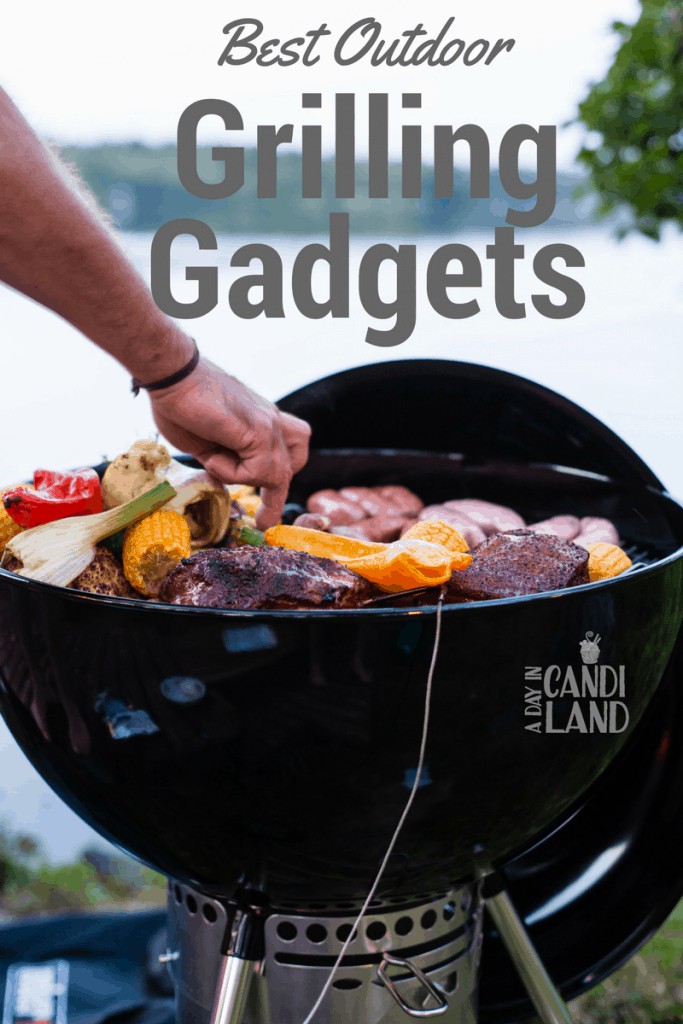 Getting outside and grilling some steaks, chicken, or fish is what summer is all about. Put a basket on the grill and cook up some veggies as your side dish along with a colorful salad and you are ready for a family get-together or a quiet dinner in the backyard. And don't forget dessert.
These tools will help you get started. Dad works hard all week and will be happy to dig into these great grilling gadgets and tools. They are perfect for birthdays, Father's Day, or any reason you want to give your Grill Master a new Barbecue Tool.
Don't forget that Mom and adult teens can barbecue also. It gets everyone outside and gets them involved in the family dinner.
*This post may contain affiliate links. If you make a purchase, I get a small commission. Please see my disclosure policy for details
Best Outdoor Grilling Gadgets
Outdoor Grilling Tools
All the best Outdoor Grilling Tools and Gadgets.
Himalayan Salt Block for Grilling Made from gourmet, hand-carved Himalayan salt, FDA approved and all-natural. Naturally adds flavor to your grilling. Chill to use as a serving dish.
Barbestar 19-Piece BBQ Grill Tool Set, Stainless Steel Utensils with Aluminum Storage Case.
Complete Grilling Solution Set With Spatula, Tongs and Fork - Ranked No.1 Barbecue Tools Gifts.
100% NON-STICK - 100% Non-Stick means you can grill without grease and mats are reusable for years! Non-stick BBQ grill mat prevent even the smallest morsels from falling through the grates.
Great for Grilling, Cooking, Baking & Smoking | Heat Resistant Silicone |Use as BBQ Grill Mitts, Oven Gloves & Pot Holders (Size L)
Weber Style Vegetable Grill Basket
Just the right tool to grill veggies that would otherwise fall through the cooking grate
BEST BBQ Grill Brush Stainless Steel 18" Barbecue Cleaning Brush w/Wire Bristles & Soft Comfortable Handle - Perfect Cleaner & Scraper for Grill Cooking Grates
TWO SIZES JUST FOR LADIES : Smaller sizes (XS/S or M/L) fit a woman's hands without extra fingertip length to get in the way. Each pair has R (right) and L (left) markings for a perfect fit.
Grilling out is an essential part of the American culture, and Weber's name is synonymous with barbecue, bringing friends and families together to create moments that make lasting memories.
You've always known the best grilling recipes come from chef-restaurateur and Food Network star Bobby Flay. Now, just as on his Emmy award-winning show of the same name, Bobby turns his attention to true barbecue in Bobby Flay's Barbecue Addiction. With this book you get the best of both worlds and can decide whether to barbecue Tuscan Rosemary Smoked Whole Chickens or quickly grill some Pimiento Cheese-Bacon Burgers, depending upon your craving.
Want to know how to make the most crave-worthy burger, sear the juiciest steak, grill BBQ chicken or salmon fillets to perfection, or smoke a pork shoulder so succulent it makes people weak in the knees? You'll find the secrets to grilling these classic recipes and dozens more in this essential guide to the subject. When author and master griller Fred Thompson heads out to the grill, he relies on simple, straightforward recipes that deliver big flavor.
When it comes to cooking and eating outdoors, I take it to the extreme. I'm a huge fan of monster-size camping trips and full-tilt backyard parties. Whether you're hosting a poolside barbecue, relaxing around the campfire, or tailgating on game day, my favorite outdoor recipes are guaranteed to get your grill going.
ATTRACTIVE SCENTED - Natural citronella oils will fill your space with a heady, long lasting scent
PATIO LIGHTS WITH EDISON FILAMENT BULBS CREATE GREAT VINTAGE "ITALIAN STYLE" BISTRO AMBIENCE: String Brightech Ambience Pro market lights on a pergola to set the mood in your patio. These Edison strings with exposed filaments give off a warm glow reminiscent of old world bistros The lights are bright enough to BBQ by without a flashlight, but dim enough not to overwhelm. Perfect for entertaining or a romantic dinner!