The big, scary milestone that is potty training is looming in our household right now.  My husband and I have been subliminally introducing the idea to our daughter by reading potty books, letting her flush the toilet 'til the cows come home, and of course, creating a poop recipe or two – you know, the usual stuff.  What?  That's just us?  Ok, well I have to admit that I find it pretty entertaining, and I wanted to share my latest cutesy poopsy recipe and printable with you today: Paleo Tree Poop.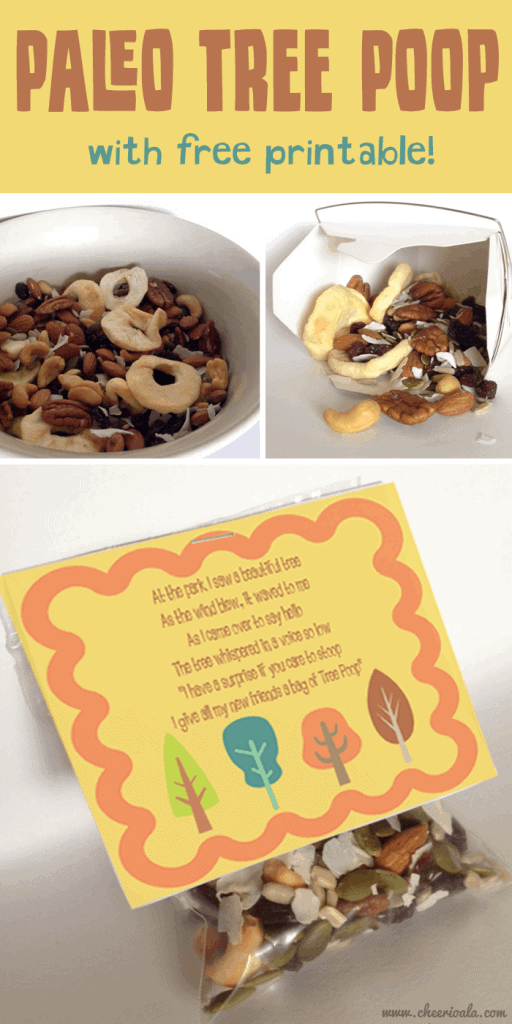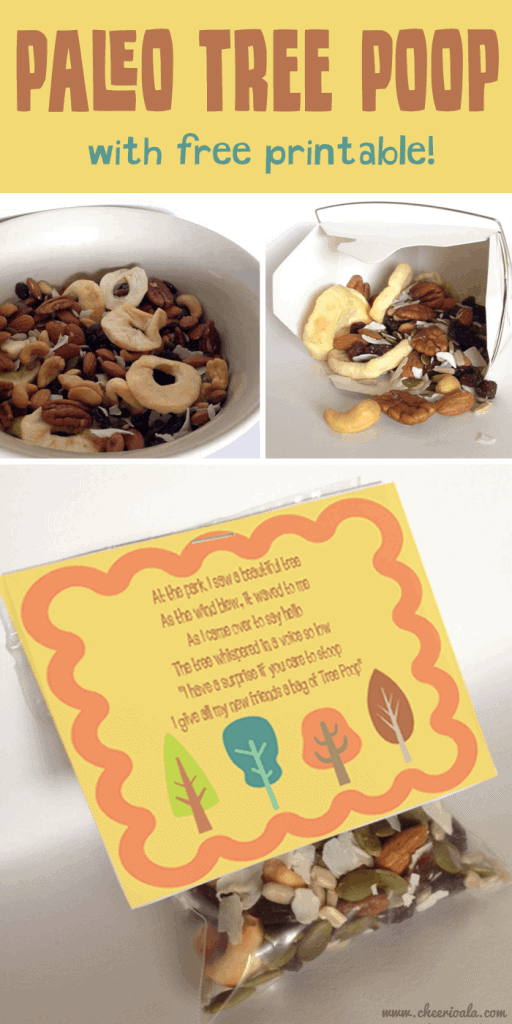 Up here just outside of Toronto, the leaves are changing and falling to the ground and my toddler who is noticing this for the first time LOVES it!  So I thought it would be fun to put together a healthy, fun, fall-inspired snack.  And since her favorite line from her potty training book is "everybody goes poopoo", well, I decided that the trees could go poopoo, too.
Why I love this Tree Poop recipe
Full of nutritious nuts, seeds and dried fruit, this Tree Poop recipe is a yummy, gluten and dairy-free snack that hits the spot.  It's really cute and is a great surprise for kids or even grown-ups whether you're looking for a fun and healthy loot bag for a party or just want a snack-time surprise. But best of all, it's SUPER easy to make, and the Tree Poop Printable is sure to get a few giggles!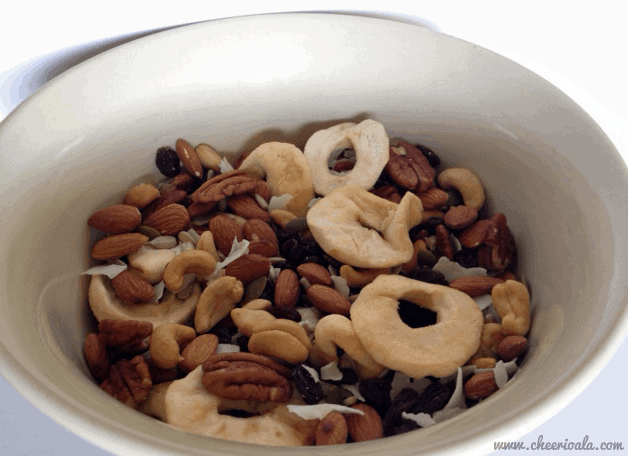 Paleo Tree Poop Recipe
Ingredients
1/2

cup

Dried apple rings

1/2

cup

Raisins

1/2

cup

Cashews

1/2

cup

Pecans

1/2

cup

Almonds

1/4

cup

Pumpkin seeds

1/4

cup

Sunflower seeds

1/2

cup

large unsweetened coconut shreds

Small treat bags or boxes – you can dress up whichever you choose with the printable.
Instructions
Place all of your ingredients into a large bowl and combine them so that everything is more or less evenly distributed.

Now fill up your bags or boxes with the desired amount of Tree Poop.

Download and print the attached Tree Poop Printable, cut them out and staple or glue them on.

Now share your Tree Poop with someone and have a good giggle!

More fall-inspired gluten-free recipes:
Gluten-Free Peanut Butter Cookies