In just a few days it will be 4th of July and I made these Red White and Blue Oreos this week. Who doesn't like oreos? These are so pretty and easy to make. I wrote this 4th of July Recipe Round Up last week and then made these Oreos a little late to make it in the post. I made these Oreos a few months ago and we finished them off pretty quickly. I can't tell you how many times I bought a package, planning to make them and they were gone by morning. And no it wasn't me, it was may darling children.
*Disclosure – There are affiliate links in this post.
So once again, I ran down to the store to get the Oreos, and then went into my collection of Wilton Candy Melts and picked out Red Velvet and Blue and then got my sprinkles out, and also a few candy sticks.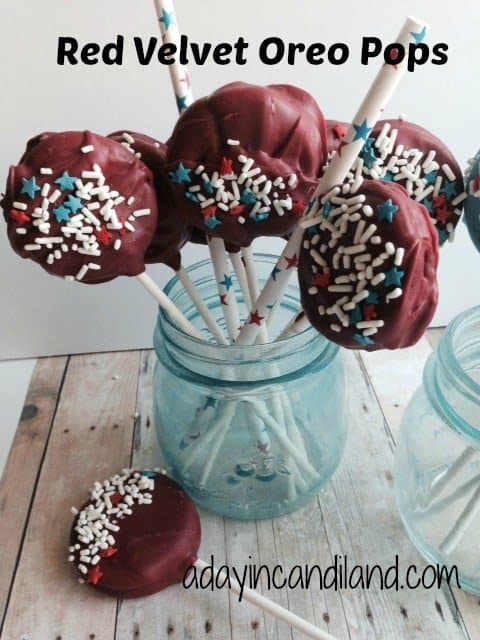 Red White and Blue Oreos
Place about a cup of Candy Melts into a microwavable cup and melt at 30 second intervals until melted, stirring in between. Set aside.
Carefully open your oreos and place on a cookie sheet covered in wax paper.
Dip a cookie stick into the candy melts and place between the cookie sides. Be very careful not to break them.
Place tray in refrigerator to set and harden for 15 minutes
Take out of refrigerator and start dipping the pops into the candy melts and use a spoon to smear it over the Oreo.
Carefully tap the stick onto your pointer finger to remove excess candy melts.
Now place back on the tray and sprinkle with pretty sprinkles and when finished place back in refrigerator for 20 minutes.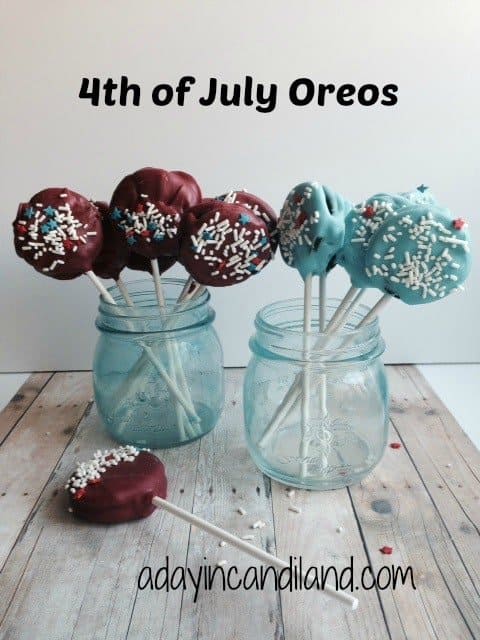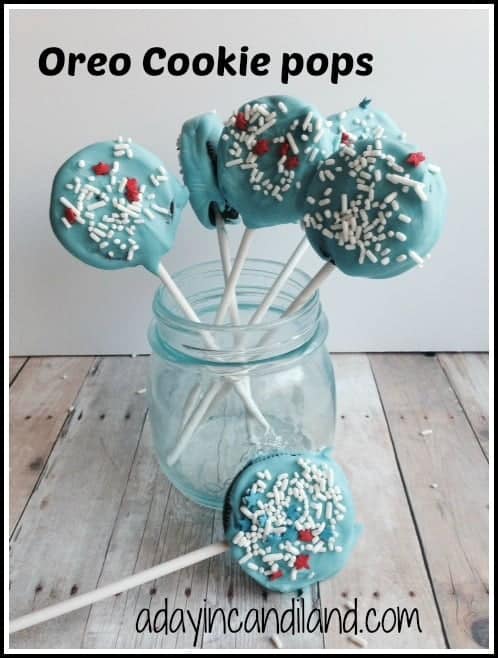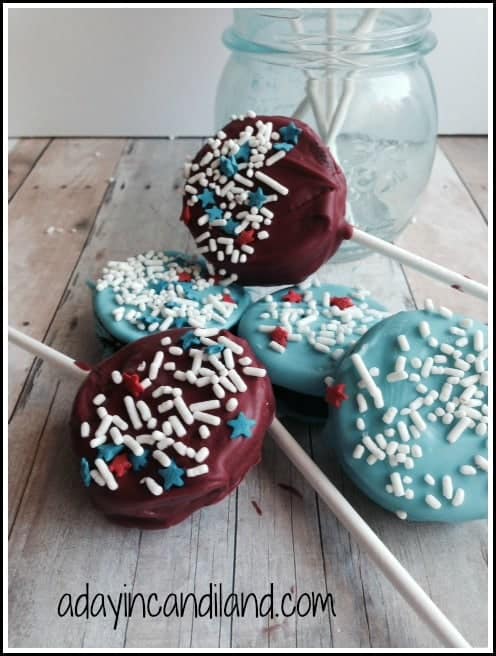 The possibilities for these cookies are endless. You can make them any color and add flavors to the Candy Melts. I used Wilton's Red Velvet Candy Melts that I bought a while ago, but they were a limited flavor. You might be able to find them in your favorite hobby store. You can make them with the stick or without.
I hope you enjoy these Red White and Blue Oreo Cookie pops and will pin them to your favorite board.