Reduced Calorie Mocha Espresso Creme Brulee gives you all the rich creamy goodness of Creme Brulee without all the calories.
I love this time of year when I can start baking more than usual and I have come up with a great twist on one of my favorite desserts, Reduced Calorie Mocha Espresso Creme Brulee.
Reduced Calorie Mocha Espresso Creme Brulee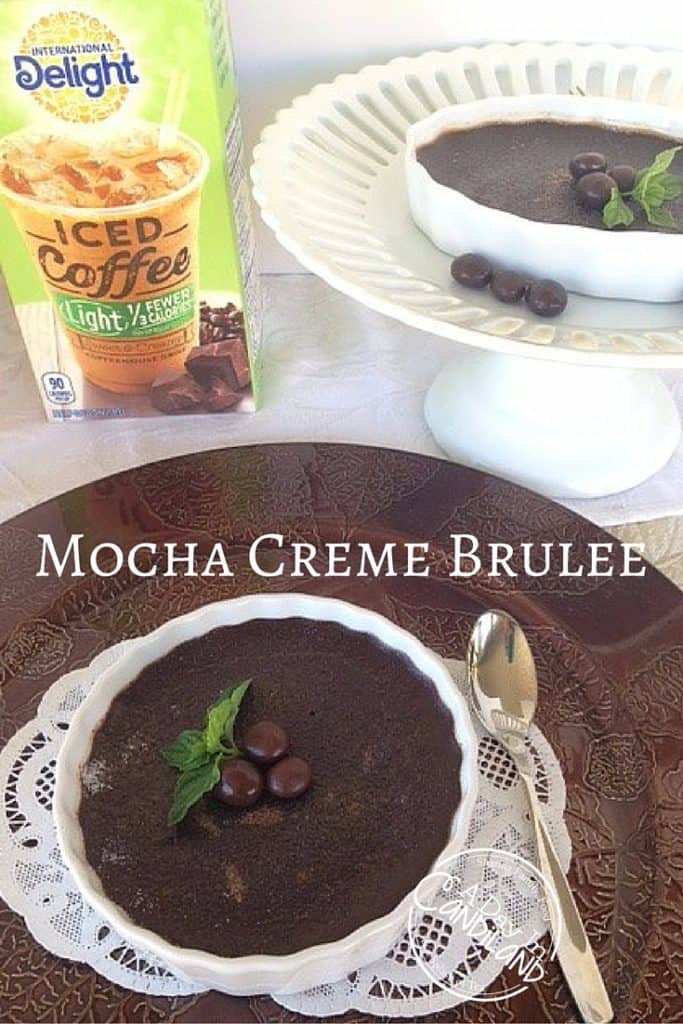 Usually, Creme Brulee is made with heavy cream but for this recipe, I am using mocha light, one of the four flavors of International Delight Iced Coffee, that you can now find in the refrigerated juice/tea section of your Walmart store.
I figured since we will be eating lots of great food and desserts in the next few months, why not cut out a few calories right?
I love the fact that you can use this Mocha Light Iced Coffee as a stand-alone drink or use it as an ingredient which is what I replaced some of the heavy cream I would have used and some of the bittersweet chocolate with.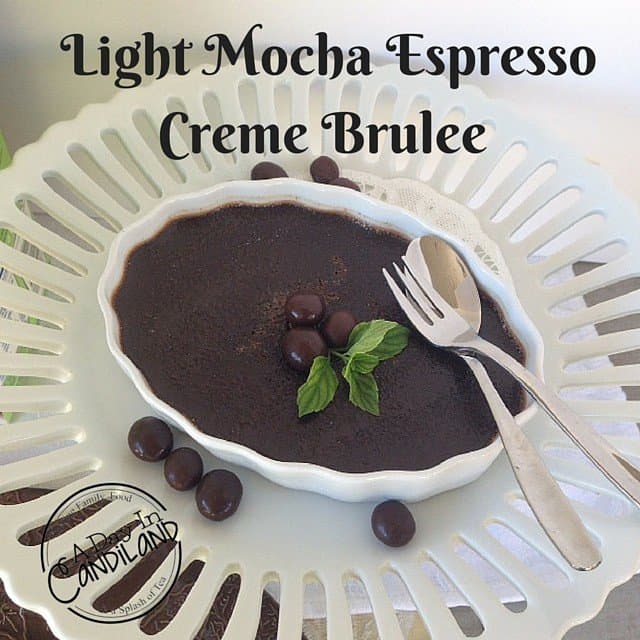 Creme Brulee is one of those desserts that sounds like it took hours to make and is really difficult but it isn't. You can read about how to make a water bath here. I bet the other flavors of Iced Coffee would be great in Creme Brulee also. You could substitute the Vanilla Iced Coffee into my Pumpkin Creme Brulee recipe.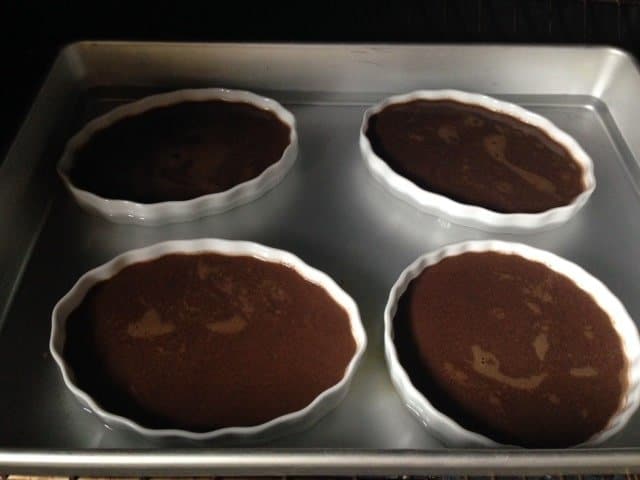 These desserts look so fancy my family wondered what the special occasion was for when I made them. I just said it's all for you, you are my special occasion.
When you think about it, most of us are so blessed, and with circumstances in our country the way they are today,  we should take every day to let our family know how special they are. Get out the good china, don't keep it hidden away, make a special meal or dessert for your family more often and let them know they mean the world to you. Every moment is precious.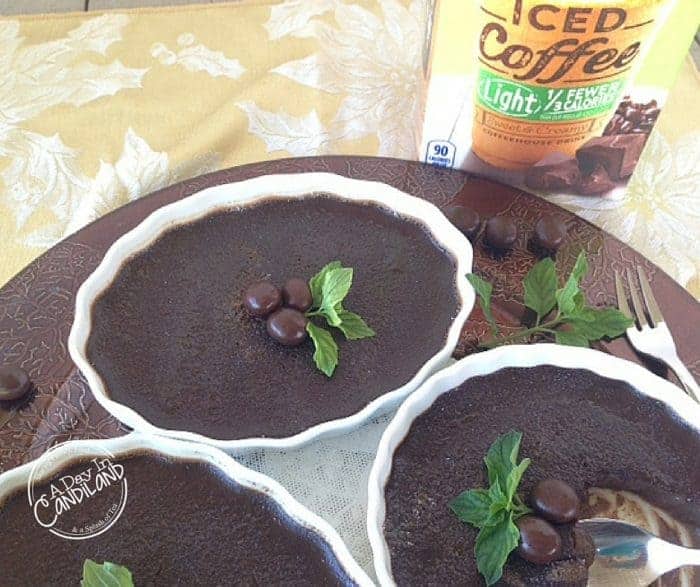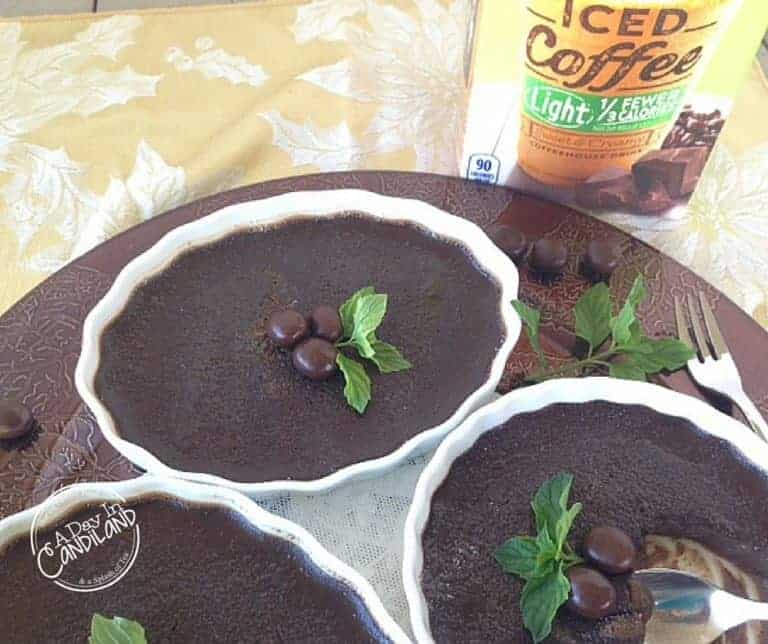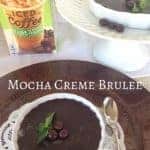 Print Recipe
Reduced Calorie Mocha Espresso Creme Brulee
Reduced Calorie Mocha Espresso Creme Brulee gives you all the rich creamy goodness of Creme Brulee without all the calories.
Ingredients
1

Cup

Low Fat Milk

1

Cup

Mocha Light International Delight Iced Coffee

1

Tb

Espresso Powder

3

OZ

Bittersweet Chocolate

6

Egg Yolks

4

TB

Granulated Sugar

1

ts

Vanilla Extract

1/4

cup

granulated sugar for topping

Espresso Beans for garnish
Instructions
Preheat oven to 300 degrees.

Add milk and iced coffee in heavy saucepan with espresso powder and simmer over low heat until powder has dissolved. Take off heat and add chocolate. Whisk until smooth. Set aside.

Add eggs, sugar and vanilla in large bowl and whisk until sugar dissolved.

Slowly add chocolate into egg mixture and continue to whisk so eggs do not curdle.

Then pour through a strainer.

Add mixture into ramekins and into place into a water bath and carefully put into oven.

Bake for 40 to 50 minutes. Deeper ramekins need longer time while shallower ones need less. Custard will be done when there is just a little wiggle in center.

Take out of oven when done and leave in water bath until water cools.

When ready to eat add sugar on top and place in broiler to brulee or use a torch.

My ramekins made 4, smaller ramekins should make 6 desserts.
Get coffeehouse taste without having to drive to the coffeehouse and try them in a new recipe and let me know what you made!
Free Menu Planning Cheat Sheets
Subscribe to get our latest recipes, budgeting and encouraging tips and receive our Free menu plan cheat sheet with 7 days sample recipes for Free.