I was so excited to receive my Rubbermaid LunchBLOX in the mail this week. School starts in a few weeks and I have been thinking of all the wonderful ways I can use this. There are different sizes and configurations to the containers and the part I like the best is the Blue Ice cold pack.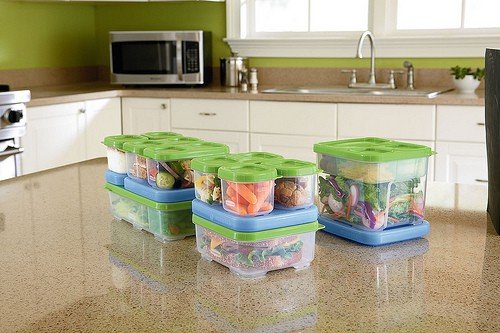 This snaps together and you can put it in your lunch box or use one of Rubbermaids Lunch bags.
I have to tell you it's 111 degrees here in the desert, and everything gets hot in a minute. I love the fact that this comes with a Blue Ice pack that snaps on to the containers to keep things cool. I have been working on some ideas that my daughter would like in her lunch. She is not a bread sandwich type of gal. She does like ham or turkey and provolone wrapped in tortillas, that could go in the bottom container, then the next largest blox could be filled with some celery stix. As an alternative to this, some strawberry's or grapes. Some dip or peanut butter could go in one of the smaller containers with nuts in the last one. There are really so many options. I am going to get one for myself, I do a lot of driving and it is so much healthier than going through the drive thru.
This could be filled with baby food, cheerios, and fruit. You could also get the largest container and fill it with green or chicken salad. The possibilities are endless.
Here are some benefits of the Lunch BLOX:
Modular containers snap together to save space in your lunch bag
Kit includes specially designed Blue Ice™ pack that works with LunchBlox containers to keep lunches chilled on the go
Containers are perfectly portioned for lunch foods commonly carried away from home
Microwave-, dishwasher- and freezer-safe and BPA-free
The Sandwich Kit includes a sandwich container sized for regular and specialty breads, two snack containers (perfect for yogurt or nuts) and a snack container (perfect for fruits, vegetables and chips)
Here is the Rubbermaid page to see how you can use them. The LunchBlox Sandwich Kit is currently available for purchase at Rubbermaid.com, Target, Kmart, Kroger, Safeway, Bi-Lo, Winn-Dixie, HEB, other grocery stores and select Wal-Mart store.
What would you put in your Rubbermaid Lunch Blox?
Disclosure: I received a complementary Lunch Blox for review, however, the opinions expressed here were my own.