It's Shark Week.
Don't worry, these easy cupcakes won't draw blood. But when you bite into them you might get a surprise.  This post started a year ago and somehow I never sent it out. So since Shark Week is almost over and that's all that's on our T.V. this week, I thought we would celebrate with some Shark Week Cupcakes. Shark week is getting more popular every year. It's almost like Superbowl Sunday. Have you see the commercials? I'm sure you will be hearing a lot about it this year and seeing it on instagram.
Shark Week Cupcakes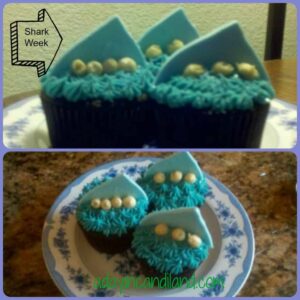 Have fun with these cupcakes and surprise your guests.
You can use your favorite boxed recipe or use one from scratch. After their done cooling, fill them with some strawberry or raspberry jelly. Just cut a little cone out of the top, spoon in some jelly and put the cone back on top. Then frost with some blue icing and pick up some fondant, cut out a heart shaped piece with a cookie cutter and cut off about 1/2 of it and you have the shark fin. Use some grey food coloring on the fondant before you cut them out. You can frost these by putting icing in a piping bag and use a wilton star tip. These are super easy and you can even cut them out free hand.
I wanted to leave you with one more picture from a few years ago. It's my son on Vacation, we found a shark on the beach. 
Do you watch Shark Week? Do you do a shark week post? Leave me the link so I can check it out. You can also share it on my facebook page.