I love Easter and Spring time. I think of new beginnings when it rolls around. New flowers everywhere and the sun stays out longer and around here softball and baseball start. Everything seems sunshiny. Is that even a word? The birds are chirping as my alarm clock and the kids are on spring break, its just a prelude to summer. I like to decorate my table and my door and my Easter or Springtime mantle.
I found these great bottles at Michaels a few weeks ago and thought they would be perfect. Plus they were 40% off and you can't beat the price. Everything on my mantle was from Michaels, except the faith sign that I got at Family Christian Stores. Make sure you are following at Bloglovin to keep up with my latest posts including yesterdays cupcake recipe or my Spring and Easter Pinterest Board.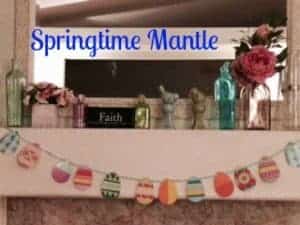 This month I am blogging with the Ultimate Blog Challenge.  You can also follow along on twitter. What is your favorite season of the year? What do you like about it? Let me know by leaving me a comment.