I have a treat for you today. I have Alexandria from the blog Winifred Jac visiting today. She is a style blogger and she is sharing with our readers today about End of Summer Essential Clothing and Accessories.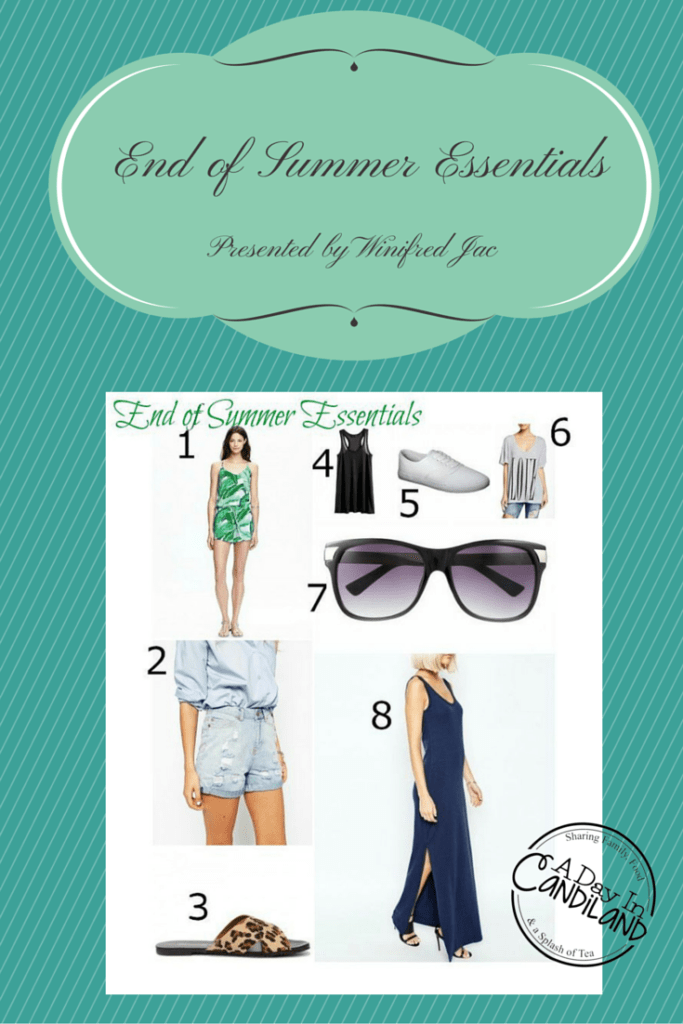 Hey everyone! I want to introduce myself to all of you Candiland readers. My name is Alexandria, and I blog over at Winifred Jac. I am a SAHM to a beautiful and silly, almost 4 year old (many tears). She is everything to me and such a good girl. I love featuring her on my blog, as well! Girl has style. I love reality tv, shopping, Justin Timberlake, and good food & wine. I started blogging about a year and a half ago. I danced my whole life and when I had to stop teaching, I needed something for myself. I have always been a shopaholic and fashion lover so my style blog was born! My style is very "casual chic", that's just what I came up with. I always get asked to describe my style! I want to use my blog and all the opportunities that come with it as a platform to open a boutique one day. I hope you love this post! XO.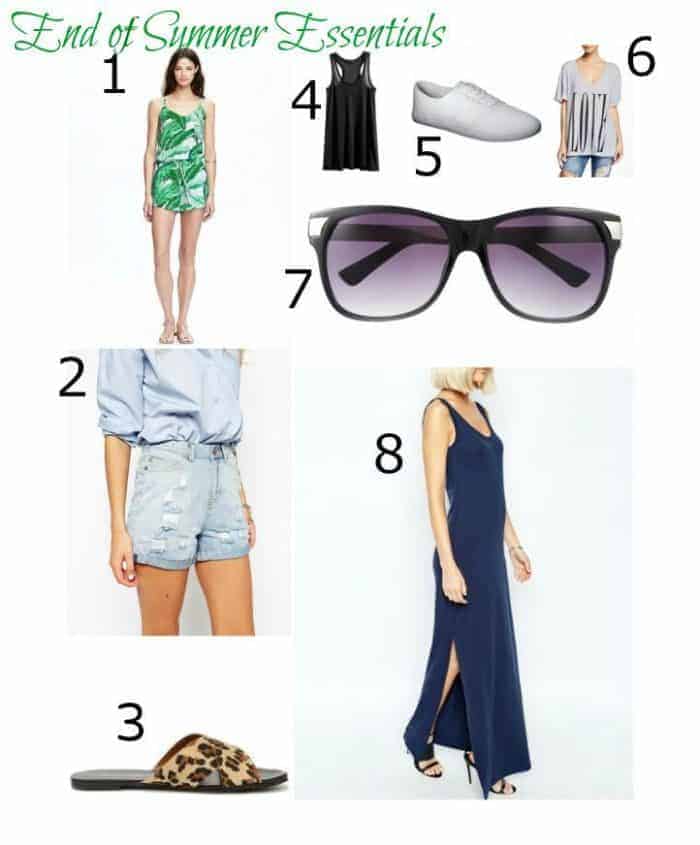 August is just around the corner. It's definitely not getting any cooler so there is still time to build your summer wardrobe and get these essentials. Almost all these pieces are great transition pieces, too. If you live in the South, you know that just because it's October, doesn't mean it's all sweaters and boots.
A great pair of boyfriend shorts, which are super trendy right now, can totally work with a long sleeved tee or even a fall jacket. Of course, this works no matter where you live when the nights start to get chilly. But let's still talk summer trends. A screen tee is a must. If you subscribe to Winifred Jac, I send you a CLOSET CHECKLIST. It has 20 pieces to create a trendy wardrobe and a screen tee is on that list. I'm obsessed with them, for myself and my daughter! Slider sandals and white tennies are so 90's, right? Well, they are back and another must-have. I had to throw in a fun printed romper because, why not!? The romper and maxi dress are the easiest pieces to throw on when you are out and about and the weather is scorching!
One piece = Cool, both looking and feeling. I really hope this helps anyone who is still in need of some summer essentials. I have linked everything below.
1. Romper/ Old Navy
2. Shorts/ H&M
3. Sandals / Lulus
4. Tank/ H&M
5. Tennis Shoes/ Target
6. LOVE tee/ Nordstrom Rack
7. Sunnies/ Kohls
8. Dress/ ASOS
I hope you enjoyed getting to know Alexandria and leave her a comment sharing which piece you need in your wardrobe.
Get Your Menu Planning Cheat Sheet
Subscribe to get our latest recipes, budgeting and encouraging tips and receive our Menu plan cheat sheet with 7 days sample recipes for Free. Yay!