Taking Tea is a luxury everyone should experience once in their life.
Last week my sister, niece and I had teatime at Belladonnas in Lancaster, CA. It is a wonderful Teahouse that serves the best sandwiches and unlimited tea.
Afternoon Tea at Bella Donnas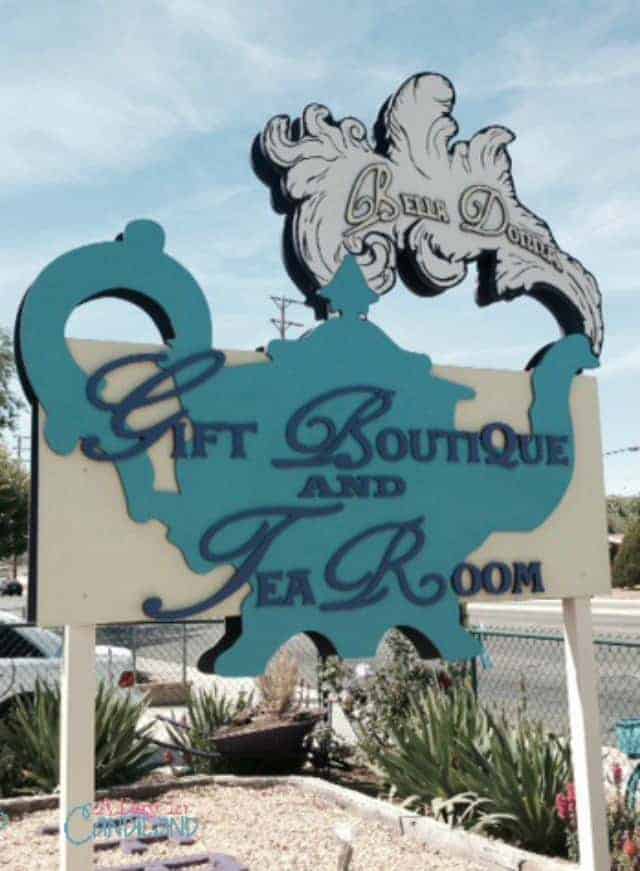 Belladonnas is about 2 hours away from Palm Springs, in Southern California. Ms. Donna, the owner, serves tea in an adorable Victorian storybrook style teahouse. When you get to the front entrance you can see plants, bicycles and claw foot tubs, that serve as planters n the garden that make you think of days gone by.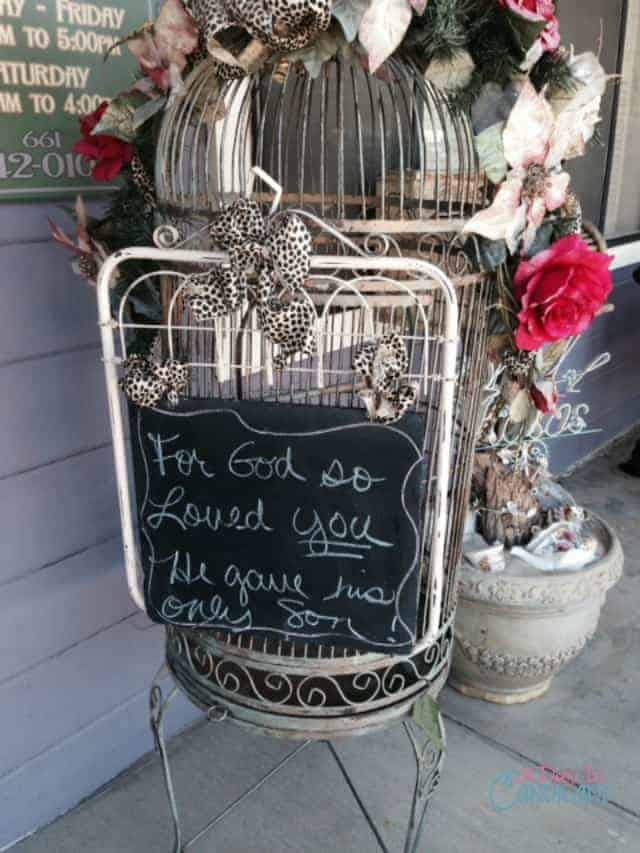 As you enter the house, you come into the gift shop that is full of teacups, teapots, and loose leaf tea. She has the sweetest pictures on the walls and handkerchiefs that say Mother (since it is almost Mothers Day).
Bella Donnas Gift Shop
Her menu is very extensive and you can choose between several options. Reservations are preferred but not mandatory, except for the holiday teas, such as Mothers Day.
When my sister made the reservation she chose the menu over the phone. When we arrived we were able to choose from several hats available to get the full tea experience. Then we sat down in the quaint seating area with several tables.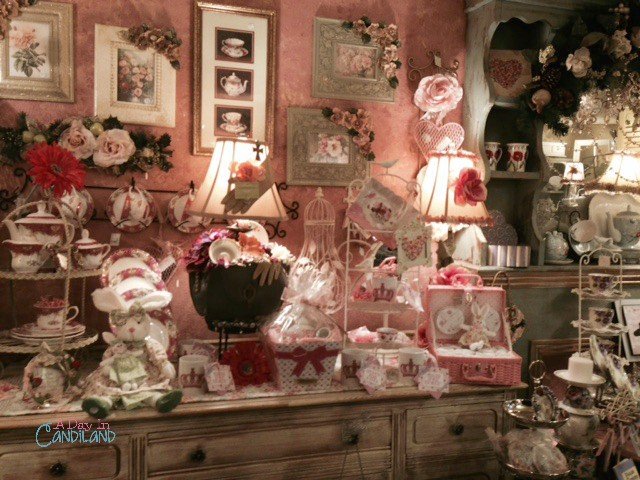 We were given a tea menu of pages and pages of loose leaf teas to try. We all got our own pot of tea. I chose the Lavender tea and it was delicious.
A few minutes later our 3 tier tray of sandwiches came out. There was egg salad, chicken salad with grapes, cucumber dill and pesto cream cheese, and ham and cheese. They were so cute, cut in shapes and just the right amount to try all of them.
Tea Sandwiches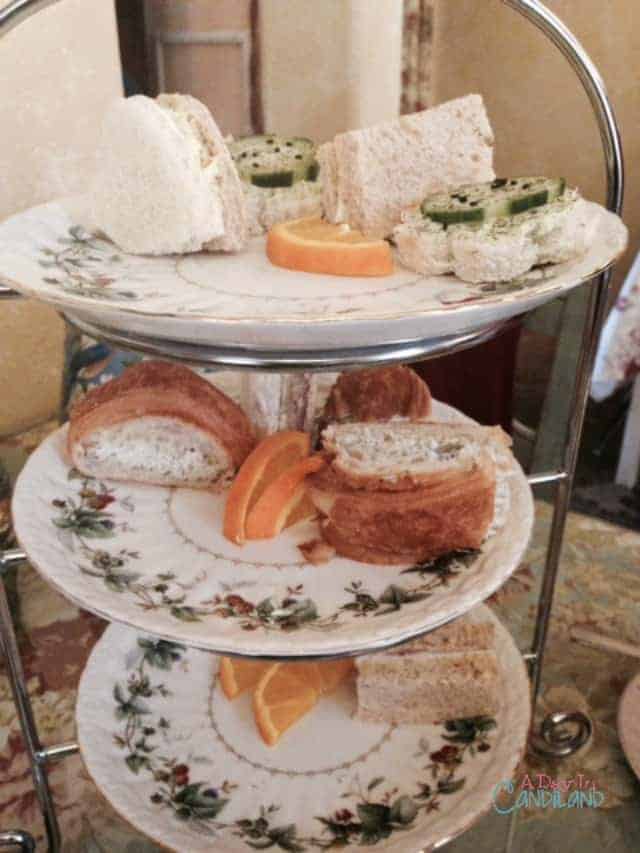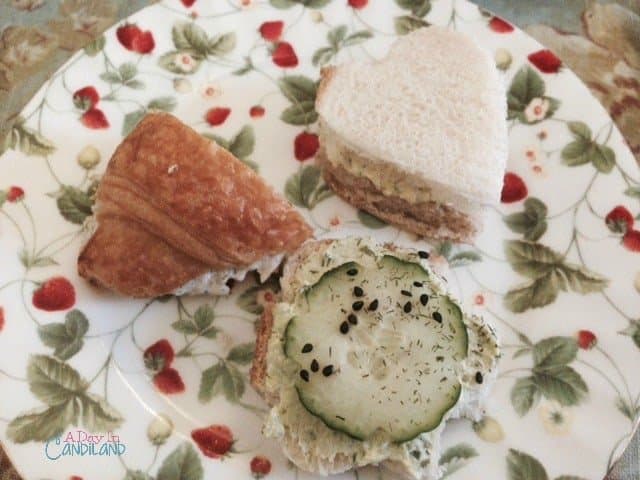 We continued on with our tea drinking and conversation and taking pictures of everything. There were lots of newspaper articles on the walls framed. I believe she opened 15 years ago.
Scones and Devon Cream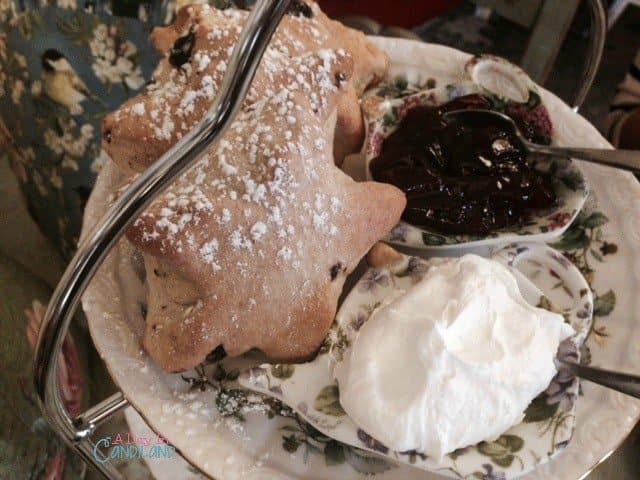 Then we received our chocolate chips scones. They were in the shape of a star and had devon cream and preserves. These were heavenly.
Unfortunately, my sis, did not think about what a crazy dessert person I am, and love to see all the lovely treats, so we did not preorder the desserts with our meal. Believe me, I was full, but you can always fit in one more bite. Next time I will order the desserts and update this post with pictures.
This was the second time I have had teatime at Belladonnas and it is definitely worth a trip if you are nearby. Make sure you pin to your favorite afternoon tea pinterest board.
Have you been to Teatime at BellaDonnas, or somewhere that made you feel like a Queen or Princess?
Here are some Mother's Day Tea Ideas.