This Thanksgiving, I went with the theme Be Thankful Fall Mantel. I have always wanted a mantel. I think it is one of the big features in looking for a new home. Our last house did not have a mantel so we had one built. The funny thing is we realized they put it on upside down, so we didn't have that nice sharp edge on top, it was underneath. It was also a little too narrow. When we moved to our new house, the new one was still a little small for my taste, but for now it will have to do.
Be Thankful Fall Mantel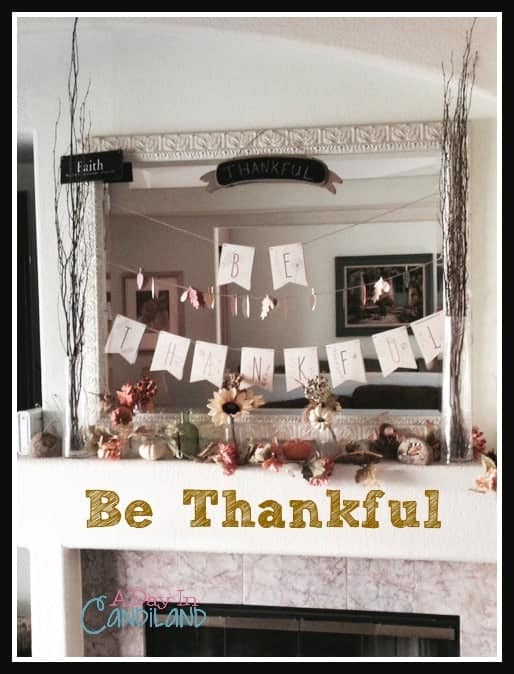 I had wanted to really work on my mantel many times during the year, but for some reason it hasn't happened. As we are coming into the fall and winter holidays, I really want to decorate. I have a very large mirror which can't be moved, so I have to find ways around decorating. I may find a smaller mirror piece that will work. I would love to find an old window like I had at one time. I think they are so rustic and also shabby chic.
I woke up today and thought today is the day we go from drab to fab for my Be Thankful Fall Mantel.
I started by taking everything off and dusting the ledge. Then I cleaned the mirror. I have a Mantel Pinterest board that I have been perusing and one of the posts said to decorate in 3 stages or layers.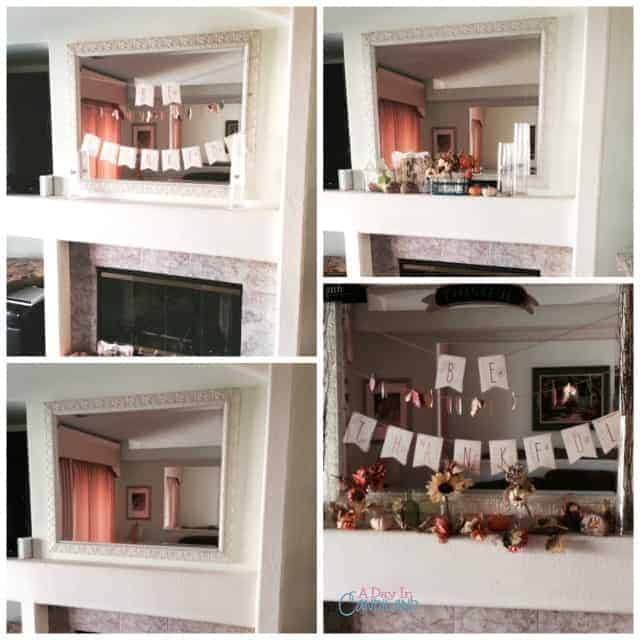 Your first being your main piece and the one that is closest to the wall. I used my mirror. I was going to put a wreath up on the mirror but decided to use a banner I got at World Market that says Be Thankful.
The 2nd layer or stage would be the pieces on the side. They don't have to be matching but something with height. I choose my votive holders I got at Target and took the candles out and put some sticks in them from Michaels.
Then I added the 3rd stage which is the filler and smaller items. I used some mini pumpkins and vases and silks. I also found this Chalk Sign that I found at Michaels to add to the top of the mirror. The hard part of photographing this mantel is it is right by a door and has a bad reflection. So please forgive my skills on these images. Here is a Year full of Mantels.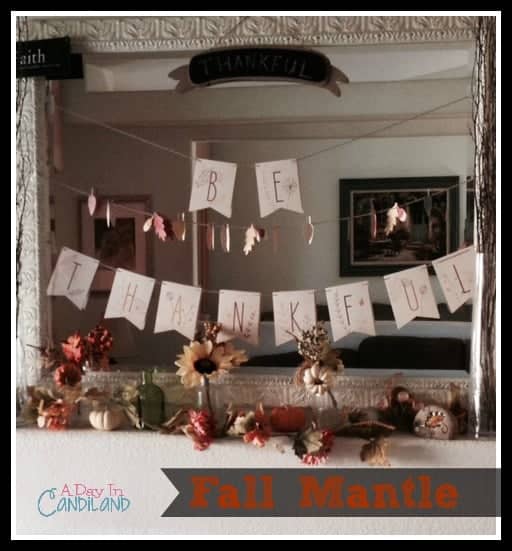 Here is Something to place on your mantel is my Thankful Fall Printable