These are the Top Ten Posts for 2016 on A Day in Candiland.  According to my analytics these are the most read posts last year, most of them are a few of my favorites. I hope they become yours also.
Some are recipes, some DIY projects, some financial printables and a sweet story.
Top Ten Posts for 2016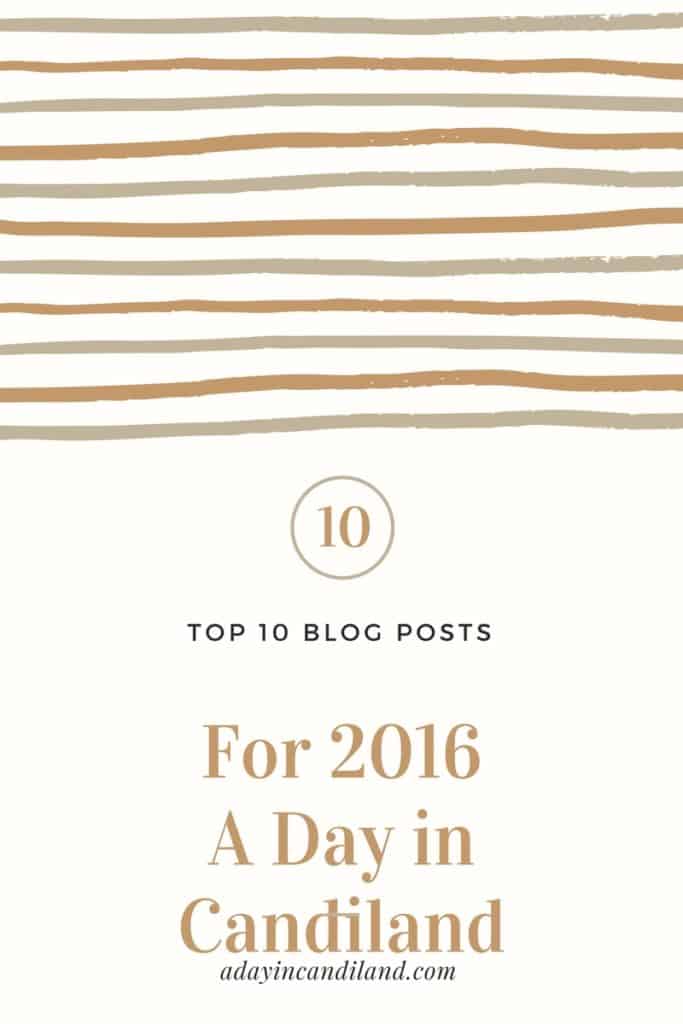 You make my heart Pop!   This Valentines Day Printable would be perfect to make up for your kids to take to school. Everyone will be handing out sugary treats but this "You Make my Heart POP!" valentine is paired up with a bag of popcorn – great for those of us that are trying to cut down on the sugar.
How we take a break from Holiday Busyness!  Family game night is a fun time at our house. We don't do it as often as I would like, but it is a time we can all be together and the cares of our days are not invited.
Create a monthly budget with printable. Our challenges start with a timer. I would suggest you don't use your phone because you might be tempted to get distracted and your goal is so save time.
10 Secrets Every Baker Should Know!  These 10 secret tips every baker should know will make you a star in the kitchen. I am sure you have heard Baking is a Science and today I am going to show you a few tips to help you make your dessert treats the best they can be.
Easy DIY Photography Prop!  These 10 Easy DIY photography props can be made in a day and will make your picture taking easier.   When I made my first photography prop from a pallet I found on the side of the rode and cost me little to nothing to finish up, I knew there had to be more ideas out there.
The Teacup Story! There was a couple that used to go to England to shop in the beautiful stores. They both liked antiques and pottery, especially teacups.
Red Velvet Cheesecake Brownies These Red Velvet Cream Cheese Brownies are moist and delicious and would make a great party dessert. I have a fascination with brownie recipes, and who wouldn't  love Red Velvet Cream Cheese Brownies?
Meal Planning Made Easy  Welcome to week 1 of Weekly Meal Planning Made Easy, where you will find a recipe for each night of the week plus a dessert or two.
Quick and Easy Frosting Tips  Making cupcakes is one of my favorite things. I love to make them, decorate them, eat them. But sometimes it gets messy. Here are a quick and easy frosting secrets to decorating cupcakes and desserts.
How to earn income from your blog! Yes it's possible to earn an income from your blog! But is that what you want to do? Blogging for an income shouldn't be your only reason from blogging.
[Tweet "Read the Top 10 stories in 2016 on A Day in Candiland "]
Leave a comment on the story you liked best in 2016. Follow us on Facebook and Instagram.