Vacationing with On the Go Protein Snacks is not always easy. Lorissa's Kitchen makes Meat Snacks for Healthier Snacking.
After 5 years of planning a trip to the East Coast the time is finally here. My daughter and I have been talking about this trip for so many years. It is a jam packed 10 days of 3 States and all the History you can imagine in one trip.
Vacationing with On the Go Protein Snacks


Over the last two weeks, my thought run to what should I bring and how much will fit in my suitcase. Will I have room to bring home souvenirs?
What will the weather be like? You can read reports, but after living in Southern California and our "Dry Heat" as they call it, probably won't prepare me for what it will be like. We had to buy umbrellas and rain ponchos. I have no idea if we will use them, but since we will be touring for 10 days, we can't just stop off at the store and pick up necessities.
One of the biggest concerns for me will be food and snacks. We will be fed 3 meals daily. Since there is a 3 hour time difference, I am not really sure what that will mean. Will we be hungry when it's not a time to eat? So I decided to buy some good protein type snacks that will travel well and won't be affected by the heat.
Lorissa's Kitchen has 4 flavors of 100 Grass-fed Beef with No added MSG which makes me happy because I get terrible migraines and I have to watch the ingredients I eat, 11g of protein and no preservative. It's a great grab and go snack without all the extra added sugar. Their motto is Passion in Every Bag.
The flavors are:
Ginger Teriyaki
Korean Barbecue
Sweet Chili
Szechuan Peppercorn
Now when we are sightseeing and we get hungry we can eat a great snack full of protein. All four flavors are delicious. Plus Below you can enter for a free tote bag with these delicious healthier snacks.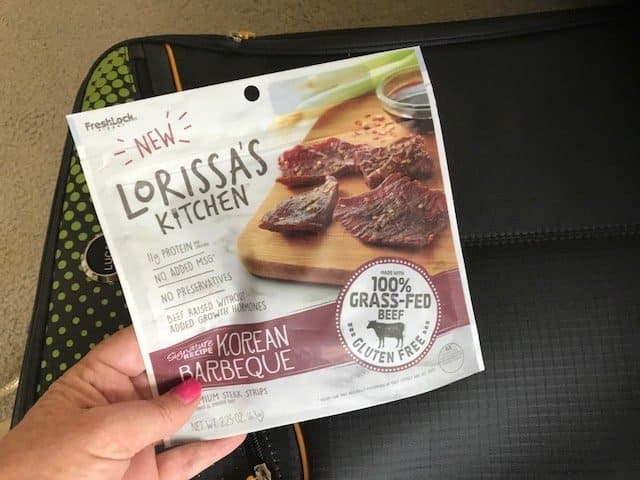 We will be traveling by plane and bus, so we will be on the move from sun up until long after the sun goes down. It will be a trip of a lifetime, that will give us many memories. Follow along with our journey with us on Instagram.
Snack More – Snack For Less Sweepstakes:
Right now you have a chance to win one of ten prize packages filled with Lorissa's Kitchen products.