Welcome, to A Day in Candiland.
I have done several intros in the past,  and as things evolve, so does Candiland.
I started my blog back in 2010, but didn't do too much with it. I also have a business blog that I was focusing on so I wasn't as involved as I am now and hope to be more so in the near future.
A Day in Candiland, is about being a mom with my family of three children living at home, and my high-school sweetheart, who happens to be my  husband. I write about living in Palm Springs, and raising children while creating dessert recipes and such.
A few years ago, we bought a Victorian house as a business, and planned on doing tea parties there. I was doing this with my good friend Helen, who dropped everything to help me.  It was going really well until the economy changed and we had to sell it. But I couldn't get the ideas out of my head. So I decided to start selling my desserts to the public. In my journey, I am really trying to figure out balance in our lives while continuing blogging.
While I have been blogging for almost a year now, my goal is to share more about recipes that I love and tips for baking. I also want to create more how to videos.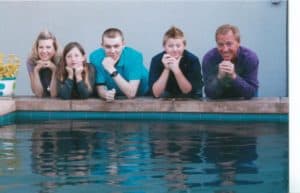 I am part of a group called
the misfit bloggers
. We met a few months ago, doing Problogger's 30 day challenge on
The Sits Girls
site. Out of the 1000's that were part of this challenge, a few of us got together and created our own group on Facebook. Since then, we have been helping each other out and supporting each others blogs. We have all different kinds of bloggers in this group from all over the United States with many different topics. We decided to start a blog hop with a different focus each week.