These 5 best-iced tea makers will suit your needs and help ensure your homemade iced tea isn't full of additives or excess sugar.
Did you know that you can easily make your very own iced tea with an iced tea maker at home?
Iced tea is a popular drink for many all year round, particularly during the summer months. From watermelon to matcha, Earl gray to Chai, iced tea is refreshing, full of flavor, and the perfect drink to cool off with.
But, when purchasing iced tea from cafes and coffee shops, they aren't as healthy as you would think.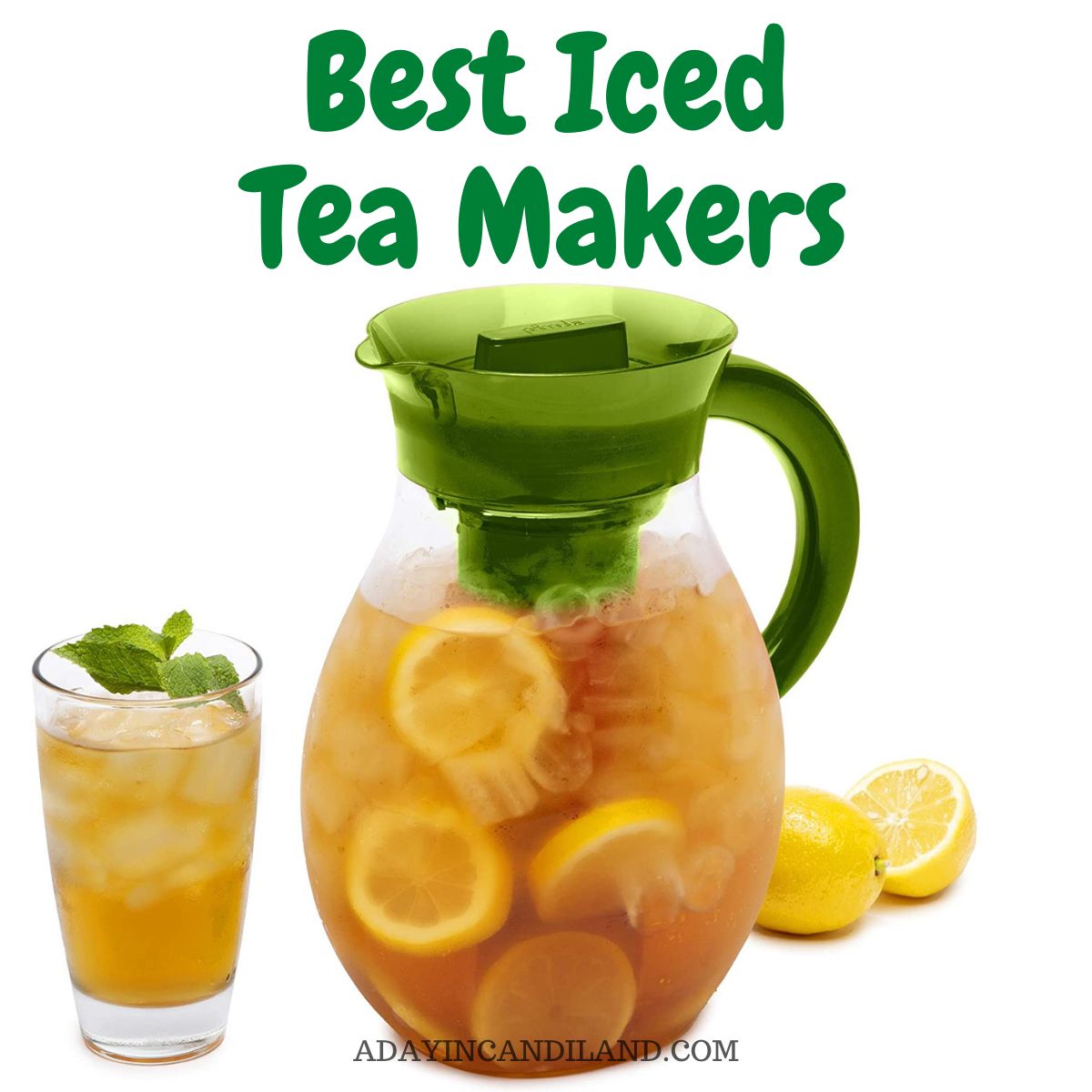 *This post may contain affiliate links. If you make a purchase, I get a small commission. Please see my disclosure policy for details
What is an iced tea maker?
Iced tea makers are either electric or manual machine that enables you to make iced tea. Iced tea makers are highly popular due to being able to make your iced tea in minutes. Compared with not using a machine, which requires hours or even overnight to steep. Even some manual iced tea makers can make cold iced tea in under 30 seconds.
They contain a large pitcher along with an adjoining section. There is a separate compartment for water to be added and a section to add your choice of tea to. Many iced tea makers can use both tea bags or loose tea leaves, however, some do not so it is best to double-check before purchasing.
5 Best Iced Tea Makers
Now we know what an iced tea maker is, let's take a look at 5 of the best iced tea makers available to buy.
Best for Cold Brewed Iced Tea
The Ovalware RJ3 Brewing Glass is an extremely versatile iced tea maker, able to brew coffee, and hot and cold iced tea.
It has been designed to specifically fit in your fridge with a glass outside and stainless steel filter and cap. The filter and cap are rust-proof and ensure that your tea can remain fresh and full of flavor for up to two weeks.
The Ovalware RJ3 includes measurement labels so you don't need to use any external scales or measuring jugs.
With the jug being dishwasher safe and BPA-free, you know that no chemicals will filter through into your freshly made iced tea.
When using the Ovalware RJ3 iced tea maker, add your loose tea or tea bags into the central stainless steel filter. Pour either hot or cold water over the top of your tea to start the steeping process.
If using cold water, place the iced tea maker into the refrigerator for 12-24 hours. For hot water, the steeping process is much quicker and should only take a few minutes.
When ready to drink, remove the filter with the tea so as to not strengthen the flavor and pour over the top of a glass with ice.
Capacity: 1.5litres
BPA-free
Measurement label
Dishwasher safe
Stainless steel cap and filter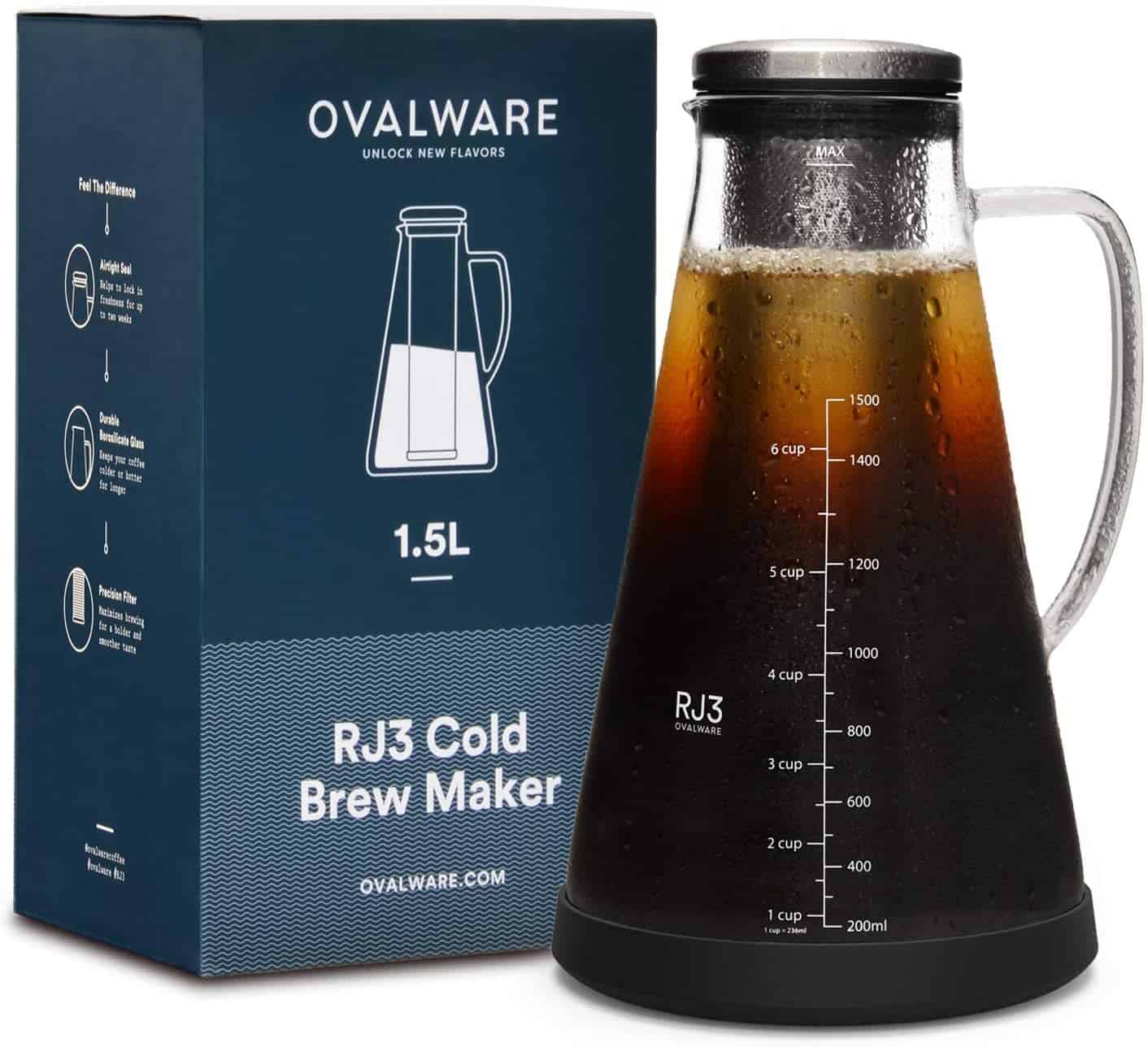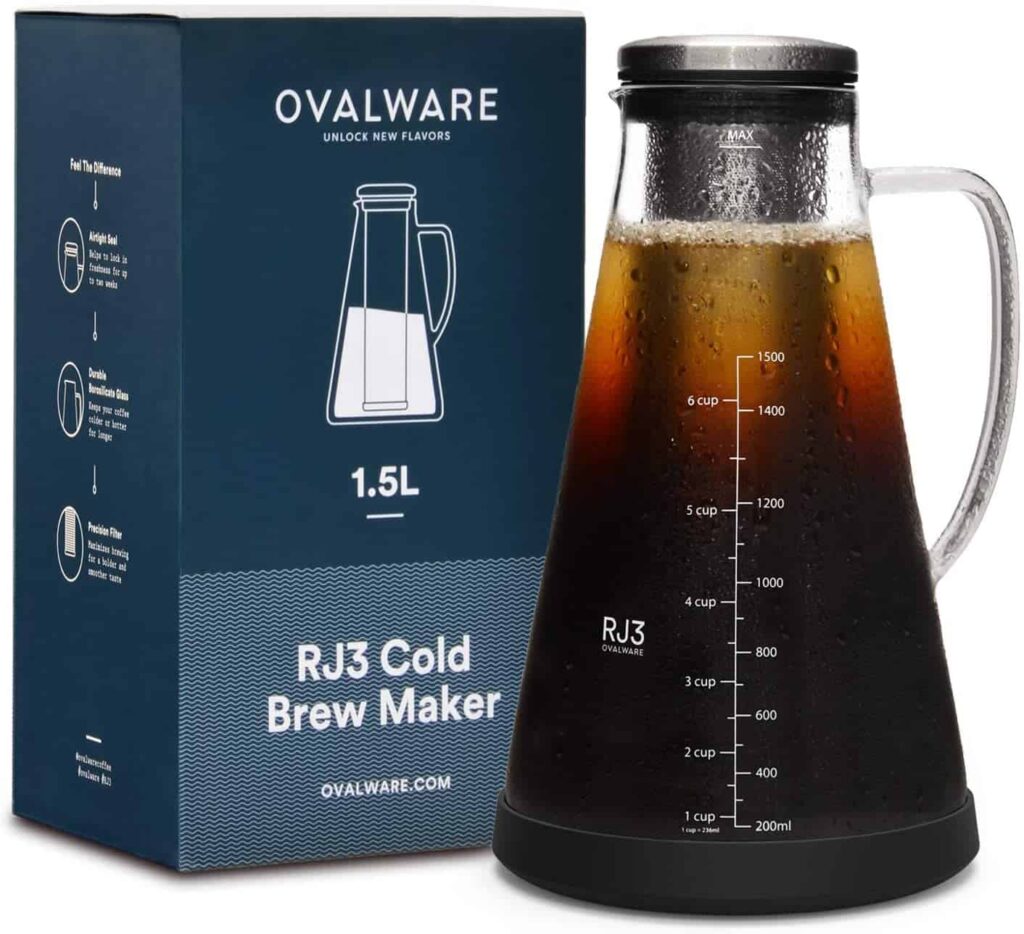 Best Budget Iced Tea Maker
The Takeya iced tea maker is a brilliant budget-friendly option. This tea maker is available in four different colors: green, black, blue, or red.
Unlike the Ovalware RJ3 iced tea maker, the Takeya model can make iced tea in just 30 seconds. It is perfect for anyone needing a speedy refill during a social event or party.
This iced tea maker has a large, circular pitcher, topped with a meshed tea infuser and leakproof lid. Takeya comes in two sizes, with the smaller 1Qt size able to hold enough iced tea for four glasses. The 2Qt size can hold 8 glasses worth of iced tea.
To use, simply add either loose tea or tea bags to the infuser section. You then add hot water to the pitcher up to halfway. Finally, remove the infuser with your tea and top the pitcher with ice. Shake for 30 seconds before serving for a refreshing iced tea.
Capacity: 4-8glasses depending on size purchased
BPA-free and dishwasher safe
Non-slip grip
Leak proof
Airtight lid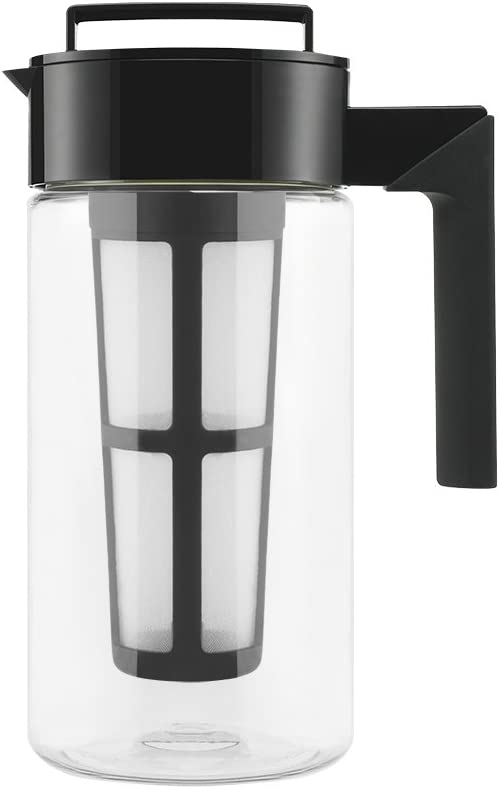 Best Large Capacity Iced Tea Maker
This iced tea maker is perfect for those who host large parties or social events, or perhaps just love iced tea.
Primula iced tea maker can hold up to 1 gallon of iced tea with an easy to hold non-slip handle and leak proof lid.
Similar to the last two iced tea makers, you can make iced tea using either hot or cold water with the primula maker.
There is a central core where you add either loose tea or tea bags. If using hot water, pour over the tea and continue to pour to the desired level in your pitcher. Leave the lid off for at least 3 minutes for the steam to escape. After 3-5minutes, depending on how strong you like your iced tea, remove the core and add ice.
If using cold water, pour cold water over the top of the tea and to your desired level. Secure the lid on top tightly and place your pitcher into the refrigerator to brew for at least 4-10 hours.
Capacity: 1 gallon which is the equivalent of 14 cups.
BPA-free and dishwasher safe
Non-slip handle
Leak proof lid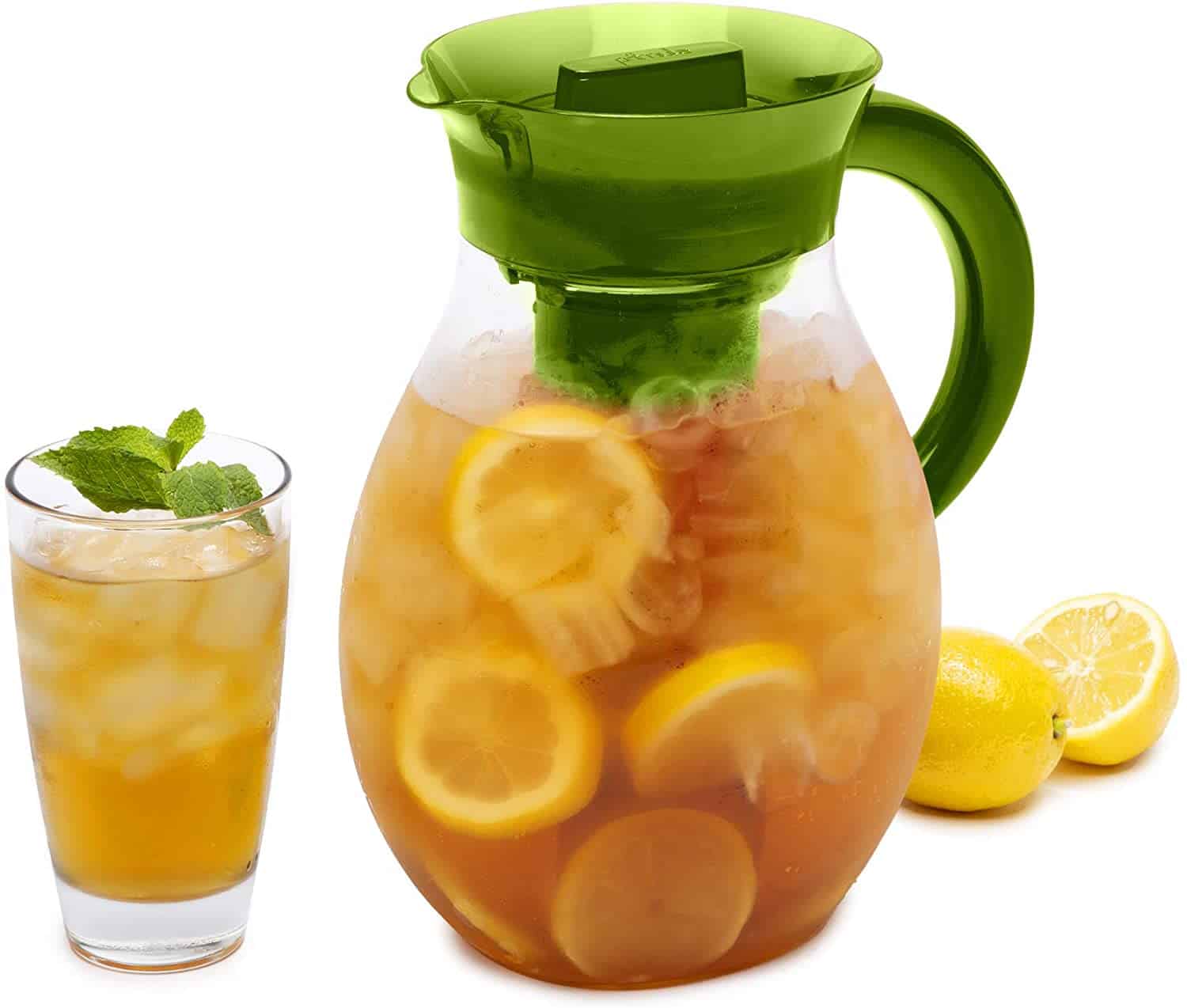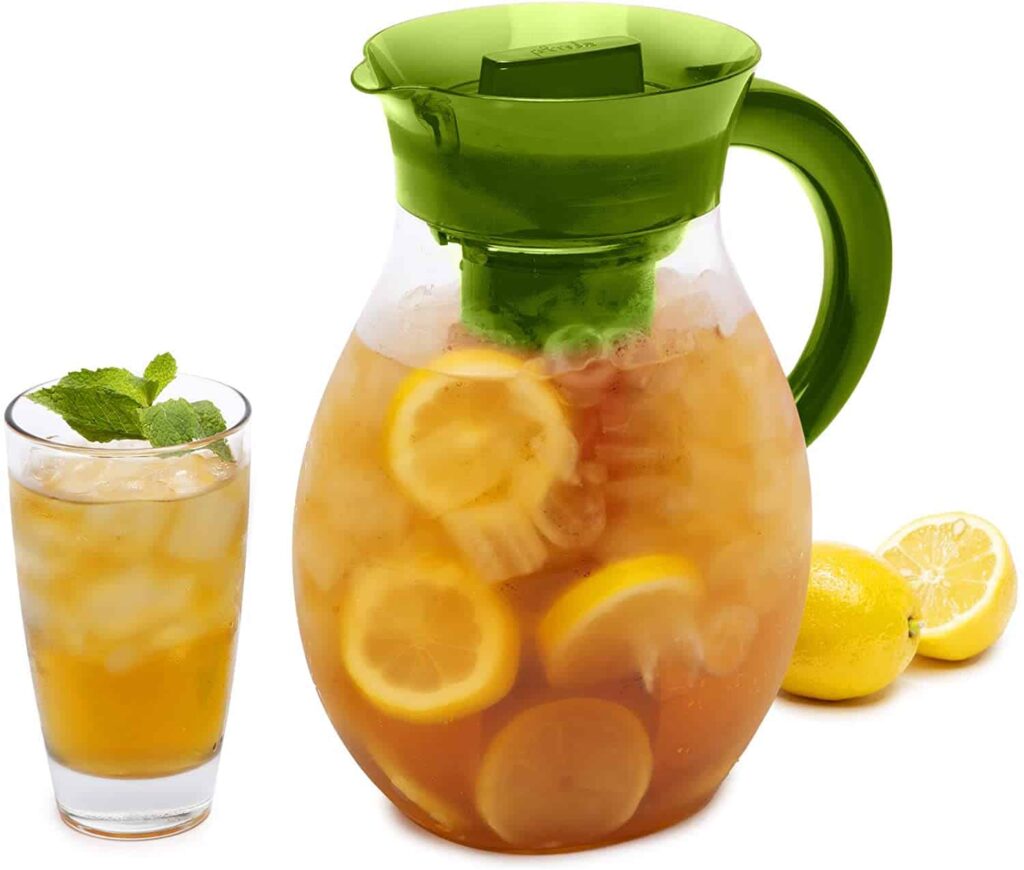 Best Electric Iced Tea Maker
The Mr. Coffee 2-in-1 Iced Tea Brewing system is perfect for anyone wanting a quick option of making iced tea.
This electric iced tea maker can use tea bags or loose tea, does not require paper filters, and makes iced tea in just a few minutes.
The Mr. Coffee iced tea machine has a detachable pitcher that can have ice added. There is a top compartment for adding and filtering tea bags or loose tea, with a third section to add your water.
In order to avoid overfilling the water compartment, there is also an easy to view water window so you can see how high the level is.
A great feature of this electric iced tea maker, is that you can select how strong you want the tea to brew with a simple slide of a button.
Capacity: 2.5Qts which is approximately 10 cups of water
Dishwasher safe pitcher
Adjustable brew strength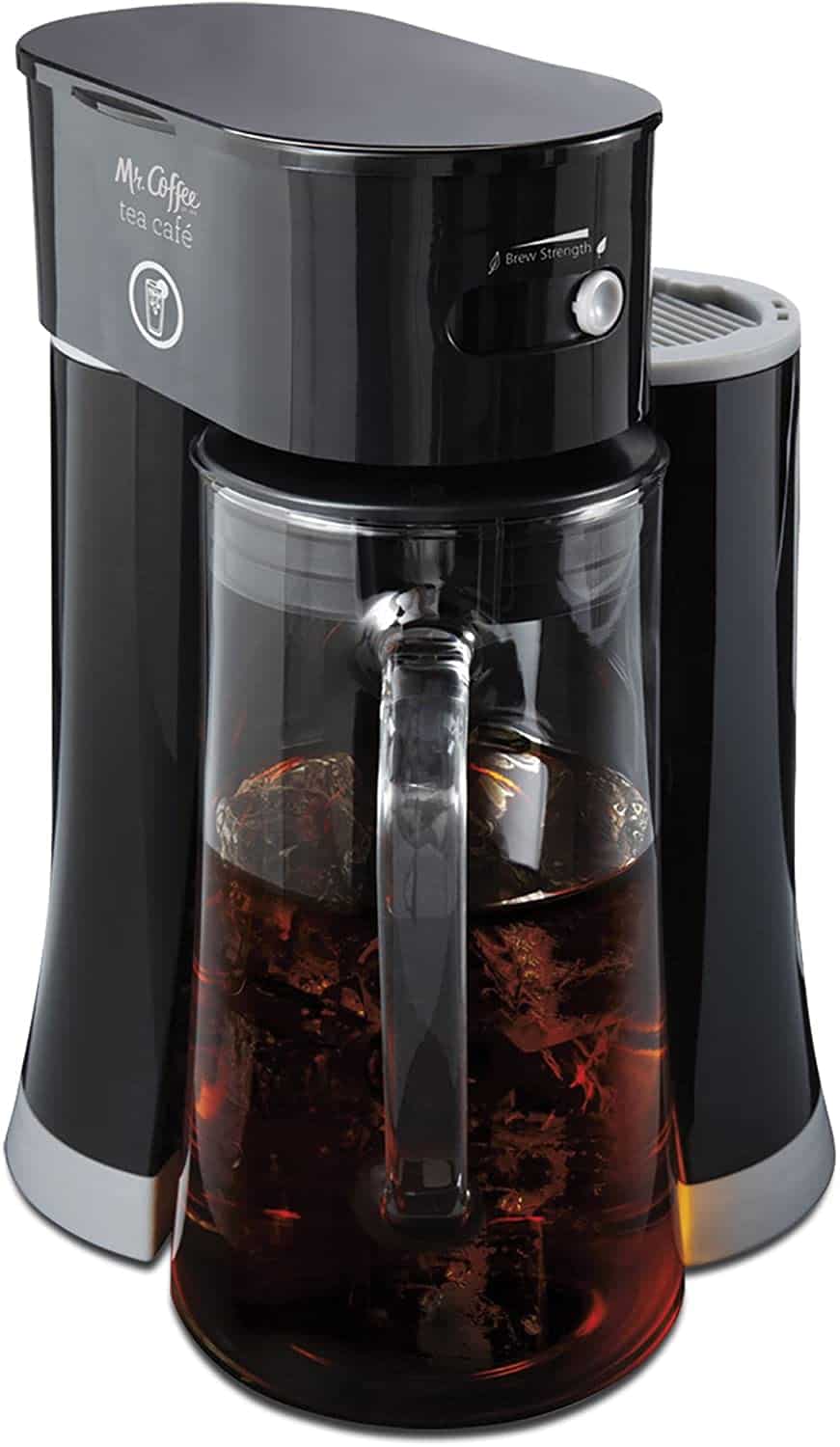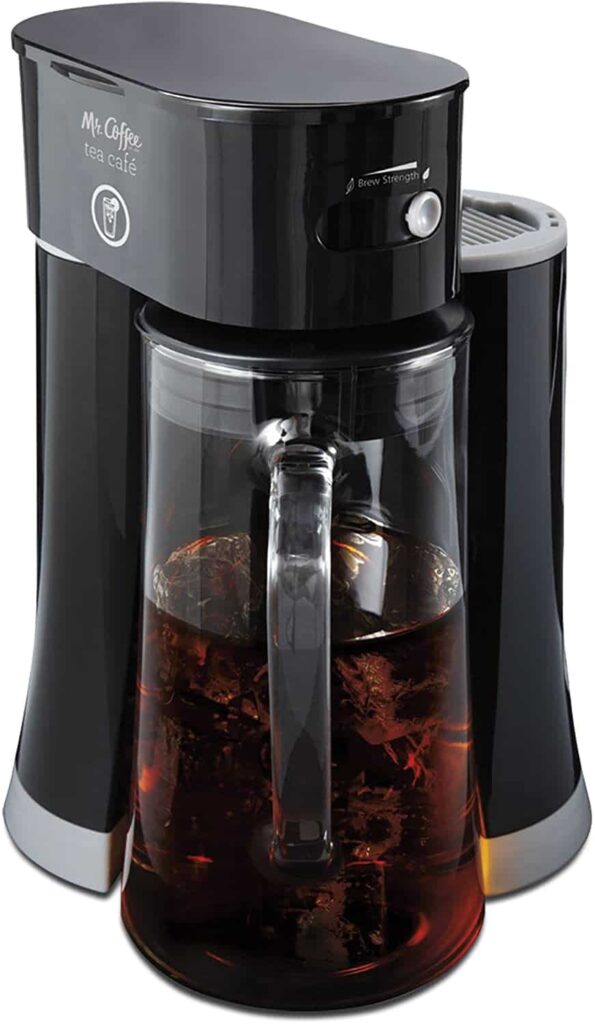 Best Iced Tea Maker for Travel
The Pure Zen Tea Tumbler is perfect for making iced tea while traveling. It is compact and lightweight making it a great space-saving option.
This iced tea maker is leakproof and contains a travel sleeve to help when carrying in transit. It also has a double wall to help with keeping your iced tea hot or cold for even longer.
Though it is dishwasher safe, you may not have easy access to a dishwasher whilst traveling. So the Pure Zen Tea Tumbler is also easy to take apart and clean.
As it is a travel option, it only holds 13 ounces, which is about 400ml.
To use, simply add your tea to the infuser basket provided and place it within the tumbler. Next, add hot or cold water, and finally add ice for a refreshing, long-lasting drink.
Capacity: 13 ounces
Dishwasher safe and BPA-free
Lightweight and durable
Leakproof
Double walled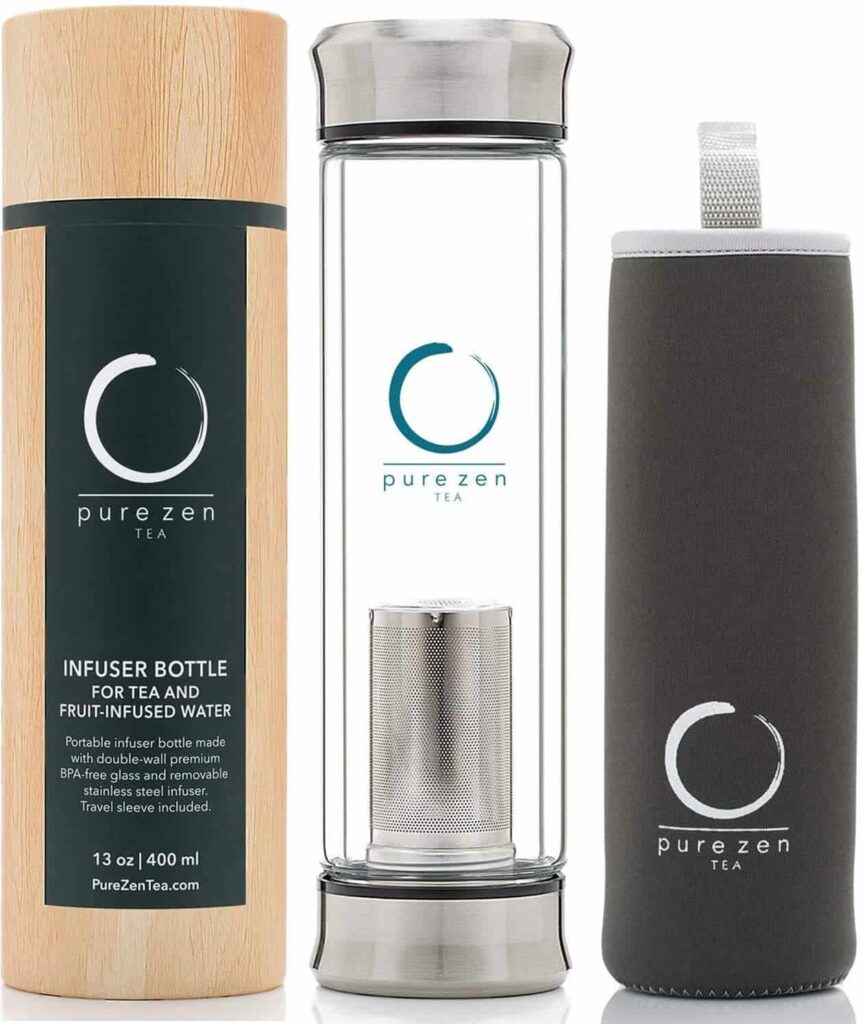 These 5 best iced tea makers offer you an excellent range of benefits from a large capacity to the best for travel. Iced tea is a popular and refreshing drink for many due to its health benefits, taste, and no additives when made at home.
If you would like to learn more about how to make iced tea at home, take a look at these posts: