There's nothing quite like a tea party, with its delicate teacups, delicious tea, savory finger sandwiches, and of course, decadent desserts. A tea party is never complete without desserts to indulge in, so today we're exploring different types of desserts that are perfect for your next afternoon tea party.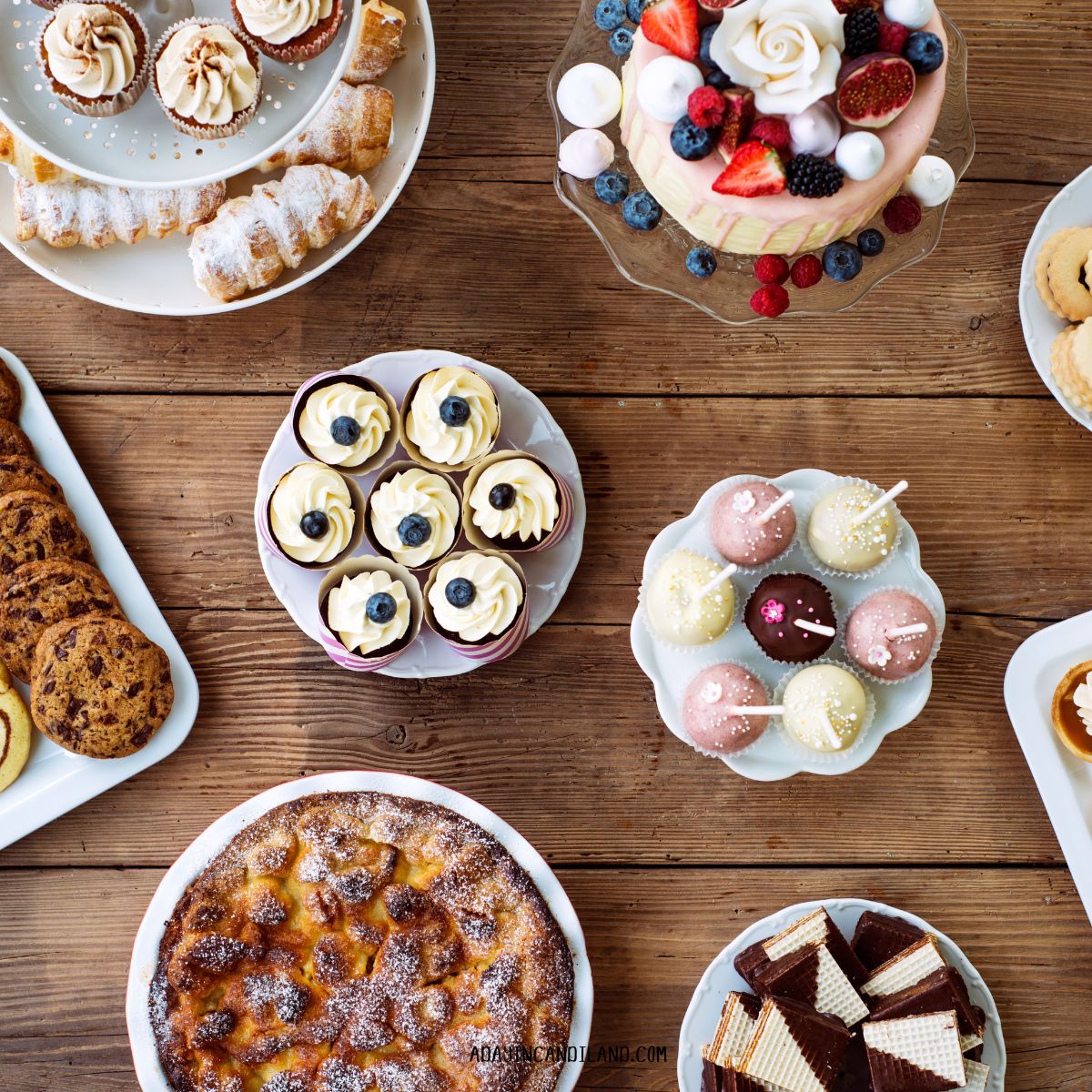 Tea Party Desserts
Desserts are an essential component of a tea party as they provide a sweet ending to the event and pair well with the rich flavors of tea. They also add a touch of indulgence and elegance to the afternoon, making the experience all the more memorable.
Here are six different dessert recipes that will wow your guests:
1. Fruit Tarts: These delightful, bite-sized tarts are filled with creamy custard and topped with fresh fruits. Served in a delicate pastry shell, these tarts are perfect for those who want a light, refreshing dessert with their tea.
2. Scones: The quintessential tea party dessert, scones are a must-have at any tea gathering. These buttery, flaky creations pair perfectly with clotted cream and jam, and are best served with your favorite tea.
3. Lemon Bars: A tangy and sweet treat that is perfect for tea. These lemon bars are a simple and delicious dessert option that is sure to be a hit. The bright lemon flavor provides a nice contrast to the rich and hearty flavors of tea sandwiches.
4. Éclairs: These elegant and sophisticated desserts look impressive but are surprisingly easy to make. Filled with a creamy custard and topped with a glossy chocolate ganache, these Earl Grey pastries are perfect for impressing your guests.
5. Shortbread Cookies: Simple yet elegant, shortbread cookies are a staple at any tea party. These buttery cookies pair beautifully with any type of tea. Dip them in white chocolate or sprinkle them with confectioners' sugar for an extra flair.
6. Tea Party Cake: No tea is complete without a beautiful cake. Choose from traditional layer cakes, elegant genoise sponges, or a decadent afternoon tea cake to finish off your tea party in style.
Don't forget to serve your favorite teas at your party. A few delicious ones to prepare are Earl Grey Tea, English Breakfast Tea, Herbal Teas and Chai Teas.
Occasions to Have a Tea Party
Baby Shower
Bridal Shower
Birthday
Holiday
Mini Desserts for Your Tea Party
For those who want a bite-sized treat, these desserts are perfect for any tea party, whether you're hosting an elegant afternoon tea or a casual gathering with friends.
Mini Cakes: Delight your guests with these cute little cakes. Whether you go for traditional flavors like vanilla and chocolate or something unexpected like matcha or lavender, mini cakes will certainly be the hit of the tea party.
Macarons: These light, airy French pastries are perfect for tea parties. Filled with a delicious ganache or flavored jelly and available in a variety of colors and flavors, macarons will make your tea party extra special.
Tartlets: Bite-sized tartlets filled with sweet custard or lemon curd are perfect for a tea party. Top them with fresh fruits or nuts to give them an extra special flair.
Mini Cupcakes: A classic treat that always pleases, cupcakes come in so many flavors and varieties that you're sure to find one (or two, or three!) that your guests love.
Each of these desserts is packed full of flavor and will be a hit with your guests.
Make sure to serve them with your favorite tea pairings for the perfect afternoon tea experience.
No matter what type of dessert you choose for your next tea gathering, you're sure to impress your guests with these delicious treats and a delightful way to spend an afternoon with friends and family.
And with these dessert ideas, you'll create a memorable event that guests will enjoy. With a little bit of planning and some creativity, you can create a tea party that you'll want to repeat over and over. Enjoy!