If you want to brighten up your day, bake up some of the best lemon bars you have had, they are part of my easy dessert recipe collection.  
I have a friend who loves lemon bars and it was recently her birthday. She sent me a text that she would really like some, so I whipped some up for her. Unfortunately for her, we couldn't get together right away so I took them to a family reunion we had. I promised her some more when we got together.
When we got back a few days later, I made them again and we got together and ate her lemon bars. We were both in Heaven.
You can never eat just one and I think by cutting them into little triangles you don't feel like you're eating too much. Until you notice most of them are gone. If you can't get enough Lemon try this lemon curd recipe.
The Best Lemon Bars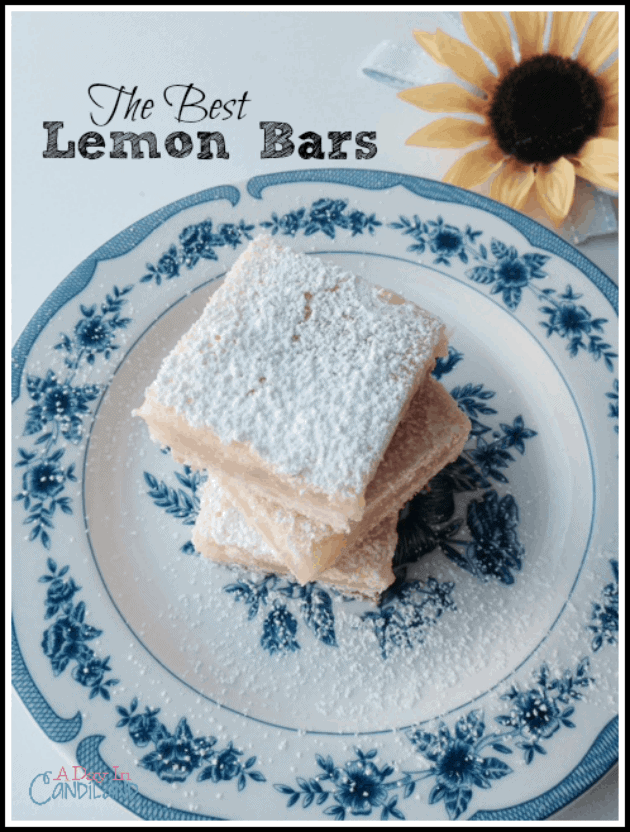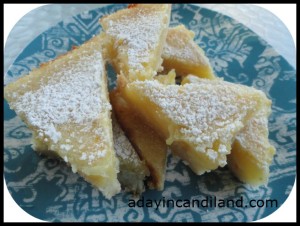 If you like what you see, make sure you subscribe to my blog and follow me on facebook and twitter. If you like lemon, find some of my other lemon recipes here.
Here is the recipe for The Best Lemon Bars: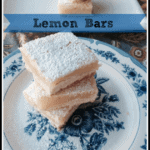 The Best Lemon Bars
Ingredients
For the crust:

2

sticks of room temp butter

1/2

cup

granulated sugar

2

cups

of all purpose flour

pinch of kosher salt

For the filling:

6

jumbo eggs room temp

3

cups

granulated sugar

2

TB

grated lemon zest

1

cup

fresh squeezed lemons

1

cup

flour

Powdered sugar for dusting
Instructions
Preheat the oven to 350 degrees

For the crust, cream the butter and sugar in the bowl of an electric mixer with a paddle attachment. Combine the flour and salt and add to butter mixture. Line a 9 X 13" pan with aluminum foil and spray with non stick cooking spray. Put the dough into the pan and sprinkle with flour and using a small roller or your hands, roll into the pan building up a 1/2 inch edge on all sides. Put in the freezer for 10 minutes.

Bake the crust for 15 to 20 minutes, until lightly browned. Let cool on a wire rack.

For the filling, whisk together the eggs, sugar, lemon zest, lemon juice and flour. Using real lemons makes all the difference. Pour over crust and bake for 30 to 35 minutes, until filling is set. Let cool to room temperature. Cut into 20 - 24 squares or 40 triangles.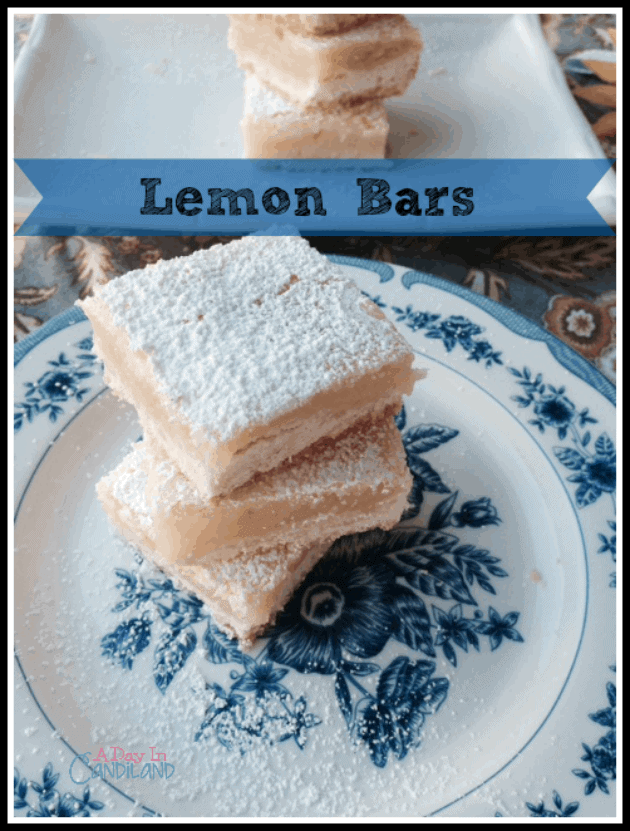 Are you a lemon lover? What are your favorite lemon recipes? Share them with me in the comment section and find a few more recipes below.  Make sure you sign up for my weekly emails and receive a free Baking Ingredient Comparison Chart. 
Free Baking Ingredient Substitution Chart
Subscribe to our weekly recipes, budgeting and encouragement tips and receive this baking ingredient substitution chart for FREE! Awesome Right?