Sips By Review
Enjoy trying new teas based on your preferences showing up at your doorstep once a month for a low cost, including either bagged or loose leaf teas. This Sips By Review will help you decide if you want to take the plunge and sign up.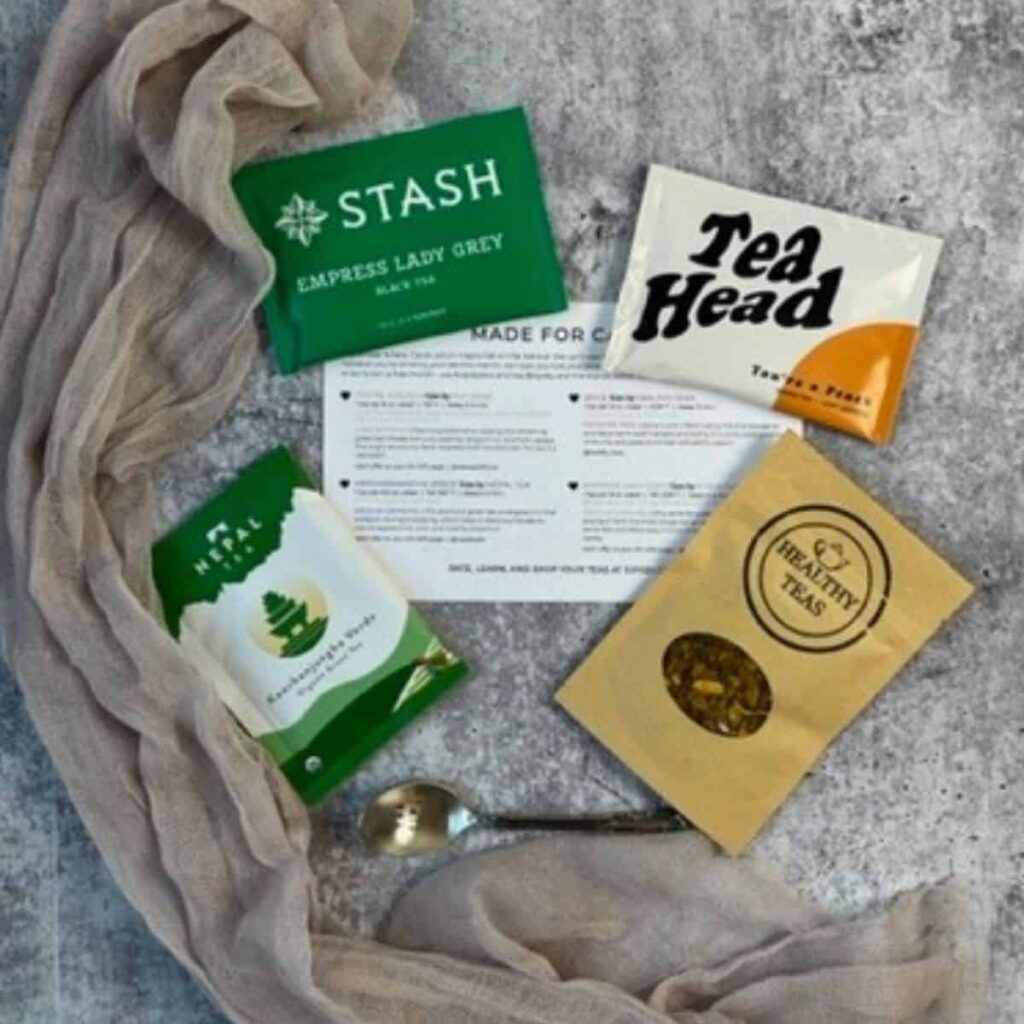 This brand makes discovering tea fun, personalized, and affordable through Sips By, which is a female-founded and led startup service. There is only one subscription box that offers multiple brands and personalized teas, and that is Sips By Box.
Throughout the United States, they reportedly offer more than 150 global brands of tea to tea drinkers, ensuring that they have a wide range of delicious teas to choose from. It is located in Austin, Texas, and the company's professional team knows how to make a hot mug taste as good as it looks even if it isn't in accordance with the season.
From large multinational brands to small family-owned farms and tea shops, the brand partners with a wide range of companies. Trying to figure out your way through the vast world of tea can be difficult, and they aim to guide you along the way. No matter what you prefer, whether caffeinated, herbal or a combination, you can choose loose-leaf or bagged teas.
For more Tea Subscription Service Plans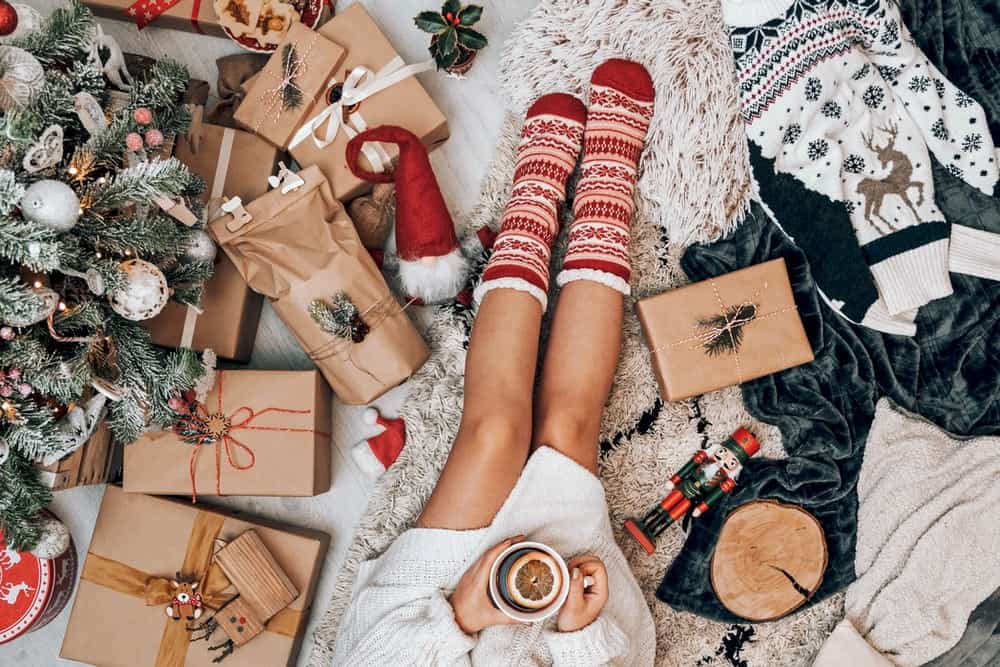 Your monthly Sips By Box will include four teas selected especially for you. In this review, you will find out if Sips By is worth a subscription.
Understanding The Customer
All new users that sign up for their service will be greeted with a questionnaire. This will help to give Sips By a better understanding of what sort of tea drinker you are and identify what types will suit you best. As a result, instead of randomly sending you types of tea every month, they will try to send you types that you will actually most likely enjoy based on what you prefer.
Unlike other competitors, the brand is known for taking the time to get to know their customers much better than their competitors would, so they are able to give you a full-service experience on a more personal level.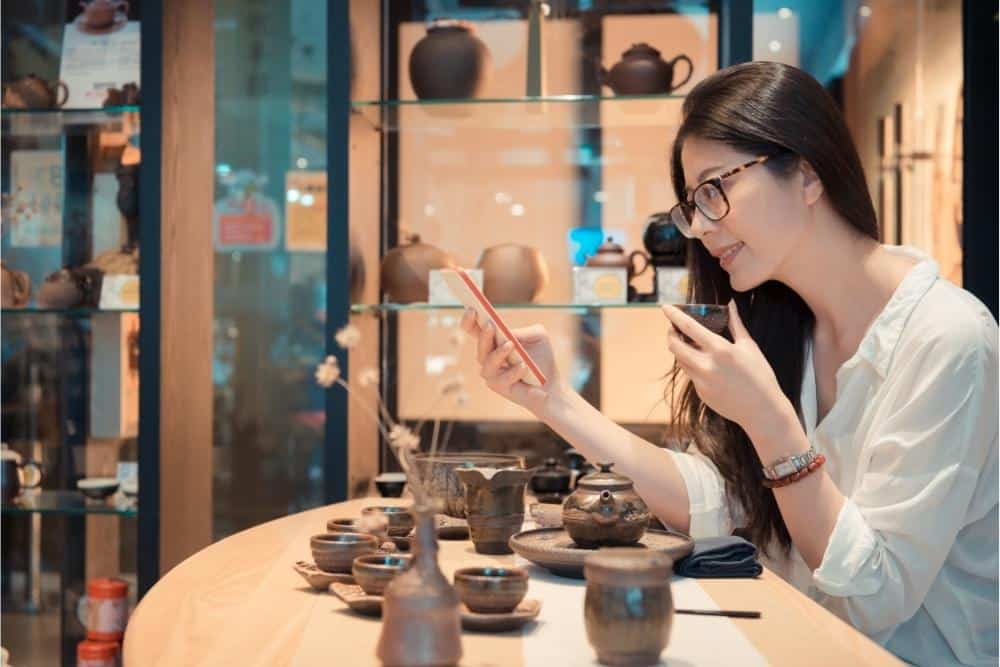 Here are some of the questions that you can expect to see:
Do you prefer a caffeinated or caffeine-free beverage?
Loose leaf or bagged teas?
What are your favorite and least favorite flavors?
How would you describe your dietary preferences?
How often do you drink tea?
Which brewing method do you prefer?
One of the cool features that the company offers is the ability to select allergy information you have if you want to be sure none of your teas contains ingredients you are unable to consume. Unlike some other subscription services that send you items at random, it's a handy way for them to make sure you'll love your boxes.
For The Tea Lovers
Four different kinds of tea are delivered every month by Sips By, which can include up to 16 bags in each kind. In order to sign up for this service, you will have the option of paying month-to-month or signing up for a 3, 6, or 12-month fee. Sips By makes signing up for a subscription box fun and easy because there is only one type of subscription box available.
All the pain and hassle that comes with other subscription services have been made easy thanks to the wonderful Sips By service. Adding more drinks out of your Sips By Box could be possible if you are the type of tea-lover who double steeps their teabags. In addition to the teas themselves, the package comes with detailed instructions on how to prepare each tea properly as well as tasting notes.
As part of your subscription, you will receive a box of disposable tea bags if you receive loose leaf teas as part of your box. They use unbleached paper for the bags, which are made of biodegradable materials. You can also reuse the cloth bags that come in as reusable bags for any leftover tea that you may have.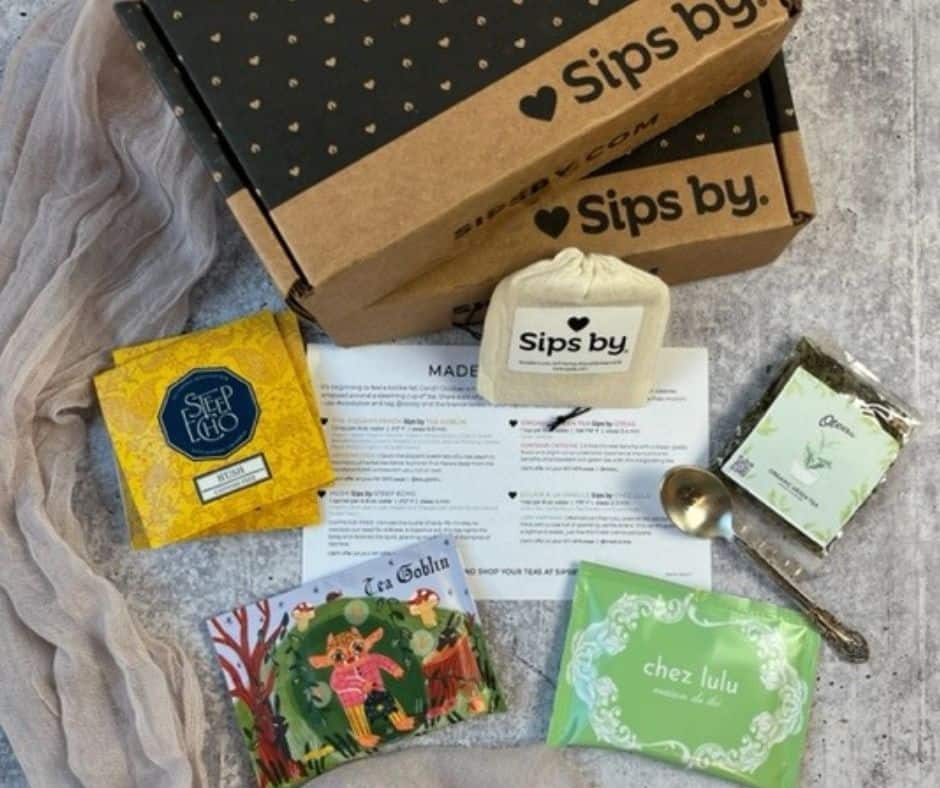 In addition to subscription boxes, you can browse the Sips By the online shop for additional items. If you visit the store, you can purchase gift cards, mugs, tea collections, premade boxes for special occasions, and more. Any time you go to your profile page on the website, you can choose to cancel or skip a month of your subscription.
The brand really does go the extra mile to suit any of your needs and often send out emails to see how you are finding the serve. It is great to see a subscription service trying to take feedback from their customers and acting on them.
Receiving Your Tea
You can sit back and wait for your tea journey to begin once you have created your profile and selected your payment plan. You will receive the adorably decorated Sips By Box at your door. The inside of the box will contain a card in which your name will be written as well as all the information regarding your selected teas.
You will, of course, be able to find all your favorite tea brands as well as teabags there as well. Sometimes you will find special discount codes or added items to your package just to make the service a little more special.
You can learn the following things from the information card:
Tea companies and their names
How much tea should be brewed in a cup of water
Steeping teas for the best flavor: how long to steep
Water temperature that is optimal
The presence or absence of caffeine
Description of a flavor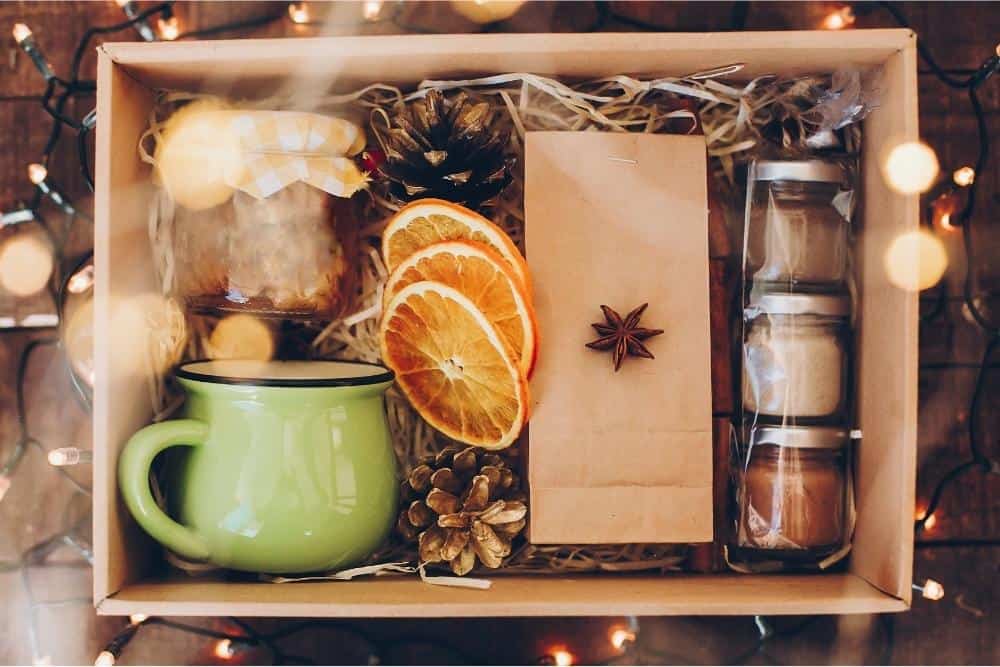 Those who have created a profile with Sips By can earn rewards points when they shop with the company. Using the profile option, you can look up your balance and select "points" to see what you have earned, and then choose "rewards" to see what rewards you can redeem.
This once again supports the statement of them really wanting to create a strong relationship with their customers. There is no doubt that this is a good strategy to keep customers devoted to their brand and services. We certainly like this idea!
Types Of Tea
You will receive a variety of teas each month in your personalized tea package. It is possible that you won't like all of them, but you may also discover your new favorites.
Among the teas you may find in your Sips By Box are:
Stash Tea Double Bergamont Earl Grey
Miracle Tree Orange Passion Fruit Moringa Energy Infusion Tea
Tea Head Strawberry Blend Tea
Rishi Golden Triangle Breakfast
Bare Leaves Fujian Oolong
By including a variety of flavors, Sips By does an excellent job. And based on your preferences, you'll be able to choose between black tea, green tea, and herbal tea. Many of the brands you'll see will be familiar to you, while others will be brand new to you. Take note of the names when you find some you like so you can buy a full box after the service if you decide to end it early or just buy from their site.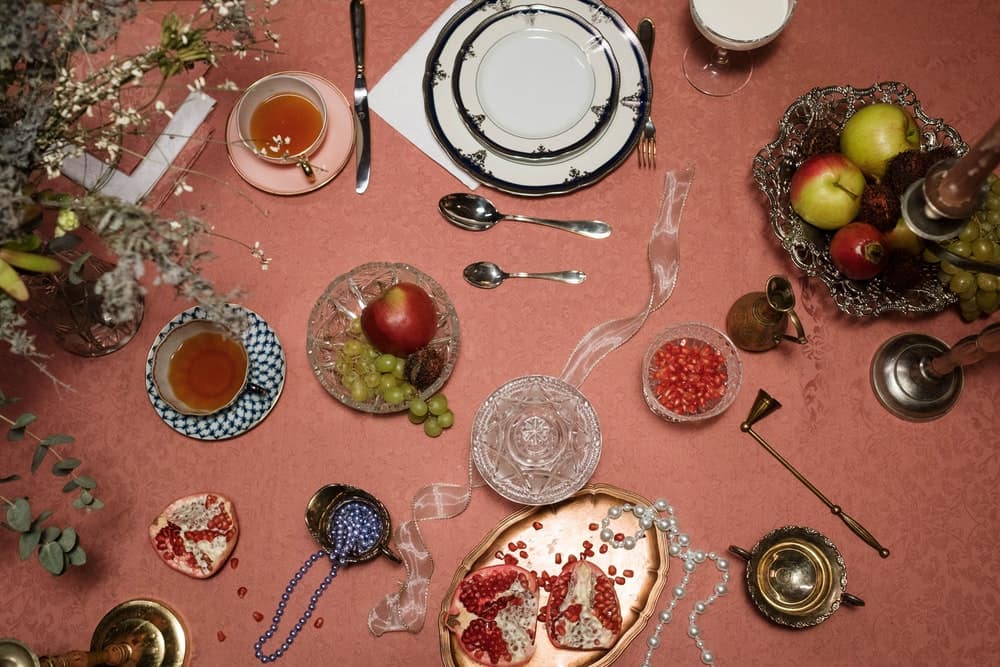 How Much Does It Cost?
There is a monthly subscription fee of $16 for Sips By personalized teas and there is free shipping within the United States. Depending on your needs, you can choose to pay monthly or you can sign up for a three, six, or twelve-month plan. Additionally, you will find one-time purchases that can be added to your cart in the online store of Sips By.
However, the only downside is that your first order will take up to 2-3 weeks to arrive, so those who eagerly await their tea will have to wait a little longer than normal.
A Great Gift
You have come to the right place if you are looking for a thoughtful and personalized gift for the tea lovers in your family. Thanks to this service, you can finally find exactly what you are looking for. You are guaranteed to make someone smile by using this monthly tea subscription service.
The Sips By gift card can obviously be purchased, as well as one of the seasonally themed boxes, perfect for any special occasion.
Some of you may be sketchy about subscription services, however, we can assure you that this is a great brand that aims to deliver some of the best teas available. We do recommend considering the Sips By service to anyone who wants tea. There are currently over 600,000 using this service and there is no reason for you to not add to that number.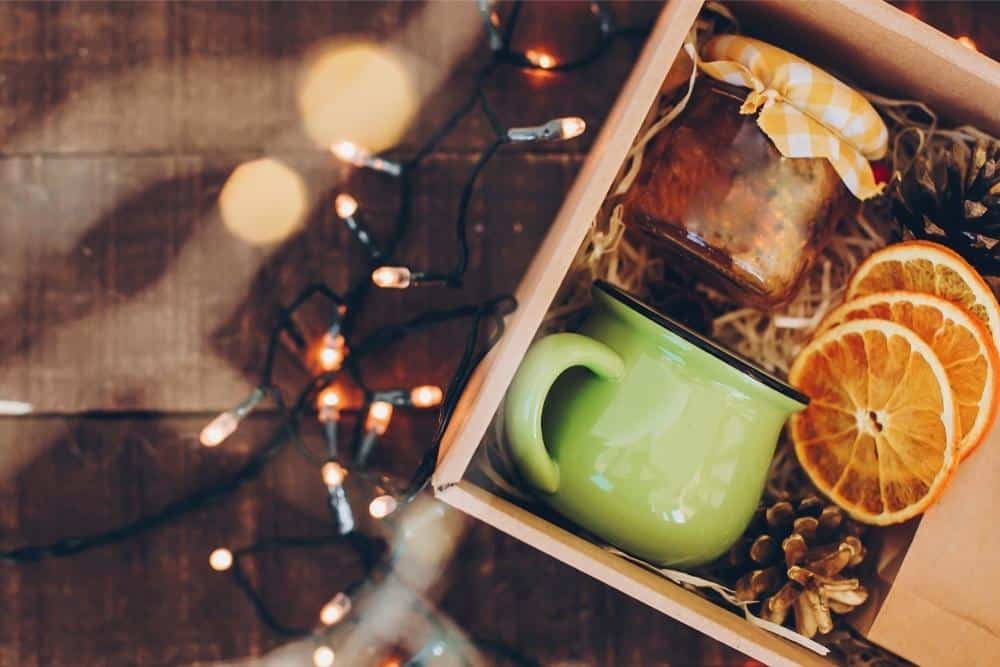 Is Sips By A Good Service?
There are many kinds of tea out there, which causes a problem. However, Sips By solves that problem for you! The reality is that if you just buy teas to try and don't use the company's service then you are most likely to end up with a bunch of different teas that you probably won't like at all.
By subscribing, you get a trial-sized amount of tea. Once you try it, you can decide whether or not to buy more. Especially if you are looking for something new, this is such an effective service that you should definitely consider taking advantage of.
By using Sips By, you can also get a detailed overview of the teas that interest you. The site allows you to set your preferences to try out more of a certain type of tea. Once you do that, you will be able to jump right into it. Using this service can help expand your tea collection for any collection and they aim to find the best ones available to you.
If you are not a huge tea fan, there is still a good chance that there are types of tea that you haven't tried yet, which are waiting to be discovered in this service!