Make your own fruit tea to drink at home and enjoy all the benefits of added vitamins while saving money over bottled beverages.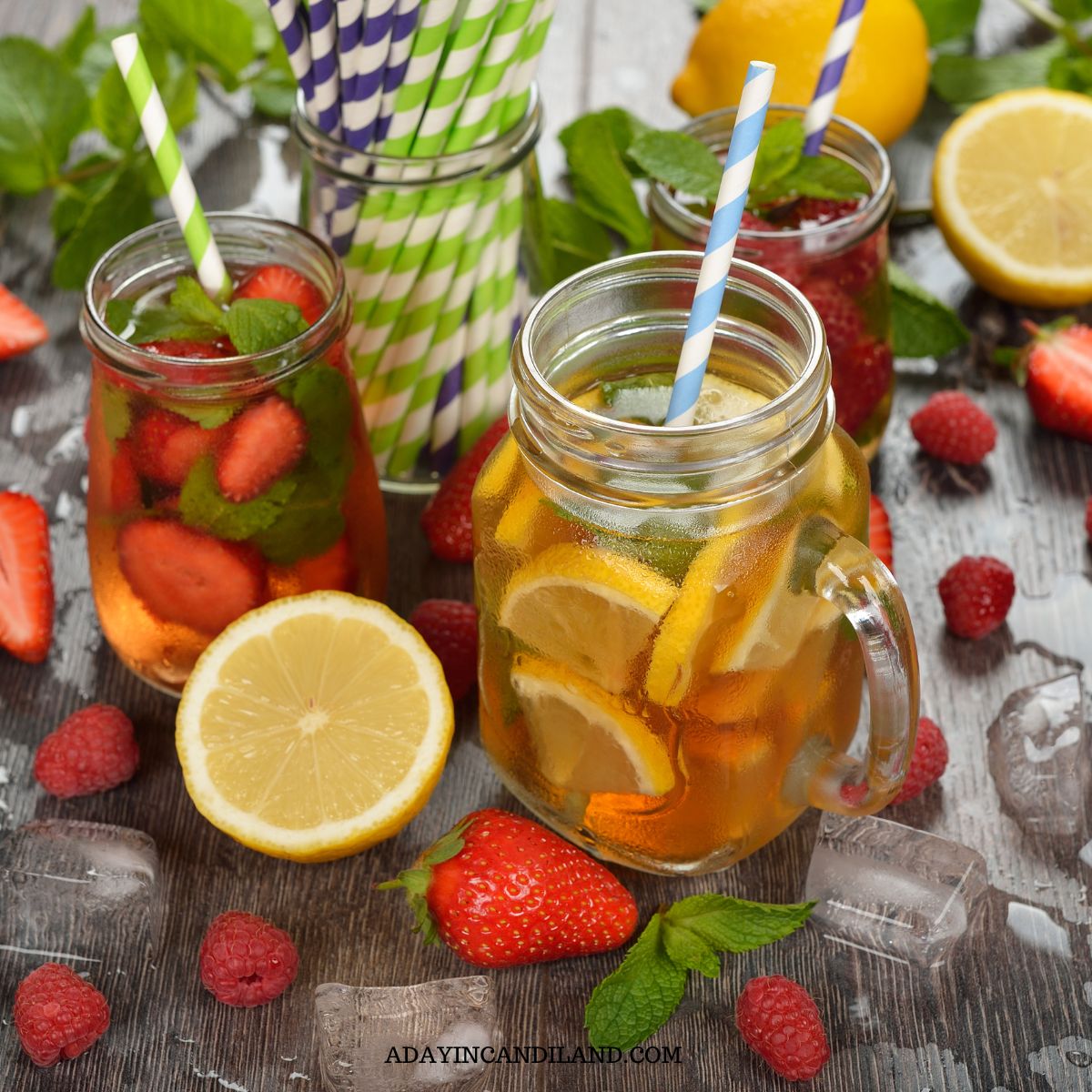 *This post may contain affiliate links. If you make a purchase, I get a small commission. Please see my disclosure policy for details
Fruit teas are a great way to add flavor to your diet without adding calories or sugar.
They're also a great alternative to coffee because they contain caffeine, but not the jitters and crashes that can come with it.
While fruit tea is often used as an after-dinner drink, you can use them in place of soda or juice for a refreshing beverage any time of day.
Fruit teas are available in many varieties and there is sure to be one out there for you!
There are many reasons why people choose to drink fruit tea instead of other beverages.
For starters, it's healthier than soda or juice. It contains no added sugars, which means there's less chance of gaining weight from drinking it.
Plus, it has vitamins and minerals that help boost energy levels throughout the day.
The Best Fruit Teas
This fruit tea is the perfect balance of tart and sweet, with a hint of raspberry flavor.
It's also loaded with antioxidants and vitamins A and C.
The benefits of this tea are endless, including the fact that it helps to boost energy levels, improve digestion, relieve stress, and more!
This flavored tea helps to improve both your skin and hair because of the vitamin C content.
So, not only is this a super yummy and tasty tea to drink, but it also has a plethora of benefits!
Additionally, this flavored tea contains no caffeine or artificial flavors, making it an ideal choice for those who want to avoid caffeine but still enjoy the benefits of drinking tea.
Raspberry tea was first made popular in Europe during the 1800s, and now you can find it everywhere from supermarkets to health food stores.
Blueberries have been proven to help reduce high blood pressure, which can be very helpful for people who suffer from hypertension or heart disease.
They're also packed with fiber, potassium, and other nutrients.
This blueberry mint tea is a great way to get all these amazing benefits without having to consume any calories.
In addition, this delicious tea contains no added sugar, so you won't feel guilty about enjoying it.
You'll love how refreshing this tea tastes when you sip on it throughout the day.
If you'd like to add some extra flavor to your cup of tea, try adding fresh mint leaves to your tea bag before brewing.
Blueberry tea originated in China around 2000 years ago, and now you can find this wonderful beverage at many grocery stores and natural foods stores.
Cranberries are bursting with vitamin C and cranberry juice has been shown to help fight urinary tract infections (UTIs).
This cranberry ginger tea is a great way for you to get all the benefits of cranberry juice while getting a healthy dose of vitamin C.
This flavorful tea is low-calorie and contains no artificial ingredients. Plus, the ginger adds another layer of flavor to this delicious tea.
This tea is available in several varieties, including orange pekoe, jasmine green tea, and chamomile.
Cranberry tea is a traditional Chinese medicine used to treat colds, flu, sore throats, and even stomach ulcers.
Some benefits of drinking this tea include relieving cough and cold symptoms, preventing UTIs, boosting your immune system, and more!
Apple cinnamon spice tea is a delicious blend of apple cider vinegar, cinnamon, and cloves.
These three spices work together to create a unique flavor that will make you crave this tea again and again.
The benefits of drinking this tea are endless, as it contains several beneficial properties.
For example, apple cider vinegar is known to relieve gas and bloating, while cinnamon helps to lower cholesterol.
Cloves contain anti-inflammatory properties.
This delicious tea is low in calories and contains no artificial ingredients, making it a great option for anyone looking to lose weight or maintain their current weight.
Try blending this tea into smoothies or using it as a marinade for chicken or fish. This spicy tea is sure to become one of your favorite beverages.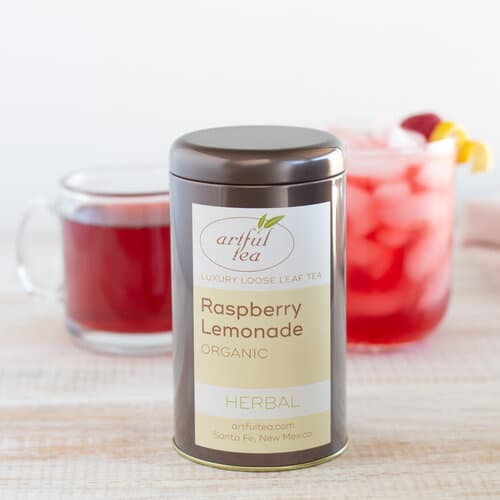 This lemonade-flavored tea is full of vitamin C, which is essential for maintaining strong bones and teeth.
Vitamin C also helps to strengthen capillaries, which means it can help prevent cardiovascular problems such as stroke and heart attacks.
This delicious tea is also rich in calcium, which helps to build strong bones and teeth.
Drinking this raspberry lemonade tea can help promote regularity by keeping you well-hydrated.
This tea is made with real fruit juices and contains no added sugar or artificial sweeteners.
It's an ideal drink for those looking to improve their overall health and wellness.
The origins of this tea date back thousands of years, but today you can enjoy it in abundance at grocery stores and convenience stores across the country and the world.
Blackberries are packed with powerful antioxidants called anthocyanins, which help keep your body healthier.
This blackberry lime tea is a delicious way to enjoy the benefits of blackberries.
The tart flavors of this tea pair perfectly with the sweetness of lime.
This tea is perfect for both hot and iced drinks.
You can use this tea to add some zing to your morning cup of coffee or to cool down on a warm summer day.
Blackberry tea is traditionally enjoyed during Fall, but it makes a great beverage year-round.
Blackberry tea was first introduced to Europe from China, where it was used as a medicinal remedy.
Today, people still drink blackberry tea because of its many health benefits.
Peach passion tea is a refreshing combination of peach nectar and honey.
This tea combines two natural sweeteners that have been proven to be effective at fighting off illness.
Honey has antimicrobial properties, so it can help reduce bad bacteria in your digestive tract.
Peach nectar provides additional vitamins and minerals, which can benefit your overall health.
This tea is a great choice for those who want to boost their energy levels throughout the day.
Peach passion tea is very easy to prepare, as it only requires boiling water.
Once the tea is ready, simply pour it over ice cubes and enjoy!
Peach teas come from the same plant family as apricots, plums, peaches, and cherries.
They all share similar nutritional profiles, so they're often interchangeable when it comes to cooking and baking recipes.
If you like the taste of peach juice, then you'll love this tea.
Wildberry tea is a delicious blend that includes blueberries, raspberries, and strawberries.
This wild berry tea is high in antioxidant content, which can help protect against free radical damage. Antioxidants can help fight these harmful substances.
Blueberries contain more antioxidants than any other food source, making them one of the most potent sources available.
This wild berry infusion is a wonderful addition to your diet. It's low in calories and fat, and it tastes delicious.
Wild berries are native to North America, and they grow in abundance there.
When you make wild berry tea, you get the best of both worlds: the flavor of fresh berries combined with the nutrition found in dried fruits.
Wildberry tea is especially good for pregnant women and nursing mothers because it's loaded with nutrients.
Raspberries are loaded with fiber, which will give you a feeling of satiety without adding too much bulk.
Fiber is important for healthy digestion, and it helps prevent constipation. Raspberry mint tea is an excellent option if you suffer from indigestion.
This raspberry mint tea contains soothing peppermint leaves, which can relieve gas and bloating.
Peppermint also has antibacterial properties, which can help keep your digestive system clean.
This tea is a fantastic choice for anyone looking to improve their overall health. Raspberries are rich in vitamin C, which can help strengthen your immune system.
They also contain potassium, magnesium, and iron, which are essential for proper muscle function.
These minerals help maintain strong bones and teeth. Raspberries are easy to find in grocery stores, and they're widely cultivated around the world.
Black cherry tea is made from black cherries, which are packed with anthocyanins, powerful antioxidants that can help lower cholesterol.
The fruit itself is also loaded with vitamin A, B6, folate, and potassium. Black cherry tea is a great way to add some extra flavor to your meals.
It's also a great alternative to coffee or chocolate. You can drink black cherry tea alone or combine it with milk or cream.
Black cherry tea is not just tasty; it's also beneficial for your body. This is because it contains flavonoids, which are compounds that provide anti-inflammatory benefits.
Black cherry tea is also known to help maintain healthy blood sugar levels.
Studies show that people who consume black cherry tea regularly have better glucose tolerance than others who don't drink this type of tea.
Blackcurrant tea is made from black currants, which are small red berries that grow on shrubs.
They're packed with vitamins A and C, as well as beta-carotene and flavonoids.
Beta-carotene is an antioxidant that protects against cell damage caused by free radicals.
Flavonoids are plant chemicals that offer additional protection against oxidative stress.
Blackcurrant tea is a popular beverage throughout Europe and Asia. It's often used as a remedy for colds and flu.
The tartness of blackcurrant tea makes it a refreshing treat during the hot summer days.
It's also a good choice when you want something sweet but don't want to eat candy bars or cookies.
Blackcurrant tea comes in many varieties, including blackcurrant, blackcurrant and rosehip, blackcurrant and elderflower, and blackcurrant and orange blossom.
Each variety offers different flavors and nutritional benefits.
Strawberry lemonade tea is a combination of strawberries and lemons.
Both fruits are high in vitamin C, which is necessary for proper cellular growth and repair.
Vitamin C is also useful for boosting immunity and fighting off infections.
Strawberries are also rich in vitamin K, which is vital for bone formation.
Strawberries are low in calories and fat, making them a perfect addition to any diet.
They're also very versatile, so you can use them in lots of different recipes.
Strawberries are available year-round, and they're one of the most common fruits grown in the United States.
Lemons are another fruit that's commonly found in grocery stores.
They're full of vitamin C and other nutrients, such as calcium, phosphorus, copper, manganese, and niacin.
Lemons are also a source of citric acid, which helps prevent tooth decay.
Blood oranges are a cross between a mandarin orange and a tangerine.
They're juicy and flavorful, and they contain more vitamin C than regular oranges.
Blood oranges are also high in fiber and iron. They're also packed with antioxidants, which protect cells from damage.
This tea is super tasty and has a wonderful aroma. It's deliciously served over ice and topped with whipped cream.
Blood orange tea is also a great pick-me-up after a long day at work. It gives you energy without adding unnecessary calories.
Blood orange tea is easy to make and doesn't require much time or effort. This drink is popular in Italy, where it's called "limoncello" (lemon yellow).
Fresh lemon juice is a natural diuretic. That means it promotes urination and helps eliminate toxins from the body.
Lemon tea is a simple way to get rid of those unwanted toxins. It's also a refreshing beverage that tastes great.
If you like citrus drinks, then this tea will be right up your alley. You can add honey if you'd like, but lemon tea is already naturally sweet.
Some people prefer to use sugar instead of honey because it adds extra flavor.
Lemon tea is a healthy alternative to soda pop, especially if you have diabetes or heart problems.
Lemon tea first originated in China, where it was known as yu chai. In Japan, it's called gomuso.
Lemon tea is also popular in India, where it's called thandai.
This tea is made from green apples, which are loaded with vitamin C.
Green apple tea is a refreshing beverage that's full of health benefits. It contains antioxidants, which help fight cancer and reduce inflammation.
Green apples are also rich in potassium, magnesium, folate, beta-carotene, and fiber.
Green apple tea is also a good source of vitamin B6, which is important for maintaining a healthy nervous system.
The taste of green apple tea is similar to that of an apple cider vinegar drink. It's delicious on its own or mixed into smoothies.
Green apple tea is best enjoyed hot or cold.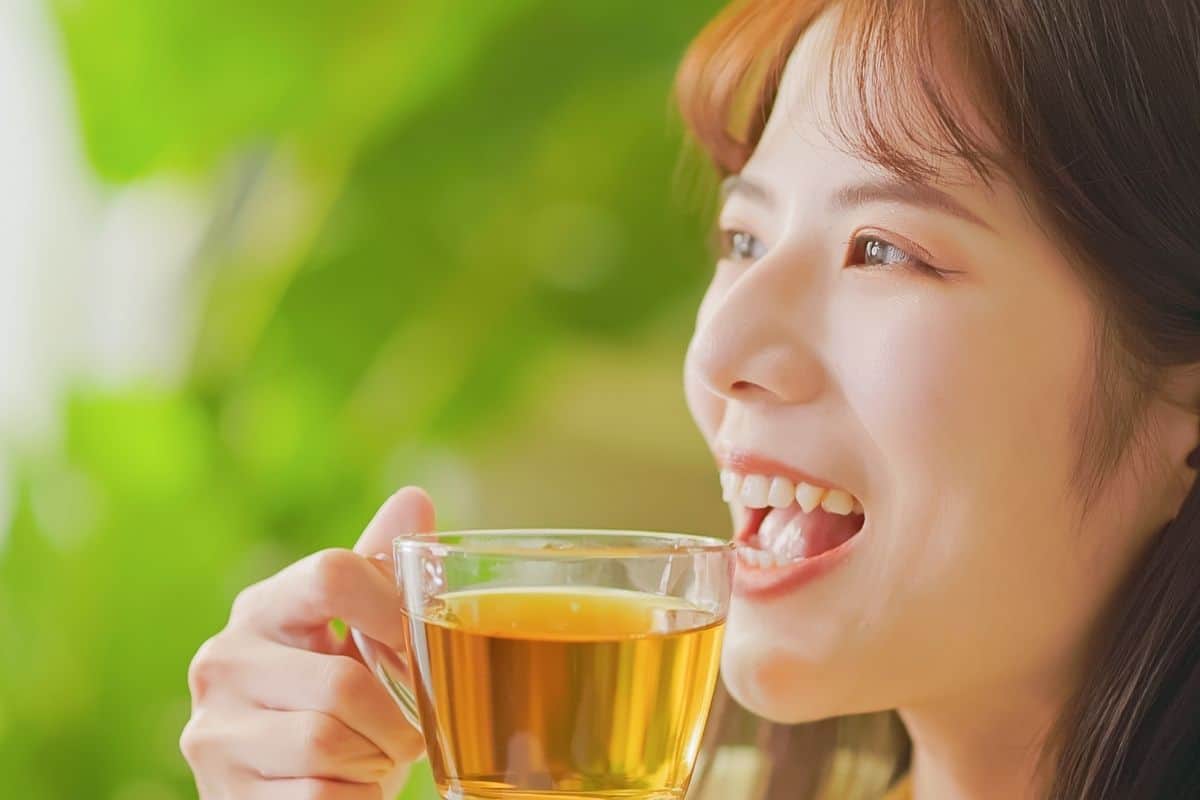 Benefits Of Fruit Teas
Fruit teas are a delicious way to start your morning.
They're a quick and easy breakfast option that won't leave you feeling sluggish.
Plus, they're full of vitamins and minerals that promote overall wellness.
Here are some of the many benefits of drinking fruit teas:
Boosts Energy – If you don't feel well-rested when you wake up, try having a cup of fruit tea before going back to sleep. It'll give you the boost you need to start your day feeling refreshed.
Improves Digestion – Drinking fruit tea regularly may improve digestion. Many people find that their digestive tract feels better after drinking fruit tea.
Promotes Weight Loss – Eating plenty of fresh fruit each day can help you lose weight. A cup of fruit tea is a perfect snack to enjoy while watching TV or relaxing in bed.
Promotes Heart Health – Fruits such as berries, grapes, and peaches are all excellent sources of fiber. Fiber is essential for promoting cardiovascular health.
Lowers Cholesterol Levels – Strawberries, blueberries, raspberries, and blackberries are all rich in phytochemicals, which lower cholesterol levels.
Treats Insomnia – Drinking fruit tea before bedtime can help you fall asleep quickly and stay asleep throughout the night.
Reduces Stress – Drinking fruit tea can help relieve stress. It's a soothing beverage that calms the mind and relaxes the body.
Reduces Blood Pressure – Drinking fruit tea has been shown to reduce blood pressure.
Helps Maintain Healthy Skin – Drinking fruit tea can keep skin looking young and radiant. It contains high amounts of antioxidants that protect against free radical damage.
Conclusion
Drinking fruit tea can provide numerous health benefits.
It's a delicious beverage that's packed with nutrients, including vitamins and minerals.
There are so many flavors and varieties for you to choose from, and you are sure to find one out there that you love!
From apple to raspberry, hopefully, this article has influenced you to try out some new fruit teas – you never know, they might turn out to be your favorite beverage!
More Related Articles