Matcha Tea Comes in many varieties, and qualities and creates delicious recipes, including this Trader Joe's Matcha Latte Recipe. Made with a hint of cinnamon and vanilla using 1 Trader Joe's Matcha Green Tea packet.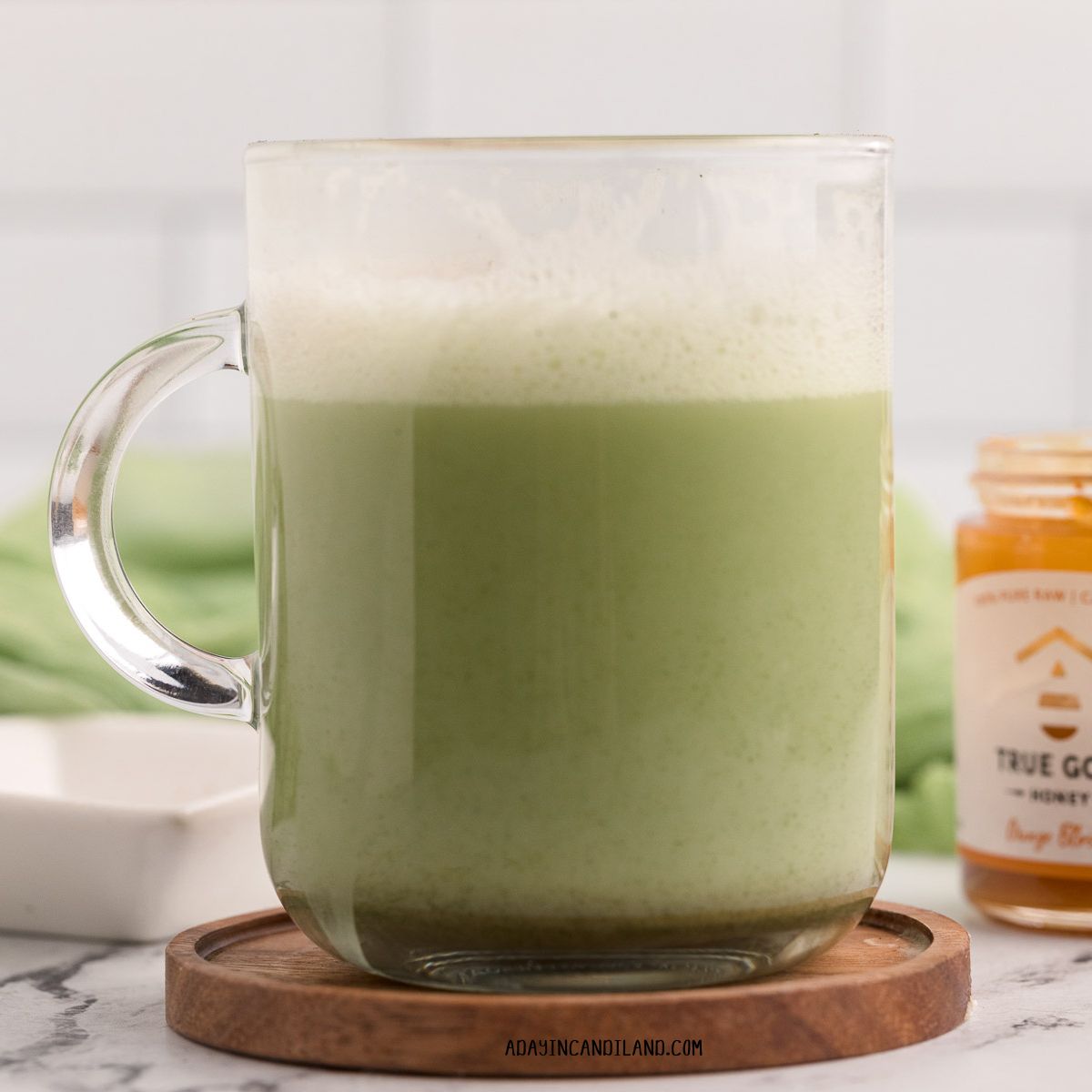 Tell me about Trader Joes Matcha
Matcha is powdered green tea. It's rich in antioxidants, is known to promote alertness without the added effect of jitters, and delivers in the taste department. Now, this coveted tea has been added to the selection of Trader Joe's matcha products, including their green tea matcha that is sweetened and comes in a can.
This Matcha is most likely the Culinary Grade based on the cost. Culinary Grade Matcha comes from the 2nd Harvest called Nibancha, of the green tea leaves which is harvested between June and July. You will notice less chlorophyll (green hue) in the 2nd Harvest. Find out here where Matcha is Grown.
If you're on the go like many of us, you have found a treasure in these individual packets. Just add a packet to hot water, stir, and you've got yourself an energizing drink to carry you through the day. For warmer days, add ice and a drop of your favorite sweetener.
*This post may contain affiliate links. If you make a purchase, I get a small commission. Please see my disclosure policy for details
How Many Packets Are in a Box
The Matcha Latte Boxs come with 7 individual packets, so you can make 7 drinks with the recipe below.
What is the Cost of Trader Joes Matcha
It is approximately $10.00 per box of 7 packets. You can probably make your Matcha Tea for about $1.50. That is a big saving over your favorite coffee house.
What Water Temperature Should Matcha Be Made with?
The best temperature for Matcha is 175 F and 80 C. An easy way to get to 175 quickly is to boil your filtered water and pour whatever amount you think you'll use for the matcha (8 oz) into a small pitcher or cup. Then pour that water into a second cup, and the water temp should be somewhere around perfect. If you like it as hot as it can be, this is your max. You can also use a thermometer to check.
What is the best way to blend Matcha?
Matcha powder can be blended in two ways. One is the Matcha Whisk with the heated water in a bowl until dissolved. The 2nd is with the Frother. Matcha powder doesn't truly 100% dissolve in water like sugar or milk powder does. It's because matcha powder is actually tiny bits of tea leaf, matcha powder is made from tea leaf ground into powder form. You will get the best flavor once it is dissolved.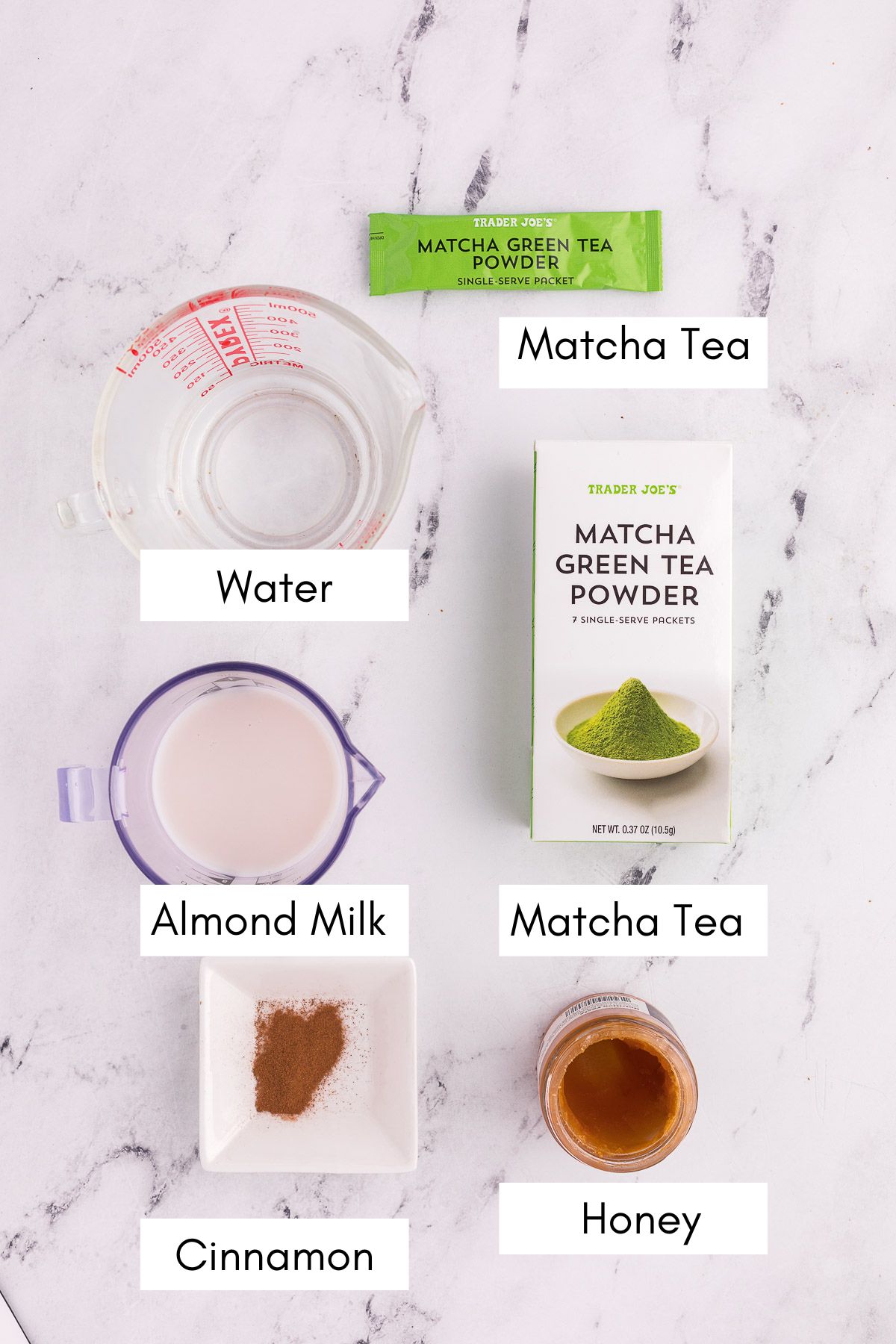 What Do You Need to Make this Latte?
Ground Cinnamon
Almond Milk (warmed)
Vanilla Extract Optional
Honey
Stevia (optional)
Water (Hot) 175-180 degrees
Directions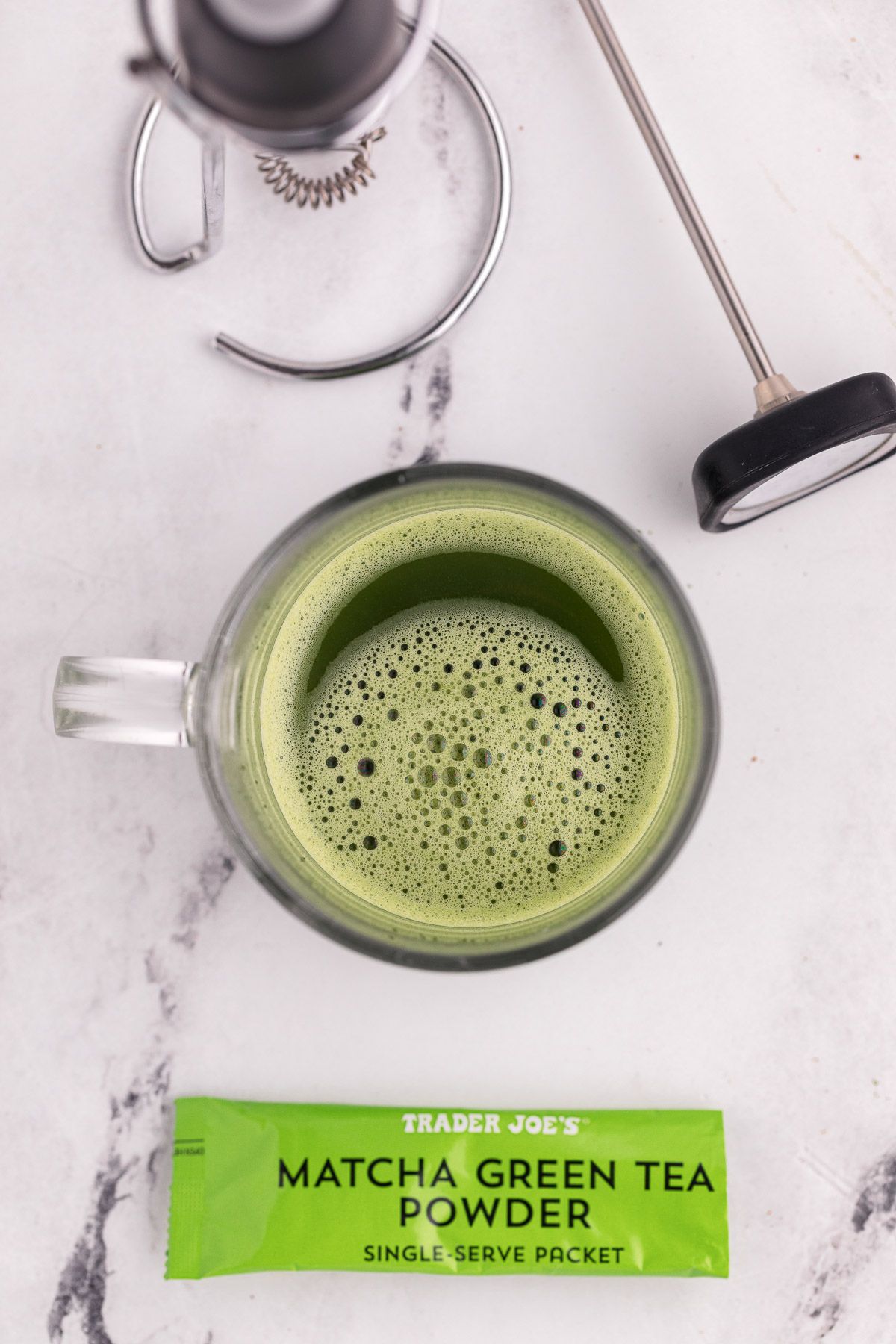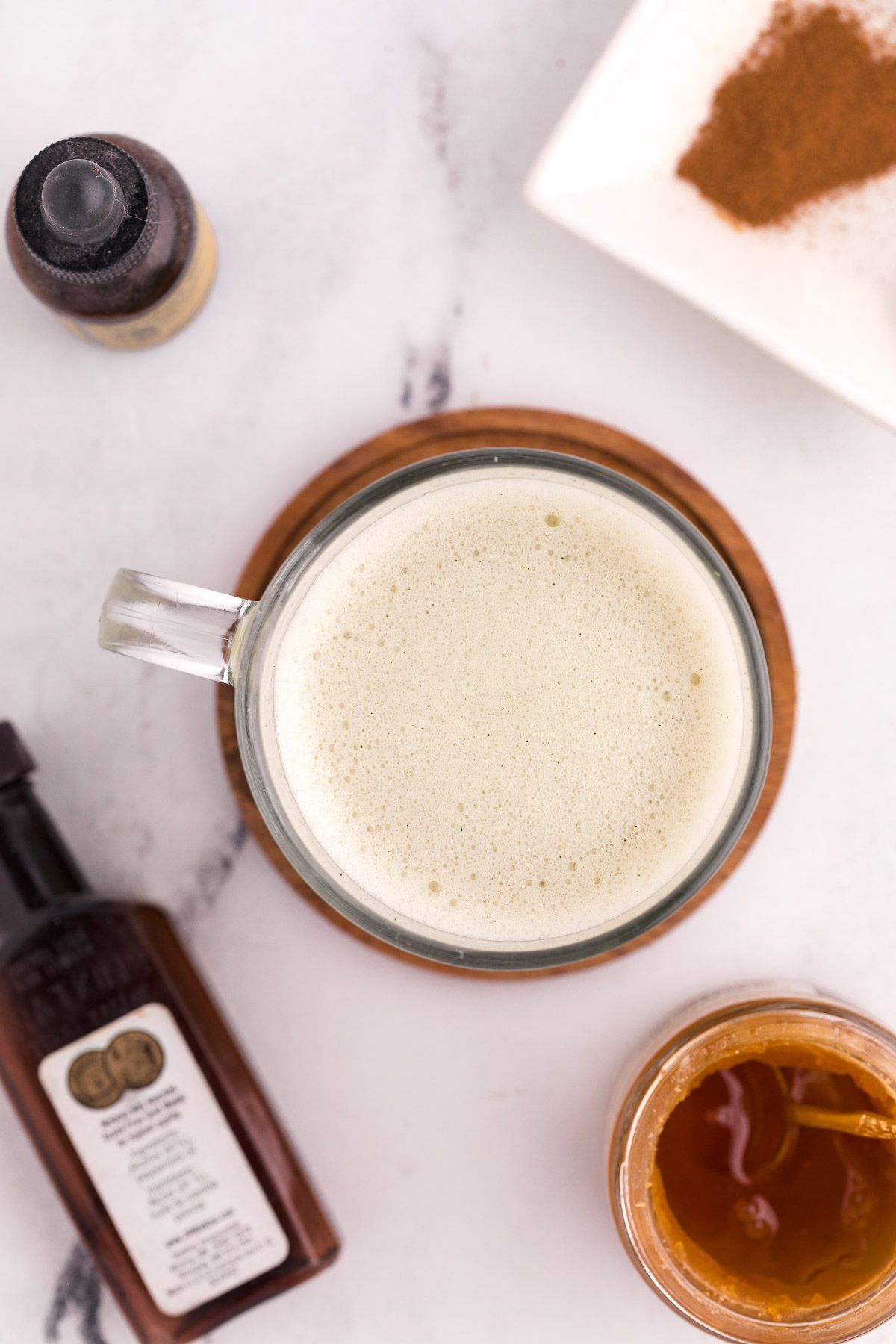 Heat your water to 180 degrees, using a tea kettle and thermometer or a temperature control tea kettle. Once it's at 180 degrees, add the packet of Trader Joe's Matcha Green Tea Powder. Whisk to dissolve or use a frother.
Next add your vanilla extract and optional sweetener if you desire.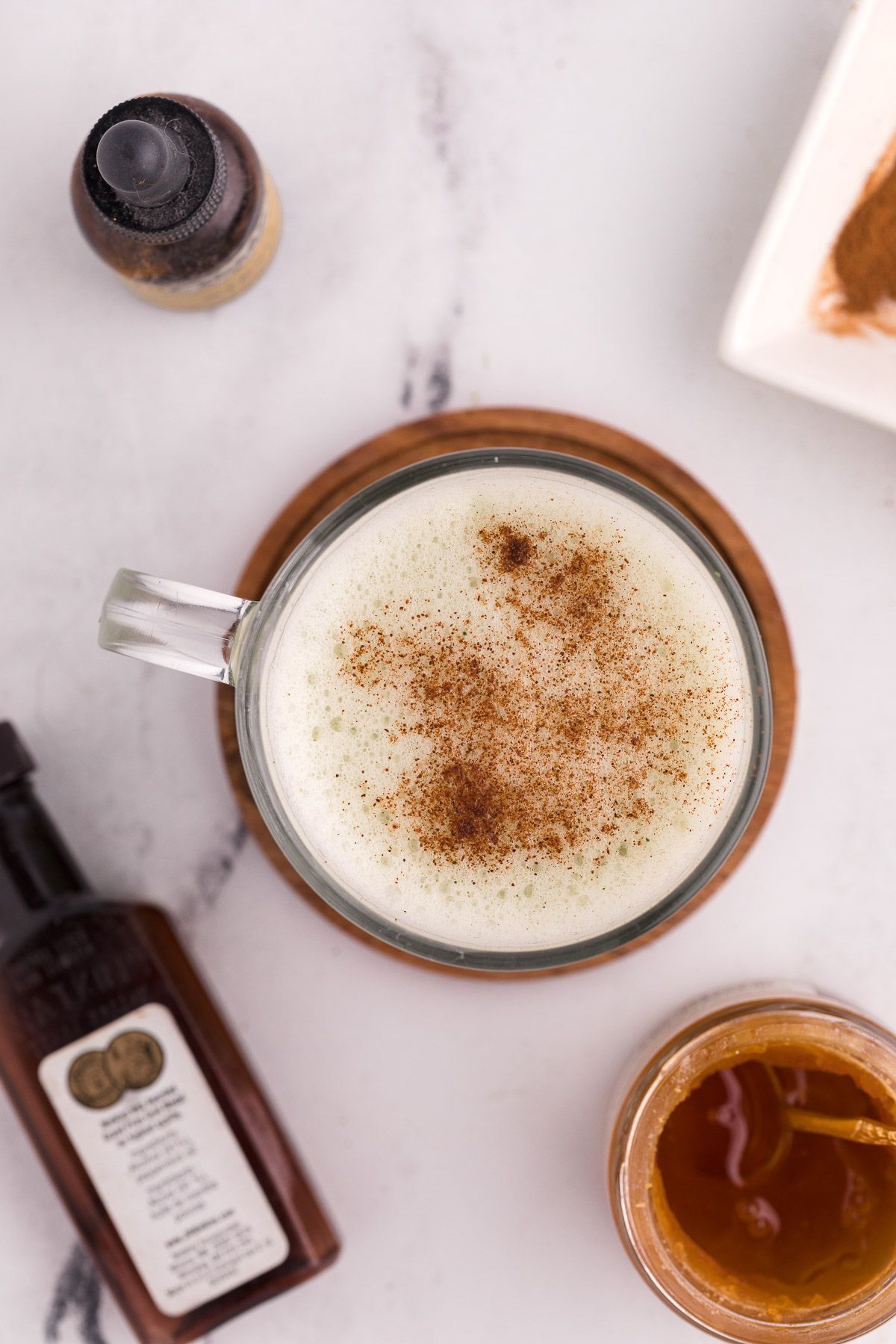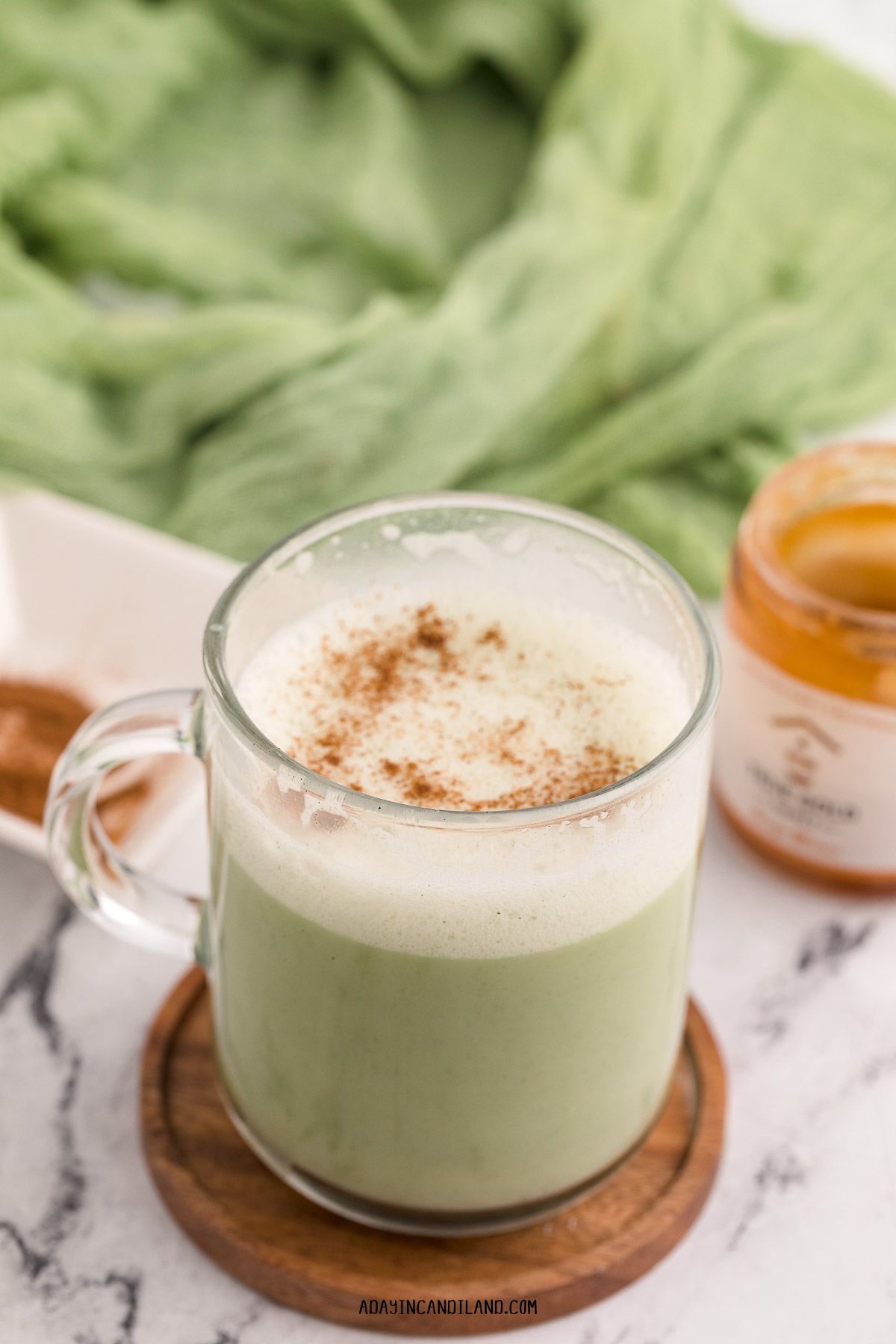 Add your heated dairy-free or dairy-based milk product. Use the frother again. Then add a sprinkle of cinnamon on top. Enjoy.
For More Matcha Tips: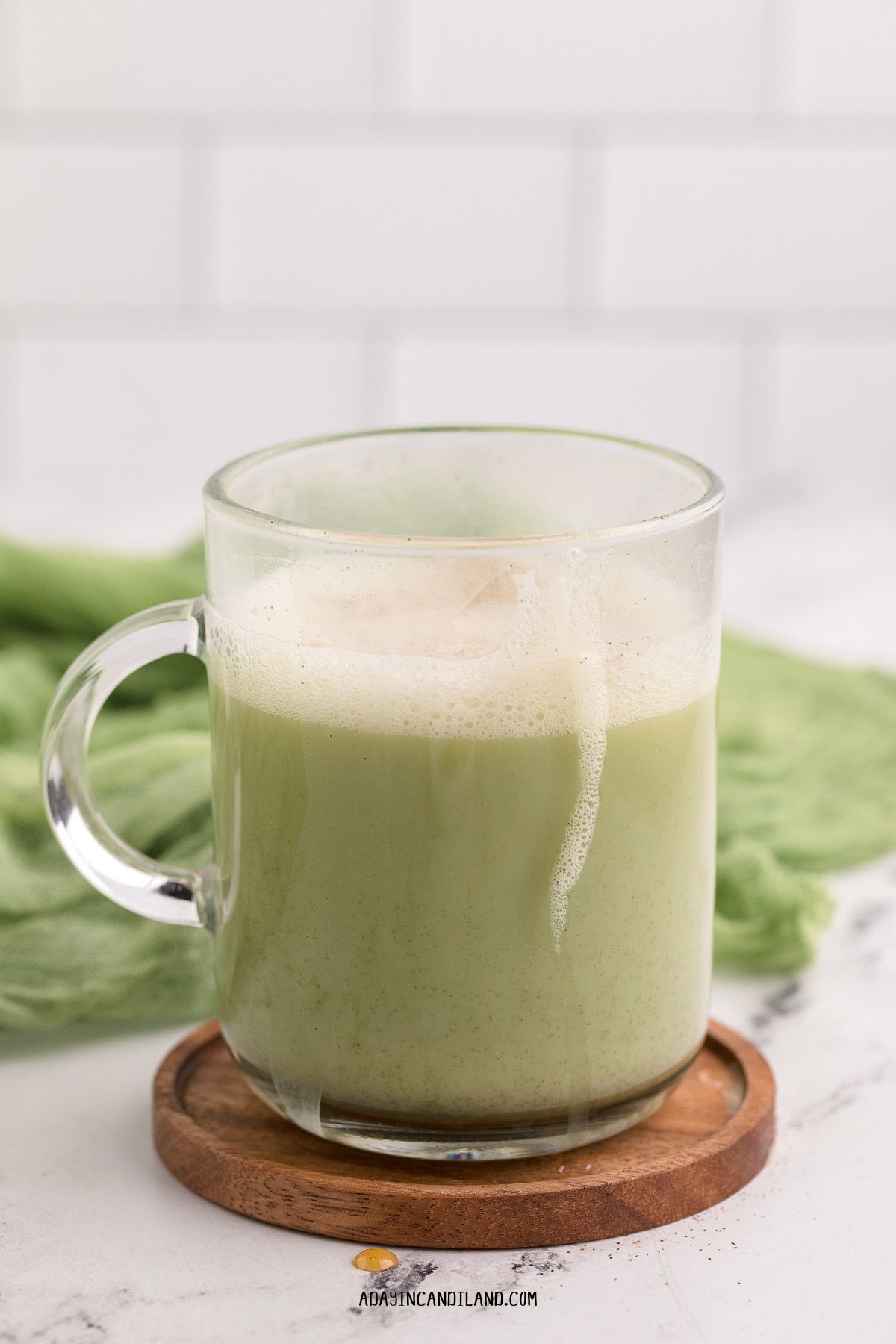 If you loved this recipe and made it please give it a 5-star review! That will help it be seen more. You can also pin it to Pinterest or share it on Facebook.
Recipe
Trader Joe's Matcha Latte Recipe
Trader Joes Matcha Tea is an easy way to get your Matcha fix on the go. The simple packet is premeasured and ready to mix with your favorite milk and sweetener.
Ingredients
1

Packet of Trader Joes Matcha Green Tea

1/2

Cup

Hot Water

175-180 degrees

1/2

Cup

Almond Milk Warmed

1/2

Teaspoon

Ground Cinnamon

Optional

1/2

Teaspoon

Vanilla Extract

Optional

1/2

Teaspoon

Honey

Optional
Instructions
Heat 1/2 cup of water to 175 degrees F or 80 degrees C

Add 1 packet of Trader Joe's Matcha Tea

Using a Matcha Whisk or a Frother whisk the powder into the water

Add the Stevia, Honey or Vanilla Extract

Add the Warm Milk. Use the Frother again to get it combined and create some foam. Sprinkle the Cinnamon on Top.
Notes
Blend the Matcha completely so there are no lumps.
Add either Vanilla Extract, Honey or Stevia for a sweeter Matcha.
Nutrition