Creating family crockpot meals will save you time and money and your family will have a delicious hot meal they will thank you for. Many of these recipes are 5 ingredients or less.
We all lead busy lives. Gone are the days of mom staying home and cooking all day while the children take the bus to school and everyone comes home to greet her at the end of the day.
They come in and smell the meal cooking and she tells them to wash up for dinner and sit down to the wonderful meal she put all her hard work and love into. Just like an episode of "Ozzie and Harriett" or "Father Knows Best."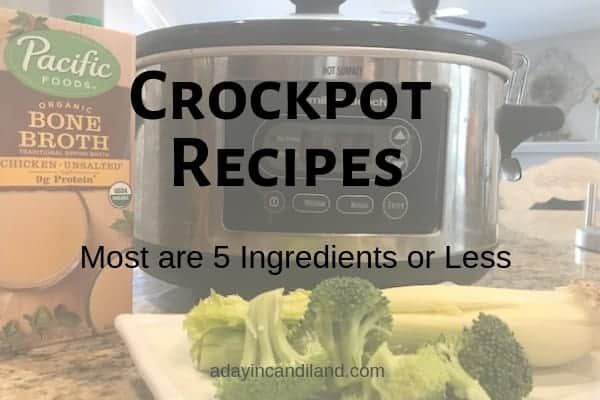 Family Crockpot Meals
5 Ingredient Crockpot Lemon Chicken
Easy Lemon Chicken recipe and add your favorite side.
5 Ingredient Crockpot Chicken Verde
This crockpot chicken Verde is made with 5 ingredients or less but has a lot of flavors. Makes enough for lunch the next day.
5 Ingredient Crockpot Whole Chicken
This Gluten-Free Recipe is made with 5 ingredients and stuffed with lemon and herbs.
Crockpot Bacon Ranch Chicken
An easy 5 ingredient recipe that comes together in a snap
20 Low Carb Crockpot Recipes
Stay on your low carb eating plan with these nutritious low carb dinners.
25 Simple Crockpot Recipes for Busy Nights
25 different crockpot recipes that taste delicious and are a welcome meal for busy nights.
23 Easy Fall Crockpot Recipes
23 Fall Dinner, Dessert and Beverage recipes that taste delicious on cool evenings.
Crockpot Chicken and Broccoli Soup
A tasty soup made with Chicken, Broccoli, and a Mirepoix base.
Crockpot Buffalo Chicken Mac and Cheese
A delicious easy Mac and Cheese with a homemade cheese sauce
Crockpot Minestrone Soup (coming soon)
Crockpot Breakfast Recipes
Not sure what you want for breakfast? Here are 20 different options for a hot hearty meal.
Crockpot French Toast Casserole
Either make this the evening before setting with a timer or wake up a little early to make this delicious breakfast casserole
Crockpot Dessert Recipes
Nutella Crockpot Cheesecakes in a Jar
A sinfully decadent dessert with Nutella and Creamcheese made in jars inside your crockpot.
Crockpot Bread Pudding with Caramel Sauce
Apple Bread Pudding with a caramel sauce on top. Soon to be your next family favorite.
Here are some of my favorite kitchen tools to use with my Crockpot
Slow Cooker Liners Make Clean up a Breeze
Crockpot Travel Carrier Take your favorite crockpot with you and keep it safe from spills.
Digital Thermometer Perfect for checking the temperature of your meats in the crockpot.
Shredding Claws Makes pulled pork and pulled chicken easier to shred without burning your hands.
Bowls for Storage Make leftovers and clean-up easier.
Baggy Rack Bag openers to hold bags open as you pour in ingredients.
Crockpot Trio 3 1.5 crocks for side dishes and dips.
Pioneer Woman 7 Quart Programmable Crockpot
Crockpot FAQ and Tips
13 Crockpot Tips and Uses that might surprise you.
Order these additional 31 recipes as an Instant Download recipe book: 31 Slow Cooker Recipes for Breakfast, Dinner, Desserts and Side Dishes.