Chicken Broccoli Cheese Soup is a hearty soup full of flavor, and your kitchen will have a wonderful aroma.
Tonight make a deliciously hearty and creamy Chicken Soup with Broccoli and cheese in the Crockpot. It is a flavorful low-carb dinner that can be made Keto friendly with just a few changes. This is comfort food at its finest. For more crockpot meals try these.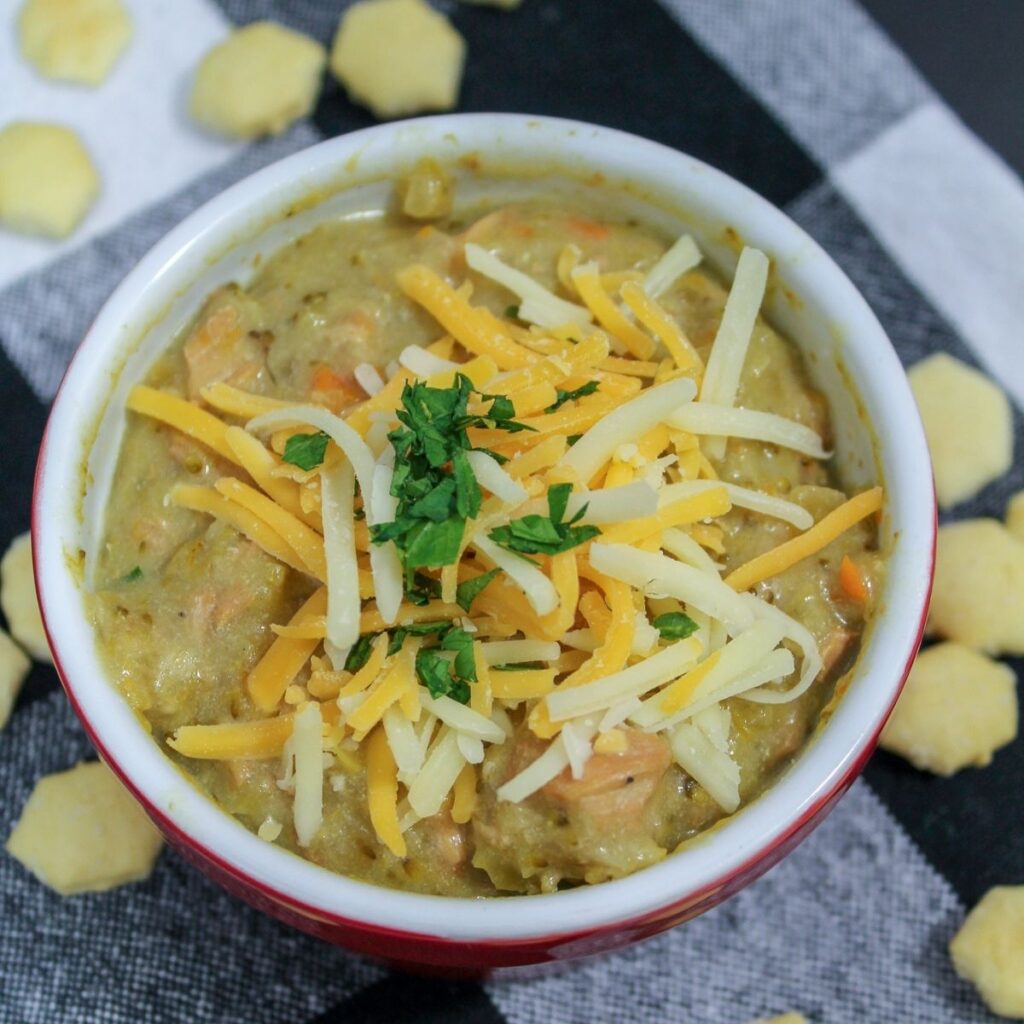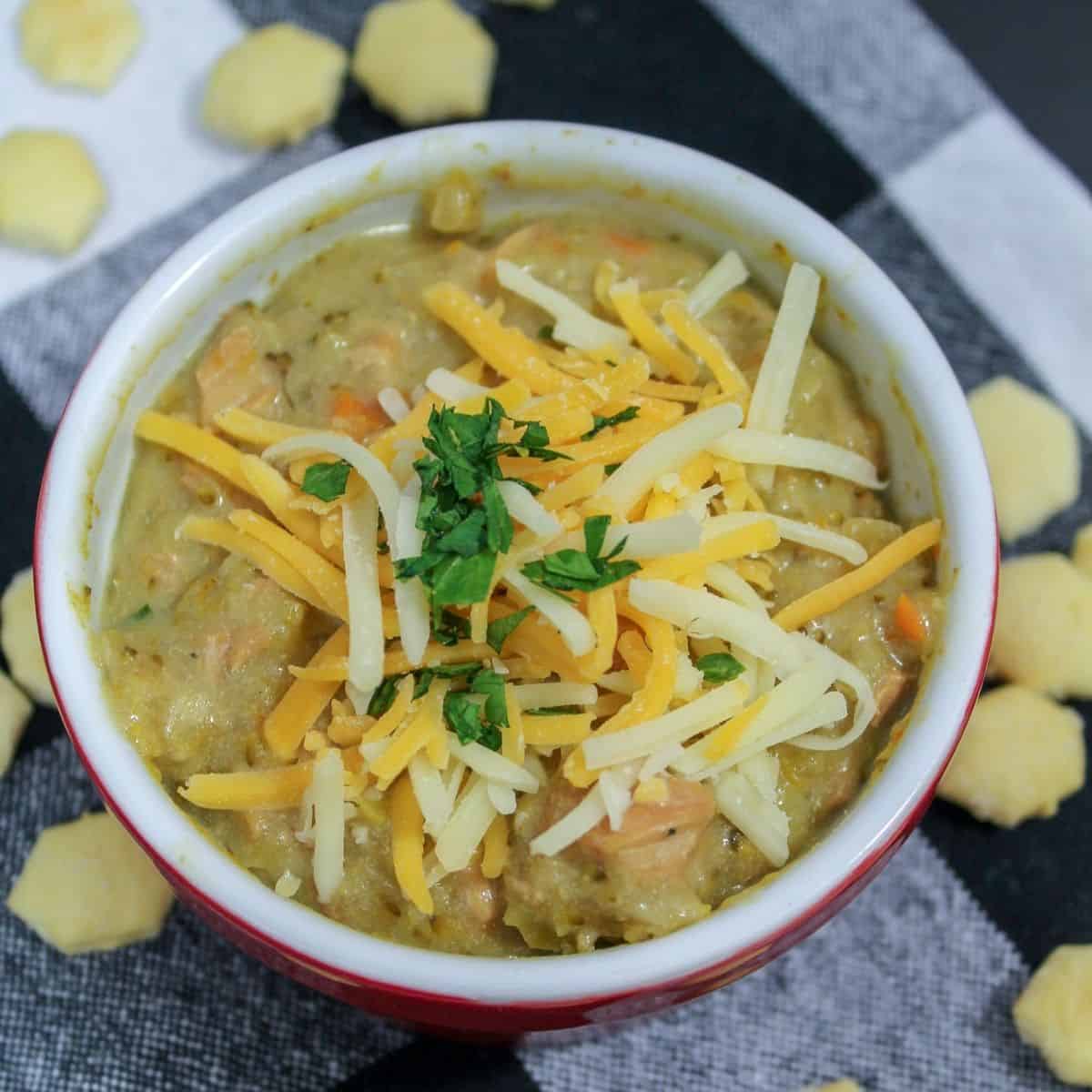 Ingredients Used to Make Chicken Broccoli Soup
It starts with 2 Chicken Breasts, Broccoli, a Mirepoix (onions, carrots, celery) base, Chicken Broth, Heavy Cream, Olive oil, and spices.
Brown the chicken first in a saute pan and add the Mirepoix to the pan. Once cooled, dice the chicken, then transfer everything to the slow cooker. Set on high for 4 hours. It is that easy. To learn more about Mirepoix read here.
Are you a Crockpot enthusiast? Most either love slow cooker meals or they don't. Some have their crockpots on the counter or tucked away into a cabinet somewhere collecting dust.ice
Using a Crockpot or Instant Pot can make your life easier in several ways. First, you are able to get your ingredients into the pot and walk away. Even if it takes a few hours like the crockpot vs. 30 minutes with the Instant Pot, you don't have to sit watch over the meal.
It also makes clean-up so much easier. You don't have to use lots of dishes and pans. Generally, it's just one pot.
I can imagine that will make your evening easier and you can spend more time with your family instead of cleaning up all night.

How to Deep Clean Your Crockpot
If you use your crockpot several times a week, it will eventually get a ring around the dish. Here is an easy way to keep it sparkling like new.
Things you need to clean your crockpot
1 Cup Baking Soda
1 Cup Vinegar
Dish Soap
Sponge
Fill your crockpot or slow cooker with water, just pass the ring. Add 1 cup vinegar to the water. Slowly add 1 cup of baking soda. Turn the crockpot on low and leave it on for 4 hours or overnight. Remove the lid, and let cool for at least 1 hour. Then wash with dish soap. It will be sparkling new.
Expert Tips
Use the best size for your recipe – Usually 6-7 quarts
Don't open your crockpot while cooking, it lets out steam and moisture and adds time to the cooking
Don't overfill your crockpot
For the best taste, brown your red meats first on the stove.
Let foods cool down before you place them in the refrigerator. (Avoid the danger zone) You can do this by placing Tupperware on a bowl of ice.
Add milk and dairy toward the end of the cooking time.
Tips directly from Crock-Pot
Try These additional Easy Crockpot Recipes
*This post may contain affiliate links. If you make a purchase, I get a small commission. Please see my disclosure policy for details
KITCHEN TOOLS, UTENSILS, AND APPLIANCES NEEDED FOR CROCKPOT MEALS
Here are some of my favorite kitchen tools to use with my Crockpot
Slow Cooker Liners Makes Clean up a Breeze
Food Chopper by Spring Chef
Sous Vide Immersion Blender 800 Watt Digital Display
Crockpot Travel Carrier Take your favorite crockpot with you and keep it safe from spills.
Bowls for Storage Makes leftovers and clean up easier.
Baggy Rack Bag openers to hold bags open as you pour in ingredients.
Soup Bowls White Round Soup Bowls
If you loved this recipe and made it please give it a 5-star review! That will help it be seen more. You can also pin it to Pinterest or share it on Facebook.
Recipe
Crockpot Chicken Soup
Tonight make a delicious hearty Chicken Soup with Broccoli in the Crockpot. It is a flavorful low carb dinner that can be made Keto friendly with just a few changes.
Ingredients
2

large

chicken breasts

2

broccoli heads

1

carrot

chopped

1

celery

chopped

1

onion

chopped

2

Cups

water

1

Cup

heavy cream

1

teaspoon

seasoned salt

1

Tablespoon

cornstarch

Replace with Xanthum Gum for Ketogenic

1

teaspoon

olive oil

1

Tablespoon

Chicken base
Instructions
In a skillet, add olive oil and heat on med/high heat. Add chicken and brown on each side until fully cooked.

While chicken is cooking and dry your veggies. Add the carrot, celery and onion to the food chopper and chop until finely chopped.

Remove the chicken from the heat and set aside. In same skillet add the carrot, celery, onion mix and saute until tender.

Now prepare the broccoli by removing all stems from the broccoli. Chop the broccoli with the food chopper.

Place a slow cooker liner to your slow cooker if you are using one.

Dice the cooled chicken and add to the slow cooker as well as your veggies.

In a bowl, combine chicken base and water and mix thoroughly. Add to the slow cooker.

Add in the heavy cream, seasoned salt, and cornstarch to the slow cooker and seal the lid.

Cook on High for 4 hours. Once done remove lid and stir thoroughly.
Notes
To Make this Recipe Keto Friendly, replace the cornstarch with Xanthan Gum.
Optional: Add some shredded cheddar cheese on top.
Nutrition
Calories:
473
kcal
|
Carbohydrates:
28
g
|
Protein:
35
g
|
Fat:
27
g
|
Saturated Fat:
15
g
|
Polyunsaturated Fat:
2
g
|
Monounsaturated Fat:
7
g
|
Trans Fat:
1
g
|
Cholesterol:
140
mg
|
Sodium:
1153
mg
|
Potassium:
1554
mg
|
Fiber:
9
g
|
Sugar:
9
g
|
Vitamin A:
5396
IU
|
Vitamin C:
276
mg
|
Calcium:
209
mg
|
Iron:
3
mg