One of my favorite treats at Christmas is Christmas Crack with M & Ms.  If you love toffee and chocolate with a little bit of extra holiday goodness (red & green M & Ms and sprinkles) than this is the perfect treat for your next holiday party.
It's one of those dessert recipes that have me begging for the holidays to get here sooner.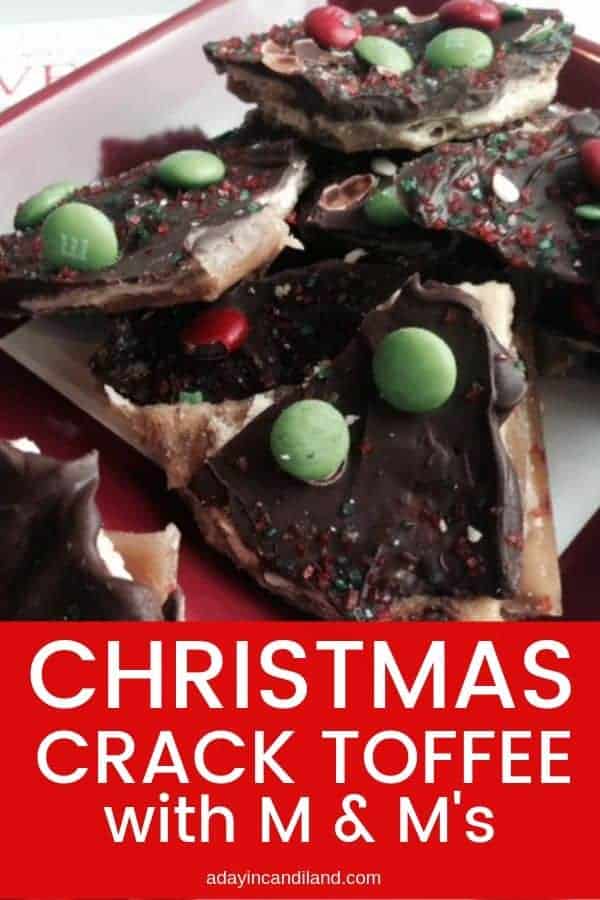 What is Christmas Crack?
I admit, I only found out about these in the last few years. I was at my daughters' school party and one of the moms brought them in. Who would have thought using Saltine Crackers would be such a hit. My hubby was watching me while I was making it and he thought,  are you crazy? Where did you get that idea from?
You know it's not called Christmas Crack for nothing. They are addicting. So sweet with a little salt and crunch. The perfect combination. I love adding the M & M's on top and some sprinkles just to give it some Christmas Cheer.
You could actually make this year round and just change up what's on top. Even just changing the color of sprinkles on top can get you into a different holiday season.
When making this dessert recipe I would just like to advise you not to skimp on the butter. You need the whole 2 sticks to get the crackers covered. Also, do not layer your crackers or they probably won't have enough caramel on them.
They really need to soak in the mixture which works best with a single layer of saltines. With that said, on with the recipe.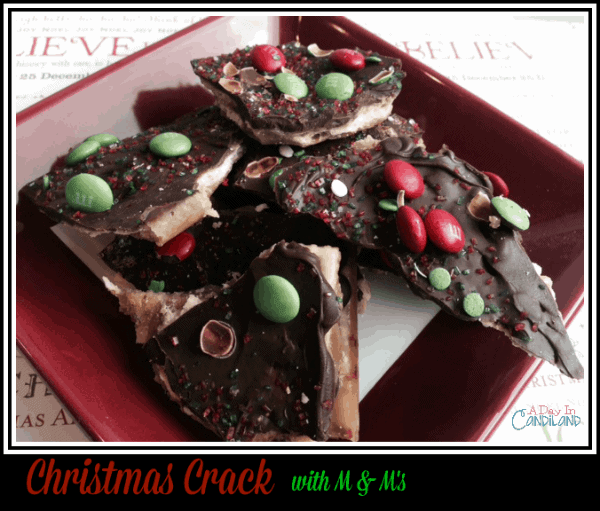 Easy Christmas Crack Recipe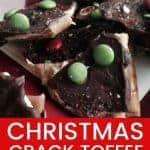 Christmas Crack with M & M's
Christmas Crack Toffee Treats is a delicious salty and sweet treat that can be made year round. Make with or without your favorite candies and sprinkles on top.
Keyword:
chocolate, Dessert, Toffee
Ingredients
2

sticks of butter

1

cup

light brown sugar

Approx 1 sleeve of saltines

about 40

2

cups

of semi sweet chocolate chips

Sprinkles and M & M's
Instructions
Pre-heat oven to 325°.

Line 9x13 jelly roll pan with aluminum foil. Spray foil with cooking spray and then line pan with saltine crackers, not overlapping.

Place butter and sugar in a medium sized saucepan over low medium/low heat. Stir until butter is melted. Once butter is melted, bring to a boil for exactly 3 minutes. Stir constantly.

When it has been bubbling for 3 minutes, pour evenly over crackers. Spread mixture with a knife. Try to move fast during this part so the toffee doesn't harden.

Place pan in oven and bake for 7-8 minutes. The mixture will spread evenly over the crackers as it bakes.

Remove pan from oven and then sprinkle the chocolate chips on top of the toffee while it's still hot. Let the chocolate chips melt for a few minutes and then spread all over the toffee with a spatula. Sprinkle M&M's and sprinkles on top and then place in the fridge for 30 minutes. Once the chocolate has hardened break pieces off the foil and store for up to two weeks in a container or Eat ASAP.
Nutrition Facts
Christmas Crack with M & M's
Amount Per Serving (1 g)
Calories 117
Calories from Fat 45
% Daily Value*
Total Fat 5g 8%
Cholesterol 1mg 0%
Sodium 4mg 0%
Potassium 93mg 3%
Total Carbohydrates 16g 5%
* Percent Daily Values are based on a 2000 calorie diet.
This post was updated with nutrition facts from the original 2014 date. 
For More Delicious Recipes Like Christmas Crack with M & M's, then try these recipes:
Items to help you make your Christmas Crack with M & M's. 
Free Menu Planning Cheat Sheets
Subscribe to get our latest recipes, budgeting and encouraging tips and receive our Free menu plan cheat sheet with 7 days sample recipes for Free.