The best 
Afternoon Tea Recipes and Tips 
you will need for your next
Afternoon Tea party
including Tea Recipes, Tea Sandwiches,
scones
, tea desserts, and party tips.
One of my favorite things is Tea! I love hot tea, but especially Iced Tea. My favorite is traditional black tea, no sugar added.
I do enjoy flavored tea as long as it has no artificial sweetener. That sounds funny to me since I love desserts and sweets. Just not in my drinks. Whenever you see me around town, I am sure to be found with a Starbucks Iced Tea in hand. When I am done with my drink, I usually refill it with some tea I make at home in my Keurig machine or Sun Tea.
Afternoon Tea Recipes and Tips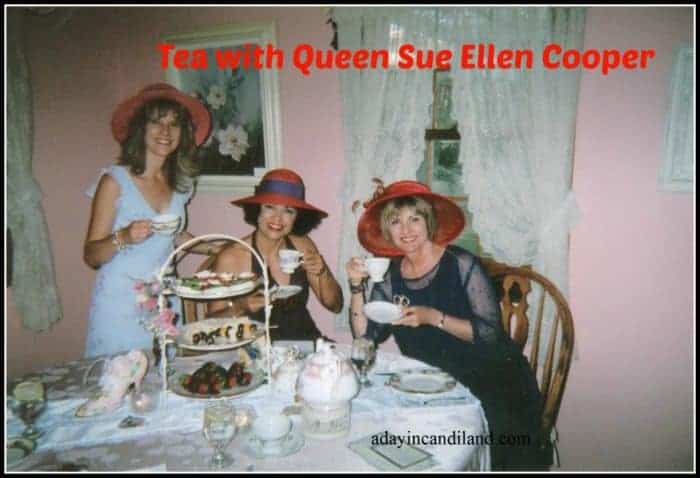 This is one of my favorite pictures. I am serving Sue Ellen Cooper founder of the Red Hat Society. She came to my teahouse for Tea one day. It was a private serving just for her and her assistant. This is when I owned The Elms Victorian Manor and Tearoom. I sure miss my tearoom. I still get calls from people wanting to come to tea, but I had to close it down a few years ago. One day I may reopen.
I hope you enjoy my family and lifestyle blog, I would love to hear your tea experiences and where you like to have tea, what tearooms you have been to,  and what blends you enjoy.
Afternoon Tea Time Recipes List 
Here are a few of my favorite things for Afternoon Tea Recipes and Tips.
Leave me a comment and share with others. Make sure you follow on twitter and Tea page on Facebook
Free Printable Teacup Story when you Join the newsletter.
Get this beautiful encouraging teacup story printable when you subscribe to our weekly newsletter.