The best Afternoon Tea Recipes and Tips you will need for your next Afternoon Tea party including Recipes, Sandwiches, desserts, and party tips.
One of my favorite things is Tea! I love hot tea, but especially Iced Tea. My favorite is traditional black tea, no sugar added.
I do enjoy flavored tea as long as it has no artificial sweetener. That sounds funny to me since I love desserts and sweets. Just not in my drinks. Whenever you see me around town, I am sure to be found with a Starbucks Iced Tea in hand. When I am done with my drink, I usually refill it with some tea I make at home in my Keurig machine or Sun Tea.
Afternoon Tea Recipes and Tips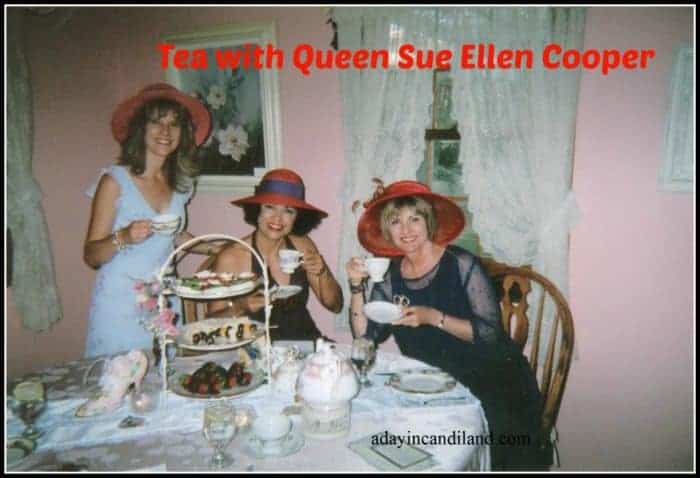 This is one of my favorite pictures. I am serving Sue Ellen Cooper founder of the Red Hat Society. She came to my teahouse for Tea one day. It was a private serving just for her and her assistant. This is when I owned The Elms Victorian Manor and Tearoom. I sure miss my tearoom. I still get calls from people wanting to come to tea, but I had to close it down a few years ago. One day I may reopen.
I hope you enjoy my family and lifestyle blog, I would love to hear your tea experiences and where you like to have tea, what tearooms you have been to,  and what blends you enjoy. Leave me a comment and share with others. Make sure you follow on twitter and facebook and also see all my teatime posts.
Afternoon Tea Time Recipes List 
Here are a few of my favorite things for Afternoon Tea Recipes and Tips.
Get Your 9 Page Menu Planning Kit
Subscribe to get our latest recipes, budgeting and encouraging tips and receive our 9 page menu plan kit for Free. Yay!