A baby shower tea party combines the elegance of a traditional tea party with the excitement of celebrating an upcoming arrival. This type of celebration is perfect for an afternoon gathering, as it provides an opportunity for guests to mingle and enjoy some delicious treats.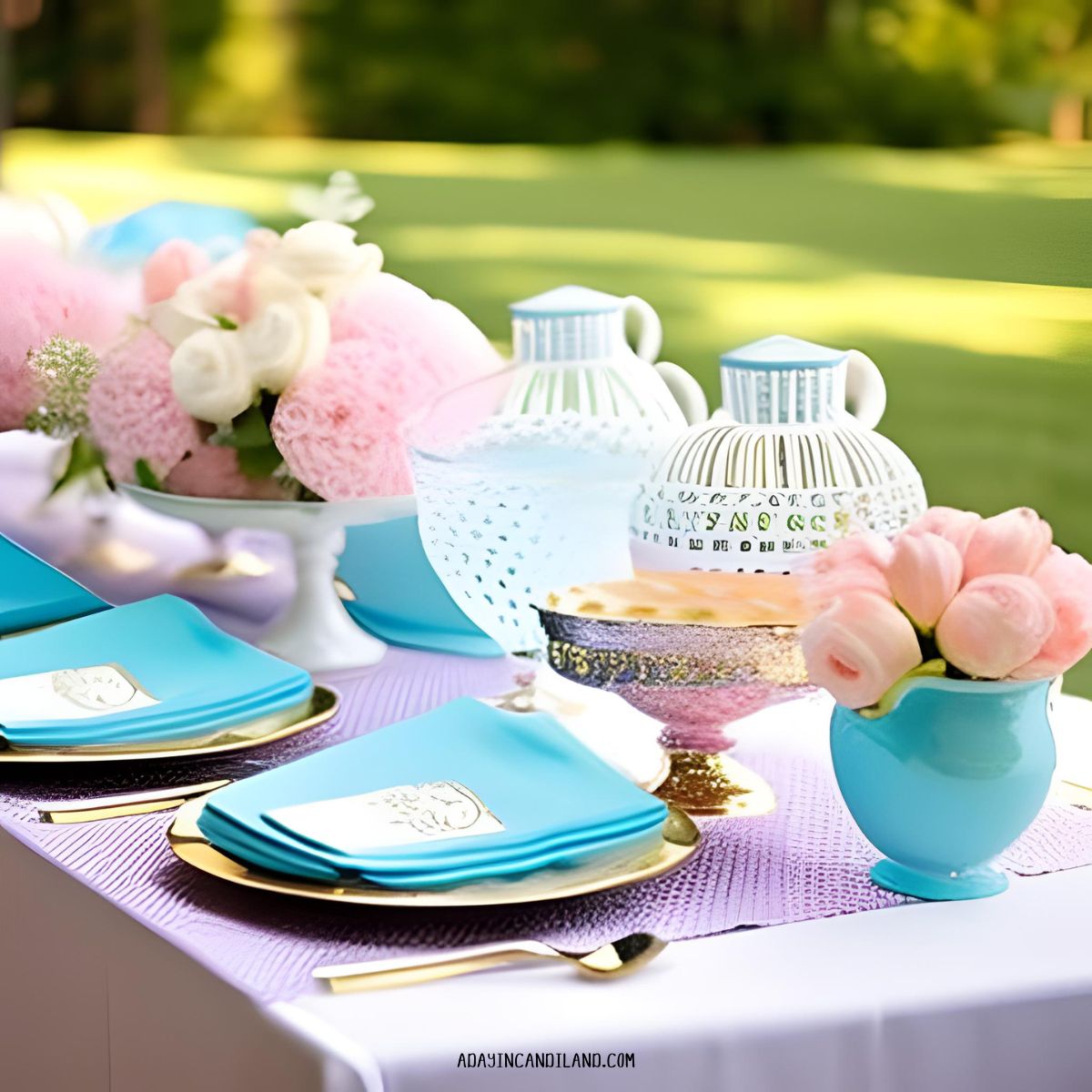 Tea Party Themed Baby Shower
When it comes to sweet themes for a baby shower, nothing is more elegant than a tea party. Incorporate fine china, dainty teacups and saucers, delicate sandwiches, and miniature cakes or cupcakes for a truly memorable event for the guest of honor.
While traditional baby shower games are not necessarily appropriate for this type of gathering, guests can enjoy activities like showering the future parents with advice about parenting or playing fun guessing games centered around baby items.
Finally, don't forget to celebrate the special mom-to-be at the center of it all. Make sure to have a special gift prepared for her and organize a mini-photo shoot with her surrounded by the guests at the celebration.
With a little bit of planning, you can create an unforgettable baby shower tea party that honors the new baby.
How to Plan a Tea Party Baby Shower
Planning a baby shower party can be fun when you consider a few things:
• Location: Select an appropriate setting for the party. A local tea room or other venue may be ideal, but if you prefer a more personal touch, host it in your own home or a local public park.
• Invitations: Choose invitations that fit the tea party theme. Make sure to include all of the important information, such as the date, time, and location.
• Food: Select a variety of tea-party-appropriate snacks and desserts. Finger sandwiches, scones, cupcakes, and other treats are always popular. You can also serve hot beverages like tea and coffee.
• Decorations: Transform the space into a cozy gathering spot by adding details like lace tablecloths, delicate place settings, and fresh flowers.
• Favors: Send each guest home with a personalized thank-you gift like little teacups with tea bags and a mini scone mix.
Baby Shower Ideas
Whether you're throwing your own baby shower or celebrating a close friend or family member, these fun and easy ideas are a great way to plan the perfect shower for the expectant mother. With so many exciting things to do, like planning the perfect baby shower tea party favors and pulling together the guest list.
Tea Party Baby Shower Theme Ideas
From elegant tea party ideas to Mad Hatter, you really can't go wrong when you're celebrating special occasions like a tea party shower. Even a classic baby shower theme can incorporate a tea cup and warm scones.
Popular choices any new parent will love include:
Downton Abbey: Think fascinator hats and delicious tea set in the historical English countryside—what could be better?
White Rabbit: An Alice in Wonderland theme is a great addition to any list of tea party-themed baby showers, especially for Disney lovers.
Hot Air Balloons: This outdoorsy idea is perfect for an adventurous couple and works well with a tea theme.
No matter what the theme of the party is, you're going to need more than cute ideas. So let's talk about details like tea party food and decorations.
Tea Party Decorations
When it comes to venue and decorations, there are several options that work well for a baby shower tea party. A garden or park setting is perfect for an outdoor event, while indoor options include cafes, restaurants, or even a home setting. Decorations can include a whimsical tea set-up and color themes such as pastels or neutral colors.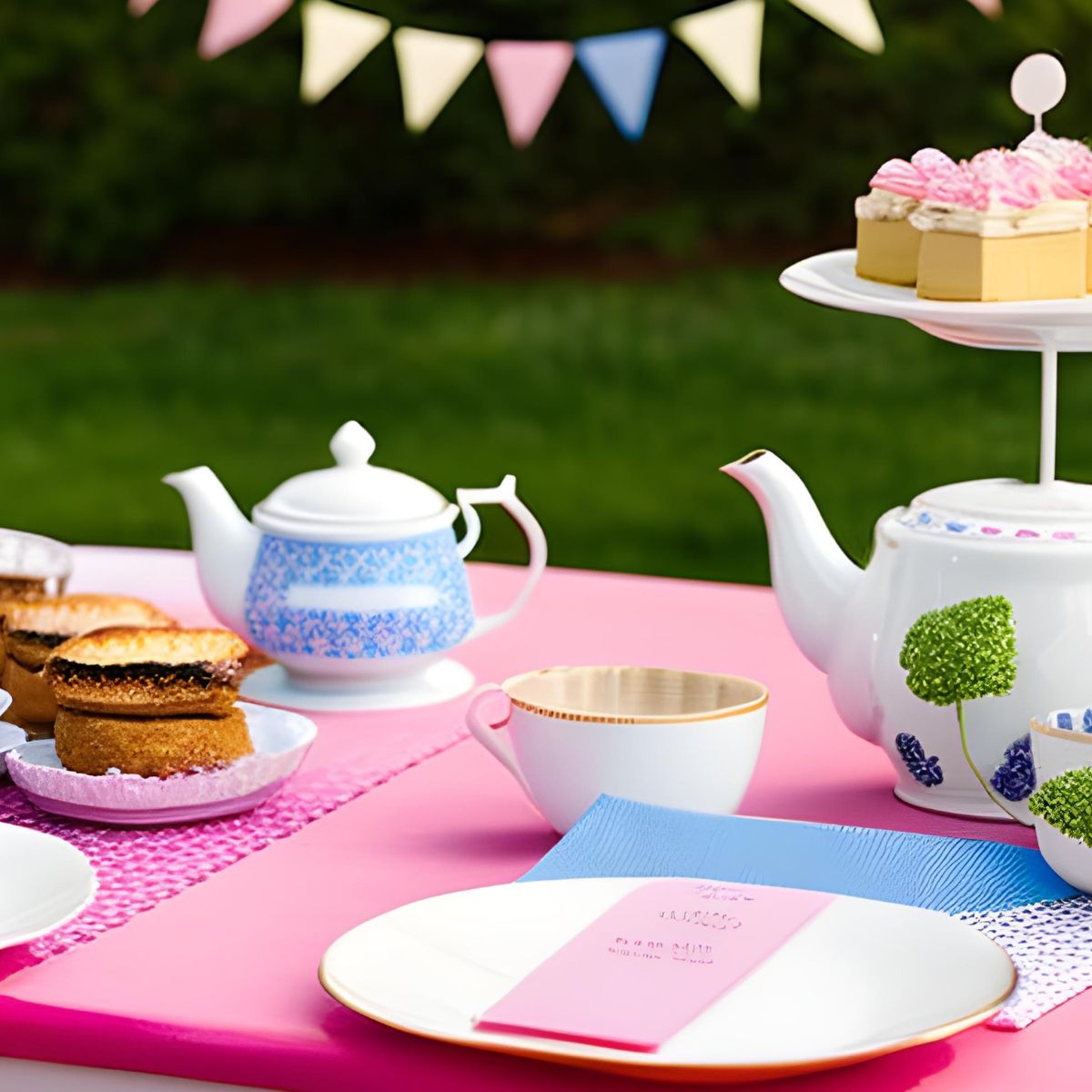 Planning the Food & Drinks
Food, drinks, and desserts are an integral part of any baby shower tea party. Tea flavors such as Earl Grey tea or chamomile are a must, but other options like fruity or herbal teas are also great choices. Make sure you have a decaf option for the mom-to-be as well.
Finger foods such as tea sandwiches, scones, and macarons are perfect for this type of gathering.
Desserts such as cupcakes or even yogurt parfaits are also a great option as a sweet treat.
With these tips in mind, you're sure to create an unforgettable baby shower tea party! From invitations to decorations, food, and games, there are so many creative ways to make this celebration special for the parents-to-be and their loved ones.
The expectant mom will appreciate celebrating their special day with family and friends at the baby shower tea party. It's such a delightful way to celebrate with this elegant, fun, and memorable baby shower theme.