Have you ever thought of having an Alice In Wonderland Tea Party? Do you love tea parties? Do you struggle to find great themes for your tea parties?
I purchased this book, Taking Tea with Alice, years ago and it has all kinds of fun ideas for your next tea, including food and drinks. Then I came across this cute Alice in Wonderland Video below that has more ideas. It's just a short 3-minute video, but it has lots of decor and more tea party ideas.
Keep reading and I'll share some of my favorite ideas so you can host your own Alice in Wonderland Tea Party!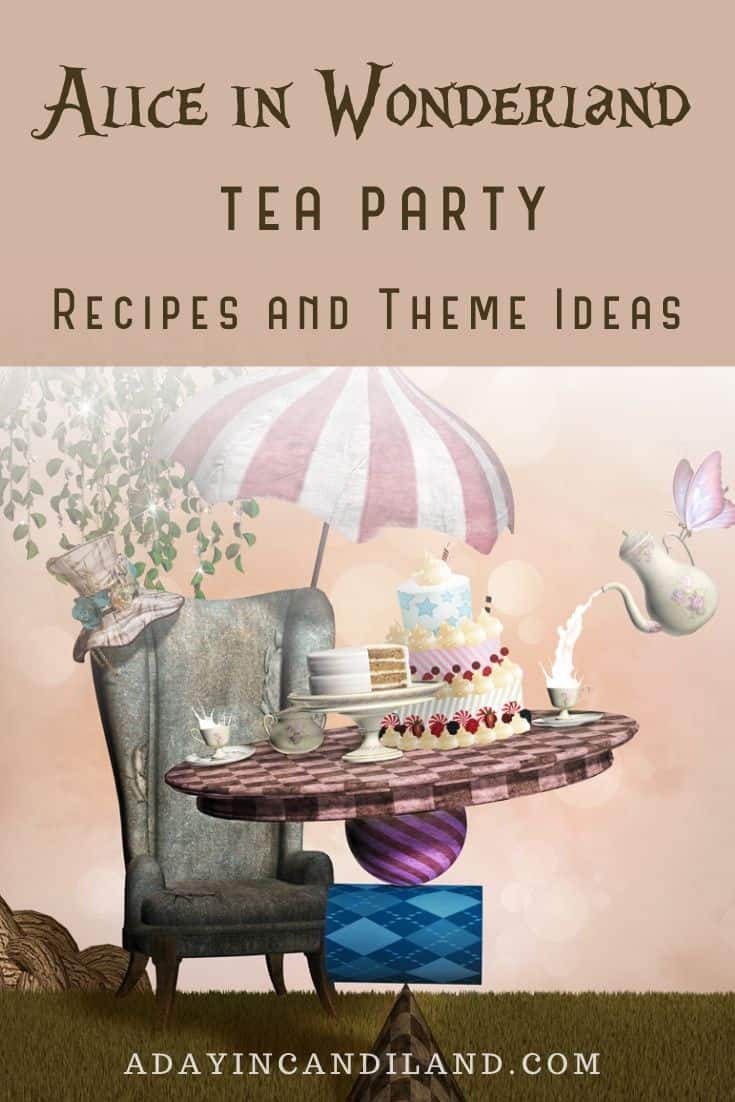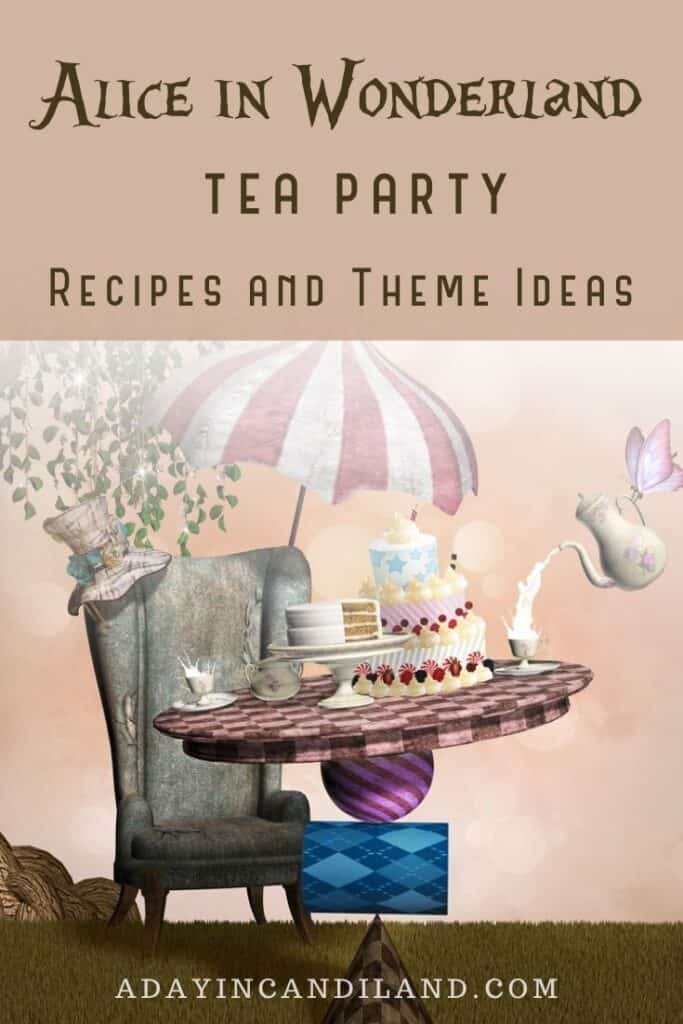 *This post may contain affiliate links. If you make a purchase, I get a small commission. Please see my disclosure policy for details
Alice In Wonderland Tea Party Ideas
Since this book is full of fantasy and creativity, there are so many fun ways you can plan for your own tea party. All of them are so different from each other too!
Tea Party Themes
Always start with a theme. Alice in Wonderland is a fantastic theme, but if you have a child turning one, you could even call it "Alice in ONEderland!"
If you want to throw a party for a teen, make it a "mad hatter" then instead of tea, you can serve fruity drinks and on-theme snacks.
For adults, throw a "mad hatter" tea party and invite all your guests to wear their favorite crazy hats! For more Themes for a Tea Party read here.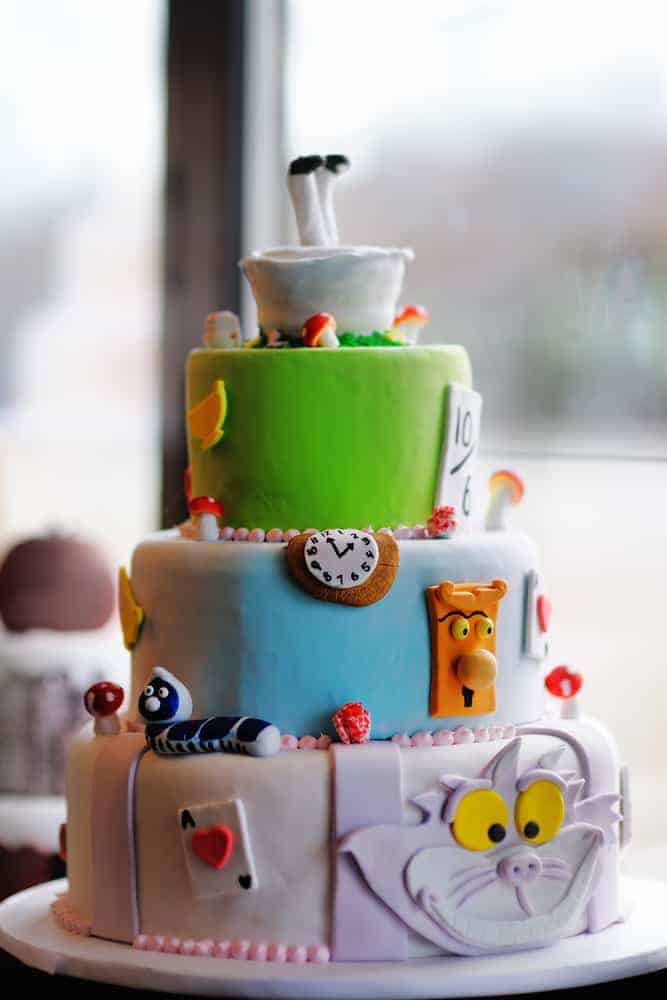 Curious Invitations
After you decide on a theme, create some fun invitations that convey this theme to your guests.
If you are short on time, order some custom invitations from Etsy. Here are a few fun ideas (along with links to buy them if you want!).
Keyhole Invitation – The invitation opens up like a book and the keyhole cutout on the front shows Alice inside the card.
Use Antique Keys – Buy some skeleton keys and attach the invitation to them.
Alice in ONEderland Invites – These look like a vintage postcard taken right out of the book.
Admit One Tickets – These lovely tickets have all the party details on them.
Read Me Scroll – Print out the PDF and then assemble it like a scroll with a "read me" tag attached.
Party Favors and Prizes
There are so many fun ideas from the book and movies that you can use to make your own party favors. Here are some of my favorite ones.
Books – hand out the paperback books or Alice in Wonderland coloring books
Movies – send guests home with their own DVD
Cookies – give guests bags of hand-painted cookies that say "eat me."
Deck of cards
Personalized Tumblers – If you don't own a Cricut, you can buy a personalized tumbler on Etsy with your guest's name on them.
Shop my Alice in Wonderland Store Here.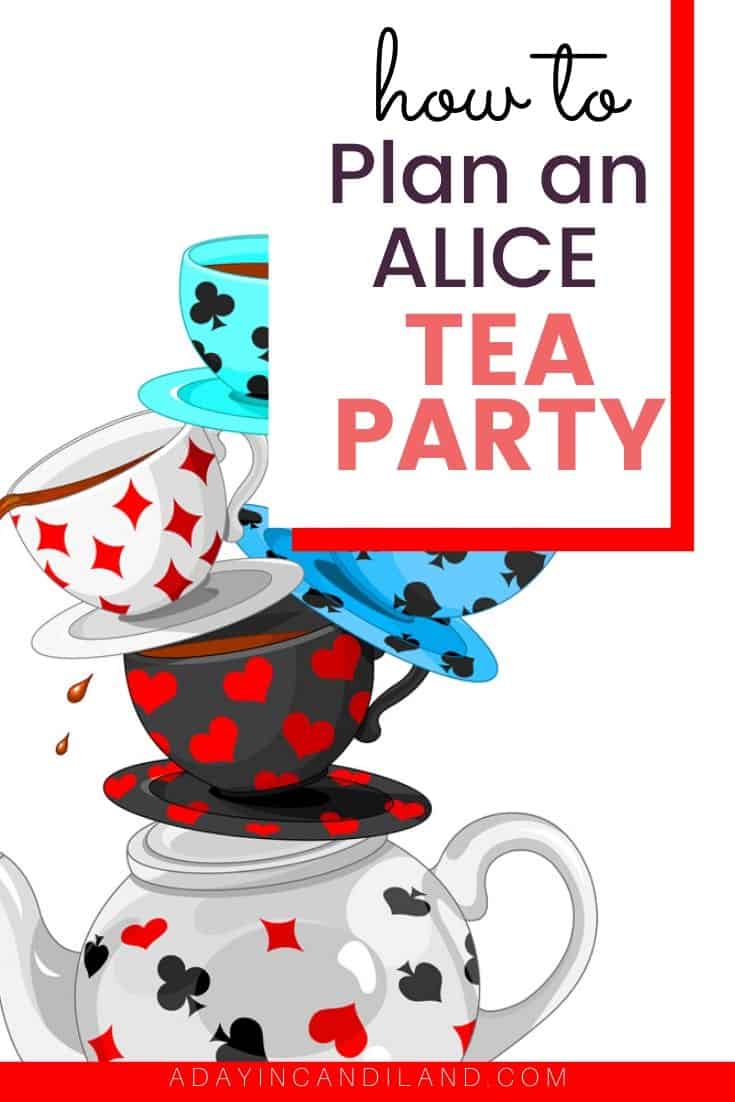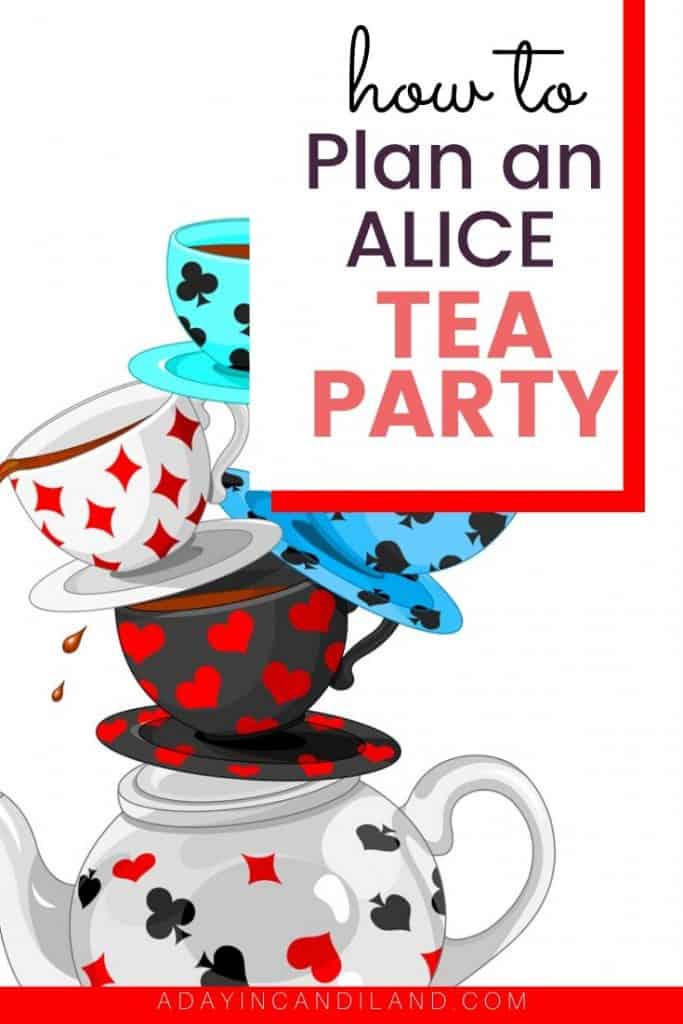 Alice in Wonderland Tea Party Menu
What should you serve at an Alice in Wonderland Tea party? I have a long list of wonderful and creative ideas.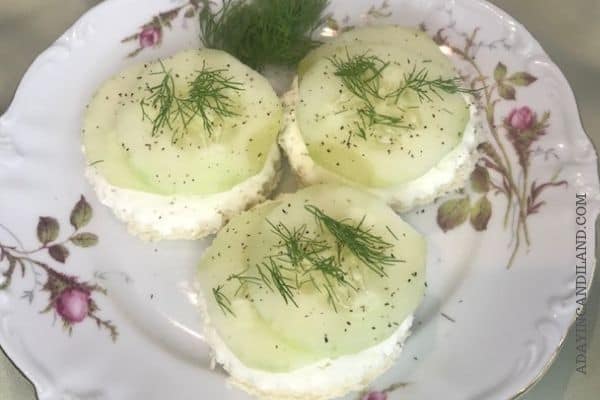 Cucumber Sandwiches – these are really cute tea sandwiches. Cut them into heart shapes for a whimsical twist.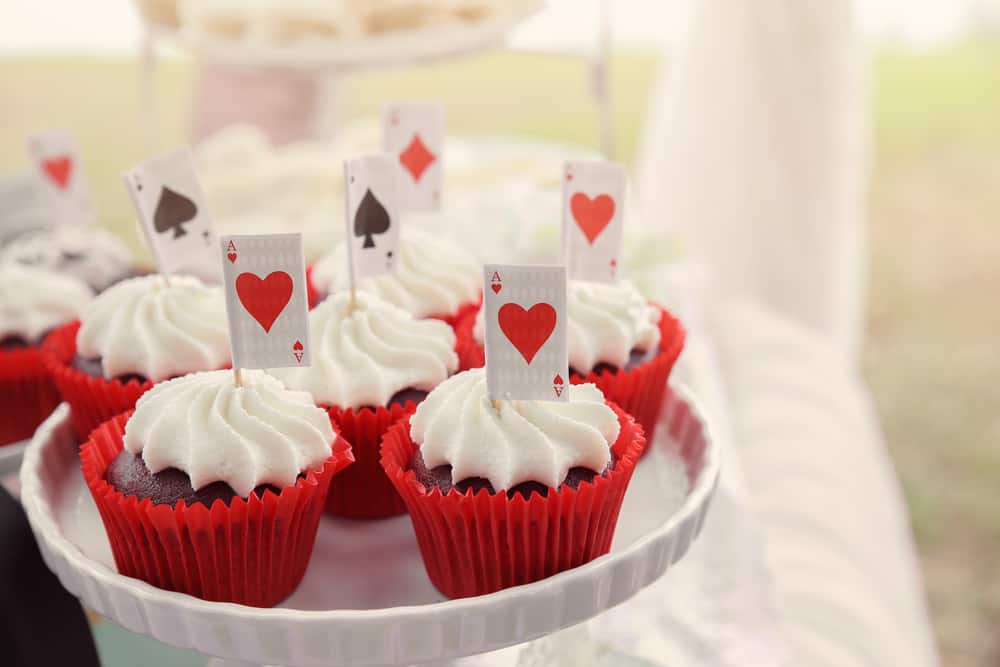 Put playing cards on cupcakes. I love the idea of using red cupcake liners (since the Queen of hearts wanted her white roses painted red!).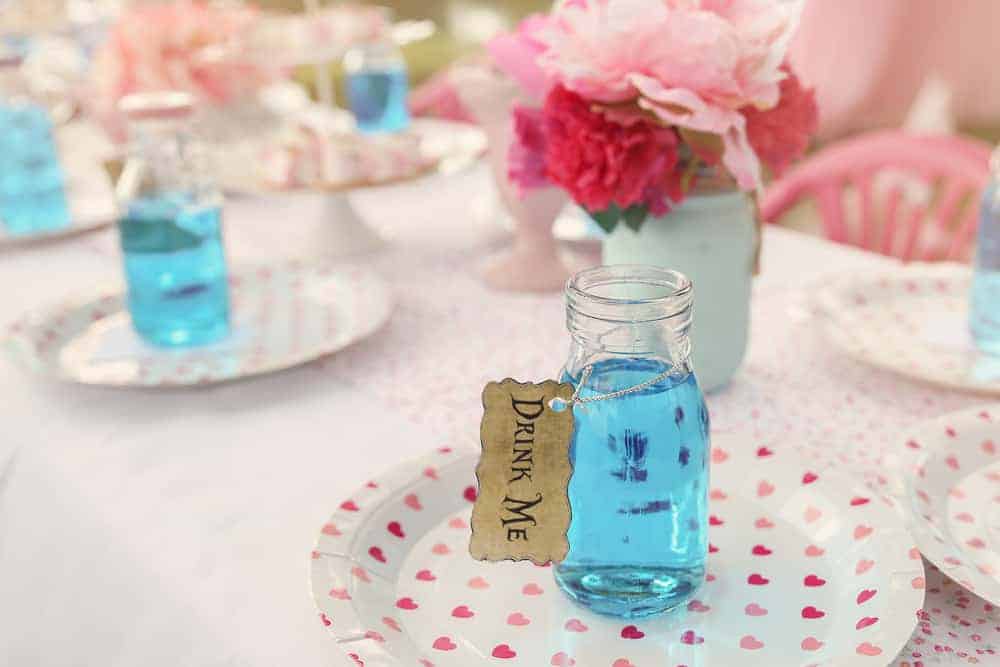 Serve drinks in little glass jars labeled "drink me." It adds to the mad charm of the party.
Here are some more ideas I found online too!
Of course, every tea party needs a cake! Order a custom-made cake for the party or follow an online-tutorial and make your own.
How To Make A Teapot Cake
Here's a video showing you how to make a teapot cake for an Alice-themed party. It's for advanced decorators, but you can still learn a lot from it if you are just starting out.
More Alice In Wonderland Party Supplies
For the ultimate party, here are some party supplies that I think are essential. You'll want to consider party decorations, props for a selfie booth, and even party favor bags and cupcake toppers.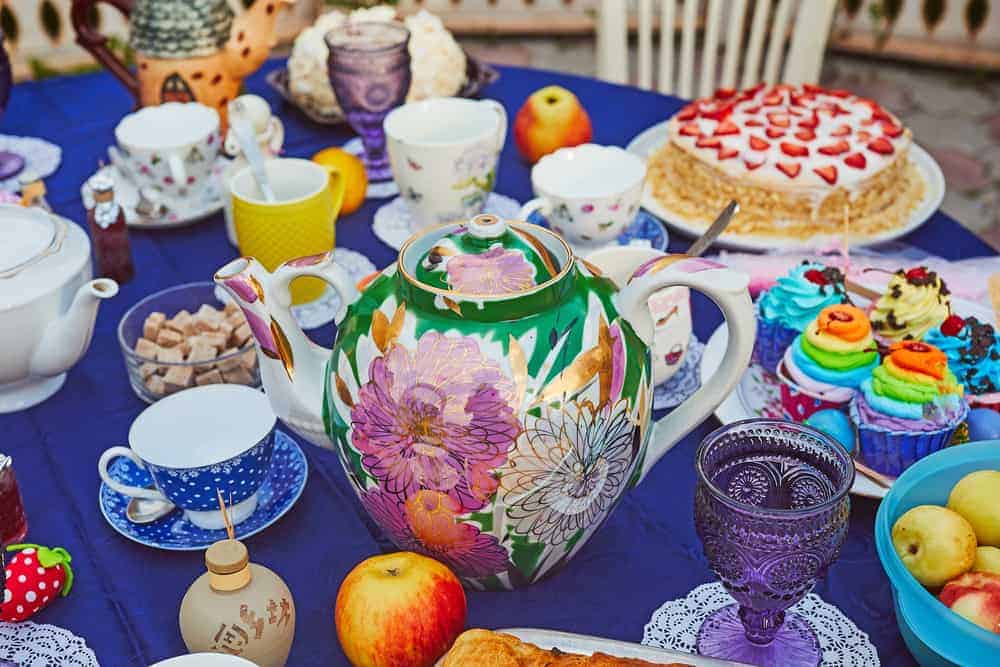 When you decorate your table for the tea party, be as colorful as you want! The fun thing about this theme is that nothing about that book or movie made sense – so the more mis-matched you make it, the better!
Here are some more of my favorite Alice in Wonderland party products that you can buy on Amazon!