These 13 Tea Party Sandwiches will be a great addition to your next event. Create these dainty little sandwiches with a minimum of 3 per person. Choose slices of bread either white, rye, or mini croissants. Add some grapes to the chicken salad and your guests will be coming back for more.

Serve with Tea, Scones, and Cupcakes for a fun afternoon, birthday, or shower. It can be an intimate event with just two people or create a theme around your party. Learn all about Tea Parties and their History here.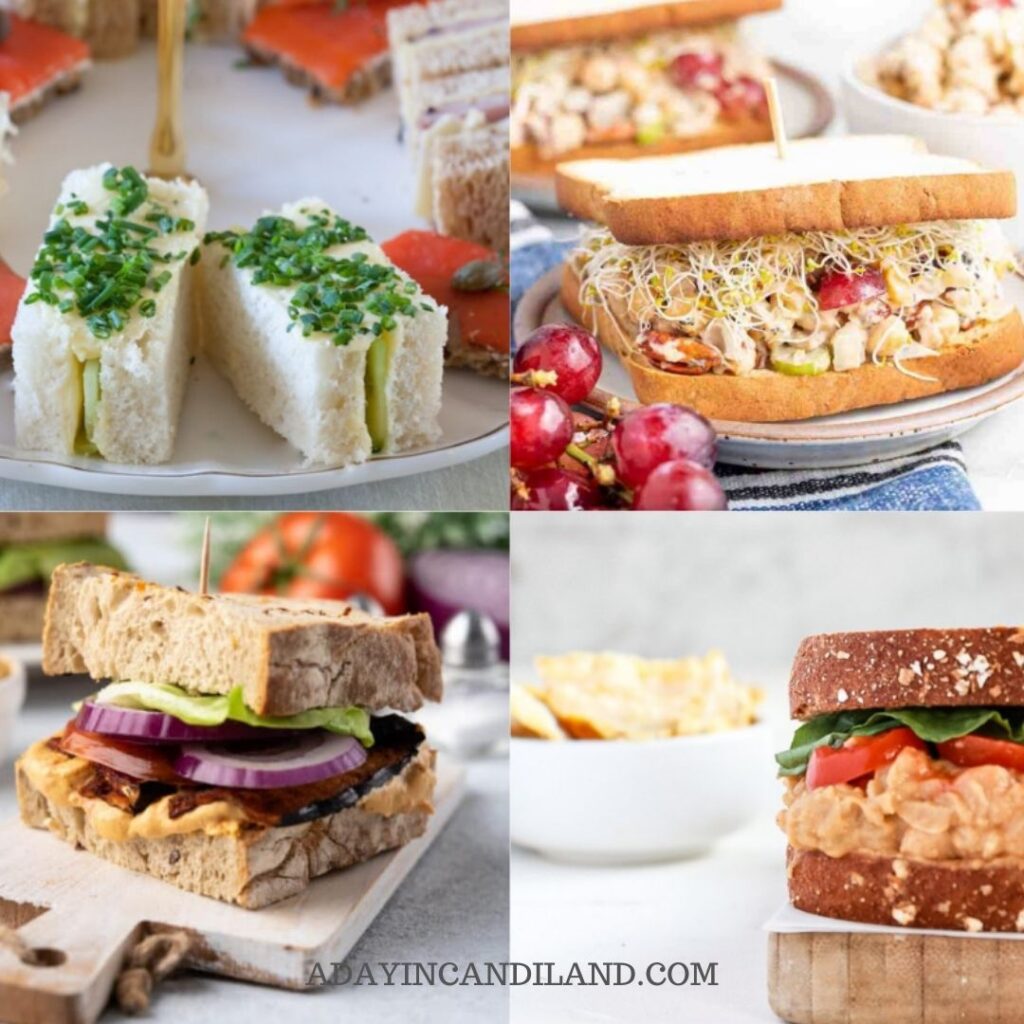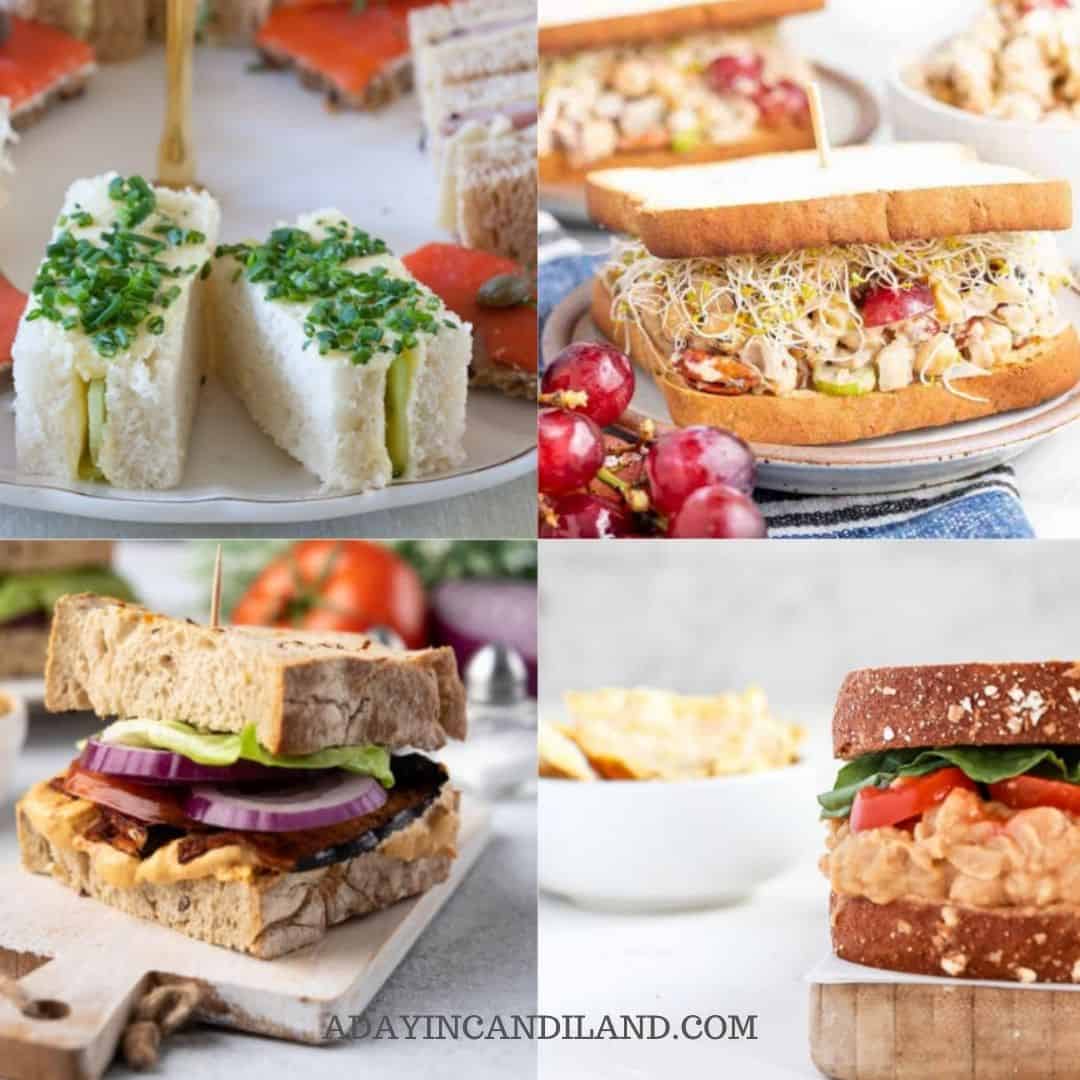 Tea Time Sandwiches
This Easy Buffalo Chickpea Sandwich is the perfect lunch for any kid or adult! Made in under 10 minutes, this sandwich is full of nutrition and plant-based protein to keep you full for hours.
These Easy Vegan Maine Lobster Rolls are gluten-free, allergy-free, meatless, and fit for everyone to enjoy! A simple, healthy, and delicious recipe that redefines this classic fast-food sandwich!
This Monte Cristo Sandwich recipe is an innovative take on hearty food. It brings relished flavors that deliver a bellyful in one petite serving.
This Vegan Chicken Salad with Chickpeas recipe is a delicious way to enjoy a chicken salad sandwich without the need for chicken at all.
These Tea Sandwiches Perfect for Afternoon Tea are a cute and dainty size and are absolutely delicious. They are the perfect finger food to serve at your next tea party!
This Vegan BLT Sandwich recipe is insanely delicious. It's crunchy, smokey, and has all of the flavors you want from this traditional sandwich, without any of the meat!
This Baked Falafel Sandwich makes a filling lunch or dinner and it's a much healthier option than deep-fried falafel. A flavorful vegan falafel recipe and it's ready to be loaded up with your favorite toppings.
These easy and tasty Green Chutney Sandwiches are made with fresh cilantro, mint, butter, and potato slices. Yum!
This Tofu & Pesto Sandwich will absolutely blow your mind! It's simple and delicious and, most importantly, super filling. A triple win!
These Playing Card Sandwiches are great fun as they're decorated like playing cards. Best served as part of a Mad Hatter themed tea party, packed lunch, or picnic spread!
This Easy Egg Sandwich is a twist on the classic egg salad sandwich. It's so flavorful and easy to make. This is going to be your new favorite lunch.
There can be nothing more English than an English afternoon tea with sandwiches and these Cucumber Sandwiches definitely fit the tradition!
The traditional Grilled Cheese Sandwich doesn't need to be boring. If you like grilled cheese, you'll love this Grilled Triple Cheese Bacon Guacamole Sandwich!
These Strawberry Chicken Salad Croissants are cold and perfect to take to the beach, a day at the park, or when you are out relaxing by the pool on hot summer days.
This Gluten-Free Bagel with Vegan Carrot Lox & Cream Cheese recipe is just the allergy-free recipe you need to still enjoy the classic deli sandwich!
If you really enjoy the Art of Tea enjoy these Afternoon Tea finds in my Amazon store and join our Facebook and Instagram Community.
Related Tea Party Ideas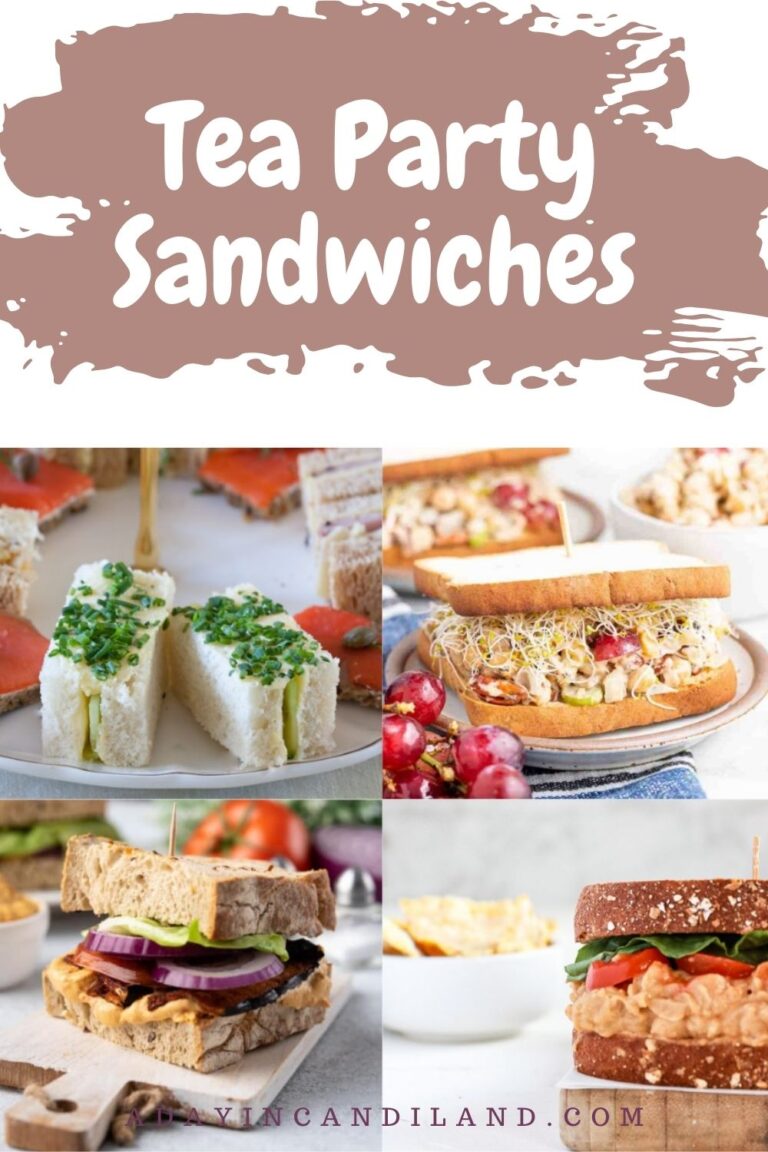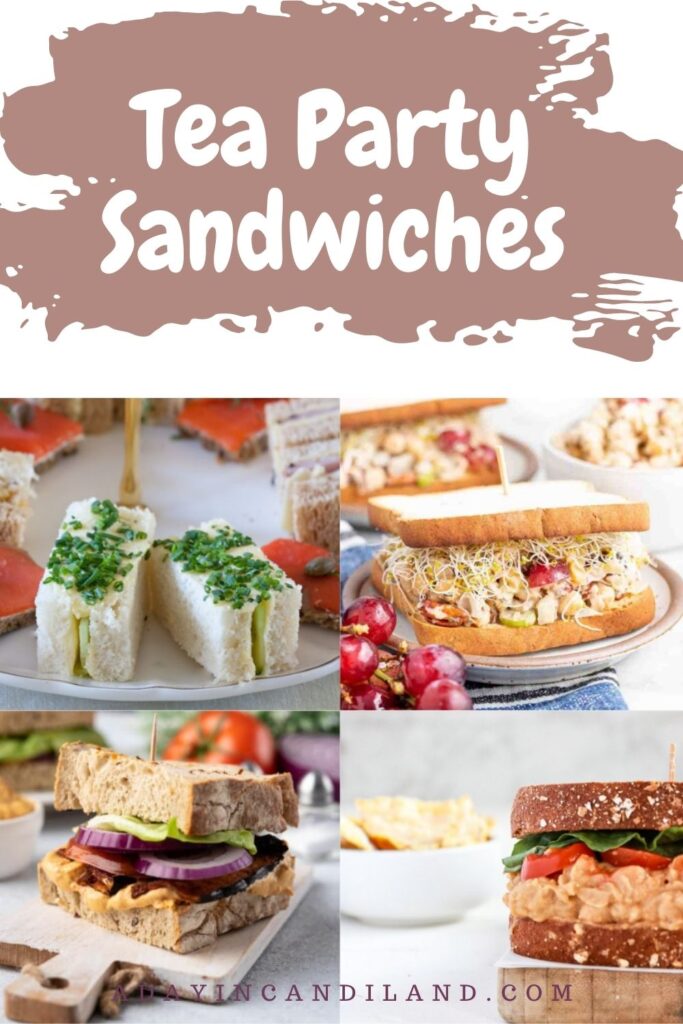 Now that you have all the details to make your Tea Party fun for everyone involved, with tea party sandwiches, scones, tea, and cupcakes, get out your list, plan your party, and take lots of pictures to remember this occasion. Don't forget to save this article on Pinterest and Facebook.