Best Scone Recipes and Baking Tips for making 50 fabulous different scone flavors while mastering the art of scones.
15 years ago I started a tearoom and discovered the wonderful world of baking scones. I quickly began baking every day different flavors of homemade scones. At first, I was intimidated by them.
The fact is they are pretty easy to make you just need to follow a few rules using simple ingredients. Practice makes Perfect as momma used to say. You will need a lightly floured surface, a mixing bowl, some basic ingredients, cold ingredients, and some room temperature ingredients, and a hot oven to make some delightful scones. This is one of my favorite scone recipes.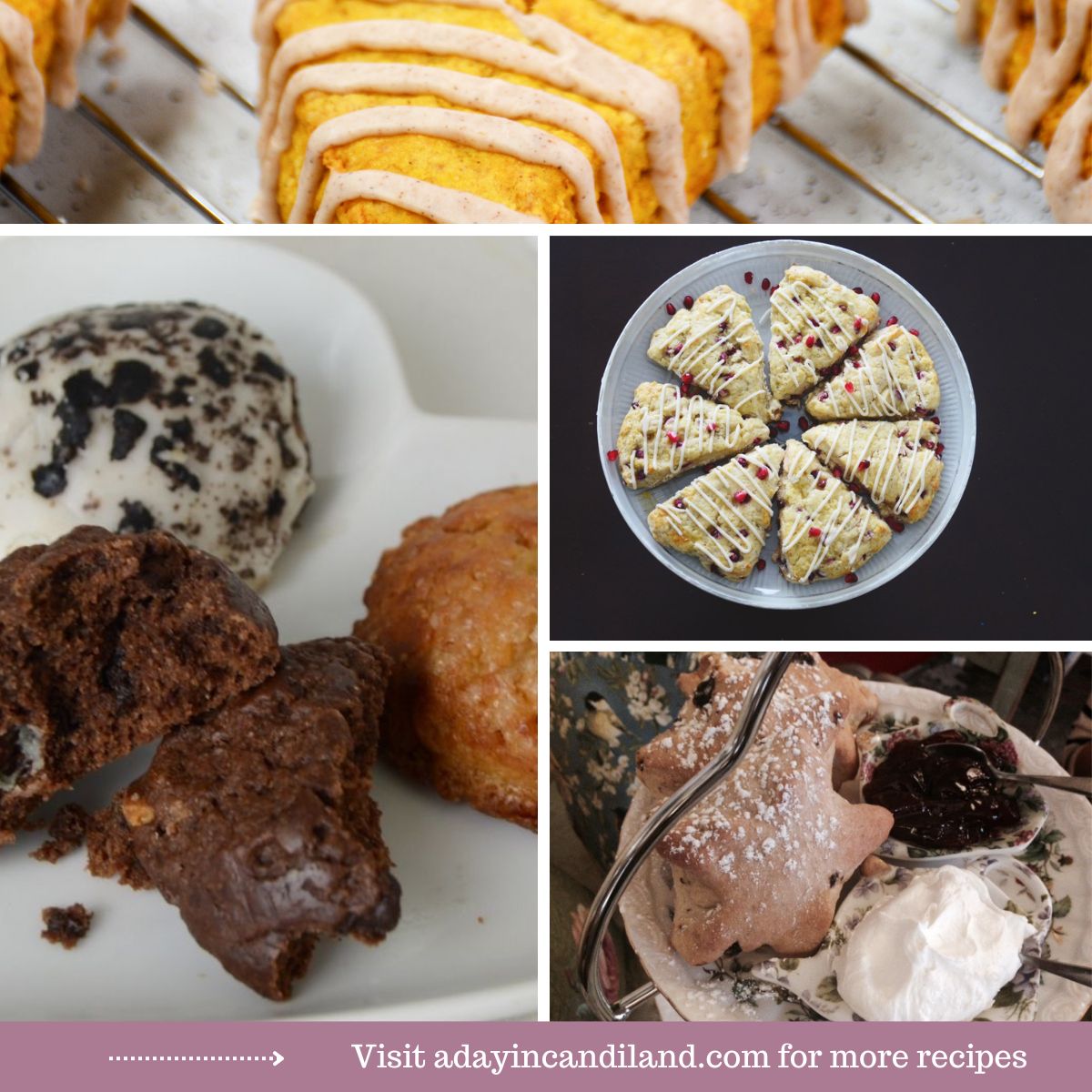 If you love scones and don't want to attempt to bake them, and just prefer to order them and have them delivered, my best recommendation is these scones.
Jump to:
What is a Scone
A scone is a type of baked good that is often associated with British and Irish cuisine. It is a small, lightly sweetened, or savory pastry that is usually made with flour, baking powder, butter, milk or cream, and sometimes sugar or other flavorings.
Scones are typically round or triangular in shape and can be served either plain or with your favorite mix-ins, or a variety of toppings, such as jam, clotted cream, butter, honey, or fruit preserves. Scones can be enjoyed at any time of day, but are often served as a breakfast or afternoon tea treat.
The History of Scones
"Scone (Scon)" A Scottish QUICK BREAD is said to have taken its name from the Stone of Destiny (or Scone), the place where Scottish kings were once crowned.
The original triangular-shaped scone was made with oats and griddle-baked. Today's versions are more often flour-based and baked in the oven. They come in various shapes including triangles, rounds, squares, and diamonds.
Definition Taken from Urban Dictionary

A small cake originating in Scotland
Derived from the Scottish Gaelic word "Sgonn" meaning a "block" or more precisely "Sgonn arain" meaning a block of bread. Due to this, the correct pronunciation is "Skon". The earliest record of a scone dates back to the early 16th century in Scotland.
Commonly served with clotted cream, strawberry jam and a cup of tea. More commonly known as a "cream tea".
There are derivatives of the word "scone" in Scots language where the word is also pronounced "skon".
Can also be known as a biscuit in American English.
What is the History of Afternoon Tea
Afternoon tea was introduced in England by Anna, the seventh Duchess of Bedford, in the year 1840. Find the story here about how Afternoon tea was started.
Ultimate List of Best Scone Flavors
Fruit Scone Recipes
Fruit-flavored scones are popular and an easy recipe. They are usually flour-based with dried fruit, herbs, butter, and cream, and sometimes drizzled with a cream glaze, they get their sweetness from the added fruit.
Cranberry Orange Scones by A Day in Candiland
These copycat Starbucks Cranberry Orange Scones have just a hint of orange and are stuffed with delicious cranberries and a light drizzle of orange glaze and citrus zest.
Lemon Poppy Seed Scones by A Day in Candiland
These light, flaky, and citrus-filled Lemon Poppy Seed scones are a cinch to make and are the perfect breakfast to brighten up any morning!
Key Lime Scones by Julie Measures
If you like Key Lime Pie this had a glaze of Key Lime piped right on top of the scone. A zesty and sweet treat.
Apricot Scones by Saving Dessert
Light, flaky, buttery scones layered with chopped apricots and iced with an almond-flavored glaze.
Blueberry Scones by A Day in Candiland
This Blueberry Scones recipe is a Starbucks copycat and is even better than the original version. It's made with fresh ingredients including sugar, heavy cream, and cinnamon. You won't be able to buy another Starbucks blueberry scone again after making them at home.
Lemon Cream Cheese Scone by Two Peas and their Pod
This easy scone recipe is made with butter and cream cheese, making soft, tender scones. Finish them off with the sweet lemon glaze, and lemon zest and you have perfectly delicious lemon scones for breakfast or brunch.
Peaches and Cream Scones by Baker by Nature
Peaches and Cream Scones are tender, flaky, and loaded with fresh peaches! Delicious for breakfast or when you want a sweet scone!
Chai Pear Scones by Baked by an Introvert
Simply delicious Chai Pear Scones that are tender and perfect with a cup of coffee or tea. Each scone is thick and buttery with a crisp exterior while the centers remain soft and flaky. Loads of fresh pear is speckled throughout to ensure you get some in each bite.
Strawberry Rhubarb Scones by Heather Christo
Strawberry and Rhubarb are one of those combos that go together like magic. Sweet and Tart and combined with the creamy goodness of a flaky, tender scone. These are seriously fresh from the oven TO DIE OVER.
Holiday Scone Flavors
These scones are popular during the holidays, using extracts or holiday flavors, and will be an added bonus to any brunch or dessert table or gift basket.
Pumpkin Scones by A Day in Candiland
These pumpkin scones are a copycat version of Starbucks' pumpkin scone; they are warmly spiced and topped with two sweet glazes – one plain and one spiced.
Dark Chocolate and Orange Scones by The Creative Bite
Dark Chocolate & Orange Scones are soft and tender cake-like treats with a bright citrus flavor paired with rich dark chocolate. Serve them for breakfast, brunch or dessert.
Spiced Eggnog Scones by Homecooking Memories
This Spiced Eggnog Scones recipe is perfect for enjoying during the Christmas season with a cup of coffee or tea. Not only is eggnog baked right inside of this holiday scone, but the top has a delicious eggnog drizzle.
Pistachio Cardamom Scones by Teatime Magazine
Pistachio and Cardamom are the perfect combinations of holiday flavors for this Holiday Scone.
White Chocolate Peppermint Latte Scones by A Few Short Cuts
A decadent holiday treat with a cup of Dunkin Donuts Coffee! You must try this AMAZING White Chocolate Peppermint Latte Scones Recipe.
Unique Flavor Scones
Red Velvet Scones by The Domestic Rebel
Not only are they simple to make, but they taste phenomenal. Soft, flaky, chewy, and moist, they taste identical to red velvet cake but in a scone form so you can eat 'em for breakfast (you're welcome!) They're topped with a sweet and creamy cream cheese frosting to bring the whole flavor together and create a pretty striped topping.
Scones can be made with almost any flavor as do cupcakes. Many bakers add tea to the dough for that unique flavor. Scones are generally not too sweet but tastes more like an American Biscuit.
Oreo Scones by Created by Diane
Putting Oreos into these scones is like stuffing them full of complete deliciousness. The filling adds a smooth and creamy part, then that rich dark chocolate cookie crunch… well that part is equally delicious. Then they are topped with a glaze, oh my these do not last long, trust me!
Honey Lavender Scones by The Foodie Affair
Lightly sweetened and a mild flavor of lavender-infused in these simple Honey Lavender Scones makes a delicious snack to be enjoyed for brunch or with a hot cup of tea.

Matcha Scones by Epic Matcha
Our High Tea Matcha Scones are perfect for breakfast or anytime. Their inviting aroma and hearty texture make this matcha recipe something you'll want to have around the house for a quick breakfast. After all, breakfast is the most important meal of the day.
Blackberry Lavender White Chocolate Scones by Half Baked Harvest
These have to be the most beautiful scone around. So, you can serve these at brunch, bake them as an afternoon snack, or ooh… maybe even add them as a lunch box treat for back to school or a work lunch? Yes, do that too! I highly recommend eating these warm, right out of the oven. They are best that way, but they are still delish once cooled, or even the next day! I mean let's be real, who could resist a warm baked treat like these scones?
Brown Sugar Butter Pecan Scones by The Merchant Baker
It's an ice cream flavor-inspired scone, but it feels like fall since it's full of toasted pecans and sweet brown sugar.
S'mores Scones by Domestically Blissful
These aren't your average S'mores Scones! These are graham cracker scones filled with sweet pockets of marshmallows & melted chocolate!
Chocolate Chip Peanut Butter Scones by Creations by Kara
Chocolate Chip Peanut Butter Scones – soft, tender, and delicious, these scones will please chocolate peanut butter lovers of all ages!
Gluten-Free or Vegan Scones.
Scones can be made with other flours or ingredients that are Gluten-Free. They can also be made without dairy. Here are a few popular ones.
Peanut Butter, Banana, Oatmeal Scones by Athletic Avocado
Peanut Butter Banana Chai Oatmeal Scones combine an array of delectable flavors and whole ingredients to satisfy your hunger pangs and cravings alike! Vegan + Gluten-free

Oatmeal Chocolate Chip Scones by The Gluten-Free Palate
Buttery, bursting with rich chocolate chips, and perfect any day of the week – these Gluten-Free Oatmeal Chocolate Chip Scones are simple to make and taste incredible. You are going to love how easy these gluten-free scones are to make.
Gluten-Free and Dairy-Free Apple Pie Scones by Chemistry Cache The smell of apple baking in the oven is such a heavenly scent. Apples are rustic, earthy, and perfect on their own, but when they are baked…it is on another level!
Almond Free Carrot Cake Scones by Dishing it Out
Almond Flour Carrot Cake Scones are a gluten-free, low-carb breakfast or snack rich in heart-healthy fats. Incredibly moist and decadently delicious, these scones are the perfect addition to any brunch or dessert spread.
Vegan Coconut Ginger Scones by Exsloth
These flakey, vegan coconut ginger golden milk scones are perfectly sweet and subtly spiced, with a slight kick thanks to the ginger.
Vegan Scottish Tea Scones by Tinned Tomatoes
Light and fluffy Scottish scones with a good rise made to a vegan recipe. Perfect for a teatime treat with a dairy-free spread and jam.
Chai Spiced Cinnamon Scones by My Darling Vegan
Enjoy these buttery Chai Spiced vegan scones with a warm cinnamon glaze for the perfect Autumnal pastry. This may become the family's favorite breakfast treats to make.

Vanilla Scones and Chocolate Scone flavors
Just because these are your typical flavors of ice cream doesn't make the scones Typical or Average.
Vanilla Bean Scones by Mildly Meandering
Vanilla Bean Scones – A delicious baked treat perfect for breakfast with a cup of tea! A crisp vanilla bean scone with a vanilla bean glaze! The perfect easy great scones recipe!
Cinnamon Chip Scones by A Day in Candiland
If you're craving slightly sweet, buttery, tender scones for breakfast, these chocolate chip scones are for you! Packed with cinnamon chips throughout, these scones are bound to be your new favorite.
Triple Chocolate Scones by Sally's Baking Addiction
Want to eat brownies for breakfast? Here's the acceptable solution! These melt-in-your-mouth chocolate scones are rich and moist inside with deliciously crumbly edges. Dunk in a glistening glaze coating, then top with a drizzle of chocolate.
Chocolate Peppermint Scones by Taste of Home Magazine
Try these decadent scones as a breakfast or brunch treat or a snack served with coffee and mint tea. They're so festive for the holidays, decked out in red-and-white peppermint candy
Decadent Chocolate Scones by Canning and Cooking at Home
These Decadent Chocolate Scones are the perfect scones complement your day. You'll love the rich taste that this chocolate scone offers, mixed with its light and airy traditional scone texture. This scone pairs perfectly with your morning coffee without leaving you feeling 'overstuffed' or 'weighed down.'
Savory Scones
Savory scones are another treat that can be made with savory ingredients, herbs, and cheeses. They would be served at the beginning of the Afternoon Tea meal. These would be great breakfast starters.
Jalapeno, Bacon Pepper Jack Scones by Baker by Nature
Incredibly thick and flavorful scones are loaded with bacon, pepper jack cheese, and diced jalapeno peppers! Moist and crumbly all at once, we love these with eggs, butter, and extra bacon slices. They're also delicious with nothing at all – straight from the pan.
Easy English Scones by The Plated Craving
Easy English Scones Recipe – perfect for entertaining guests and super fast and easy to make! You can make the scones in advance and freeze them.
Savory Thyme and Swiss Cheese by An Edible Mosaic
Thyme and Swiss cheese make a really tasty flavor profile here.
Spinach Feta Scone by Sweet Little Bluebird
Step by Step directions to making these delicious savory scones.
Savory Pumpkin Sage Scones by Houseful of Handmade
A wonderful combination of Sage and Pumpkin flavors.
Savory Ricotta Scones by Life Love and Good Food
Made with ricotta cheese—instead of heavy cream—the texture of these scones is so light they practically melt in your mouth! The savory comes from the chopped scallions (or green onions), fresh parsley, thyme, and rosemary that are mixed right into the scone dough.
Savory Scones with Gruyere Cheese and Prosciutto by Kitchen Confidante
A recipe for Savory Scones with Gruyere, Prosciutto, and Green Onion. Savor it with tea or coffee at brunch or pair it with an earthy red wine as an appetizer. This is a simple scone recipe you can have no matter what time of day.
15 Breakfast Scone Recipes by A Day in Candiland A selection of sweet and savory scones that are perfect for a brunch or breakfast treat.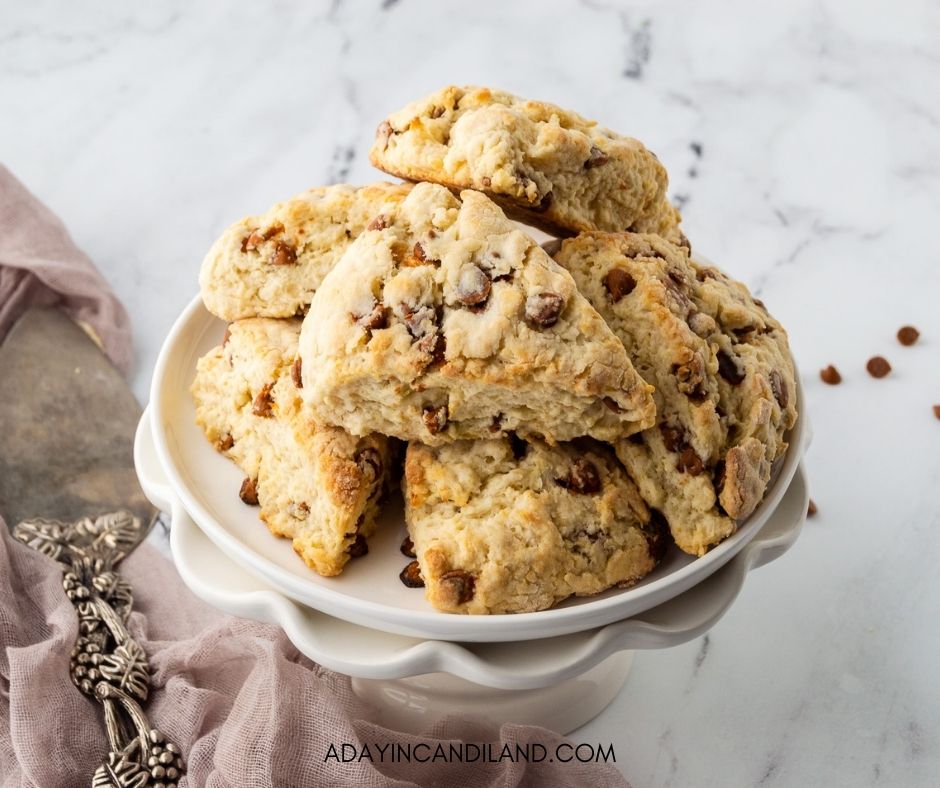 Baking Tips for The Best Scones Recipe
Scones can be made in the Kitchenaid Mixer with the dough hook.
Use Cold Unsalted Butter cut into cubes.
Using the pastry blender cut butter into the dry ingredients
Make sure you see the chunks of butter in the mix. Don't overmix.
Add cold liquid slowly while using the dough hook until all ingredients form a ball of dough.
Scones can be made in advance and frozen and then heated to serve
Scone Guide by King Author Flour
Tips and Troubleshooting for Making Scones
What is the difference between American Scones and English Scones?
British scones are different from American scones! British ones have less butter and sugar in them as they use clotted cream and jam and they taste more like a biscuit.
English scones contain more leavening agents than you would normally use for this amount of flour but you want them to rise high in a short time. And you don't really add add-ins into the dough like in the US version. British scones are preferred plain, sometimes a few raisins are added but that's very rare. This Excerpt is taken from Plated Craving.
More Toppings for Scones
Lemon Curd by A Day in Candiland
Clotted Cream by A Day in Candiland
Original Recipe for Devonshire Cream
Orange Butter by I Heart Naptime
How to eat a scone properly
Scoop out clotted cream and jam onto your plate, enough for one scone.
Break apart a small bite-sized portion of the scone with your hands or if using a sharp knife, cut the scone horizontally.
Use a knife to slather on cream and jam onto the broken-off piece of scone.
The bite-sized piece of scone should be eaten in 1-2 bites.
*This post may contain affiliate links. If you make a purchase, I get a small commission. Please see my disclosure policy for details
What Are the Tools I use for Baking Scones
Share some of your favorite perfect scone recipes below in the comments, PIN the recipe, or share on Instagram with #candilandblogs and #teaandscones. Go here to read about my Adagio Tea Review and Seven Sisters Scones Review.