Have you ever wondered where Afternoon Tea began? Was it in the Victorian Era? Well, you are going to find out right now the History of Afternoon Tea where it started and how it came to be.
I am fascinated how the story of Afternoon Tea was started. I had a tea party business back in 2005. My friend Helen and I used to have between 8 -40 women come for tea to have private parties. Mostly the Red Hat Society, but some families would come to have a birthday. We even had a few weddings and fundraisers. Here are some of the tips you can use in your own tea party.
History of Afternoon Tea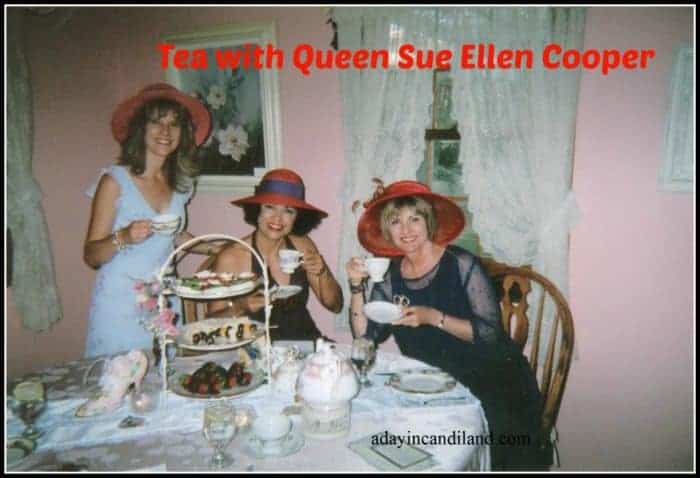 During lunch, I would tell the story of how afternoon tea was started. It goes something like this.
History of the Afternoon Tea Party
While drinking tea as a fashionable event is credited to Catharine of Braganza, the actual taking of tea in the afternoon developed into a new social event sometime in the late 1830's and early 1840's. Jane Austen hints of afternoon tea as early as 1804 in an unfinished novel. It is said that the afternoon tea tradition was established by Anne, Duchess of Bedford. She requested that light sandwiches be brought to her in the late afternoon because she had a "sinking feeling" during that time because of the long gap between meals. She began to invite others to join her and thus became the tradition.
We served loose leaf tea and scones along with tea sandwiches and dessert. We also had a gift shop that sold many accouterments
If you enjoy tea, I hope you get to experience afternoon tea with scones.
Get Your Menu Planning Cheat Sheet
Subscribe to get our latest recipes, budgeting and encouraging tips and receive our Menu plan cheat sheet with 7 days sample recipes for Free. Yay!