Tea etiquette refers to a set of social customs and manners that have evolved over centuries surrounding the preparation, serving, and consumption of tea. It is often observed in formal or semi-formal settings such as afternoon tea parties, business meetings, and other social gatherings.
You might find some answers in my other tea posts. Make sure you get your 10 Tea Faux Pas Dos and Don'ts below.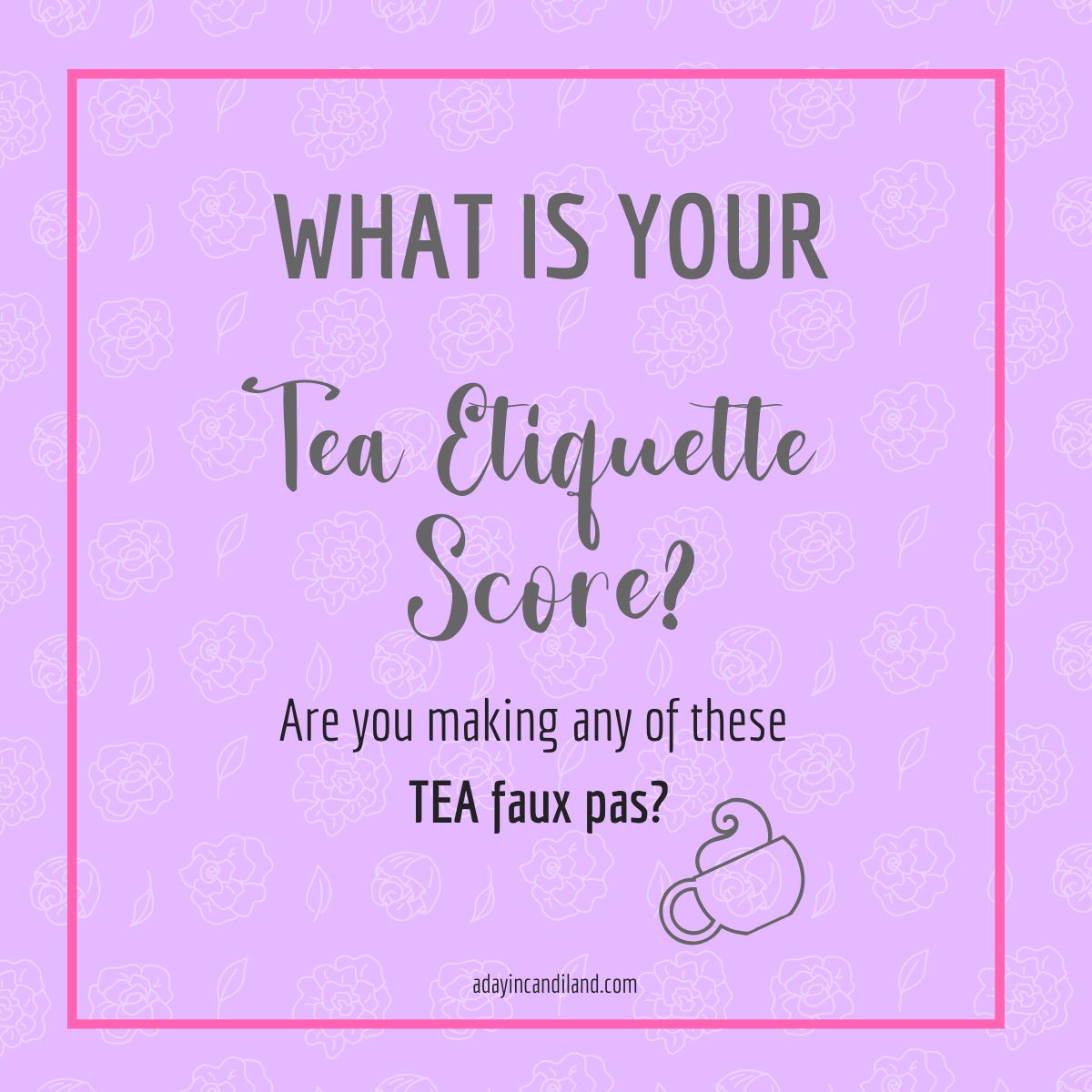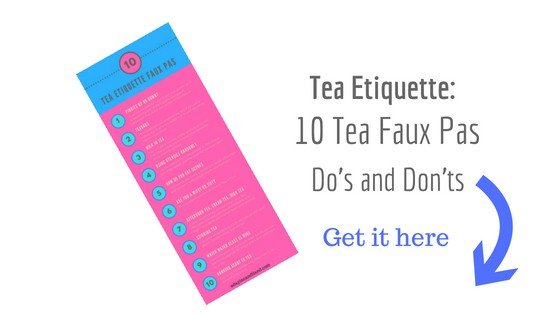 Are you a Miffy or Tiffy?
How about lemon or milk, is it ok to add them? Do you pour the milk before or after you pour the tea? That is called a Miffy or a Tiffy. (Milk in first or Tea in First)
Next, add the sugar and then the lemon. If you add the lemon first the citric acid will not allow the sugar to dissolve properly.
What do you do with the teabag, assuming you are using bagged tea? This is not a proven faux pas either way. Also depending on who is serving you, they may ask you to add the milk first before they pour the hot tea. This will give you a warmer tea, than pouring the milk after.
Is there a difference between a cream tea, afternoon tea or high tea? Does it really matter? Where does the small fork go, on the inside or outside of the larger fork? Why do I have two forks, is it there in case I drop one? Do the forks go on the right or the left of the plate?
So here are a few questions we will answer in this post. Below you will see a place setting on how to set the table properly.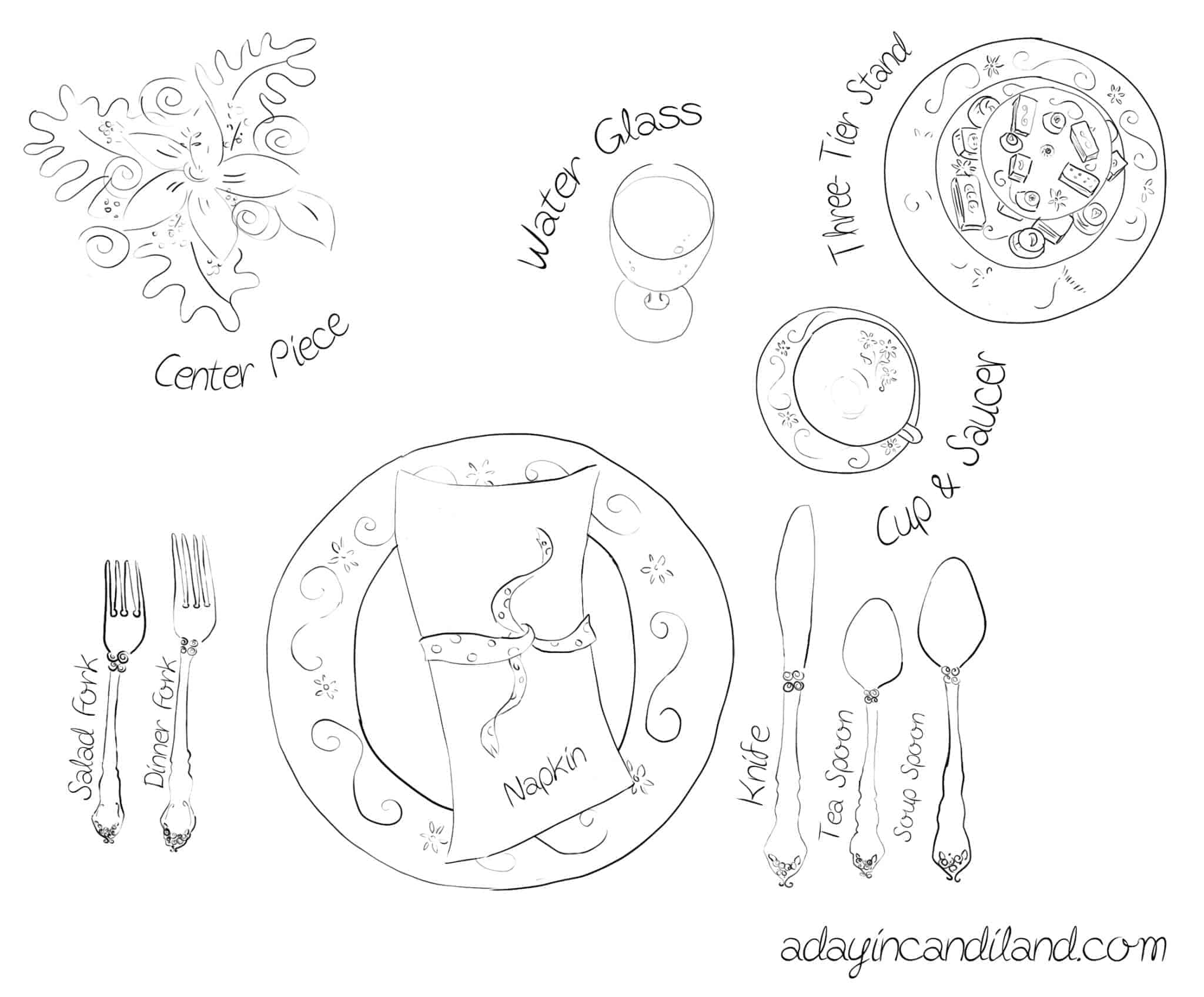 Tea Etiquette Guidelines
Dress appropriately: Dressing appropriately for the occasion is considered good tea etiquette. In more formal settings, it's customary to dress in formal attire, while in casual settings, smart casual attire is appropriate.
Arrive on time: If you're invited to a tea party, arrive on time or slightly early. Arriving late is considered impolite.
Wait for the host to begin: Wait for the host to begin serving tea and food before you start eating. It's also polite to wait for the other guests to be served before starting to eat or drink.
Hold the tea cup correctly: Hold the teacup by the handle with your index finger through the handle and your thumb on top of the handle. The pinky finger should not be raised, as this is a common myth and actually considered improper.
Use a tea strainer: If you're drinking loose-leaf tea, use a tea strainer to remove the tea leaves from your cup before drinking.
Stir the tea gently: If you add milk or sugar to your tea, stir it gently and avoid making noise with the spoon.
Use a napkin: Use a napkin to dab your lips and fingers during and after drinking tea.
Avoid slurping: Avoid slurping your tea as this is considered impolite.
Engage in polite conversation: Engage in polite conversation with other guests. Avoid talking with your mouth full and refrain from discussing controversial topics.
Thank the host: After the tea party, thank the host for the hospitality and take your leave.
What is your Afternoon Tea Etiquette score?
It is custom to start with the outside fork and move in toward the plate.
A Cream Tea is usually scones, clotted cream, and a choice of tea.
Afternoon Tea consists of finger sandwiches, scones, sweets, and dessert, and a choice of tea. The finger sandwiches are also called savories.
High Tea is a heavier meal, usually later in the evening. This meal usually contains some meat. Maybe a meat pie, or Welsh Rarebit, sausage, cheeses, relishes, and has hot and cold items. Alcohol may also be served.
See more Afternoon Tea items in my Tea Shop here.
Which Water Glass and Bread Dish is Mine?
How do I know which is my water glass and bread dish when I sit down at a set table. The rule goes, "make two ok signs with your fingers". The one on the left should look like a b. The one on the right should look like a d. Your bread dish is on the left and water glass (drink) is on the right.
If you are using a tea bag, please don't wrap it around a spoon with the string and squeeze it. A tea caddy should be used with bagged tea. You can place it on the caddy and it will catch the excess liquid.
Tea Faux Pas
Dunking the tea bag repeatedly: Once you've steeped your tea for the appropriate amount of time, remove the tea bag and don't keep dunking it repeatedly.
Using the wrong type of tea for the occasion: Certain teas are better suited for certain occasions. For example, green tea is better for a light, refreshing afternoon tea, while black tea is better for a hearty breakfast tea.
Adding milk to certain teas: Certain teas, such as green tea and herbal teas, don't traditionally have milk added to them. Adding milk to these teas can alter their flavor and ruin the taste.
Not using the appropriate amount of tea: Adding too little tea can result in a weak cup while adding too much can result in a bitter taste.
Stirring the tea with a spoon: Stirring your tea with a spoon can break the tea leaves and release more tannins, which can make the tea taste bitter.
Drinking tea that's too hot: Drinking tea that's too hot can scorch your tongue and ruin the taste of the tea. Let it cool to a comfortable drinking temperature before taking a sip.
Leaving the tea bag in the cup: Once your tea has steeped for the appropriate amount of time, remove the tea bag from the cup. Leaving it in the cup can result in an over-steeped and bitter tea.
Adding sugar to certain teas: Some teas, such as herbal teas, are naturally sweet and don't require sugar. Adding sugar to these teas can overpower their natural flavor.
Drinking expired tea: Expired tea can taste stale and may be harmful to consume. Always check the expiration date before brewing a cup of tea.
Not using a strainer: Loose-leaf tea can leave residue at the bottom of the cup, which can ruin the flavor and texture of the tea. Using a strainer can prevent this.
So how did you do? Did you score between 1-10? Will you be added to the Tea Drinkers Hall of Shame?
*This post may contain affiliate links. If you make a purchase, I get a small commission. Please see my disclosure policy for details
Information from this post came from one of my favorite books Taking Tea by Dorothea Johnson. You can find some of my other tips about tea here.
More Tips for Afternoon Tea and Recipes