These buttery soft scones can be shipped to your door in just 48 -72 hours from Seven Sisters Scones in Johns Creek, Georgia.
This week I had the wonderful experience to review a box of 12 Sconies from Seven Sisters Scones which by the way is actually owed by seven sisters.
I received a discount on my order of Scones. I was not compensated for this review. All opinions are honest and my own.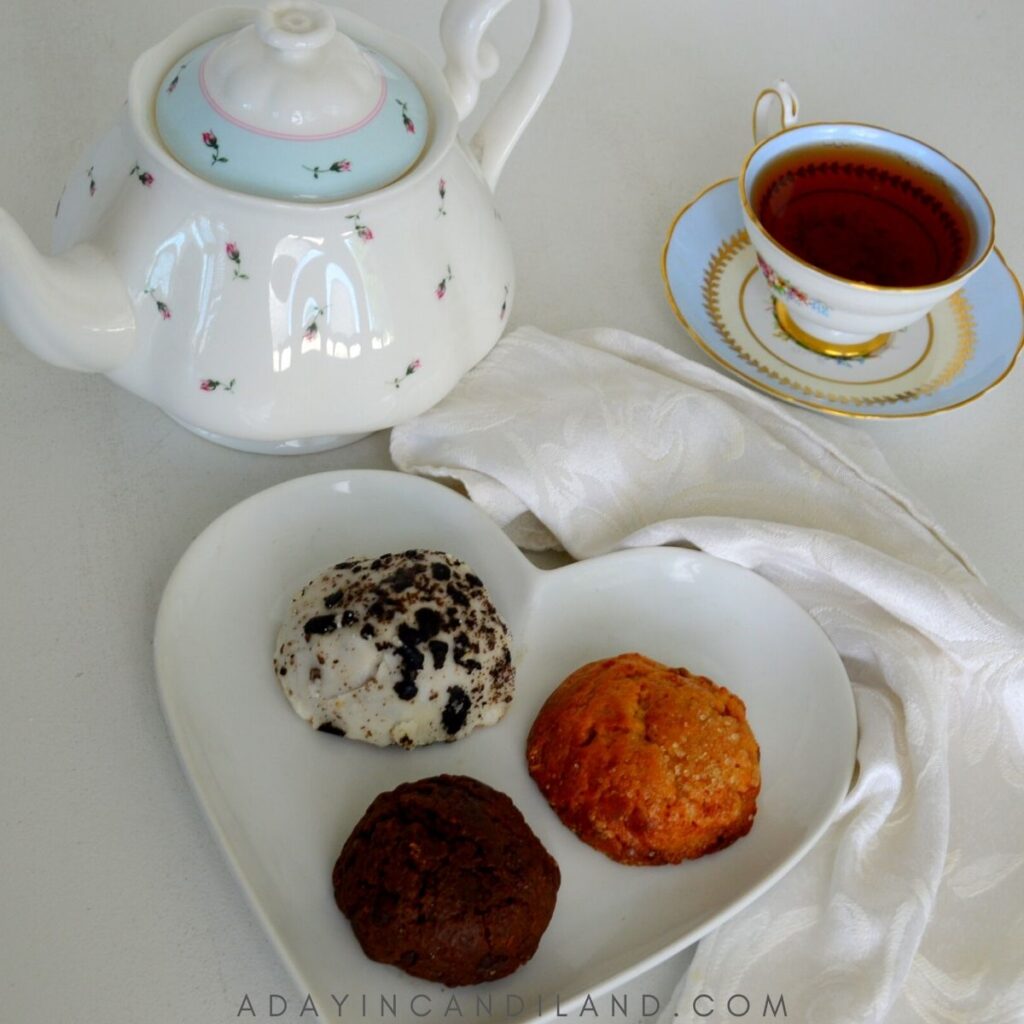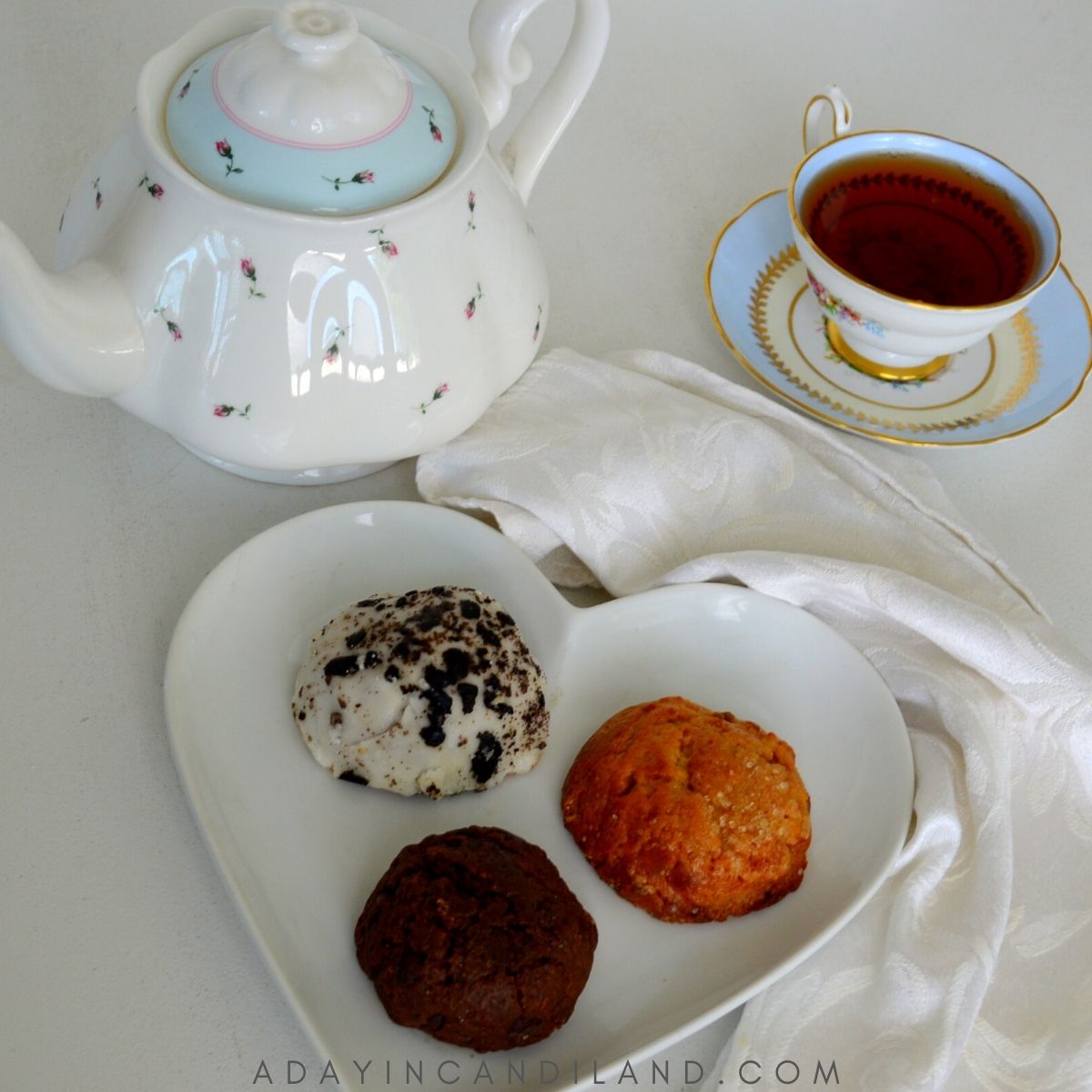 *This post may contain affiliate links. If you make a purchase, I get a small commission. Please see my disclosure policy for details
About Seven Sisters Scones
They have been featured on Forbs, The Today Show, and in Good Housekeeping Magazine. They are located in Johns Creek Georgia and have a cafe there. They are known for shipping their scones and their Gluten-Free options.
Flavors of Scones Summer Season
Bacon, Cheddar, and Chive
Banana Chocolate Chip
Blueberry
Butterbeer
Chocolate Kahlua
Cinnamon Coffee Cake
Cinnamon Roll
Cotton Candy
Cookies n Cream
Cranberry Orange
Fig and Goat Cheese
Garlic Herb
Lavender Honey
Lemon Poppy Seed
Jalapeno, Green Olive, and Cheddar
Sweet Potato and Cardamom
Taro
Tripple Chocolate Scone
Vanilla Bean
Strawberry Champagne
Most come in Gluten Free and Some Vegan Flavors.
How to Order Scones
Order your scones here.
What they Sell
You can order Scones, Bars, Cookies, and Biscotti, and also gift baskets full of jam, tea, and delicious treats. You can also purchase and send gift cards so your recipient can pick their own gift. Almost all the flavors come in Gluten-Free and they also have Vegan Options as well. Choose from savory or sweet flavors. Each Season they have new flavors, so check back often. They also have a black line featuring Boozy Scones.
Subscription Box
There are 5 options for Subscription boxes based on full-size scones or Sconies. The price at the time of the article is $29.00 for the Sconies and $56 for full-size scones. They also have a dozen Gluten-Free Scones for $66.00. These are a minimum of 3-month boxes.
Shipping Options
They ship everything 2-day FedEx. All scones are individually packaged and shipped fresh to you or the recipient within 2 days. Tracking information will be sent to you upon shipment.
During the summer, all orders are shipped Tuesday – Wednesday according to the following schedule UNLESS you have specified an arrival date:
Orders received after 8 am EST on Sunday and prior to 8 am EST on Tuesday –> Ships Tuesday, arrives by Thursday
Orders received after 8 am EST on Tuesday, prior to 8 am EST on Saturday –> Ships the following Tuesday arriving on the Thursday that follows
Orders received between Saturday 8 am and Sunday 8 am –> Ship Tuesday, arrival two days after.
They do their best to get shipments out quickly. However, there are always unforeseen circumstances that could delay shipments – weather, holidays, high volume of orders, etc… Your patience is appreciated.
Benefits of Ordering Scones
Scones are shipped and delivered quickly. They are freshly baked and shipped the same day. Ordering is easy online. This is a unique gift idea and the unique flavors and treats will be enjoyed and appreciated. The pricing is extremely reasonable. Your friends and family will love receiving this yummy gift.
Ideas for Gift Giving
Birthday Gifts
Baby Showers
Bridal Gifts
Anniversary Gifts
Holidays
Corporate Gifts
Thank You Gifts
My Review of Seven Sisters Scones
I was impressed that this box arrived in 2 days. They were in excellent condition when they arrived. They came with a care card inside, explaining how to take care of them with reheating directions and freezing directions.
They were all individually wrapped with labels on them. When I opened the box the care card was on top and then red tissue paper with a nice sticker. I got the Sconies Sampler box, and they were a perfect size. One will fill you up.
I had a hard time choosing which one to eat first. I chose the Triple Chocolate Scone. It is a chocolate scone filled with Milk, semi-chocolate, and white chocolate chips. It was very soft, moist, and thick.
The next one I tried was the three-cheese Sconie. I couldn't find the ingredients of this one on the site, maybe it isn't a year-round scone and only in the sampler. It was very delicious and had a lot of flavor, I had it for breakfast a few days after I received my box and it was just the right size.

I will definitely be trying a 3-month subscription. I want to try the Lavender Honey, the chocolate Kahlua, and the Jalapeno, which didn't come in the box I ordered. You can order a sample box or pick the flavors you want when ordering one time. To learn more about Scones read about the Origin or Scones.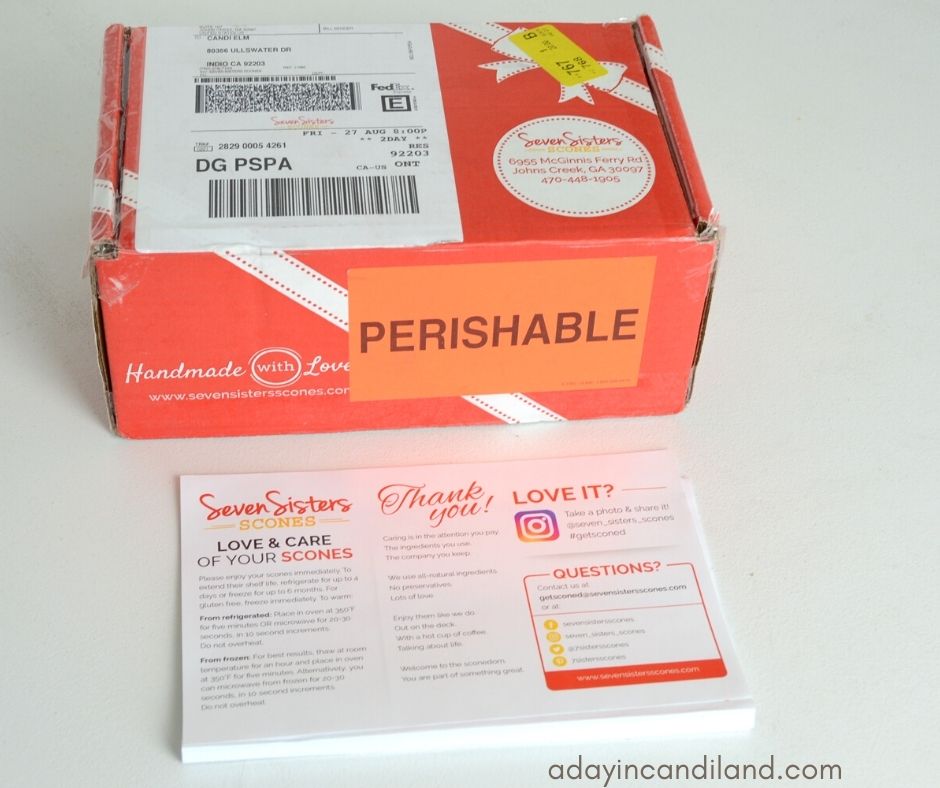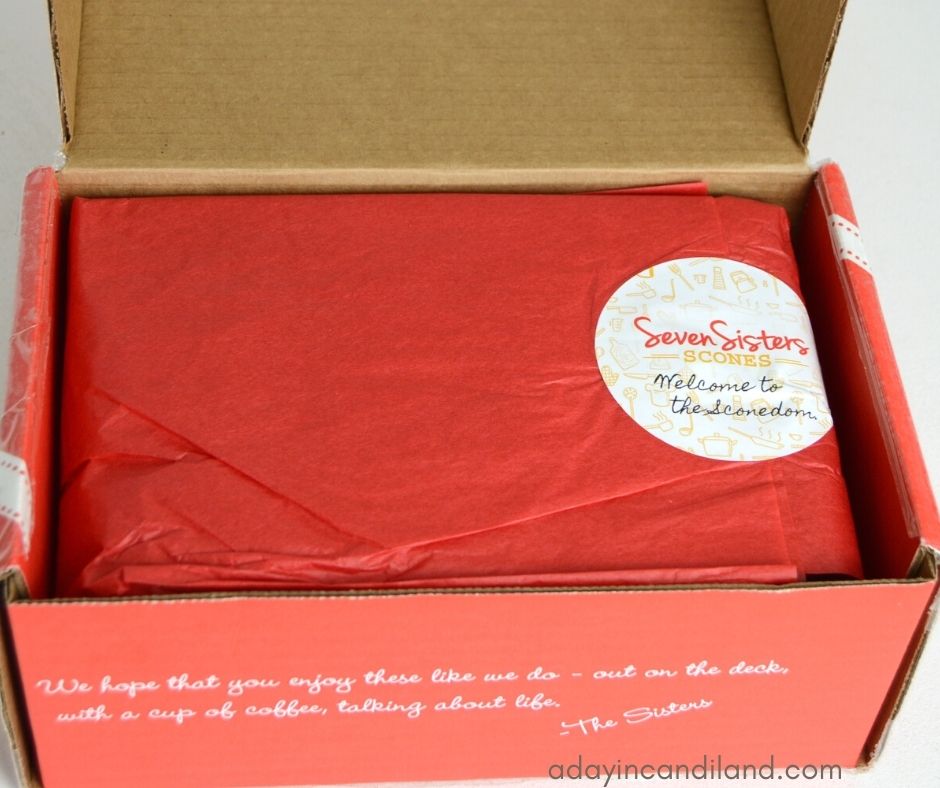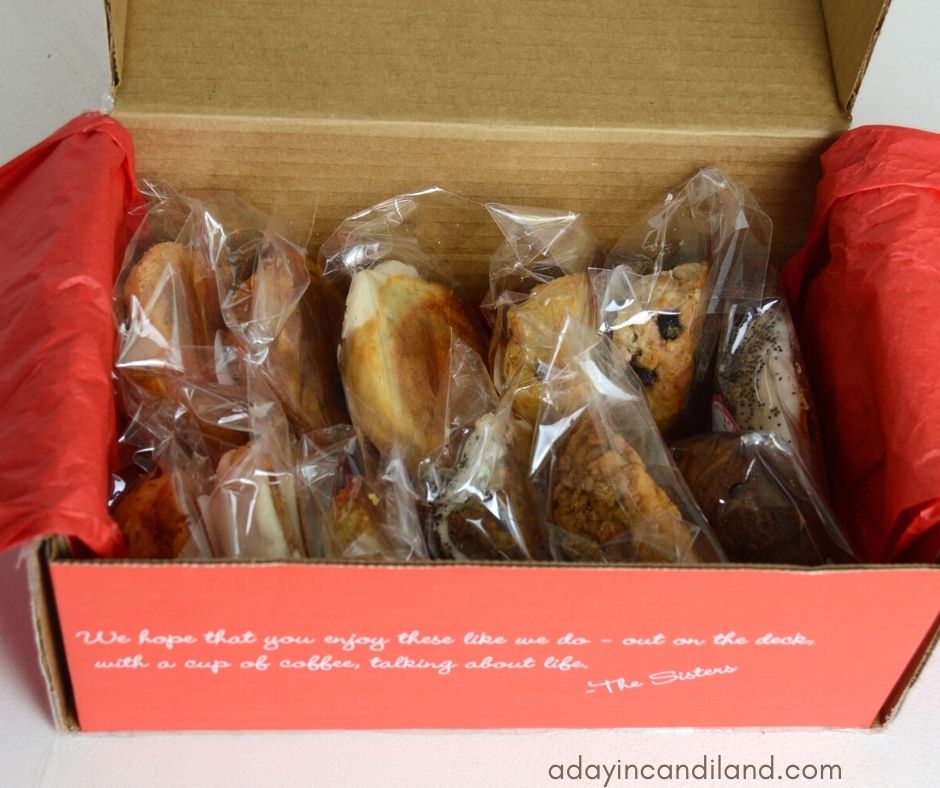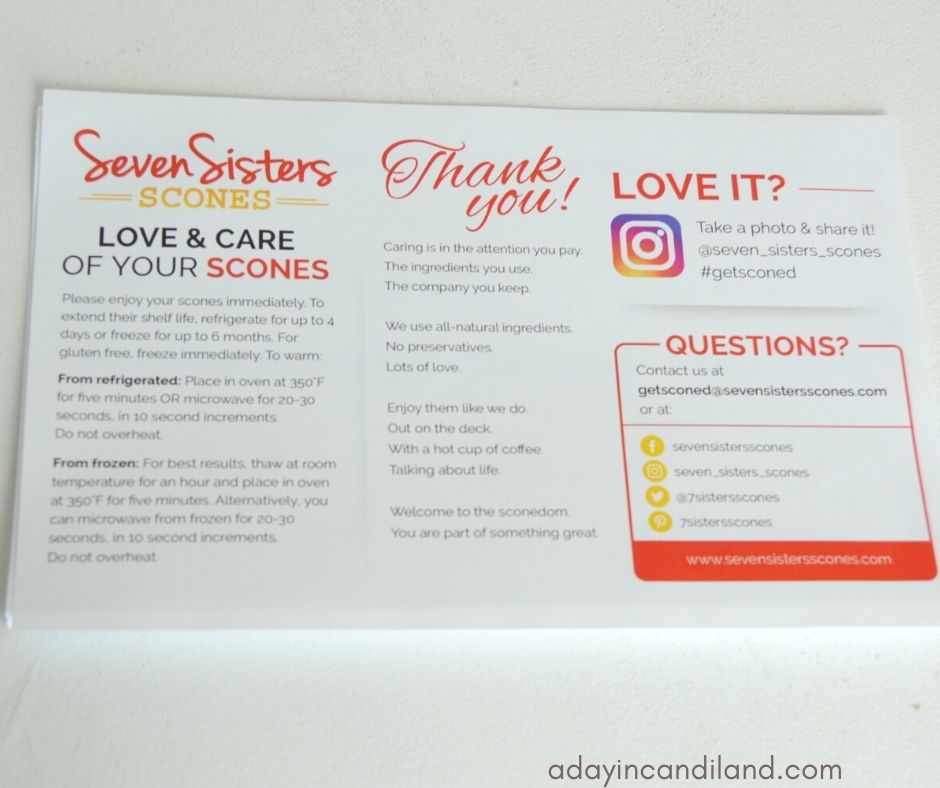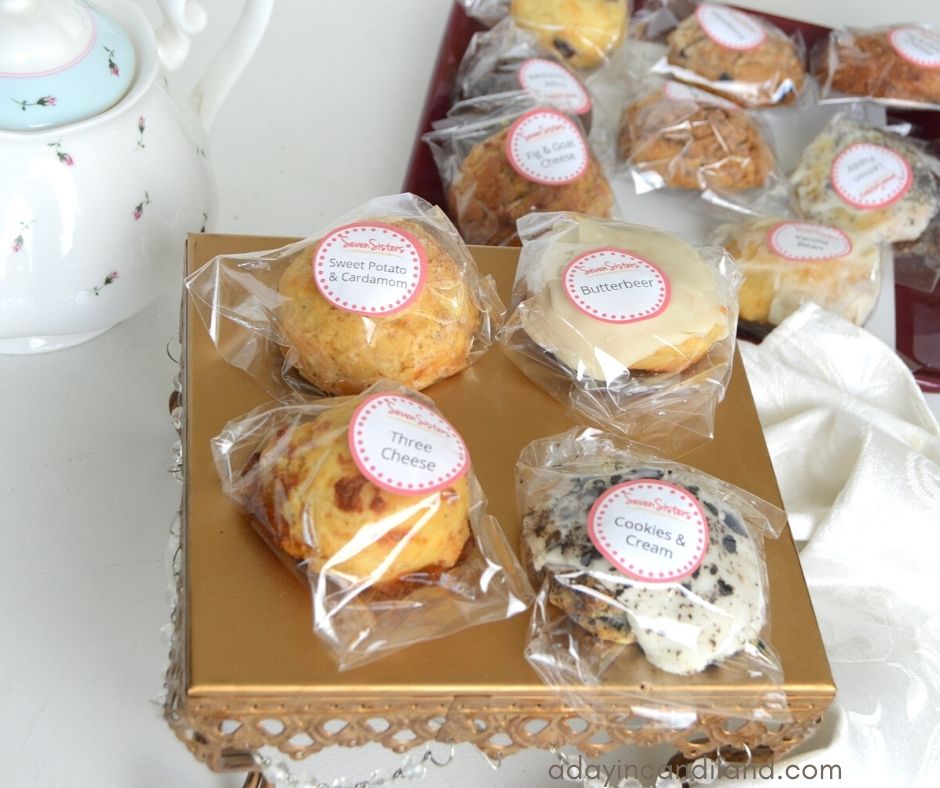 Visit our Amazon Tea Store Here: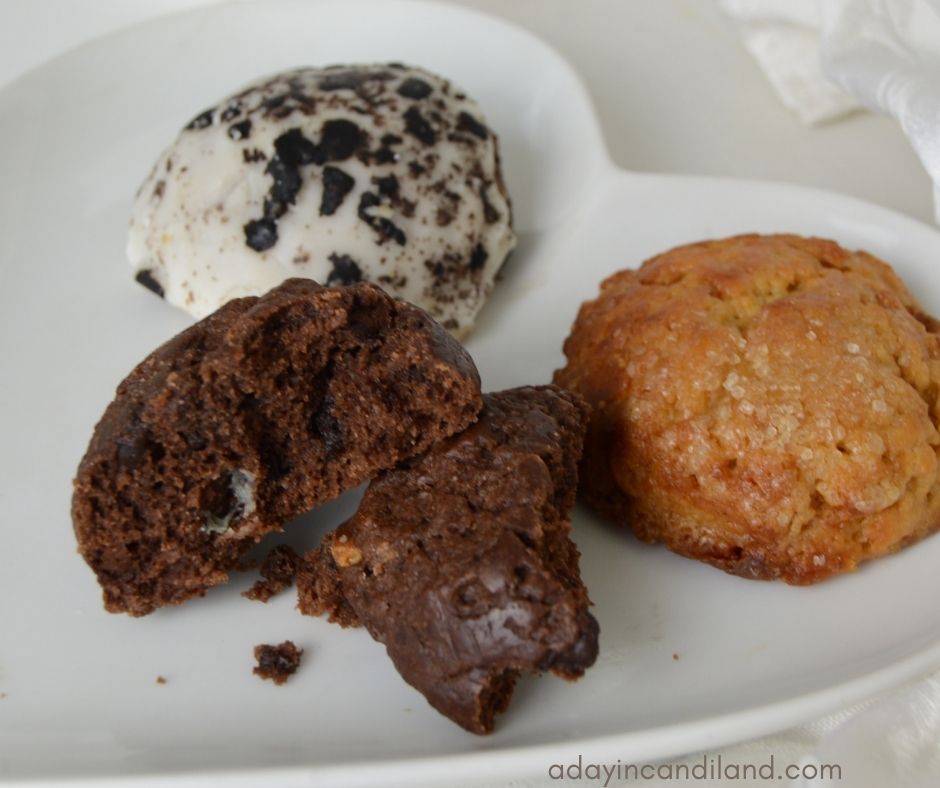 I hope you enjoyed this Seven Sisters Scones Review and I have prepared your pallet for these moist and flavorful scones. Place your order here.
More Tea and Scone Articles