You don't need a large crowd to have a fun tea party! These tea for two party ideas will help you plan the best celebration for you and a friend.
There won't be as much preparation, and it's a lot of fun. Why not make it a surprise and invite your best friend or your mom over and have an intimate Tea Party for Two!
Afternoon Tea can be very encouraging and uplifting. You can even incorporate Tea into a Bible study. Find more Afternoon Tea recipes and tips on this page.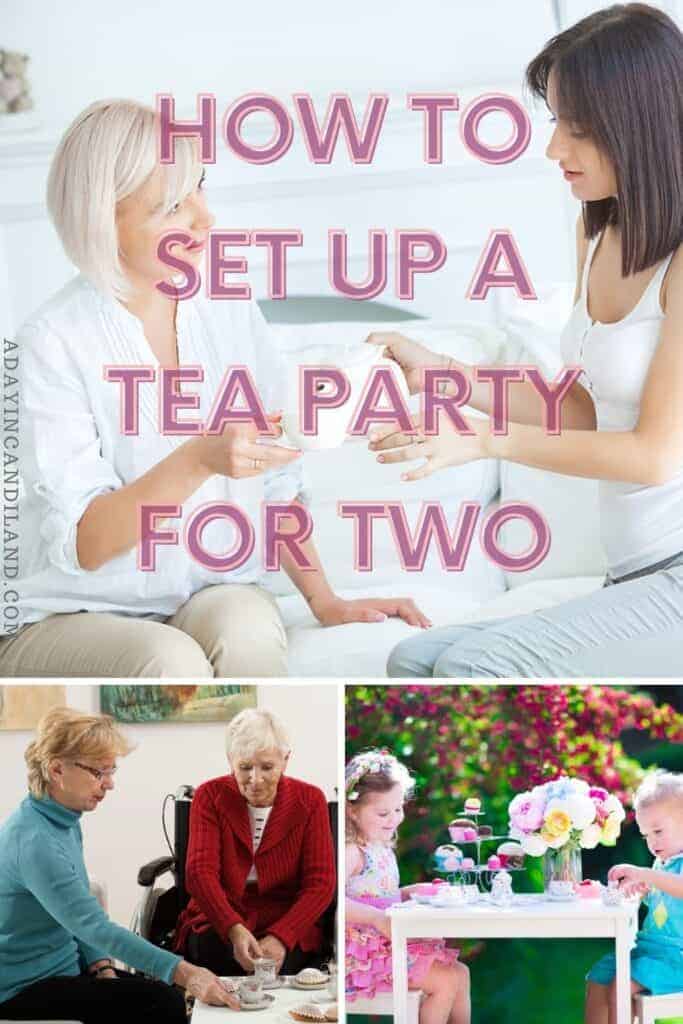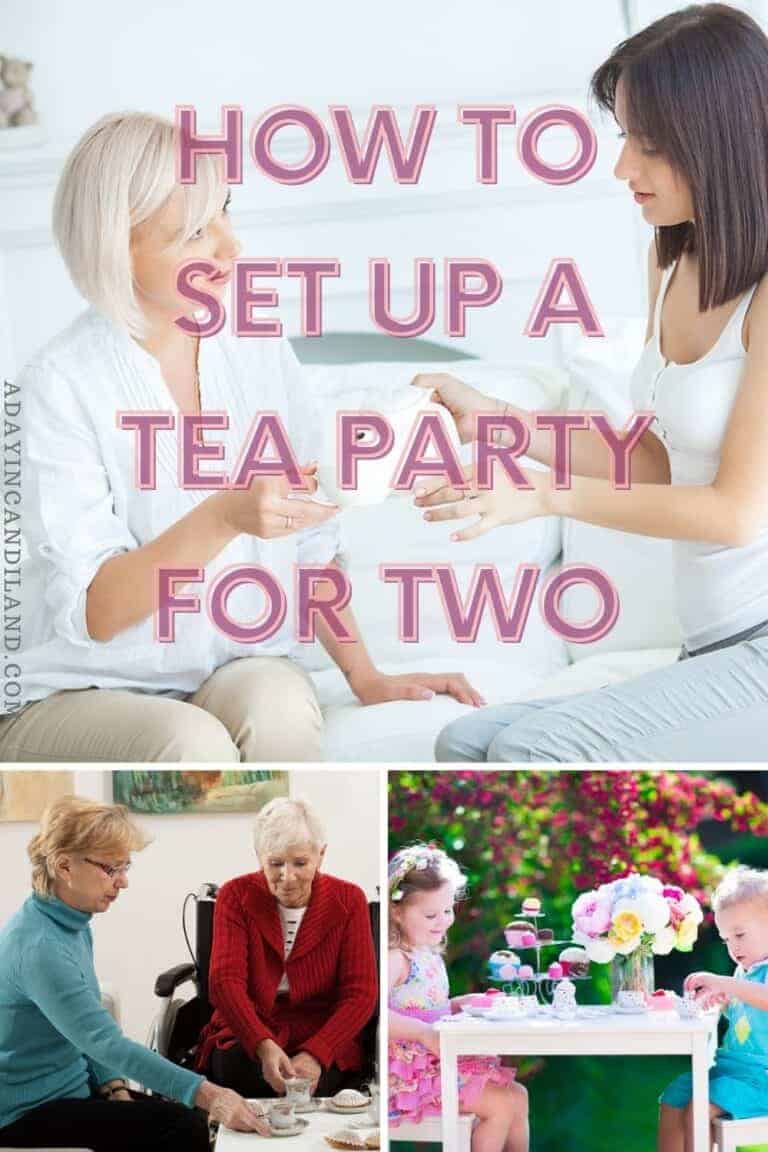 Tea For Two
Do you remember that cute song? "Tea for two, and two for tea!" That song played in my head as I wrote this fun guide. Hosting your very own tea party is so fun when it is a private and intimate onefor just two people.
Planning a tea party for two people is a lot easier than planning for a large group. In this guide, I'll take you through every single step. Follow them, and you'll be able to plan – and host – your very own tea for two party.
1. Send An Invitation
Let's go back to times past where you weren't in a hurry and you planned things out. Make it feel like your friend is the most important person there is. Create, a nice invite that you made by hand and send it to your BFF. It could be formal or informal. You could also handwrite a letter and include your favorite quote or scripture into your invite.
Even though you are only inviting one other person to your tea party, you should still send an invitation. This makes them feel loved and makes the entire party feel more formal.
2. Pick Your Tea Party Theme
Next, pick your theme. The theme will help you focus and give you more ideas for all the other parts of the party, like the decorations and the food choices.
Some of my favorite tea for two party themes are:
A Dessert Tea
A Best Friend's Tea
A Mad Hatter Tea Party
*This post may contain affiliate links. If you make a purchase, I get a small commission. Please see my disclosure policy for details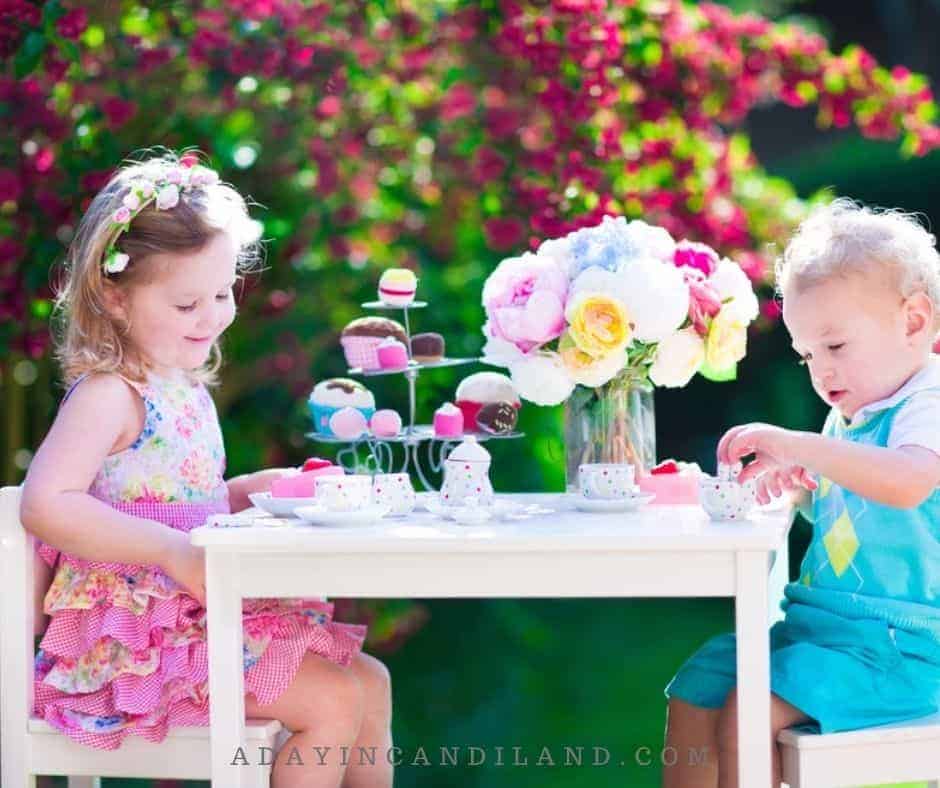 3. Choose Decorations
Once you have chosen your theme, get to work and decorate for your party.
The most basic tea party decorations that you need to start with include:
Tablecloth
Teacups
Napkins
Small Plates
Everything does not have to match. You can use mismatched plates or your best china – the choice is up to you.
Using real china just makes it so special. This is the perfect occasion to get them out and show them off.
Light a few candles, put on some soft music, and get ready for a nice visit. Maybe get your camera out and take a few pictures of your table and with your friend. Make these wonderful scones serve up some tea and the rest is up to you.
Finally, don't forget to add a lovely centerpiece to your table. I like to use a big showy bouquet because it enhances the theme of the party.
4. Tea For Two Party Food
Finally, plan the menu. Tea party food is so much fun! It is usually small, bite-sized foods that are either sweet or delicate.
If you have a theme, plan the food around your theme. For example, if your theme is "Kentucky Derby Tea Party," serve some Benedictine Spread Sandwiches, based on the food invented in Louisville, Kentucky.
Planning the menu can be so much fun! Here are a few basic tea party foods – customize them around your theme.
If you really enjoy the Art of Tea enjoy these Afternoon Tea finds in my Amazon store and join our Facebook and Instagram Community.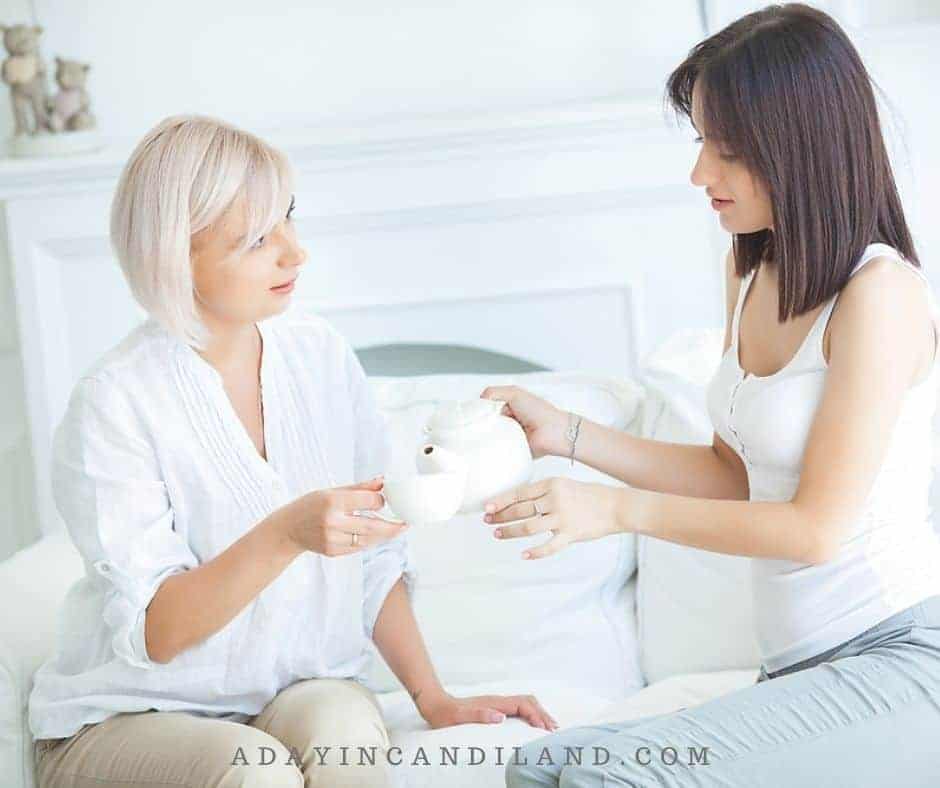 Tea For Two Example: Mother Daughter Tea
Let's take what I just explained and give you a real-life example. Here's how to plan a mother-daughter tea for two, from start to finish.
If you want to create a Mother-Daughter Tea or Mother-Son Tea meaning an adult and a child, you could use fun paper plates, and make small PB&J sandwiches. You can serve cookies for dessert and some fruit punch for your tea.

Letting your child participate in an adult activity as a child bringing it to their level can be fun, encouraging, and even a great teachable moment. You can teach them about etiquette and manners through these fun and entertaining books.
Here are some great gift ideas you can get your tea friend to show her how much you care.