I am excited to have Michelle James guest posting today on How to Make Tea Party Invitations as part of our Afternoon Tea Recipes and Tips.
Make These Beautiful DIY Tea Party Invitations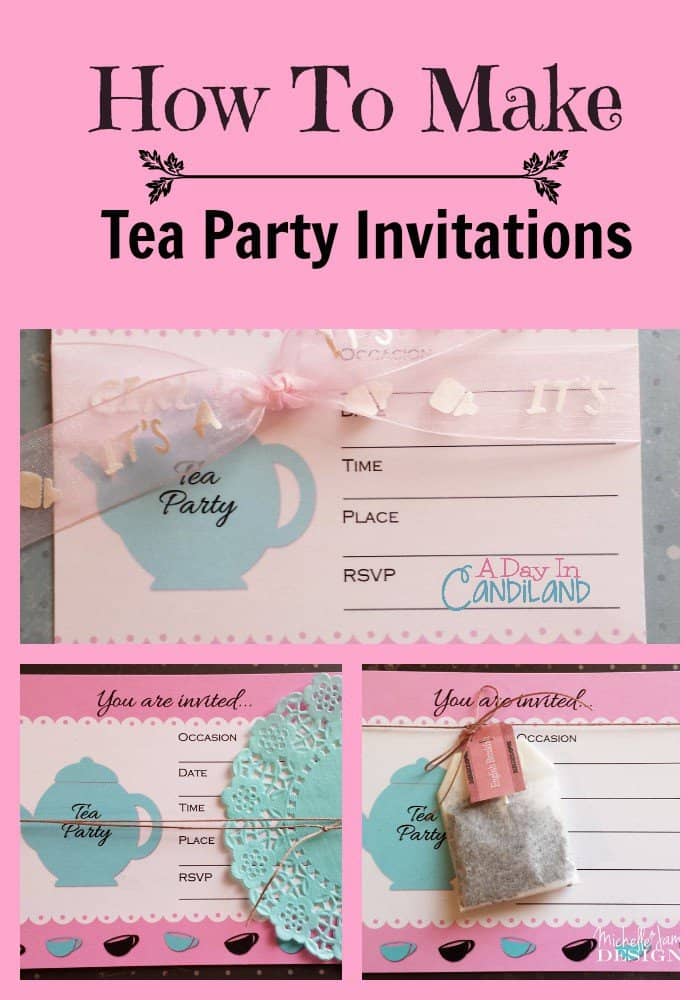 Hi. I am Michelle from Michelle James Designs and I am excited to be guest posting today on A Day in Candiland.
Today I am sharing some Tea Party Invitations with you that I created using Adobe Photoshop Elements. If you do not have this program, don't worry. I have provided a free download for you at the end of this post.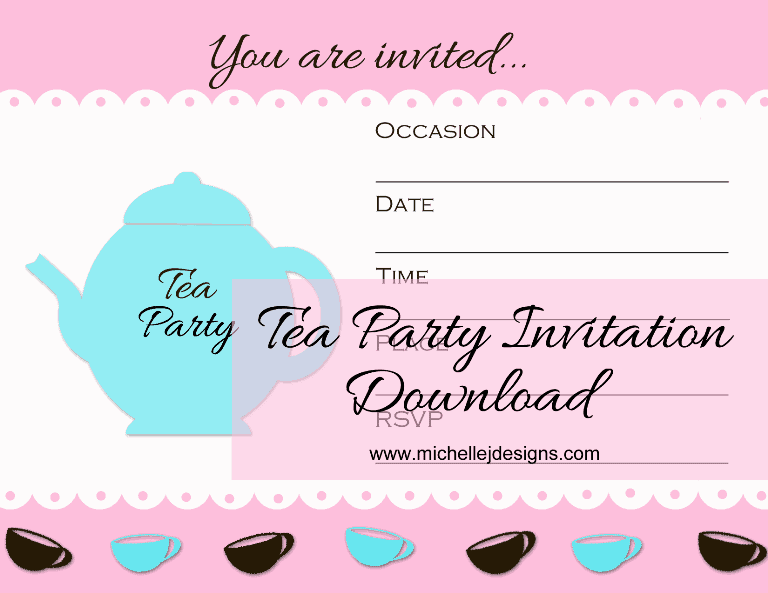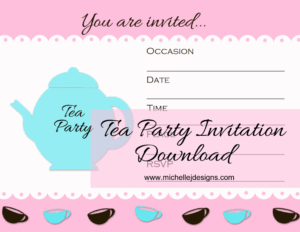 Tea parties are especially fun and can be the theme at bridal showers, baby showers, birthday parties and more. I can just see a group of friends sitting around the table with tea and finger sandwiches.
This invitation can be used in several different programs such as word, publisher and photoshop elements.
If you use Photoshop Elements open the png file and add text on the layers above it. If you are used to working with Word or Publisher insert the single invitation as an image then add a text box for each line on the invitation.
Or you can print the invitation as is and use your own handwriting to create an extra special keepsake.
I am a card maker and I love to add embellishments to my cards. I wanted you to see what the invitation would be like for different occasions and with ribbons, etc. and it can be personalized to really make them your own. Here are just a few examples.
Examples of DIY Tea Party Invites
Add a simple non-tied ribbon.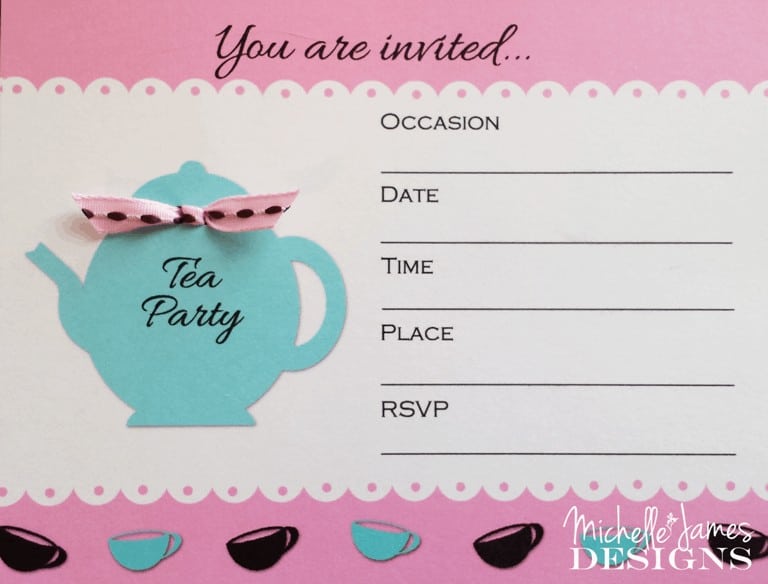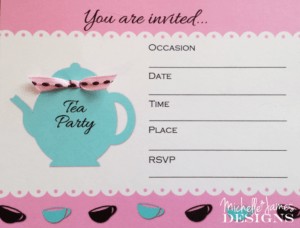 When I was teaching card classes at my store this was the most popular tie because it does not require tying knots or bows. Here is how you create this look.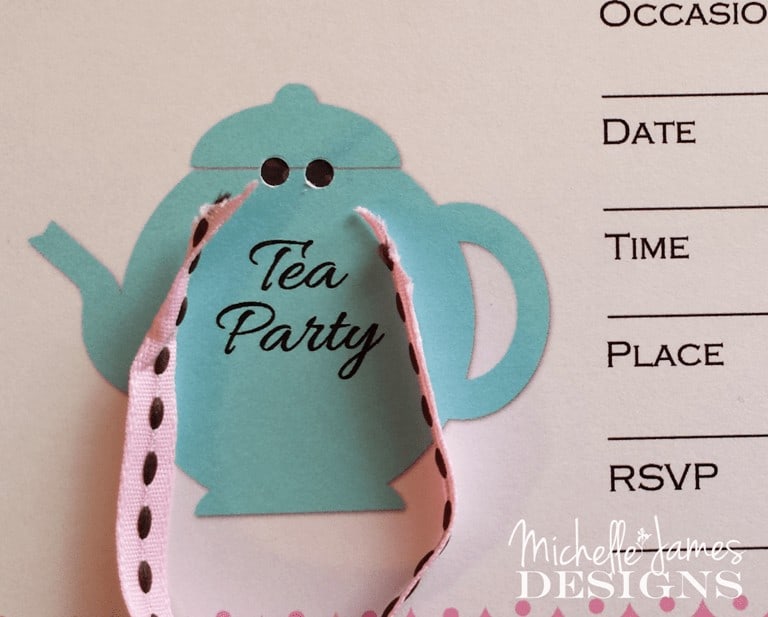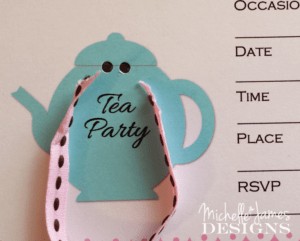 Punch two holes next to each other on the invitation where you want the ribbon.
Cut a piece of ribbon approximately 3 ½ inches long. It really helps if you cut the ribbon at a nice angle so you have a point at the end. Pull both ends of the ribbon through the holes from front to back.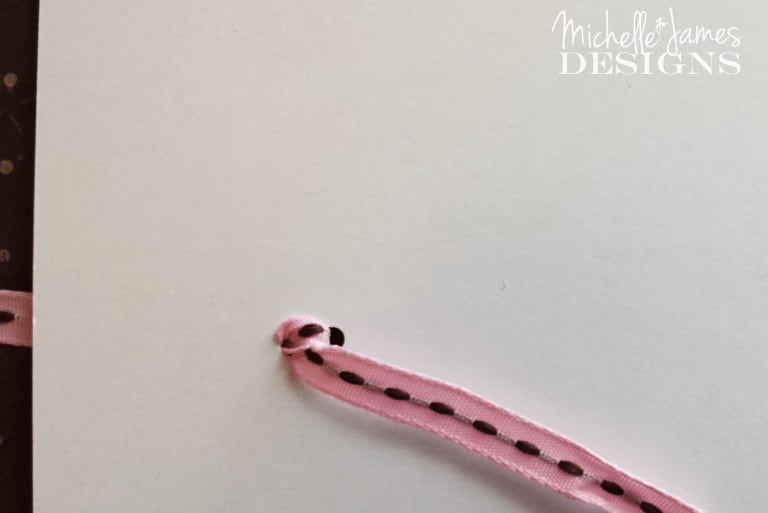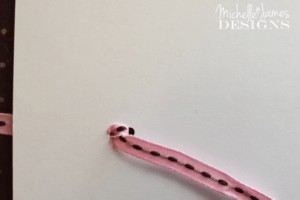 Cross the ribbon in the back and bring the ends back to the front.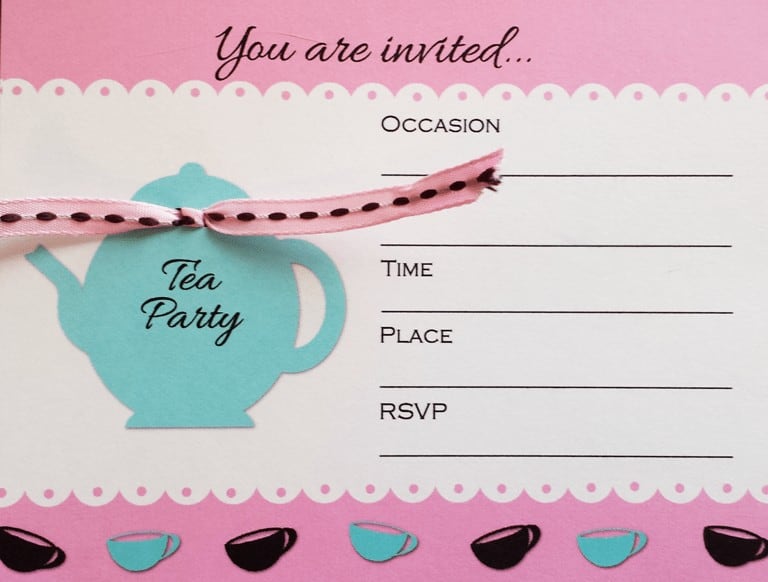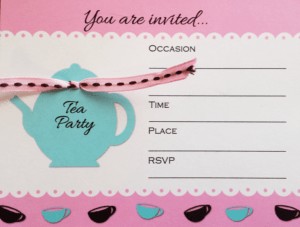 Then cut the ribbon to the size you want. Easy right?
This next photo includes a ribbon and an actual tea bag. I think this is a great idea. Then your guests get a little tea to drink at home as well. I rounded the corners on this one too. It creates another fun detail.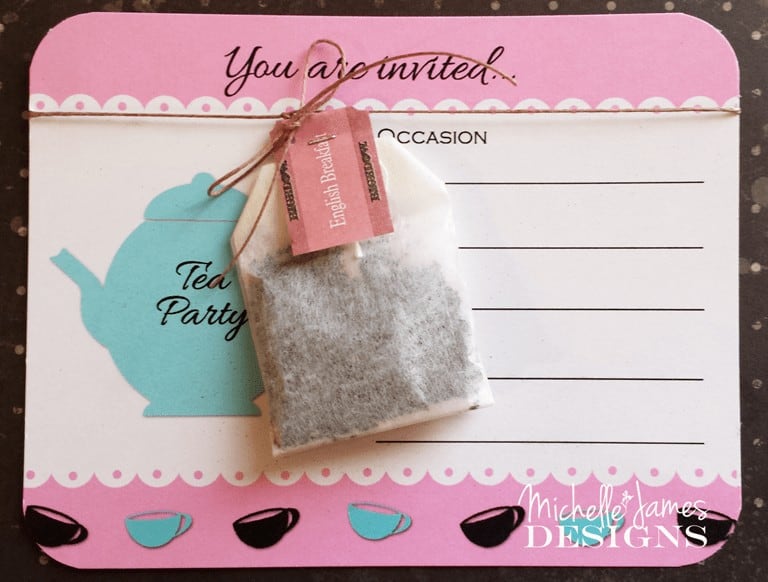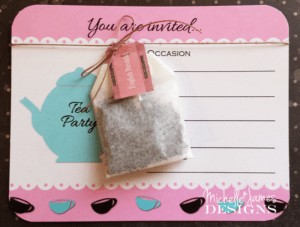 If you are not sure about the tea bag then using a tag in its place with a fun greeting makes a great substitute.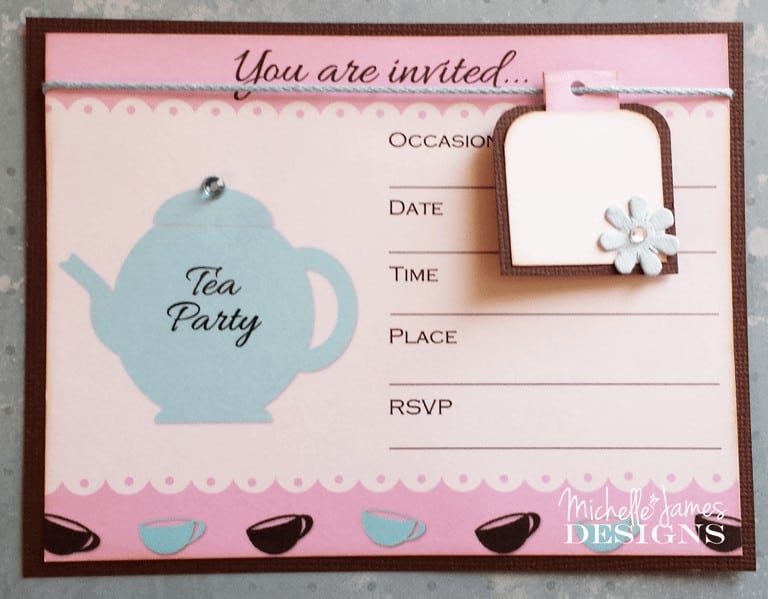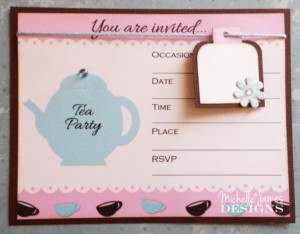 Doilies are a lot of fun and come in many colors. These mini doilies were purchased at our local scrapbook store and fit perfectly around one edge. Add a bow and it looks terrific.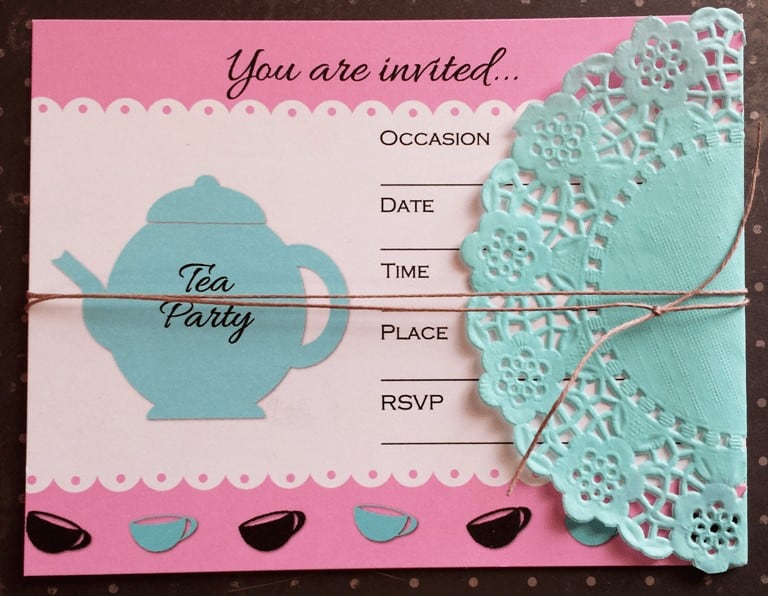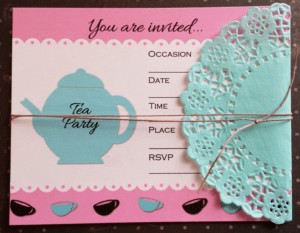 These last two samples are for a baby shower tea party. I just tied a ribbon around the entire invitation. One is for a boy and the other for a girl. Super sweet!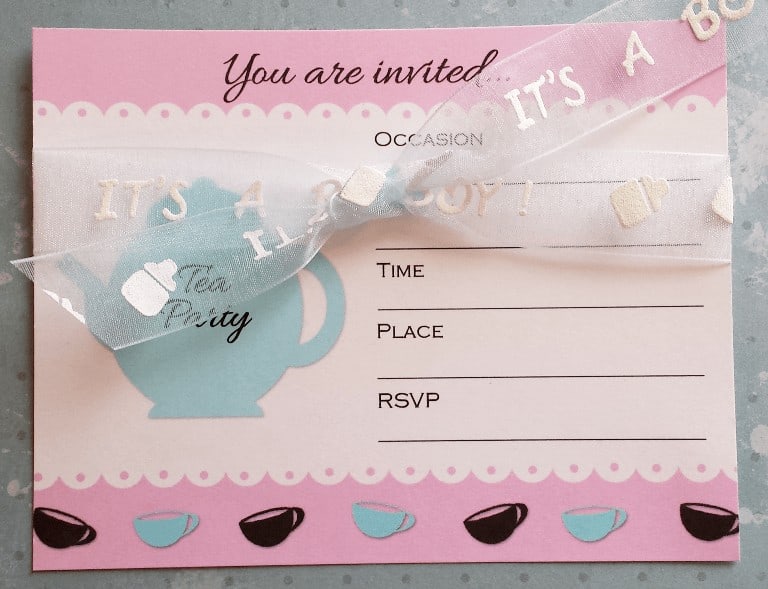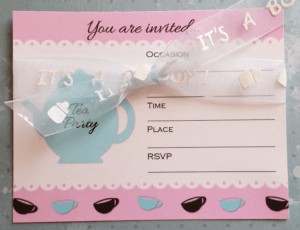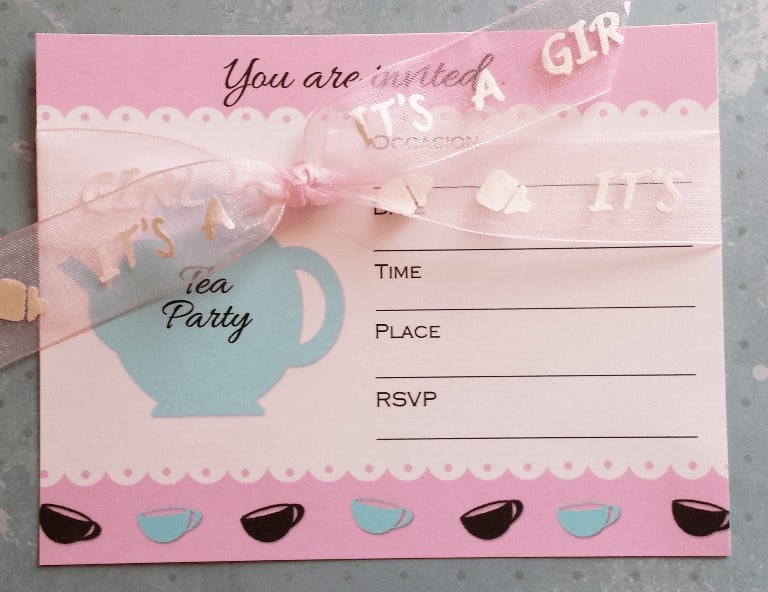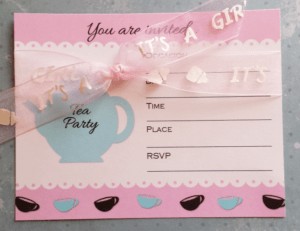 I hope this gives you some ideas on how to use this invitation for your tea party. You can download the files using the link below.
File includes Single invitation in png and psd formats and 4 per page in png and psd formats to be printed on 8.5 x 11 paper.
I want to thank Candi for letting me guest post. I had fun creating the invitation and hope you like it as well.
Find out more about the History of Tea for your next tea party.
Michelle James is the owner of Michelle James Designs offering wedding invitations, announcements, scrapbooking products, and business products such as brochures and business cards. You can find at http://www.michellejdesigns.com