This DIY Tea Gift Basket can be given year round. You can make these on a budget by shopping at Dollar Tree or your favorite discount store and include all their favorite tea accessories. To get similar Afternoon Tea Recipes and tips find them here.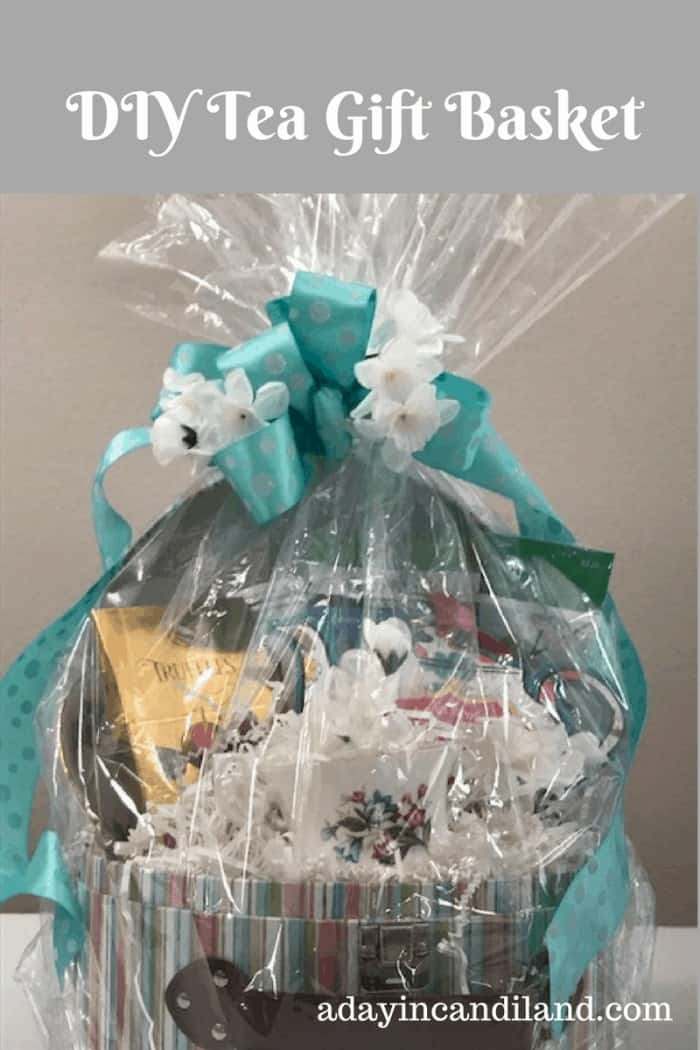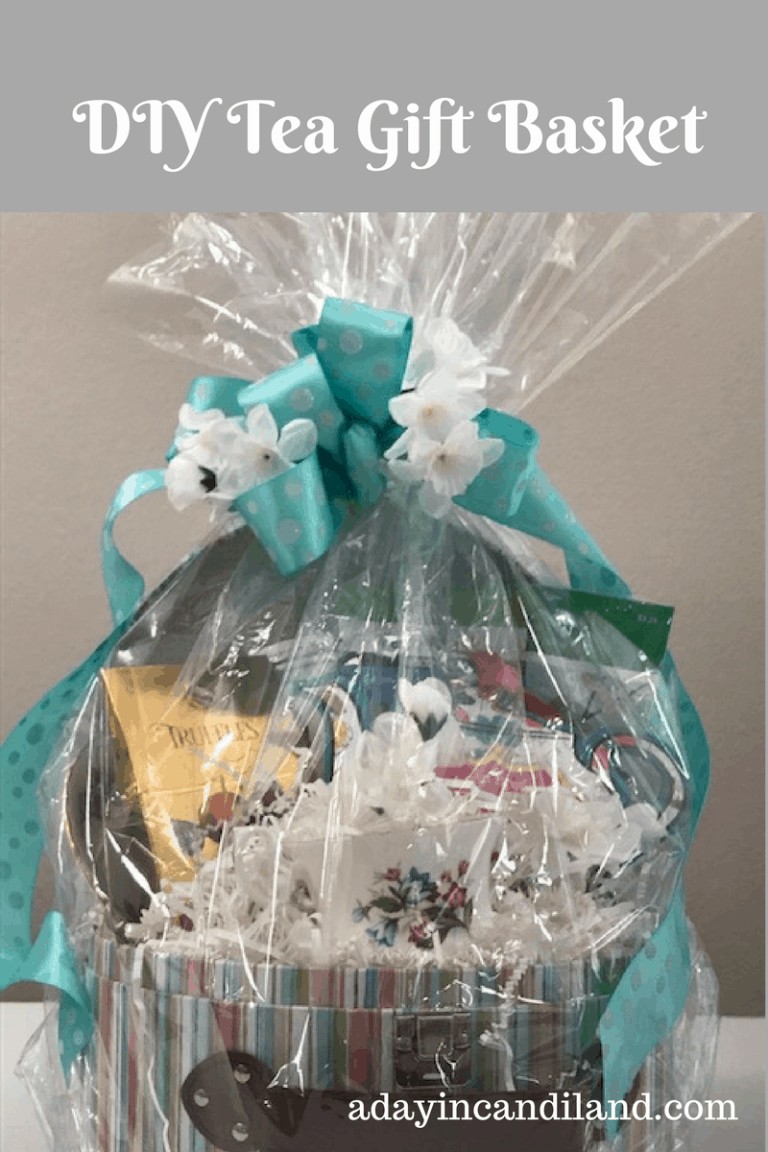 How To Make a Tea Gift Basket
If you enjoy giving gifts that are made from the heart, then gift baskets fit the bill. I used to own a gift basket store and have made thousands of baskets. I did corporate gifts so they would order 200-500 gifts at a time.
I had them all lined up in our small shop and then we would rent a delivery truck to deliver them to the hotels. It was a lot of fun, but sometimes, it would get crazy.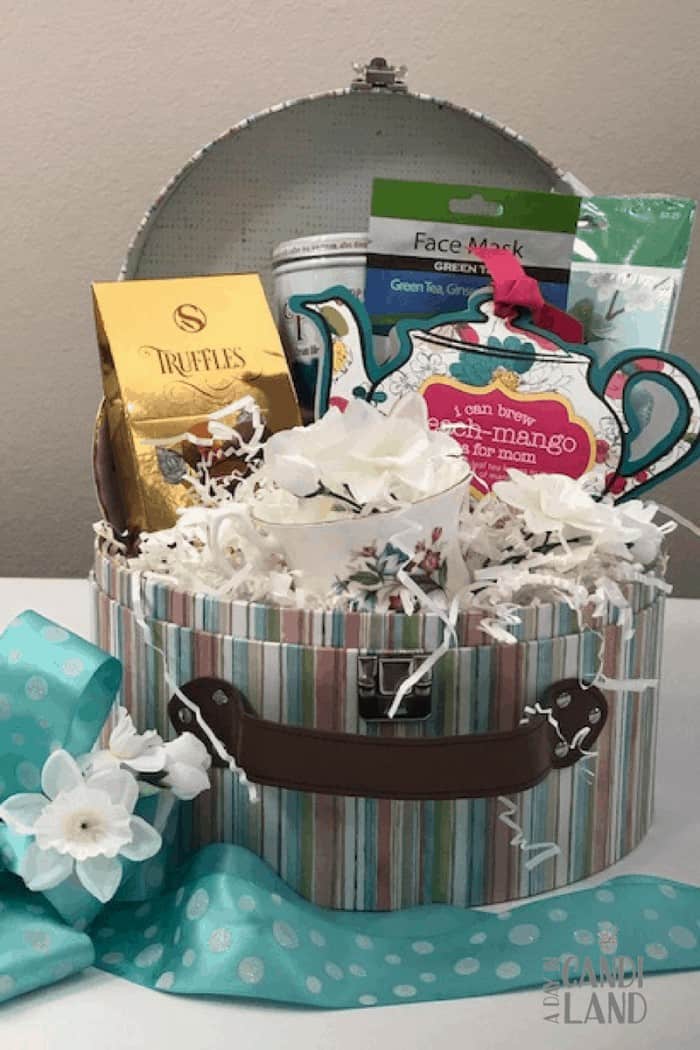 Now I can just make a few at a time. You can create any kind of theme you want for your basket. You can spend a little or spend a lot. This Tea Gift Basket was designed with your budget in mind. Also to show you can get things at your local Dollar Tree store.
DIY Tea Gift Basket Directions
To start with you need a container. It can be a basket, a hat box, a plate, a bowl, anything that can hold the items in or on.
I started with a hat box from Michaels when they were 50% off. It was originally $10.00
Then you need some newspaper or tissue paper to wad up and put in the bottom of the box. Then you want to add some white or colored crinkle shred on top.
Next, you will take your tallest item and put it in the back. If you have a handle on the container you can tape it or tie it to the handle.
Tea Gift Basket Directions continued
Then you just start adding your items around it. The taller ones towards the back and shorter ones up front. Make sure you can see the items and the labels are in front. If you have space you can add some wrapped candy or some small silk flowers.
The Teacup and Saucer I used from my endless tea items. You can either get one at a thrift store or maybe have one on hand that you might have picked up, or they probably have mugs or coffee cups at Dollar Tree.
Next, you need cellophane paper or a cellophane bag. Place the basket in the middle of the cellophane and cinch the paper up around the basket and leave about 7-8″ of paper above the top of the basket. Take a piece of curling ribbon and tie it off.
Have a bow ready to go. Watch my Video on Bow Making to learn how to do this. Make your bow and tie it onto basket as shown in the picture and in the video.
Have your glue gun ready to go and glue the two tails of the bow onto sides of the basket. Then glue a few silk flowers onto the bow. Here is my video that shows you how to design.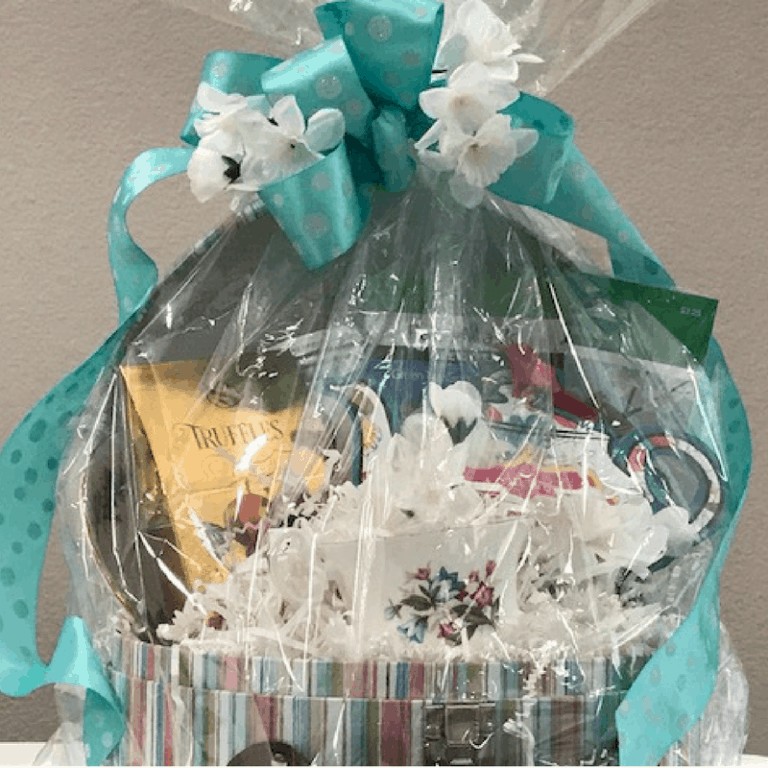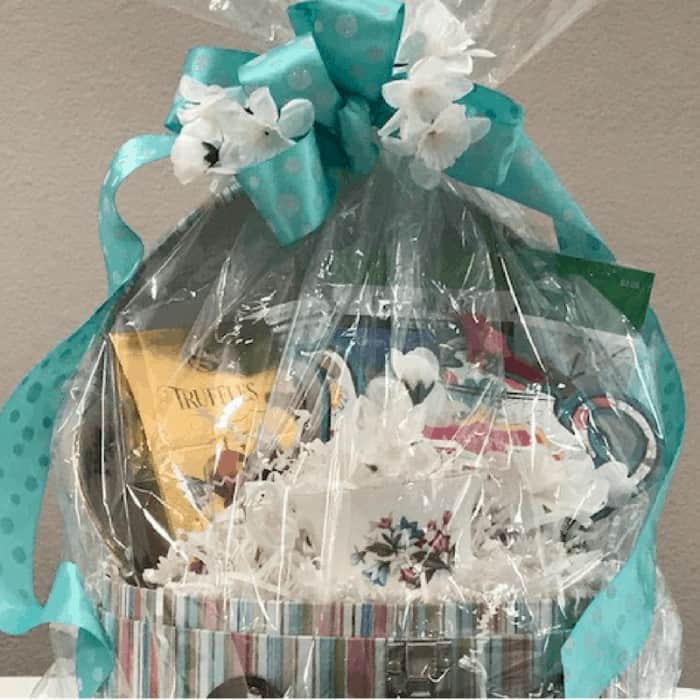 Items Needed to Create Gift Basket
Basket or Container
Newspaper or Tissue Paper
Crinkle Shred to match Gift
Tea Cup and Saucer
Glue Gun
Ribbon
Pipe Cleaner
Cellophane
Items Purchased From Dollar Tree
Crinkle Shred
Cellophane
Pirouline Cookies
Green Tea Face Mask
Set of Note Cards
Truffles
Mother's Day Tea
Silk Flower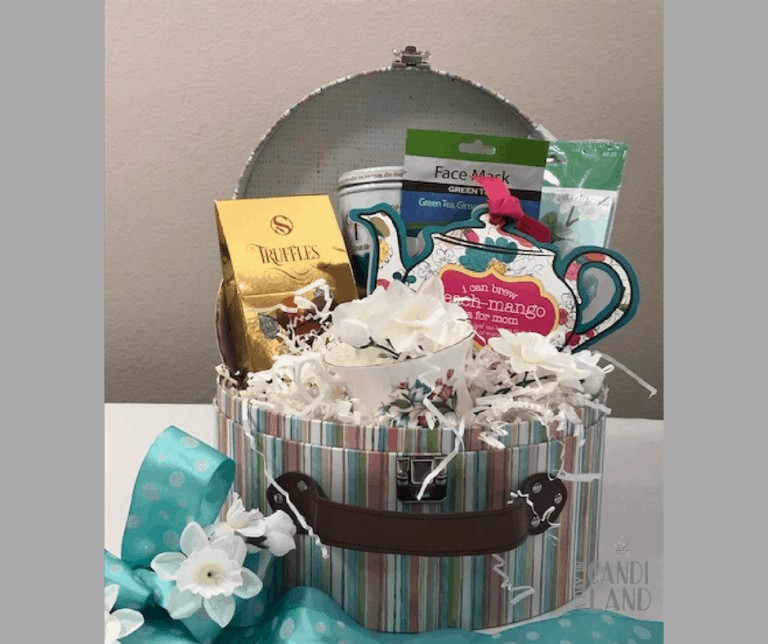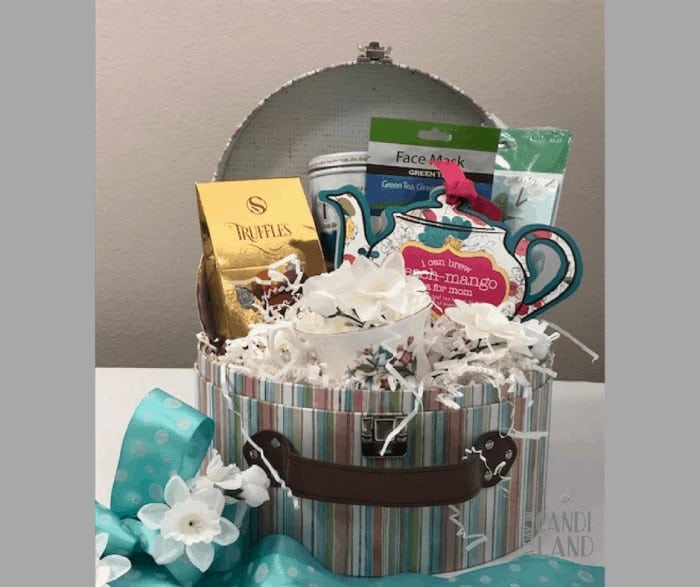 You can customize this tea gift basket for any occasion, by adding a few items representing the event. You can also create a Tea for Two into a gift basket.
*This post may contain affiliate links. If you make a purchase, I get a small commission. Please see my disclosure policy for details
Items to Consider
The ideas are endless. Get more ideas from my Tea-Time articles and my honest review of Adagio Teas. Sign up for our weekly email recipes.