There's something so charming about afternoon tea. It's an elegant tradition, originating in Victorian England, that's all about enjoying delightful nibbles and a steaming cup of tea in the company of friends or loved ones.
But planning an afternoon tea can be a daunting task, especially if you're not sure where to start. Whether it's for a birthday, bridal shower, or just a cozy get-together, here are some afternoon tea ideas that are sure to inspire you in creating a beautiful and relaxed atmosphere for your guests.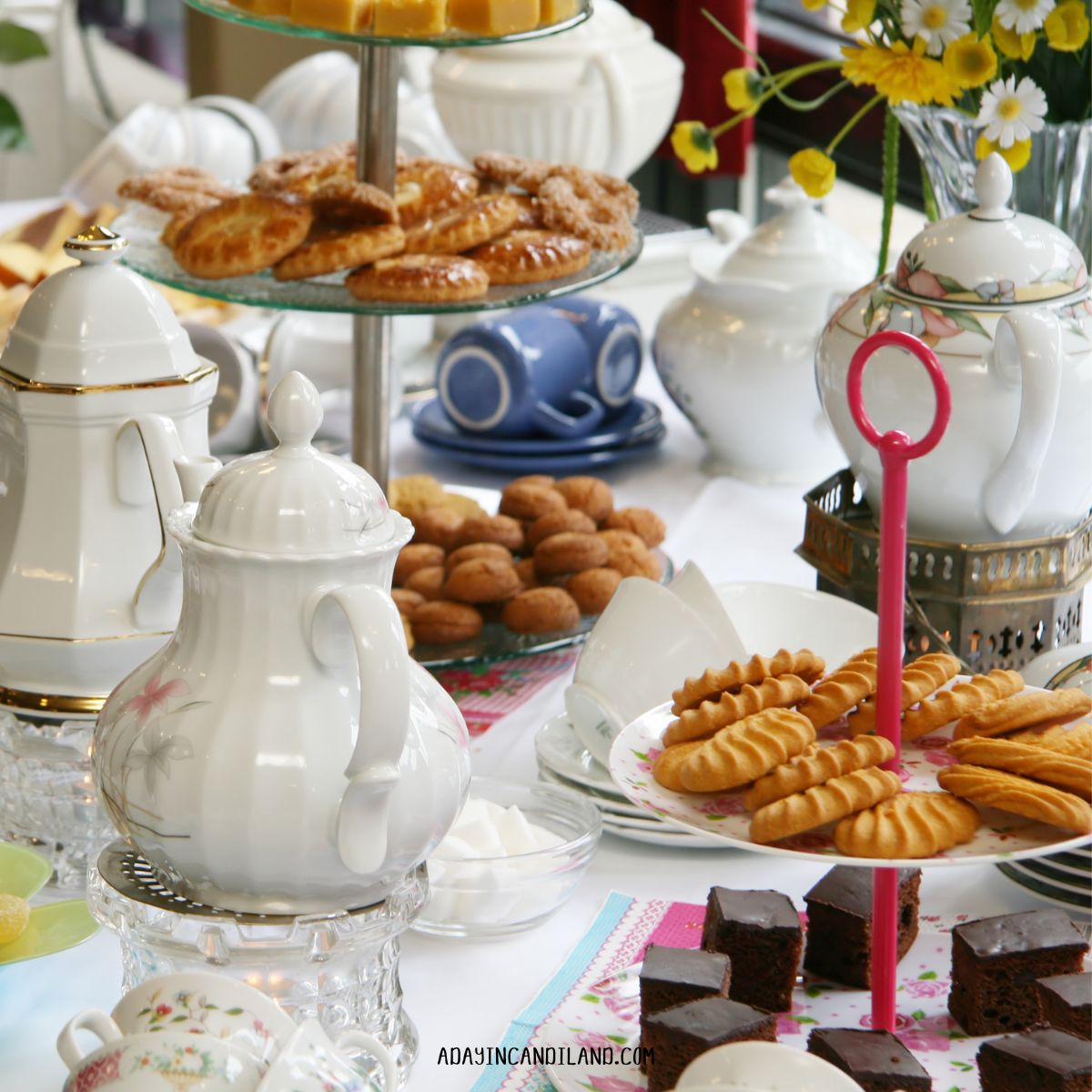 *This post may contain affiliate links. If you make a purchase, I get a small commission. Please see my disclosure policy for details
How to Plan an Afternoon Tea Party
Planning an afternoon tea party can seem daunting, but with a bit of organization and creativity, it can be a breeze. If you're looking to host an afternoon tea party, consider the following important steps:
1. Choose a Theme: Decide on a theme for your afternoon tea party. This will help you in choosing the decorations, menu, and even the attire for your guests.
2. Set a Date and Time: Choose a date and time for your tea party, keeping in mind the schedules of your guests.
3. Select the Venue: Choose a location, whether it be your home, a park, or a rented space, that fits your theme, and can accommodate your expected number of guests.
4. Prepare the Menu: Select a menu of tea, finger sandwiches, mini quiches, scones, and dessert. Ensure that there are both sweet and savory options that are suitable for your guests and fit your theme.
5. Setup the Decorations: Decorate the venue with a mix of elegant and playful touches, paying attention to details such as flowers, linens, and china. Remember that the ambiance is important.
6. Send invitations: Prepare and send invitations with the date, time, location, dress code, and menu details.
7. Host the Party: Provide your guests with a warm welcome and a variety of tea options. Make sure that there is enough food, drinks, and entertainment to keep the party lively and engaging.
Now that we have an idea of what needs to be done, let's dive into the details.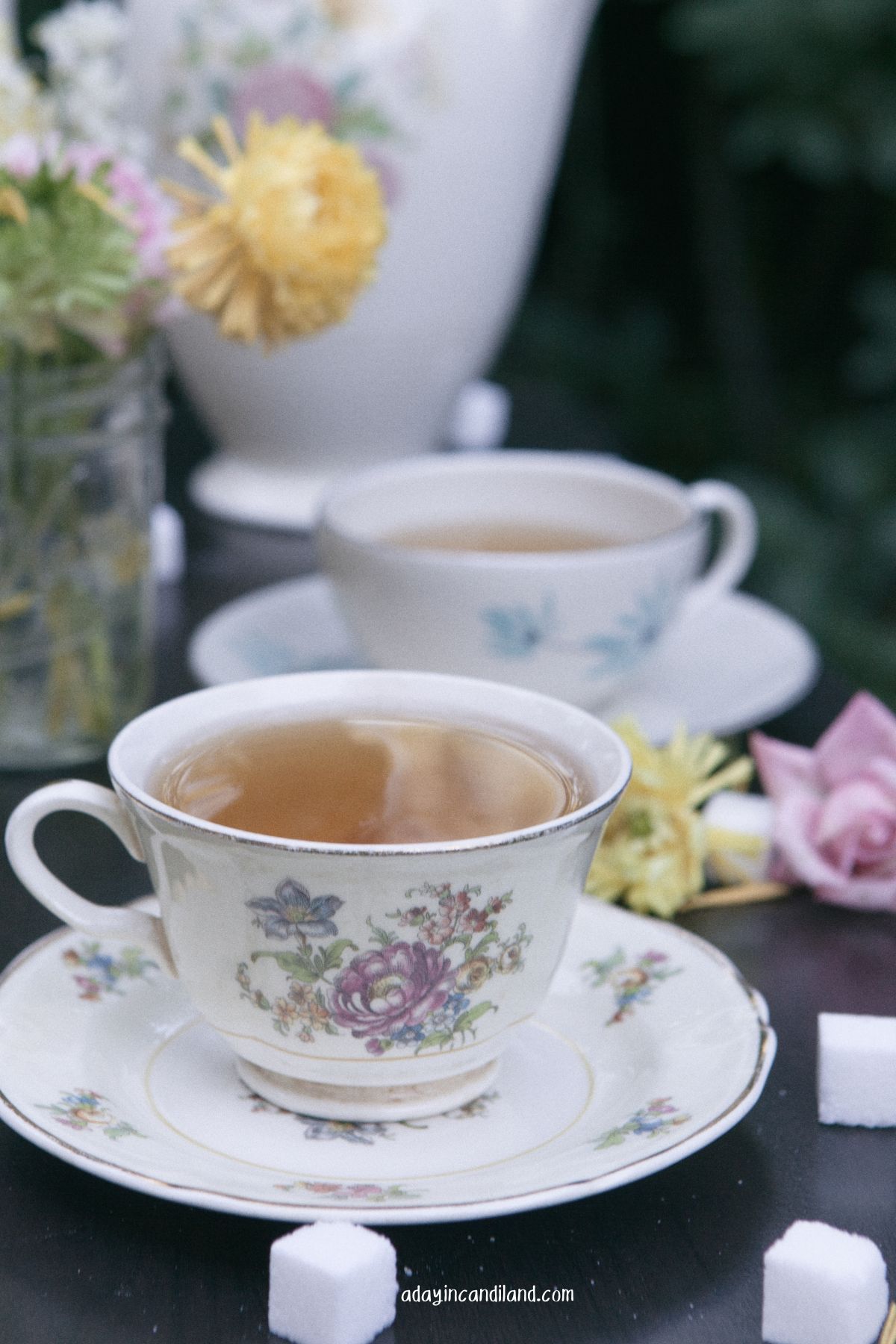 What types of tea are commonly served with afternoon tea?
The types of tea served with afternoon tea can vary, but some of the most popular and traditional choices include Earl Grey, green tea, chamomile, oolong, jasmine, and English breakfast. Selecting a variety of teas will ensure that your guests have plenty of options to choose from.
What type of food should be served?
A classic afternoon tea menu typically consists of two or three tiers of finger sandwiches, scones with cream and jam, mini quiches, macarons, pastries, and a selection of cakes. These afternoon tea party ideas are accompanied by pots of freshly brewed tea for each guest or a few for the table. You can also include vegetarian or vegan options for any guests with dietary restrictions.
What should people wear to tea?
The dress code for an afternoon tea party can range from casual to dressy, depending on the event and theme. For a garden party-themed event, ladies could opt for floral dresses paired with wedges or sandals.
Here are a few afternoon tea party outfit ideas you can choose from if you struggling to decide what to wear:
Floral maxi dress with a summer hat
A button-down shirt and smart trousers
Cropped trousers, ballet flats, and a blazer
A midi dress and a statement necklace
Types of tea party themes
Bridal showers
Baby showers
Birthdays
Mother's Day
Father's Day
Valentine's Day
Christmas
Easter
Anniversaries
Graduations
Retirement parties
Corporate events
Charity fundraisers
Tea parties with friends or family
Celebrations of achievements or milestones.
Afternoon tea events can be used to celebrate almost any occasion or can even be held just as a social event to catch up with friends or family over a cup of tea and some delicious treats.
With these tips in mind, you're all set to plan an afternoon tea party that your guests won't soon forget.
No doubt your guests will have a delightful and memorable afternoon tea experience and you'll feel good about getting everything just right so you can enjoy the special occasion alongside your guests. Happy planning!