Many people are often confused about the differences between high tea vs afternoon tea, and they are sometimes used interchangeably. Although they both involve drinking tea and eating small bites, there are distinct differences between the two.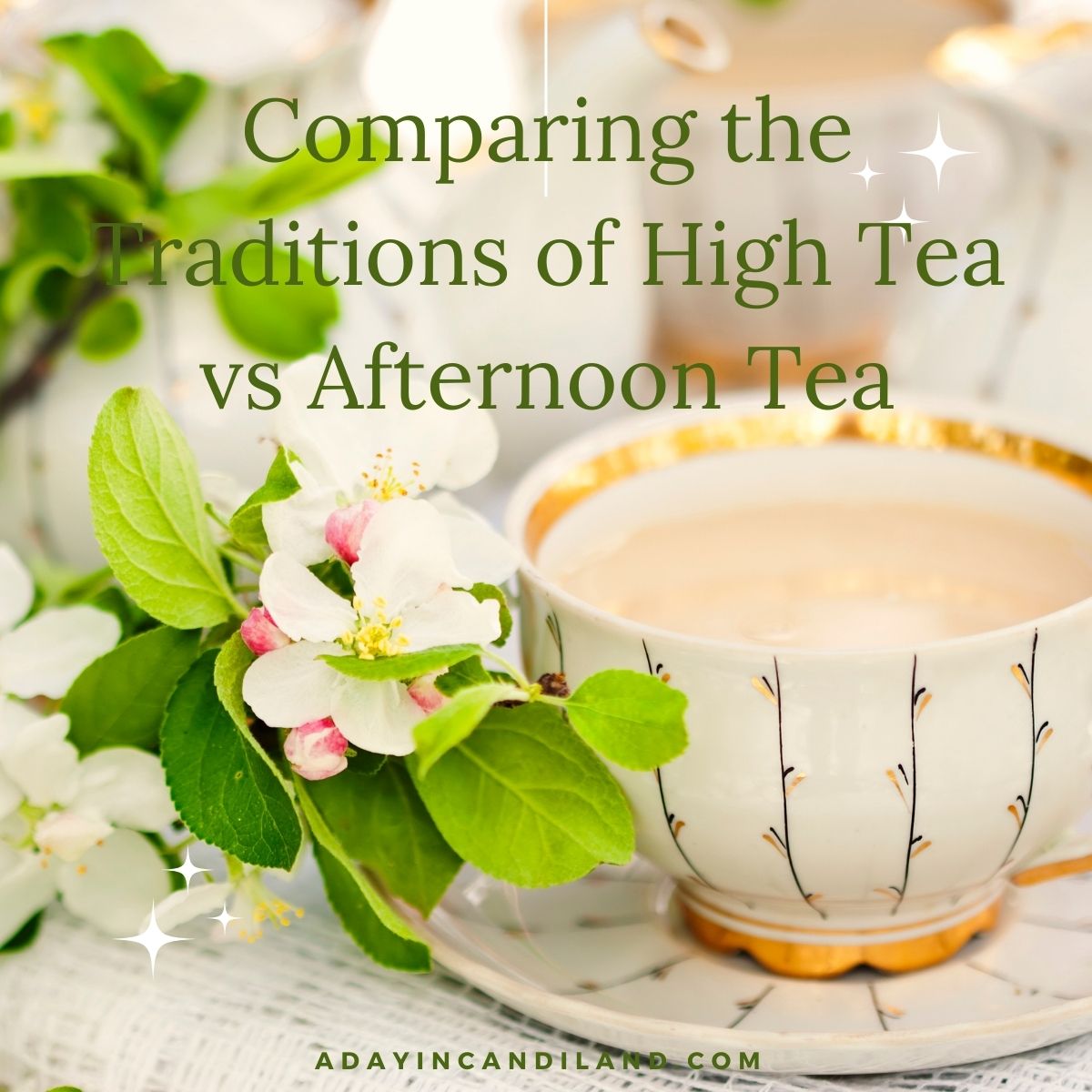 Join me as we explore the differences between afternoon tea and high tea, and learn more about the unique history and customs behind these beloved British traditions.
And although you may think it's as simple as the name or when the tea is served, it's much more than that. So let's start learning, shall we?
Jump to:
What is high tea?
High tea originated in the UK in the 19th century. It was enjoyed by the working class as it was more substantial than the tea served by the upper class at delicate tea parties. It was eaten by people who worked during the day, such as laborers, miners, and factory workers, who would return home tired and hungry.
High tea was served later in the day around dinnertime and often included hot dishes like meat pies and potatoes to help stave off hunger until breakfast the next morning.
The term "high tea" is commonly used outside the UK to describe an elaborate afternoon tea, but in Britain, it refers to a more substantial hot meal. It has become less common in modern times but is still enjoyed by some English households as a way to have a substantial evening meal. Think of Downton Abbey!

High tea is generally not served in the United States, and many are confused by the name. Thinking it's more proper, but in the United States we generally just enjoy Afternoon Tea if we are going to go to an establishment or plan a local event.
Where can you find Afternoon Tea Establishments? Check this listing.
What are the origins of afternoon tea time?
Afternoon tea originated in late 18th century England, when Anna, the Duchess of Bedford, would become hungry around 4 pm and would request a tray of tea, bread, butter, and cake to be brought to her room.
She found the light meal to be refreshing and soon began inviting friends to join her in her afternoon ritual. This gave birth to the charming tradition of afternoon tea. Initially, it was a pastime enjoyed by the wealthy upper-class ladies of England.
Gradually, it spread to the middle class during the 19th century when it became a more elaborate affair complete with 3 tiers of cakes, sandwiches, and tea.
Afternoon tea became a symbol of luxury, elegance, and social status.
Today, afternoon tea is still widely celebrated across the UK and the world, and it remains an important part of British food culture.
Related Tea Articles
What is Included in a Traditional Afternoon Tea vs. High Tea?
Afternoon tea is a light meal typically served between lunch and dinner and consists of finger sandwiches, scones, and pastries.
A high tea menu, on the other hand, is a more substantial meal served later in the day, around dinnertime, and is typically enjoyed by the working class. High tea is a hot meal that often includes meat dishes, vegetables, bread, cheese, and tea.
So while the two may have some similarities, there are clear distinctions between them. Whether you opt for an afternoon tea or a high tea, one thing is certain – it's sure to be a delightful experience!
In summary, afternoon tea is a light, elegant social occasion that involves a selection of sweet and savory treats, while high tea is a more substantial meal that originated among the working classes and includes hot, hearty dishes.
Now that we know the differences between high tea vs afternoon tea and what each includes, why not treat yourself to one of these traditional British experiences? You're sure to enjoy a delightful taste of history.