English afternoon tea is a beloved tradition that has been enjoyed for centuries. It is the epitome of elegance and sophistication, with its delicate china, flaky scones, and finger sandwiches.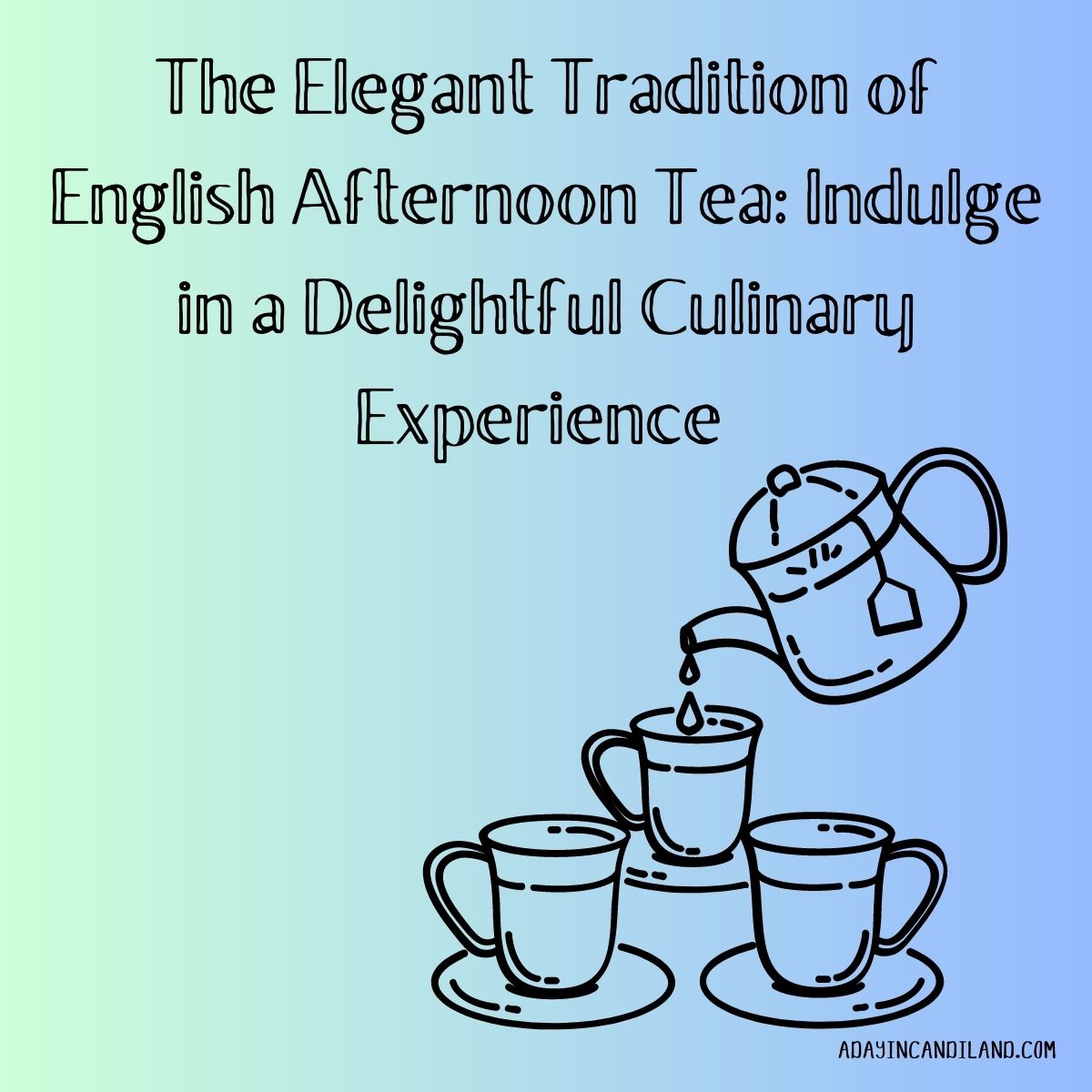 The history of English afternoon tea dates back to the late 18th century when the Duchess of Bedford wanted a light snack between lunch and dinner. Since then, it has become a quintessential British pastime, with tea rooms and hotels across the country offering their take on this iconic ritual.
Join me as we delve into the world of English afternoon tea and discover what makes it such a treasured tradition.
What is Afternoon Tea?
English afternoon tea is a beloved tradition that has been enjoyed for centuries. It is a formal ritual of having tea, sandwiches, and cakes in the late afternoon, typically between 3 and 5 PM.
Tea Snacks
The traditional English afternoon tea comprises a three-tiered stand loaded with scrumptious delights. The bottom tier typically has crustless sandwiches filled with savory fillings such as egg and cress, cucumber and cream cheese, and smoked salmon.
The second tier of the stand has the famous scones accompanied by clotted cream and jam. Scones are delicately sweetened cakes that are shaped by hand, baked in the oven, split in half, and served.
The top tier of the stand usually showcases sweet treats such as miniature cakes, pastries, macaroons, and fresh fruit.
English Tea
The tea itself is another essential part of the experience. English breakfast tea, Darjeeling, Earl Grey, and other varieties of tea are usually served with milk, sugar, and lemon on the side.
More recently, herbal teas, green teas, and fruit teas have been added to the traditional selection of tea.
Planning Afternoon Tea
Contrary to popular belief, high tea is not the same thing as afternoon tea. The former is a meal served later in the day and usually consists of heavier food such as meat pies, fish cakes, and other savory dishes.
Social Hour
Much like tea time in England, relaxation, conversation, and enjoyment are the ultimate goals of the English afternoon tea experience.
It's a chance to slow down and enjoy the company of friends, try different delicacies, and even taste rare teas. Overall, English afternoon tea is an elegant way to relax, socialize, and enjoy a light meal in the company of friends or family.
Decor
Afternoon tea is all about delicate flavors and treats that can be enjoyed leisurely with friends or family. If you're planning an afternoon tea gathering, keep in mind that it should be a relaxed affair; don't forget to add some small talk and conversation, as that is equally important.
Add a few special touches to your decor and serve some fresh flowers, use colorful linens and tea napkins, and display the food on beautiful platters or tiered stands.
Menu
For a classic English afternoon tea, the menu should include some savory sandwiches, scones with clotted cream and jam, and an assortment of sweet treats. Be sure to serve different types of tea from black to herbal and green for all tea drinkers to enjoy.
English afternoon tea is a beloved tradition that has been enjoyed for centuries as an elegant ritual of relaxation and conversation over the finest teas and delicacies.
From the tea snacks to the decor, there are many ways to enjoy this timeless British institution right in your own home!
Enjoying this timeless tradition with friends or family is a wonderful way to slow down and relax
So, why not get together with your friends and family, enjoy the finer things in life, and take part in this cherished tradition of English afternoon tea? I guarantee you won't regret it!